Sunday, November 29, 2009, 04:41 PM
Posted by Administrator
"Uhh…two hours. Half an hour. An hour and a half. I don't know." This was the response our guide gave when asked how long it would take us to hike back to the hotel. I wanted to kick him.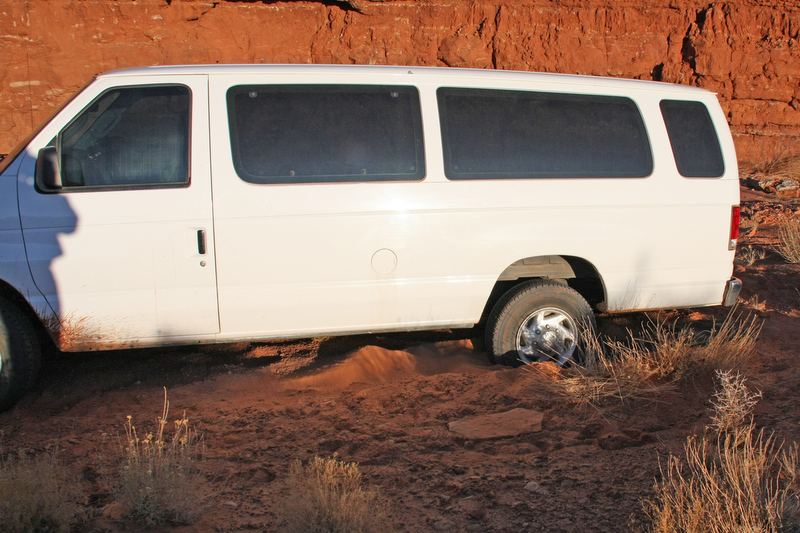 Forty-five minutes into our 2.5-hour sunrise tour of Monument Valley, he had gotten our ill-equipped, non-4-wheel-drive van stuck in the sand. For almost an hour, I worked the walkie talkie and the gas pedal, while Paul and the guide dug sand away from the tires on their hands and knees and occasionally pushed. (Clearly, I had the better job.) Despite their efforts, the only thing that budged was something in Paul's rib area that made a popping sound and is still sore as I write this, five days later.
Realizing that our guide was completely incompetent, Paul took charge and suggested the guide hike up to a ridge to try to get a signal for the walkie talkie. No luck.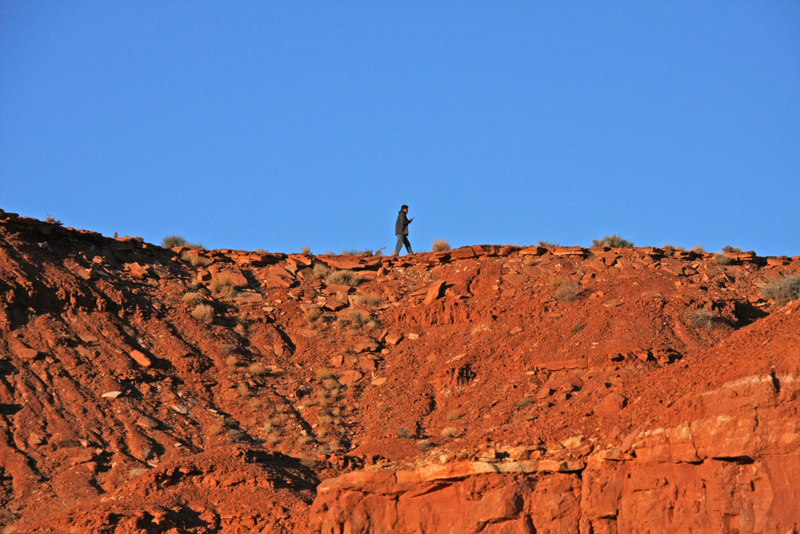 We then returned to our positions to give pushing one more try, only to find that the van's battery had died. Not only did this mean we had no chance of driving out, but it also meant that we had no heat. Did I mention that the temperature was in the 20's?
To keep warm and increase our chance of reaching someone on the walkie talkie, we insisted on starting to hike out. We scrambled up to the ridge, eventually landed on a road and, finally, were able to make radio contact. It was at this point (which should have been the end to our troubles), that we discovered that
Black Tour's
really didn't care that we were stranded and freezing. We hiked for 45 minutes and, despite chatting on the walkie talkie periodically, our guide couldn't give us a clear answer whether someone was coming to get us or not.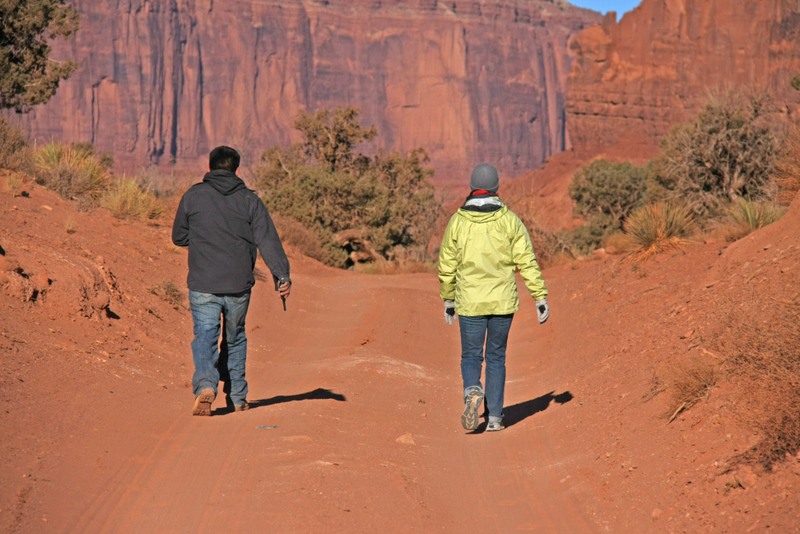 Shit happens. Vans get stuck. I totally get that. What I don't get is a company who specializes in these back country tours being so ill-prepared to handle the situation. Eventually, a pickup truck did arrive to rescue us, but, at that point, we were too cold, tired, and short on time to tour any more of the park.
Though disappointed that we did not get to see nearly as much of the valley as we had planned, we were still awed by its beauty. With the barren desert surrounding the striking towers of red rock, the effect is otherworldly. It's hard to complain when we had a view like this while eating a late breakfast:
And Paul did get some great sunrise shots before the fiasco began.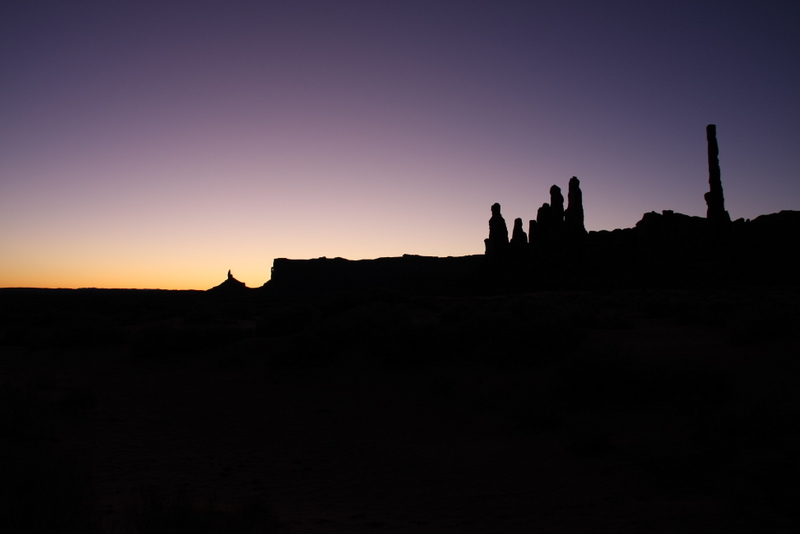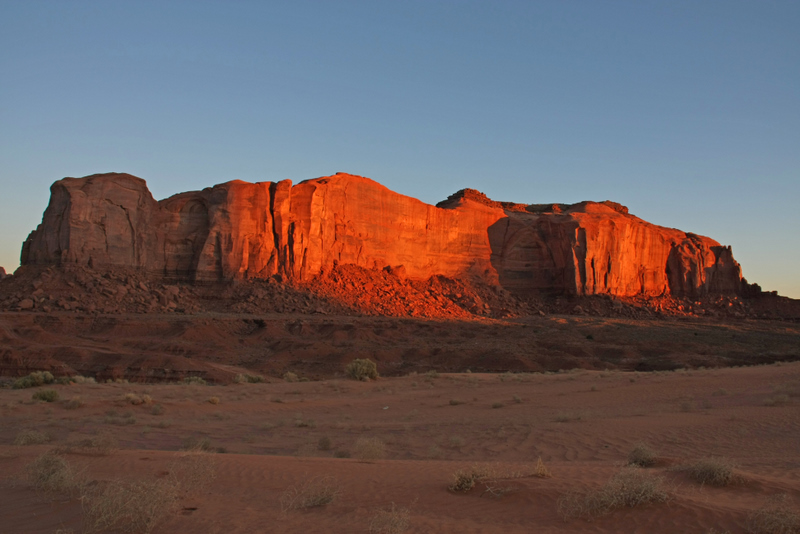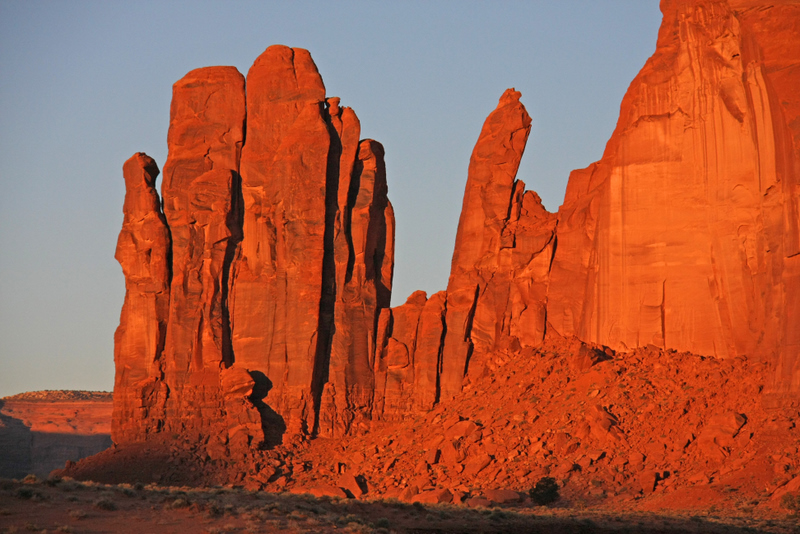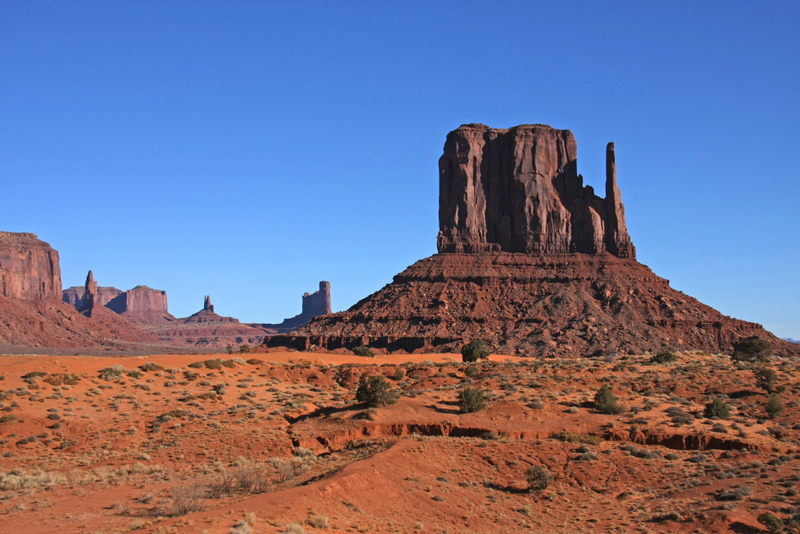 With more of Arizona to see, we loaded up the Prius and headed west, stopping at Navajo National Monument for a short hike to some impressive cliff dwellings...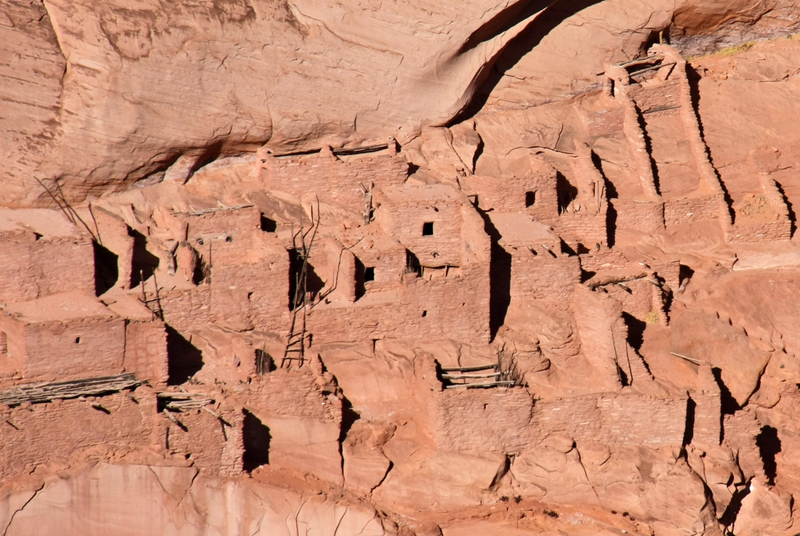 ...and then continued on to Page where we happened upon a popular sunset spot overlooking Lake Powell.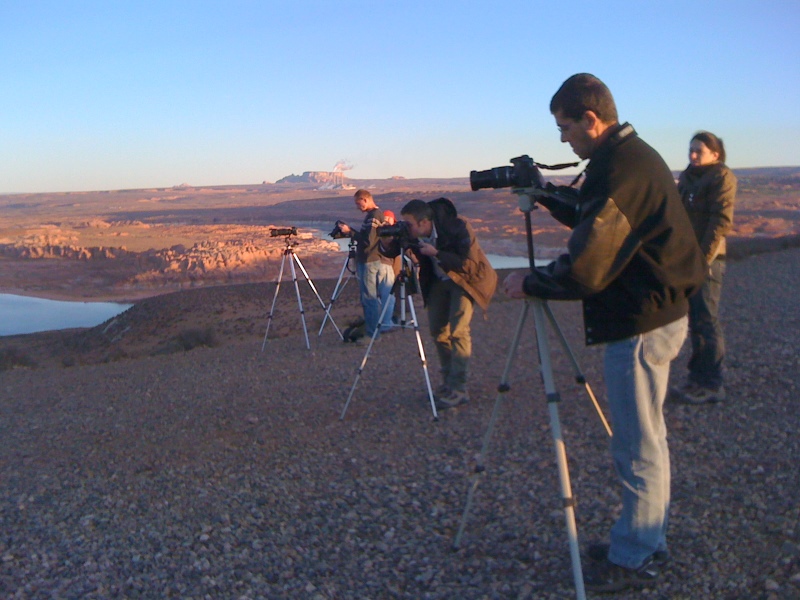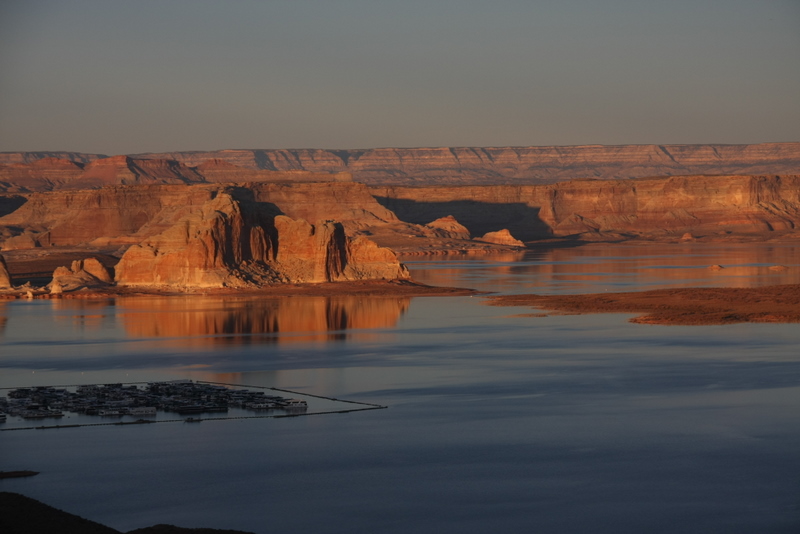 Friday, November 27, 2009, 11:53 PM
Posted by Administrator
For the sake of convenience and against our better judgment, we opted for breakfast at the Thunderbird Lodge cafeteria. After a disturbing encounter with their version of huevos rancheros, we got back in line and stuck with the foods that required the least amount of human intervention – cold cereal, toast, hard-boiled eggs. I then donned as many layers of clothing as possible, which amounted to 7 on top and 2 on the bottom, as we prepared for our 3.5-hour open-air jeep tour of Canyon de Chelly. The temperature hovered in the mid-20's.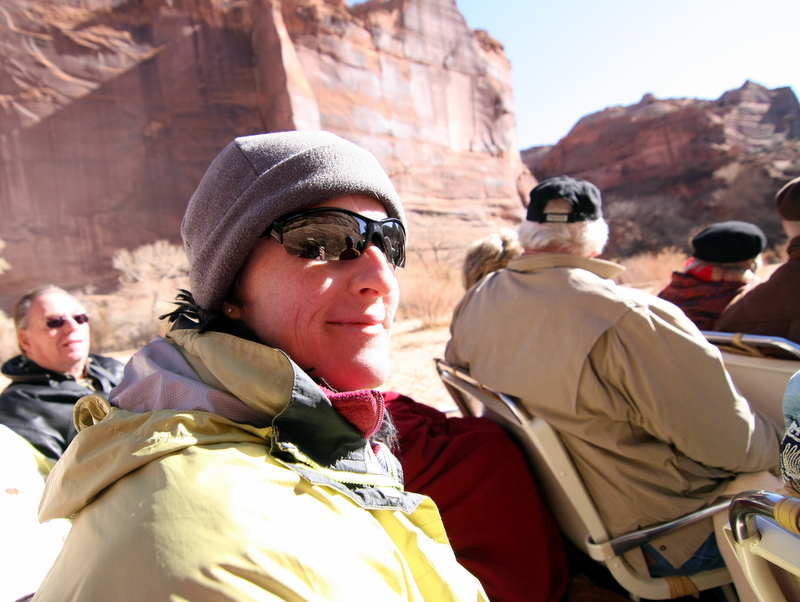 With the exception of one hiking trail, visitors can only enter the canyon with a Navajo guide. Ours, booked through Thunderbird Lodge and entrusted with 20 passengers, won me over with a blanket for my lap. My needs are simple – just keep me warm.
The drive through the north canyon was a bumpy one with amazing views of steep canyon walls on both sides, some of which held remnants of ancient cliff dwellings. Canyon de Chelly is spectacular and I highly recommend a tour and visit if you ever find yourself in that part of Navajo country.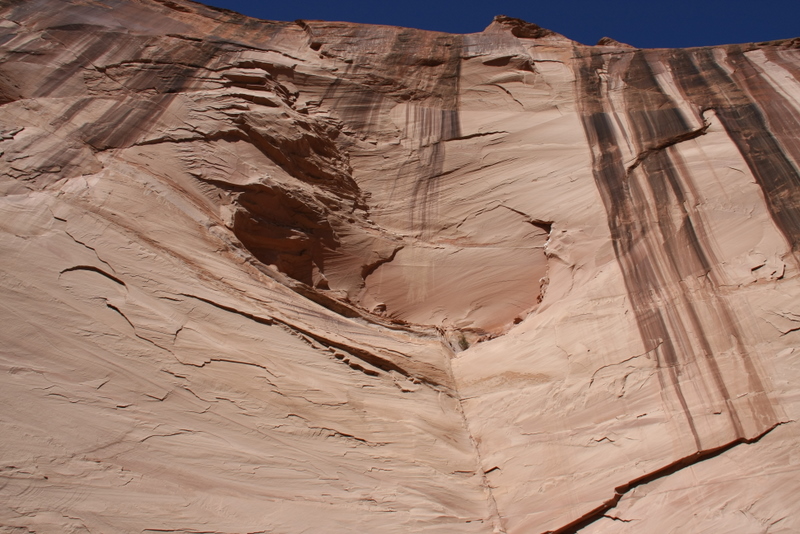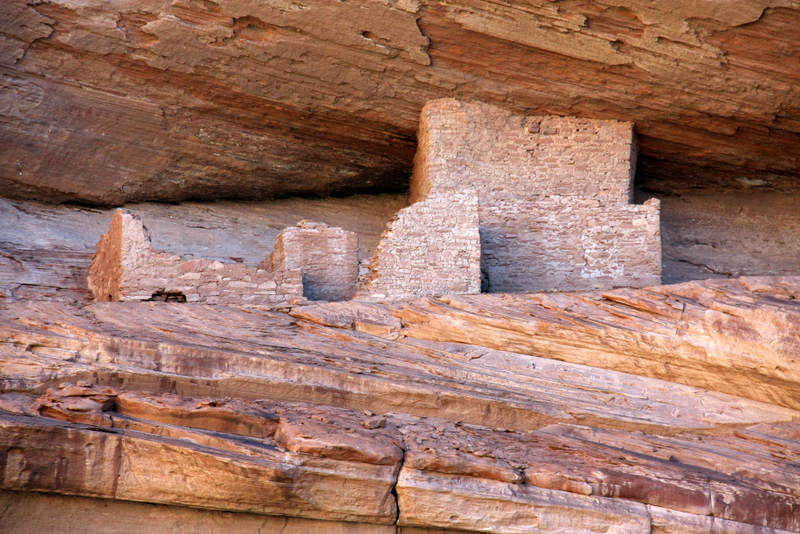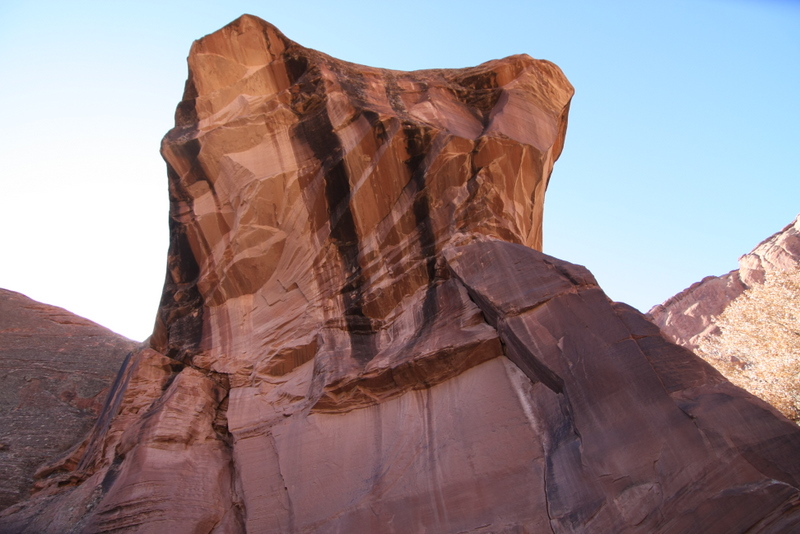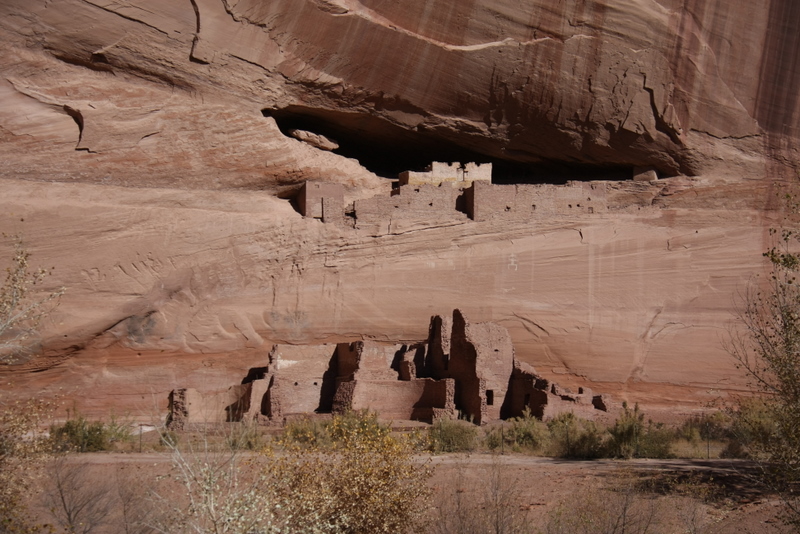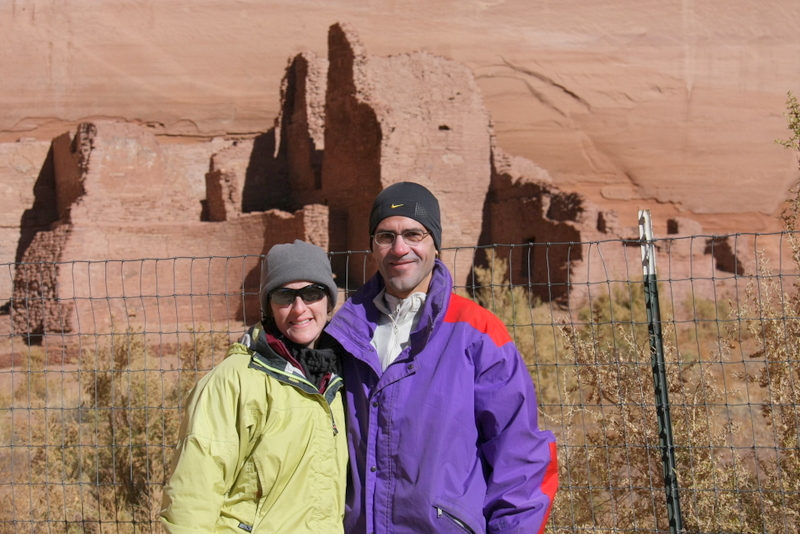 Believe it or not, we managed to visit two fast food restaurants that afternoon – Subway in Chinle for lunch (our second visit in two days) and Burger King in Kayenta for their exhibit about the World War II Navajo Code Talkers.
Our destination that day was Monument Valley and we arrived just in time for sunset. While Paul captured the stunning colors on film, I checked us into our lodging –
The View Hotel
, the only lodging inside the park. After our less than satisfactory lodging experience at Canyon de Chelly, I had become nervous about what awaited us at The View, but was relieved to discover a new, clean, comfortable hotel offering million dollar views from every room.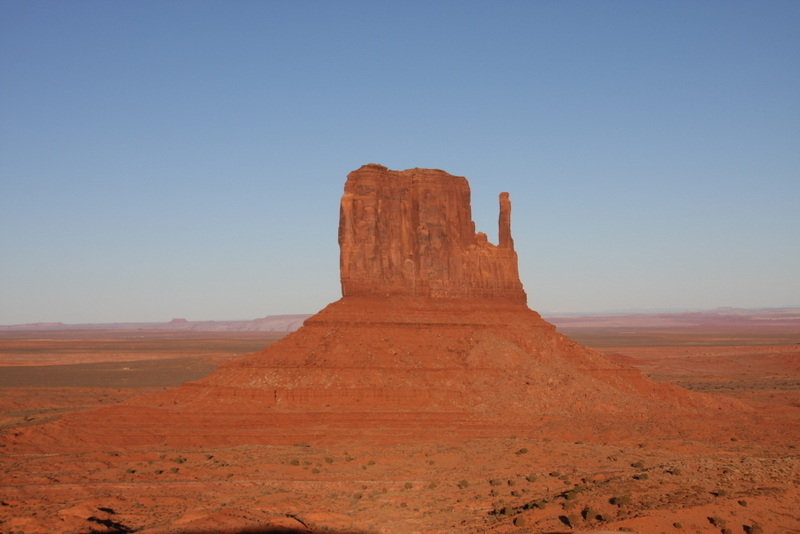 My half marathon training plan called for a track workout that day. What more inspiring place to work up a sweat than the rim of Monument Valley? Unfortunately, temps in the 40's and a bitter wind deterred me from an outdoor run, but I was pleased to find a treadmill in the fitness center. As a bonus, it worked my body AND my mind as I couldn't figure out how to change the settings from kilometers to miles, and so had lots of math to do for my interval workout. Then, safely on track with my training plan, we had a mediocre dinner in the hotel's restaurant and turned in early. Another fabulous day on the road!
Thursday, November 26, 2009, 11:21 PM
Posted by Administrator
While waiting for our host to fry up an astonishing amount of bacon, we wandered around the gorgeous backyard, which is sometimes used for weddings, and checked out the banquet space, which had a previous life as a steakhouse and, before that, an airplane hangar.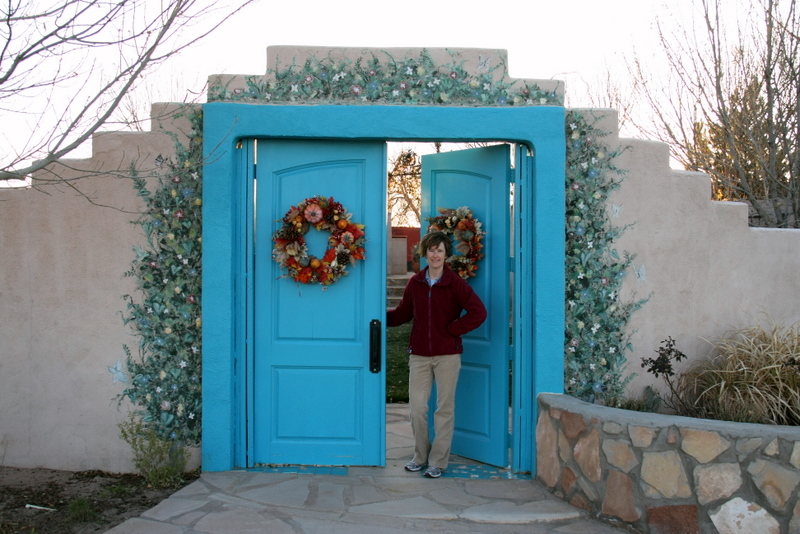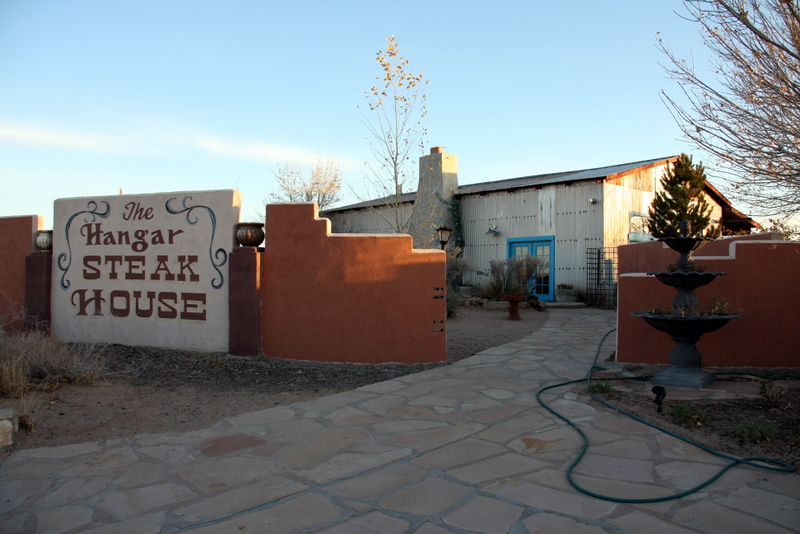 While enjoying the bacon, served with omelets and biscuits, we were entertained by our hosts' stories of their lives in Holbrook, as well as slightly offended by their use of ethnic terms suggestive of a past generation…or two.
We started our travels with a stop at
Jim Gray's Petrified Wood Company
to check out his impressive collection of rocks, as well as some museum-worthy fossils. This particular specimen warranted a photo, not so much for its beauty as for that little white sticker. It reads "$24,000."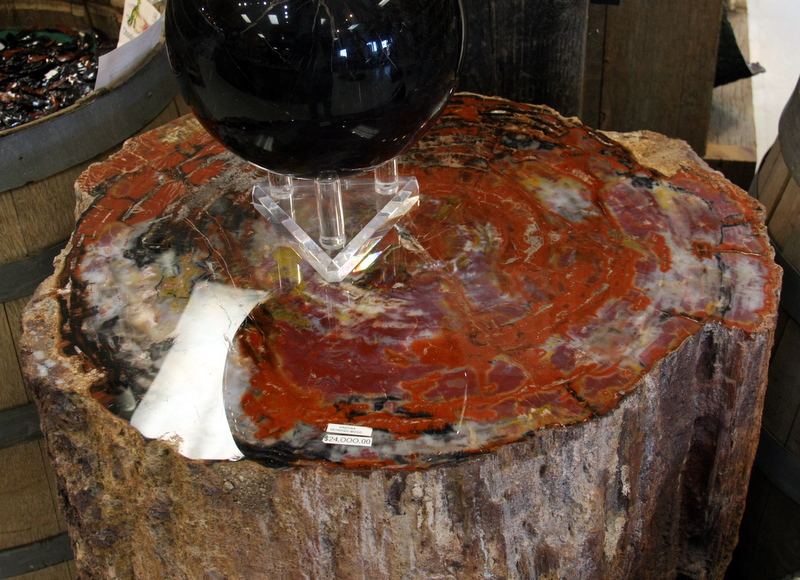 The next few hours were spent driving the 28-mile scenic stretch through the Petrified Forest and Painted Desert, a road which we thought would be perfect for a marathon course. We pulled over periodically to take in the spectacular views, petroglyphs, ruins and, of course, the forest which has turned to rock over the past 250 million years.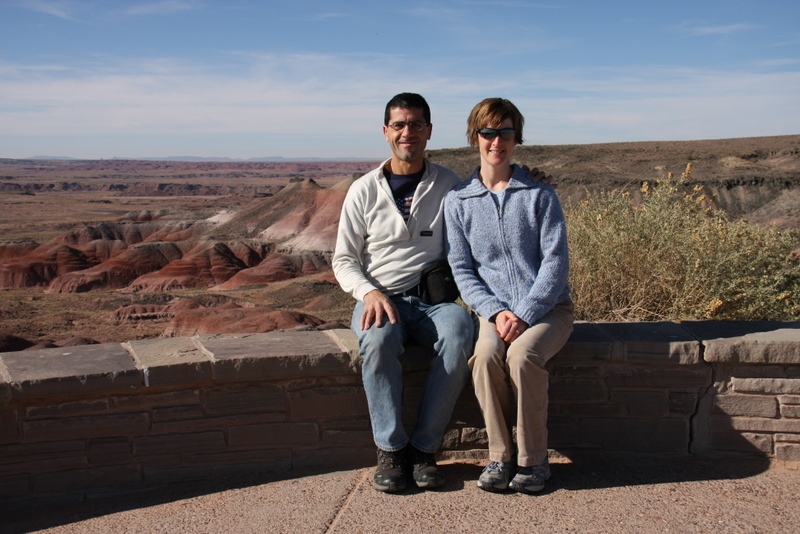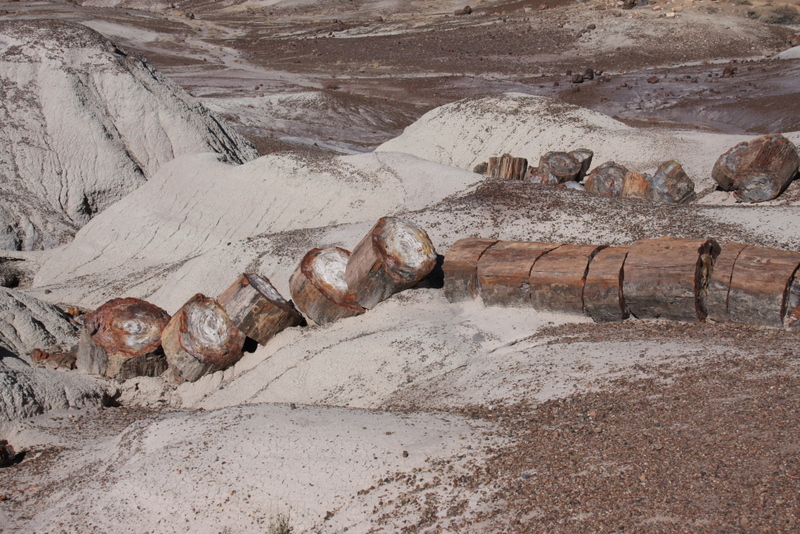 After exiting the scenic drive, we were ready for lunch. If you've read reports of our past trips, then you know that we are pleasure eaters. We love fresh, flavorful, healthy food and we enjoy discovering truly local fare. However, in the Navajo Nation, the foods of choice seem to be Indian tacos and Navajo fry bread. And so, we decided that, on this trip, we would have to put pleasure aside and become survival eaters. Luckily, we happened upon a Subway just down the road. It's not fine cuisine, but you always know exactly what you're getting.
Our next stop was a quick one at the
Hubbell Trading Post
. If you've never been to a trading post, then this might be a compelling attraction, but we didn't spend much time browsing the collection of rugs and rifles.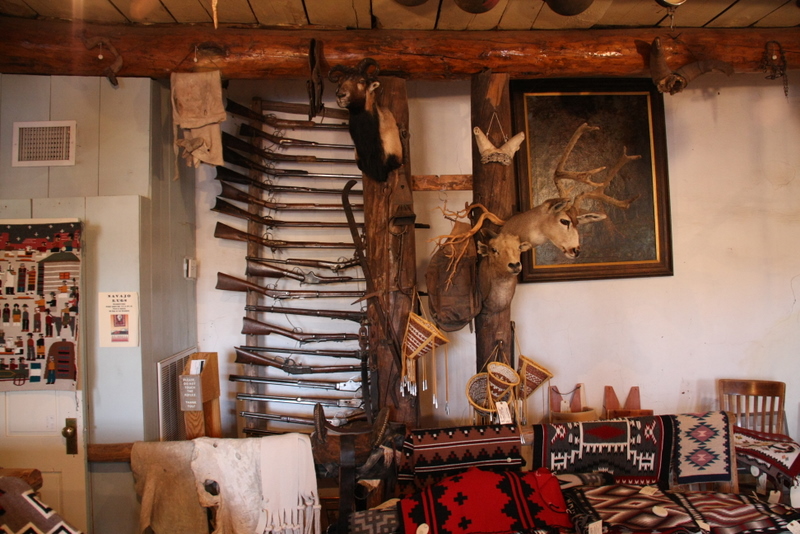 Just before sunset, we reached our final stop of the day, Canyon de Chelly. Thinking it would be a great advantage, I had made reservations at the only lodging inside the park,
Thunderbird Lodge
. As it turns out, there are a few chain hotels right outside the park that I'm confident would have been newer, cleaner and more comfortable than Thunderbird.
After reading some bad reviews of the Thunderbird cafeteria, we decided to head just down the road to the Holiday Inn (where we should have stayed) for a fairly good dinner with fairly bad service. Alcohol is not permitted in the Navajo Nation, but this restaurant did offer several varieties of non-alcoholic beer and wine. We passed. I don't want the calories if I can't have the buzz.
Wednesday, November 25, 2009, 10:06 AM
Posted by Administrator
Determined to stick to my half marathon training plan, I made time for a 10-miler before beginning our adventure. I found that a long workout eases the guilt of spending the rest of the day on your ass. I also learned that a long car ride does nothing to ease the stiffness caused by a 10-miler. Even with compression socks.
We avoided the dreaded I-10, instead opting for the scenic route through Oracle and the dusty little towns north of it. In the spirit of adventure, we stopped in Globe to check out "the world's tallest 3 story building" as touted by our guidebook. While I wouldn't recommend going too far out of your way to visit this landmark, it did show me that there is more to Globe than the gas station I always stop at for a potty break en route to the White Mountains.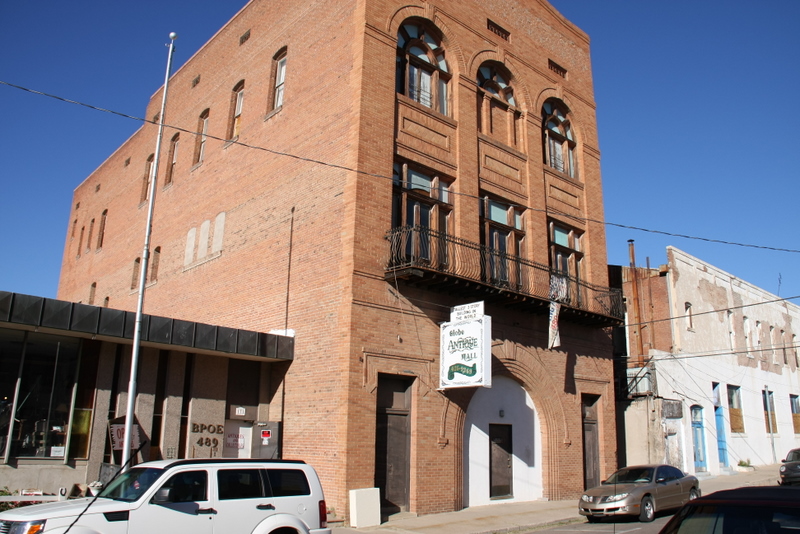 We took a break in Show Low for dinner at Addi J's, a newer restaurant advertised as offering modern, fusion cuisine. We were intrigued by the menu's listing of the Southwestern Lettuce Wraps, but they turned out to be…odd. Good idea. Bad execution. I might just try my own version at home. We should have known better - Show Low is not known to be a foodie town.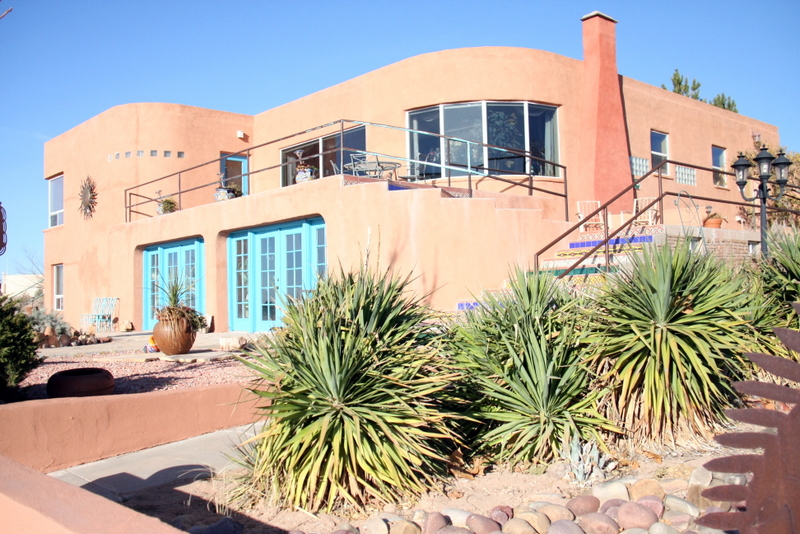 We continued north to the
Heward House at Holbrook B & B
, a beautifully restored and decorated historic home. After getting settled in our Native American-themed room, we sat down, under the watchful eyes of a large collection of kachinas, for drinks and interesting conversation with our extremely friendly and welcoming, if not always politically correct, hosts.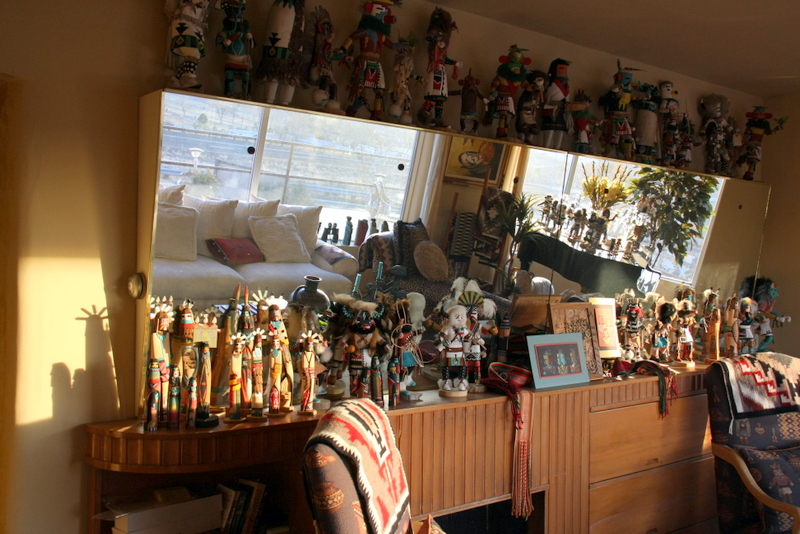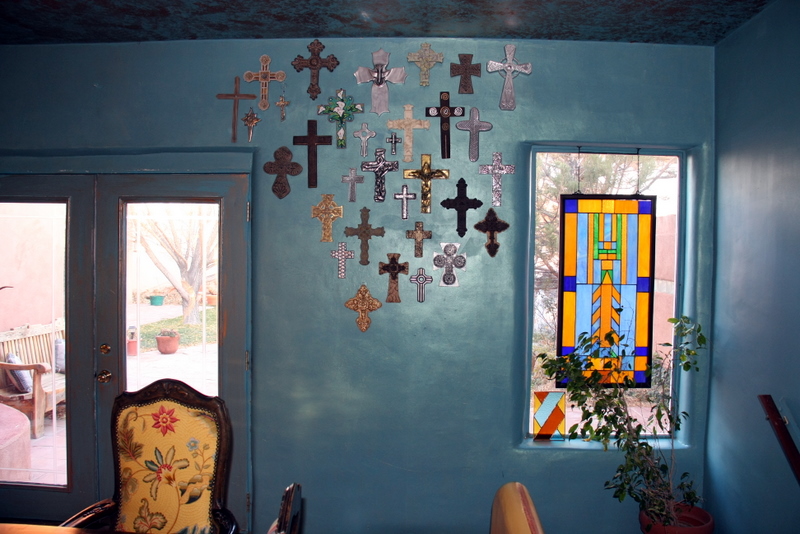 Friday, November 20, 2009, 10:00 PM
Posted by Administrator
Tomorrow morning, Paul and I embark on an 8-day, 900-mile road trip adventure! Having lived in Arizona for more than 10 years, we're overdue for a visit to some of our state's most beautiful areas - Canyon de Chelly, Monument Valley, Antelope Canyon and Lake Powell.
Our final two days, including Thanksgiving, will be spent in Sedona, a town to which we have been many times, but to which it is always a pleasure to return.
We're bringing along a laptop and I hope to post reports and photos as we go. Feel free to check in for updates.
<<
<Back
| 12 | 13 | 14 | 15 | 16 | 17 | 18 | 19 | 20 | 21 |
Next>
>>