Thursday, January 15, 2009, 08:28 PM
Posted by Administrator
My first week back at the office following a relaxing two-week vacation seemed to drag on, especially as I had a Saturday meeting that kept me busy until 1:30pm. I wanted to get in a moderately long workout that day and so I broke it up with 3 early morning miles before my meeting and then 10 late afternoon miles with Paul. Check out my new running clothes. Retail value - $60. Post-Christmas outlet sale price - $20. Gotta love it!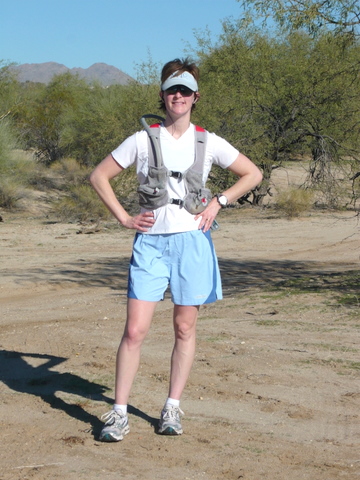 The next morning, we hopped in the car early and headed to Chandler for the
Casa Grande Century
, a non-competitive group ride which offered distances of 100, 62 and 34 miles. We opted for the middle distance and were one of the last bikes to leave the parking lot. Because of this, we rode by ourselves the entire way, passing the occasional rider. But one nice thing about a tandem is that you always have company!
It was a brisk morning with temperatures in the 50's and a headwind for what seemed to be the majority of the ride. The course took us on a fairly quiet road that eventually offered beautiful desert views, but only after pedaling along 10 miles of a trash-strewn roadway. I cannot imagine why people throw cups, bottles and worse out of their car windows, but I hope they're getting their share of karmic retribution.
A sag stop was set up at mile 17 and we stopped for a bathroom break and snacks. The 34-milers turned back at this point, but we continued on, turning west to cross over I-10 toward Casa Grande. It turns out that there is more to this city that the outlet mall and Florence Boulevard. Who knew?
Mile 31 brought us to the lunch stop with a nice BBQ spread, sandwich fixin's and good conversation. My legs were definitely fatiguing on the return trip, as this was my longest bike ride in a few months. Throw in a sore butt and a little chafing and I was very happy to get back to the car. Can you believe that our tandem actually fits in the back of the Prius?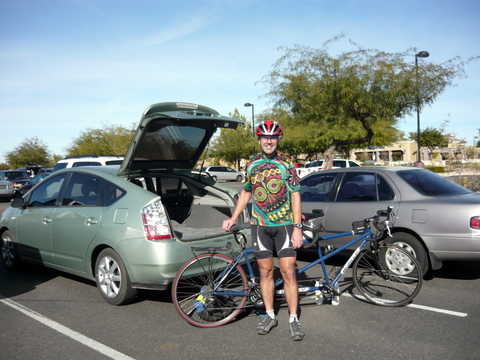 Overall, this was a decent ride - well-organized, friendly volunteers and plenty of good food. And it jump-started my bike training for our two upcoming Mystery Weekends which both happen to involve cycling.
Tuesday, January 6, 2009, 09:14 PM
Posted by Administrator
Upon waking each morning at the ski condo in North Conway, we faced many difficult decisions. What time should we ski? Should I read by the fire or snuggle up with a blanket on the couch? At which outlet stores should we shop today? Pictionary or Boggle? It's a rough life. I love the hustle and bustle of the holidays, but I also love settling in at the ski condo knowing we can truly relax.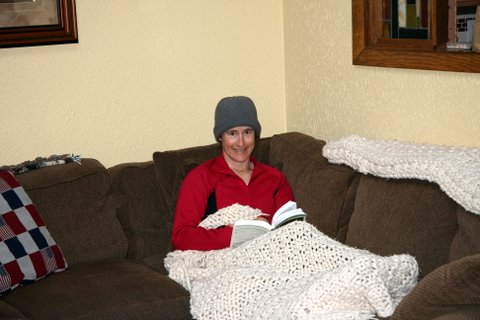 Paul and I were thrilled to go cross-country skiing on four days and there are some great trails just a short walk across the condo parking lot, behind Stonehurst Manor. It was so incredibly beautiful and peaceful out in the snow-covered woods.
Neither of us are big shoppers, but we always spend some time and money at the outlets - the post-Christmas sales are just too good to pass up! In addition to some shirts, I scored a great deal on arm and leg warmers at the Louis Garneau Outlet. Up until now, I've been using Paul's which are a little on the baggy side. Here are Becky and Emily taking a break after a full afternoon of bargain hunting: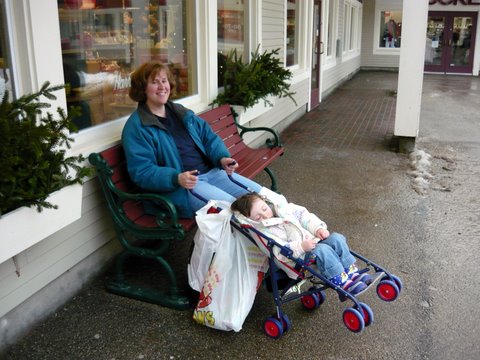 The best part about our days "up north" is having so much time to spend with family and friends - playing games, sharing meals, chatting over after-dinner drinks. And the kids are always entertaining! In the photos below, Paul and Jon "volunteered" to be part of Hannah's band and Paul is playing with CJ.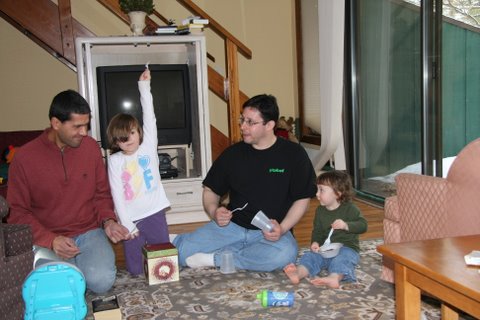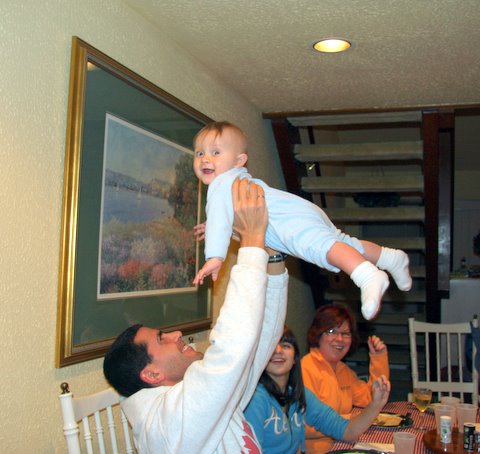 On New Year's Eve Day, we said our goodbyes to the family and headed to Cambridge, where we had arranged to spend New Year's with Erin and Jon, Arizona friends who are living there for one year. Luckily, my Canadian husband has years of winter driving experience because, shortly after hitting the road, we drove into a storm that ended up dumping 8 inches of snow. The ride took much longer than expected - traffic crawled on the freeways and we stopped for lunch, mostly so that Paul could give his eyes a break from staring at pure whiteness. Then, as soon as we got into the city, we got lost and had to stop to buy a map and figure out where exactly we were. It was wonderful to finally get to Erin and Jon's and to spend some time catching up.
Around dinner time, we put on as many clothes as possible and headed out into the frigid cold for Indian food followed by First Night Boston. We alternated between indoor and outdoor activities, including a classical guitarist, a fabulous Poetry SLAM and the amazing ice sculptures.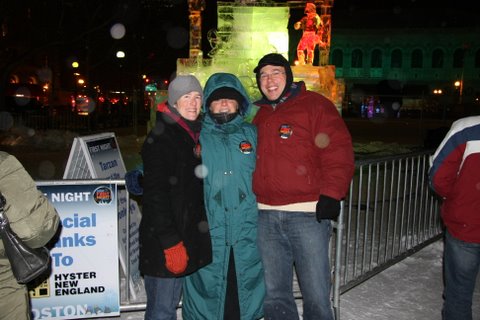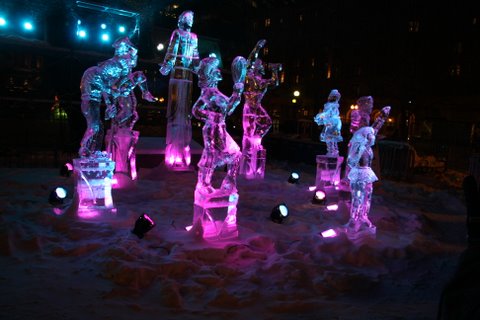 With the wind chill, it was below zero. Remarkably, and thanks to the seven layers I wore on top and the borrowed snow boots and wool socks, the only part of me that got really cold was my face. We were shocked to see a group of young women wearing cocktail dresses and tromping through the snow and slush in strappy high heels. They had to have been absolutely frozen! This sight made me especially happy that my single days are behind me, so that, on special evenings such as this, I can focus on comfort over cuteness. If you think I'm exaggerating about the cold, then check out this photo of Jon with a teardrop-shaped icicle hanging from his right eyelash!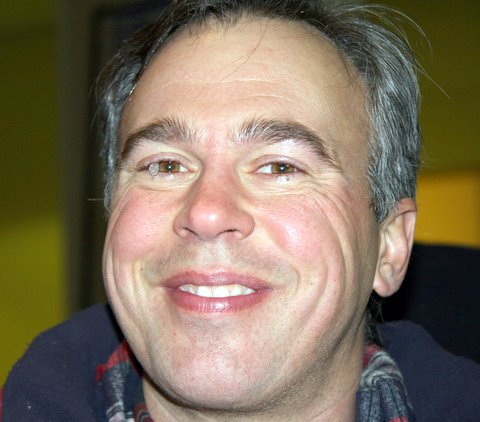 HAPPY NEW YEAR FROM JOYCE & PAUL!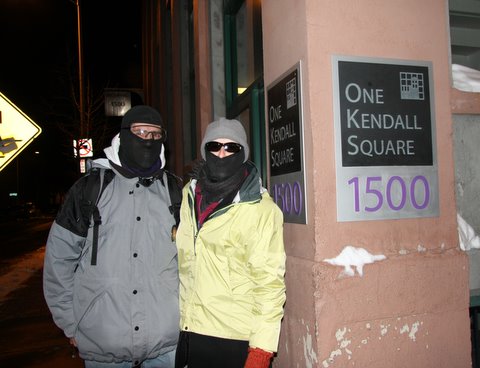 Sunday, January 4, 2009, 10:09 AM
Posted by Administrator
The first few days of our holiday vacation are always hectic. My parents host Christmas Eve dinner which means a whirlwind of cooking followed by a whirlwind of present-opening, with lots of eating thrown in the middle.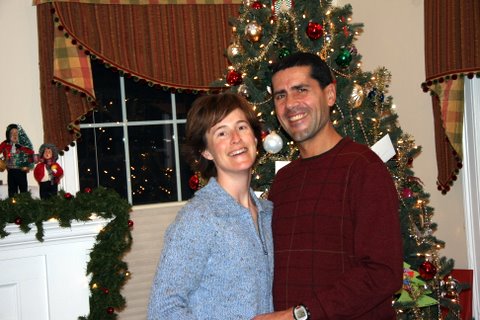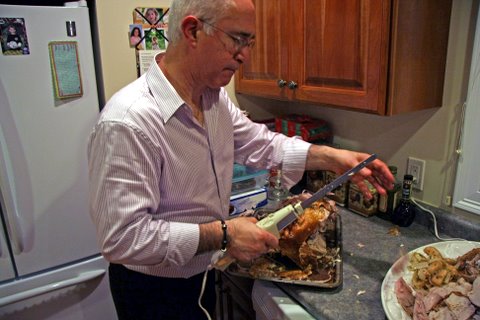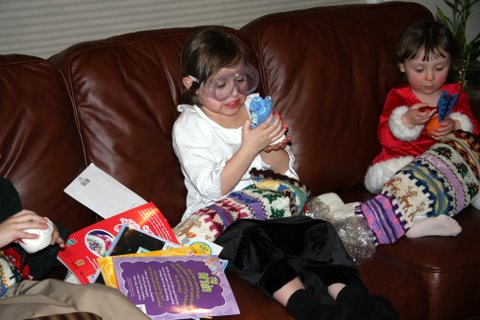 My sister's family also overnighted at my parents' house, which meant that we got to be part of the excitement of Santa. Putting out the cookies...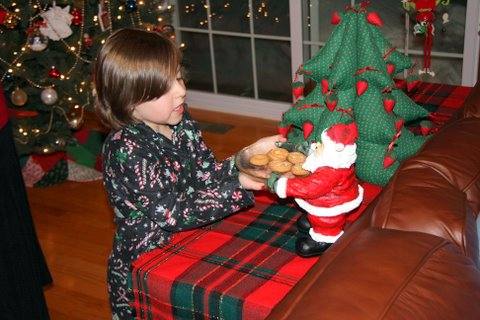 ...being awakened at 6:30 a.m. with shouts of "He came! He came!"
...and more present opening!
On Christmas morning, Paul and I were able to squeeze in some time on the treadmill before squeezing into the backseat of my dad's car, with Hannah in her booster seat between us - not so comfy. After a brief visit with Grandma at the nursing home, we headed to Aunt Cathy's house to see more family, open more presents, eat more food and play the annual Pictionary game. Becky and I went down in flames for the second year in a row. Next year, we'll be making a comeback!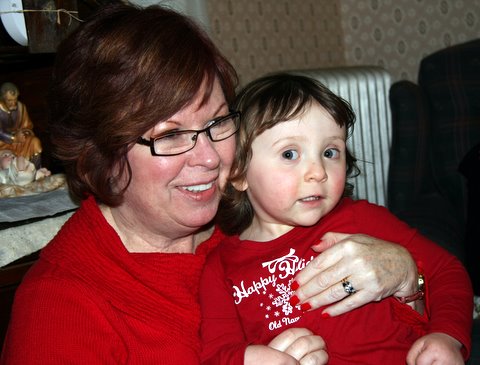 In the late afternoon, we were off to Cambridge for a visit with my mom's side of the family, including my 95-year old Nana, who still has a great sense of humor.
The day after Christmas brought more driving, but also the opportunity to see more family and friends. After a quick visit to Sears, where we somehow fit 17 people in a tiny room for a family portrait, Paul and I drove to Worcester for the annual MHC get-together.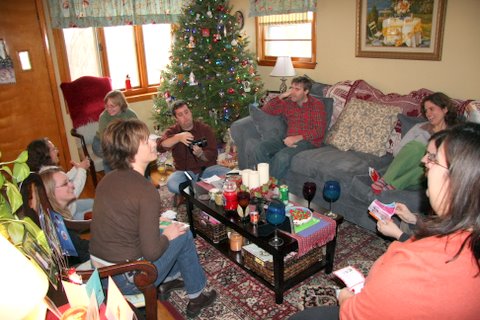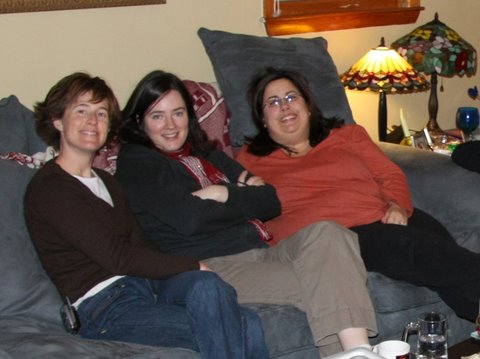 Then, we climbed back into the car one more time for the three-hour drive that would take us to the relaxing part of our vacation - my parents' ski house in North Conway, New Hampshire. To be continued...
Saturday, December 27, 2008, 07:48 PM
Posted by Administrator
To ease the stress of our holiday travel day, Paul and I decided to spend Monday night at a Phoenix aiport hotel. And since we'd be in Phoenix, why not drive just a little farther to McDowell Mountain Park and run the 15.5-mile Pemberton Trail? We'll be running two loops of this course for the Pemberton 50K in February, and so this training run would give me a good idea of what to expect.
We arrived at the trailhead in the early afternoon and, at the last minute, I grabbed my ear warmers and gloves from my suitcase. I hadn't anticipated needing them until we got to New England and it was nice running weather at 55 degrees, but I had a feeling it would cool over the next few hours.
After just 20 minutes on the trail, big, fat raindrops began to fall. We discussed the options for a few minutes and decided to continue on. We could always turn back, right? A light rain came and went, but I was really enjoying the trail. It's quite flat (for a trail, that is) and we had it all to ourselves, except for a small group of mountain bikers. The course is mostly gentle rolling hills with gorgeous 360 degree views.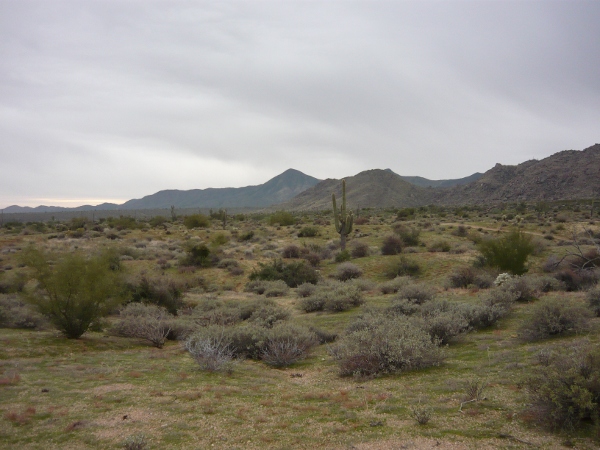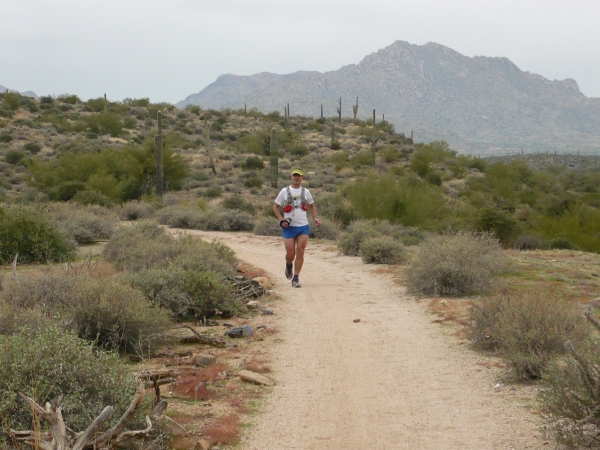 About halfway around the loop, the rain really started to come down steadily. No sense turning back now! I was very happy that I had grabbed my earwarmers and gloves. It doesn't seem like much, but they make a big difference in keeping me comfortable.
As I approached 10 miles, my legs began to fatigue. For longer distances, such as this, I am accusmtomed to taking walk breaks. I had planned to walk the uphills and run the downs and flats...but the uphills were so gentle that I ended up running a lot of them, which meant that I walked very little.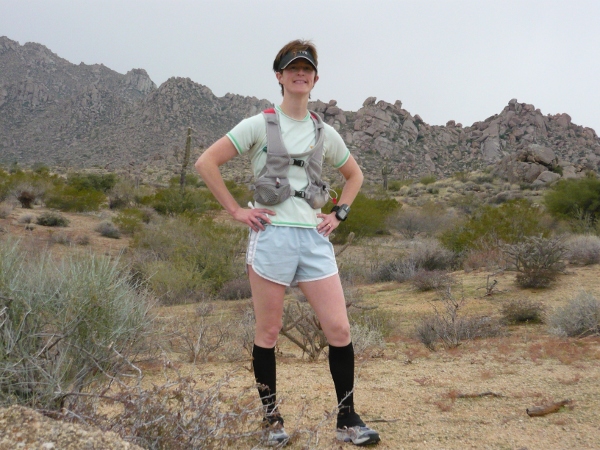 The last few miles were tough. The cold and rain had turned all exposed skin a nice bright red color, and my legs were toast. I was very happy that we were only running one loop today. And I definitely need to start cutting out walk breaks on my training runs.
Cold, exhausted and hungry, Paul and I drove straight to
Picazzo's
for the world's best gluten-free pizza (and their salads are pretty fantastic too), before checking in at the Holiday Inn. Although we were tired, it felt good to know we had worked hard since we'd be spending much of the next day sitting on our tushes at the airport and on a plane.
Next up, the holiday vacation report. Happy holidays!
Saturday, December 20, 2008, 10:42 PM
Posted by Administrator
Paul and I had been planning to bike with his regular group at 7:30 this morning, but a combination of a late night and temperatures in the 30's convinced us to stay under the covers. We went to a holiday party Friday evening and managed to get to bed by 10:00pm, only to be awakened a few hours later by a barrage of barking. Paul got up to investigate and I went from half asleep to wide awake when he hollered, "We have a new dog!" I ran into the kitchen to see a large yellow lab bounding around with our three dogs. Apparently, he had been hanging around in the front yard and, when Paul opened the door, he came right in!
I placed a late-night call to the number on his tag which turned out to belong to the neighbors from a few houses down...who had been sound asleep with no idea that he had escaped. Paul and I had a great time watching our kids play with their new friend, who is appropriately named Rogue, until the owner, wearing pajamas and carrying a flashlight, knocked on our door. It took a little while to get back into a deep sleep after all of the excitement, but it was worth it. What a fun night!
I should have gotten a photo of the escape artist, but here are our little ones, freshly groomed for the dog-sitter who will watch them when we fly to New England in a few days.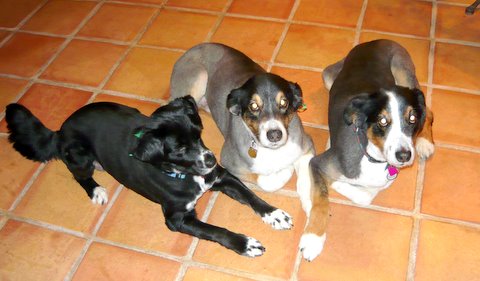 Back to this morning... With warmer weather forecasted for Sunday, we decided to hit the track for a speed workout and save the bike ride for tomorrow. I had not done any speedwork since a few weeks prior to the marathon and so I eased back in with just five Yasso 800's and a total of 6.5 miles. It felt good - challenging toward the end, but within reason.
Tomorrow, after the temperature climbs above 50 degrees, we'll have our final tandem ride of 2008!
<<
<Back
| 17 | 18 | 19 | 20 | 21 | 22 | 23 | 24 | 25 | 26 |
Next>
>>