Tuesday, January 6, 2009, 09:14 PM
Posted by Administrator
Upon waking each morning at the ski condo in North Conway, we faced many difficult decisions. What time should we ski? Should I read by the fire or snuggle up with a blanket on the couch? At which outlet stores should we shop today? Pictionary or Boggle? It's a rough life. I love the hustle and bustle of the holidays, but I also love settling in at the ski condo knowing we can truly relax.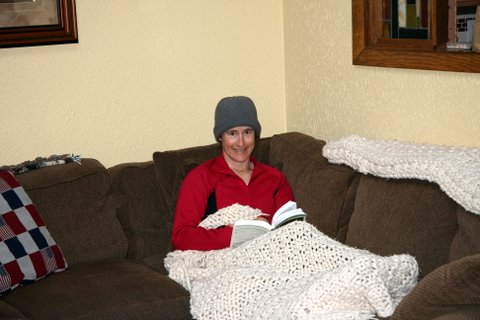 Paul and I were thrilled to go cross-country skiing on four days and there are some great trails just a short walk across the condo parking lot, behind Stonehurst Manor. It was so incredibly beautiful and peaceful out in the snow-covered woods.
Neither of us are big shoppers, but we always spend some time and money at the outlets - the post-Christmas sales are just too good to pass up! In addition to some shirts, I scored a great deal on arm and leg warmers at the Louis Garneau Outlet. Up until now, I've been using Paul's which are a little on the baggy side. Here are Becky and Emily taking a break after a full afternoon of bargain hunting: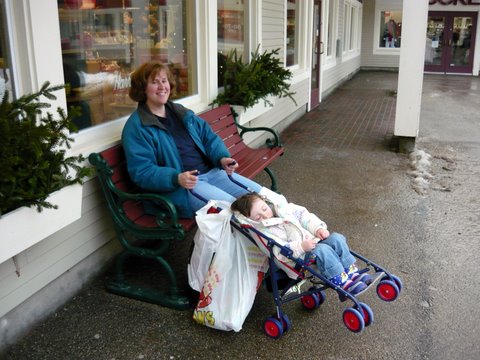 The best part about our days "up north" is having so much time to spend with family and friends - playing games, sharing meals, chatting over after-dinner drinks. And the kids are always entertaining! In the photos below, Paul and Jon "volunteered" to be part of Hannah's band and Paul is playing with CJ.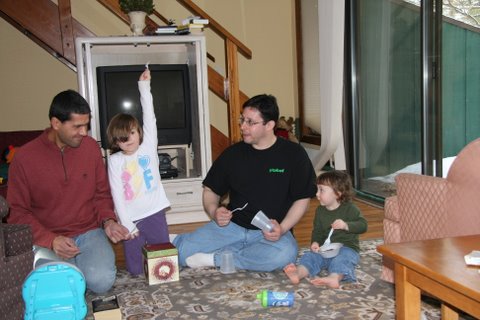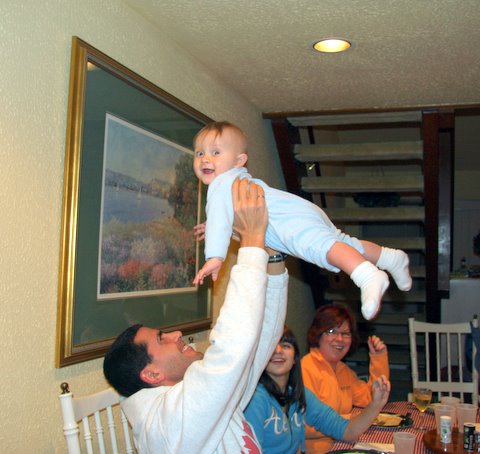 On New Year's Eve Day, we said our goodbyes to the family and headed to Cambridge, where we had arranged to spend New Year's with Erin and Jon, Arizona friends who are living there for one year. Luckily, my Canadian husband has years of winter driving experience because, shortly after hitting the road, we drove into a storm that ended up dumping 8 inches of snow. The ride took much longer than expected - traffic crawled on the freeways and we stopped for lunch, mostly so that Paul could give his eyes a break from staring at pure whiteness. Then, as soon as we got into the city, we got lost and had to stop to buy a map and figure out where exactly we were. It was wonderful to finally get to Erin and Jon's and to spend some time catching up.
Around dinner time, we put on as many clothes as possible and headed out into the frigid cold for Indian food followed by First Night Boston. We alternated between indoor and outdoor activities, including a classical guitarist, a fabulous Poetry SLAM and the amazing ice sculptures.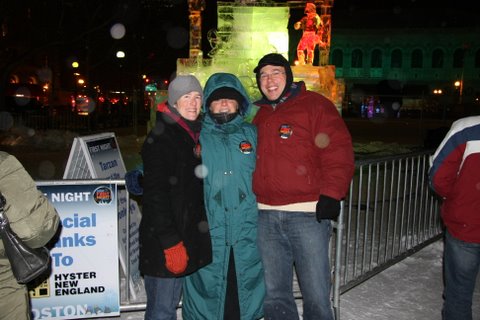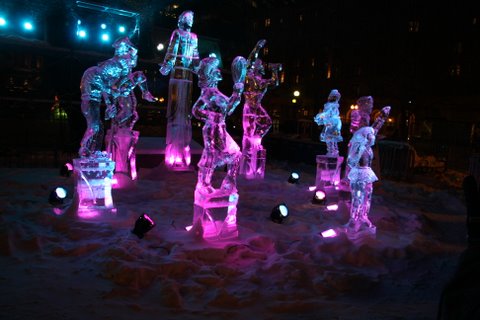 With the wind chill, it was below zero. Remarkably, and thanks to the seven layers I wore on top and the borrowed snow boots and wool socks, the only part of me that got really cold was my face. We were shocked to see a group of young women wearing cocktail dresses and tromping through the snow and slush in strappy high heels. They had to have been absolutely frozen! This sight made me especially happy that my single days are behind me, so that, on special evenings such as this, I can focus on comfort over cuteness. If you think I'm exaggerating about the cold, then check out this photo of Jon with a teardrop-shaped icicle hanging from his right eyelash!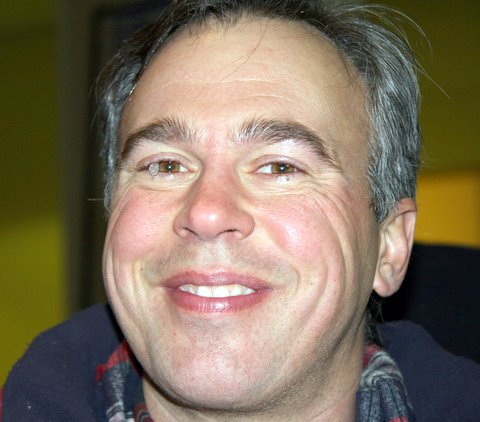 HAPPY NEW YEAR FROM JOYCE & PAUL!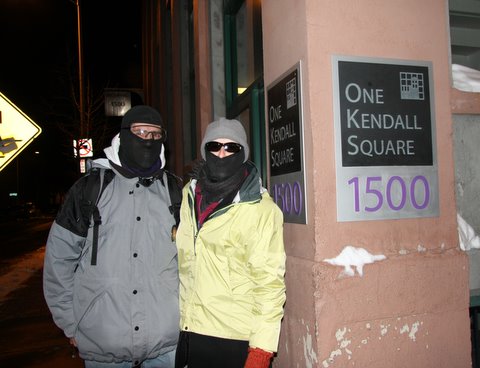 <<
<Back
| 17 | 18 | 19 | 20 | 21 | 22 | 23 | 24 | 25 | 26 |
Next>
>>