Thursday, January 15, 2009, 08:28 PM
Posted by Administrator
My first week back at the office following a relaxing two-week vacation seemed to drag on, especially as I had a Saturday meeting that kept me busy until 1:30pm. I wanted to get in a moderately long workout that day and so I broke it up with 3 early morning miles before my meeting and then 10 late afternoon miles with Paul. Check out my new running clothes. Retail value - $60. Post-Christmas outlet sale price - $20. Gotta love it!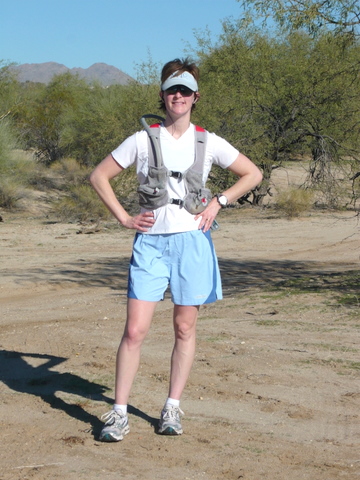 The next morning, we hopped in the car early and headed to Chandler for the
Casa Grande Century
, a non-competitive group ride which offered distances of 100, 62 and 34 miles. We opted for the middle distance and were one of the last bikes to leave the parking lot. Because of this, we rode by ourselves the entire way, passing the occasional rider. But one nice thing about a tandem is that you always have company!
It was a brisk morning with temperatures in the 50's and a headwind for what seemed to be the majority of the ride. The course took us on a fairly quiet road that eventually offered beautiful desert views, but only after pedaling along 10 miles of a trash-strewn roadway. I cannot imagine why people throw cups, bottles and worse out of their car windows, but I hope they're getting their share of karmic retribution.
A sag stop was set up at mile 17 and we stopped for a bathroom break and snacks. The 34-milers turned back at this point, but we continued on, turning west to cross over I-10 toward Casa Grande. It turns out that there is more to this city that the outlet mall and Florence Boulevard. Who knew?
Mile 31 brought us to the lunch stop with a nice BBQ spread, sandwich fixin's and good conversation. My legs were definitely fatiguing on the return trip, as this was my longest bike ride in a few months. Throw in a sore butt and a little chafing and I was very happy to get back to the car. Can you believe that our tandem actually fits in the back of the Prius?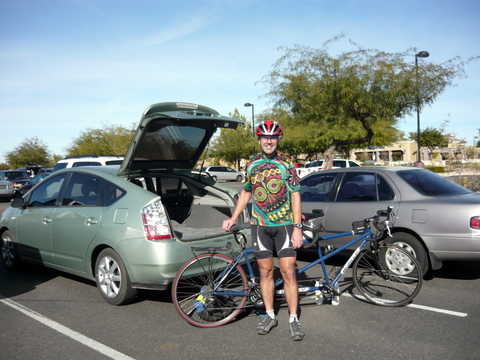 Overall, this was a decent ride - well-organized, friendly volunteers and plenty of good food. And it jump-started my bike training for our two upcoming Mystery Weekends which both happen to involve cycling.
<<
<Back
| 17 | 18 | 19 | 20 | 21 | 22 | 23 | 24 | 25 | 26 |
Next>
>>