Friday, November 27, 2009, 11:53 PM
Posted by Administrator
For the sake of convenience and against our better judgment, we opted for breakfast at the Thunderbird Lodge cafeteria. After a disturbing encounter with their version of huevos rancheros, we got back in line and stuck with the foods that required the least amount of human intervention – cold cereal, toast, hard-boiled eggs. I then donned as many layers of clothing as possible, which amounted to 7 on top and 2 on the bottom, as we prepared for our 3.5-hour open-air jeep tour of Canyon de Chelly. The temperature hovered in the mid-20's.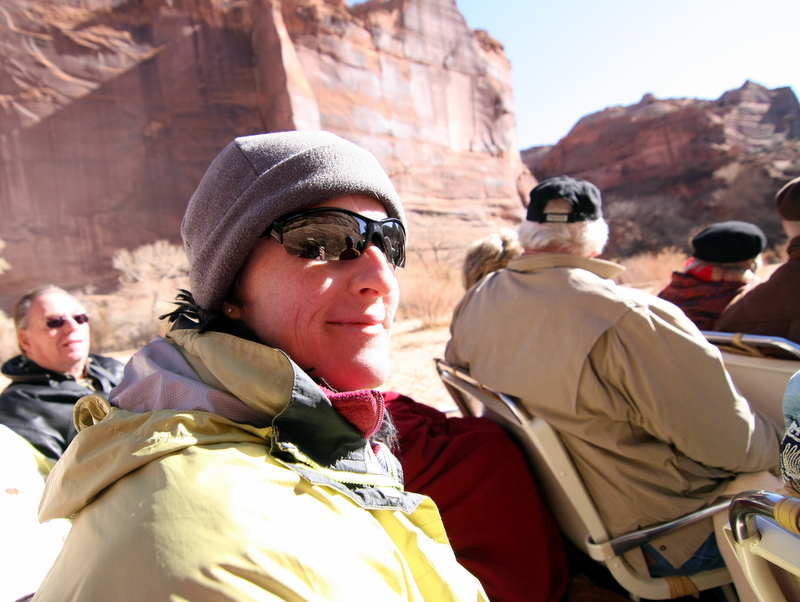 With the exception of one hiking trail, visitors can only enter the canyon with a Navajo guide. Ours, booked through Thunderbird Lodge and entrusted with 20 passengers, won me over with a blanket for my lap. My needs are simple – just keep me warm.
The drive through the north canyon was a bumpy one with amazing views of steep canyon walls on both sides, some of which held remnants of ancient cliff dwellings. Canyon de Chelly is spectacular and I highly recommend a tour and visit if you ever find yourself in that part of Navajo country.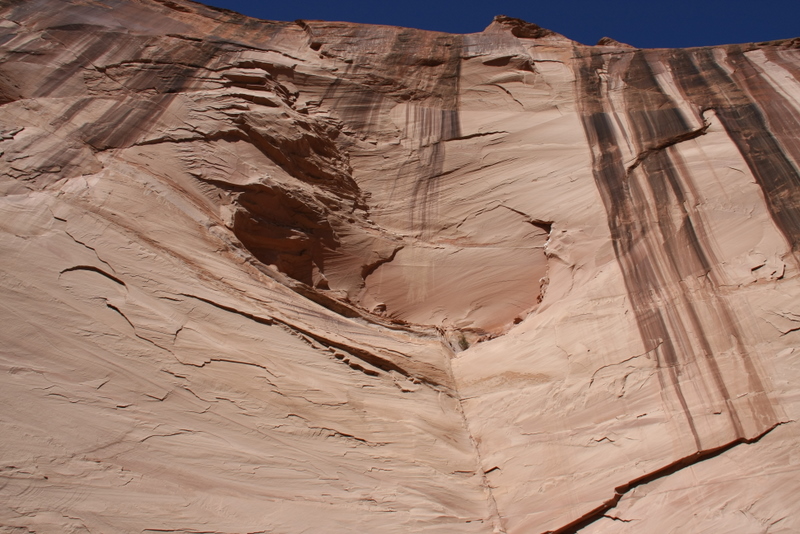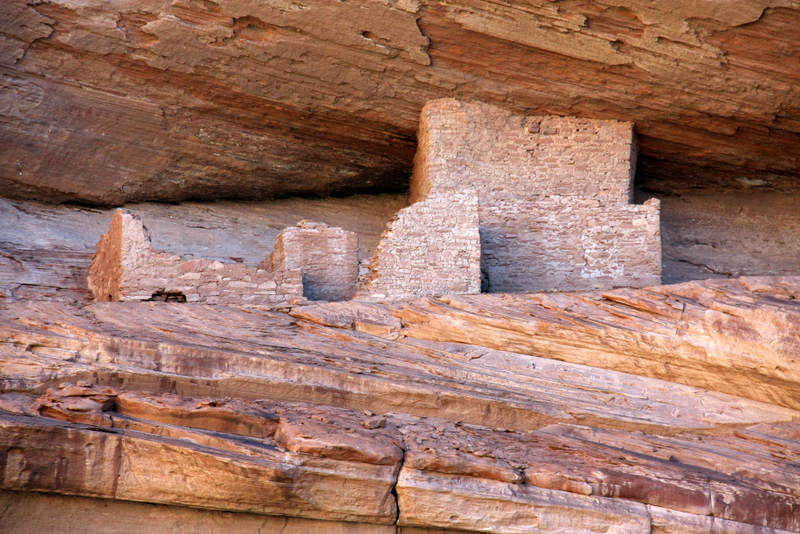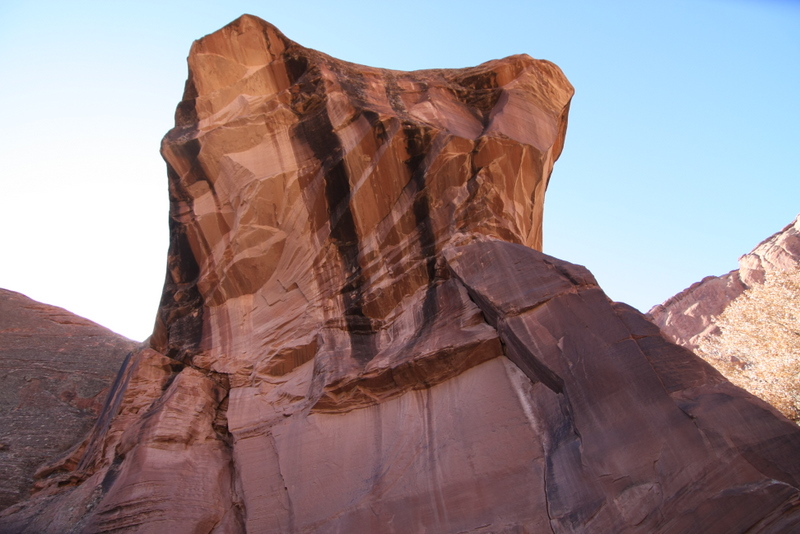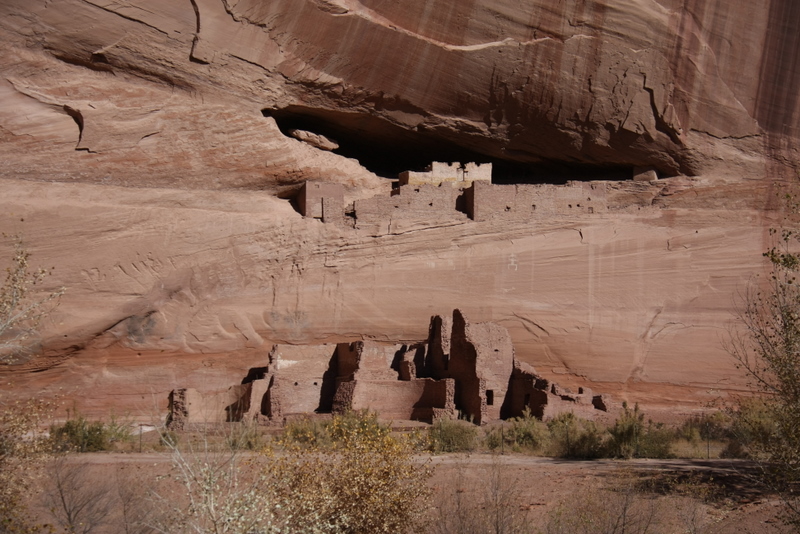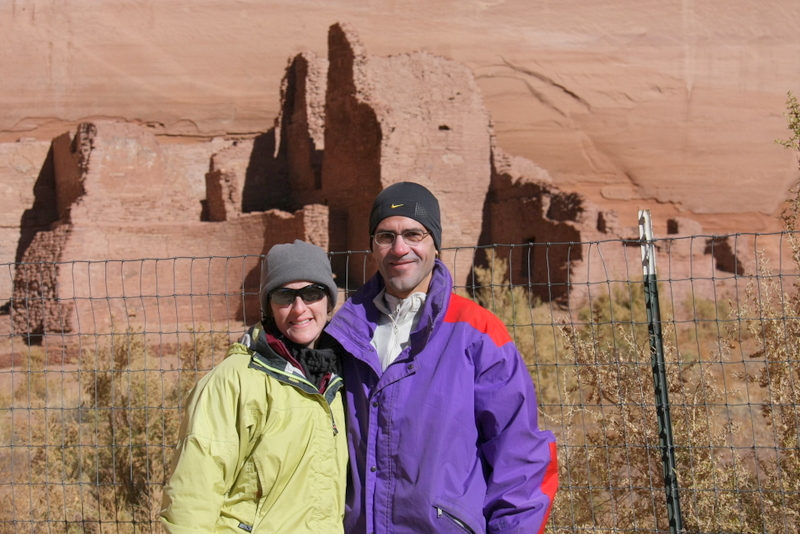 Believe it or not, we managed to visit two fast food restaurants that afternoon – Subway in Chinle for lunch (our second visit in two days) and Burger King in Kayenta for their exhibit about the World War II Navajo Code Talkers.
Our destination that day was Monument Valley and we arrived just in time for sunset. While Paul captured the stunning colors on film, I checked us into our lodging –
The View Hotel
, the only lodging inside the park. After our less than satisfactory lodging experience at Canyon de Chelly, I had become nervous about what awaited us at The View, but was relieved to discover a new, clean, comfortable hotel offering million dollar views from every room.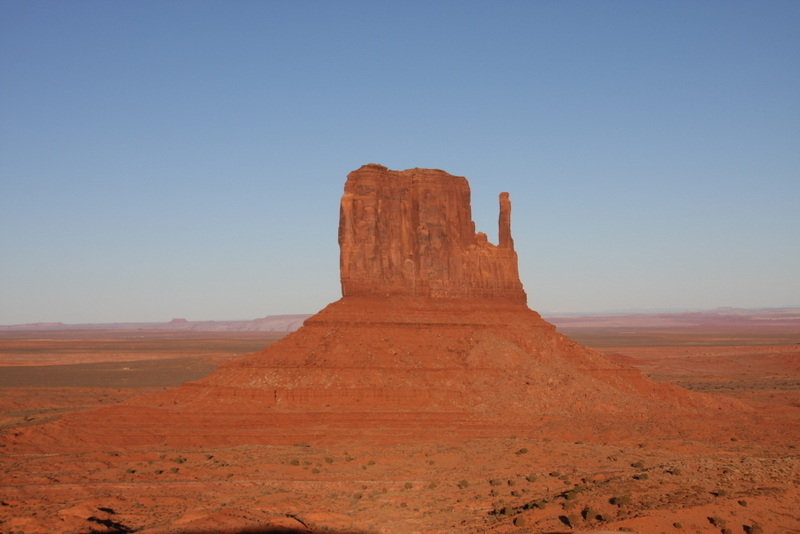 My half marathon training plan called for a track workout that day. What more inspiring place to work up a sweat than the rim of Monument Valley? Unfortunately, temps in the 40's and a bitter wind deterred me from an outdoor run, but I was pleased to find a treadmill in the fitness center. As a bonus, it worked my body AND my mind as I couldn't figure out how to change the settings from kilometers to miles, and so had lots of math to do for my interval workout. Then, safely on track with my training plan, we had a mediocre dinner in the hotel's restaurant and turned in early. Another fabulous day on the road!
Thursday, November 26, 2009, 11:21 PM
Posted by Administrator
While waiting for our host to fry up an astonishing amount of bacon, we wandered around the gorgeous backyard, which is sometimes used for weddings, and checked out the banquet space, which had a previous life as a steakhouse and, before that, an airplane hangar.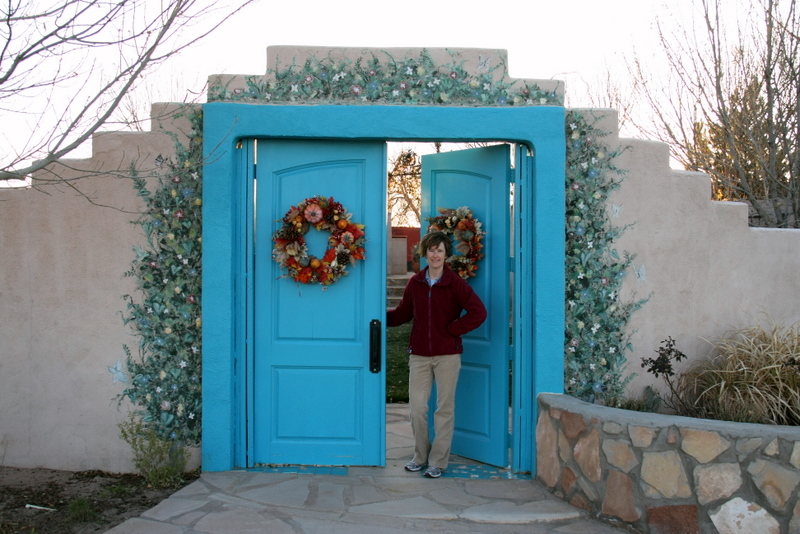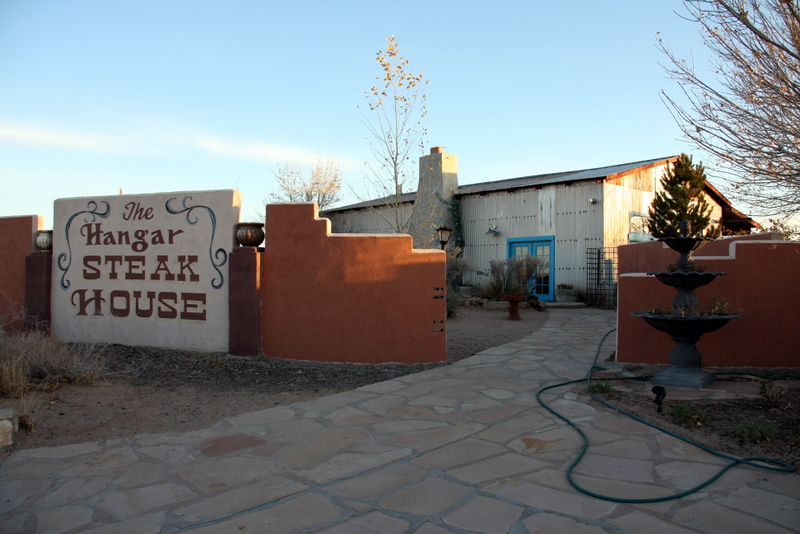 While enjoying the bacon, served with omelets and biscuits, we were entertained by our hosts' stories of their lives in Holbrook, as well as slightly offended by their use of ethnic terms suggestive of a past generation…or two.
We started our travels with a stop at
Jim Gray's Petrified Wood Company
to check out his impressive collection of rocks, as well as some museum-worthy fossils. This particular specimen warranted a photo, not so much for its beauty as for that little white sticker. It reads "$24,000."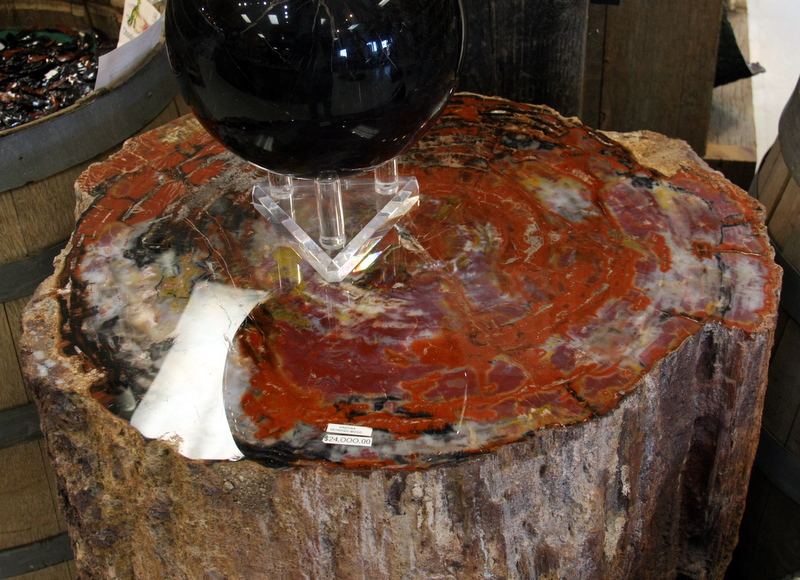 The next few hours were spent driving the 28-mile scenic stretch through the Petrified Forest and Painted Desert, a road which we thought would be perfect for a marathon course. We pulled over periodically to take in the spectacular views, petroglyphs, ruins and, of course, the forest which has turned to rock over the past 250 million years.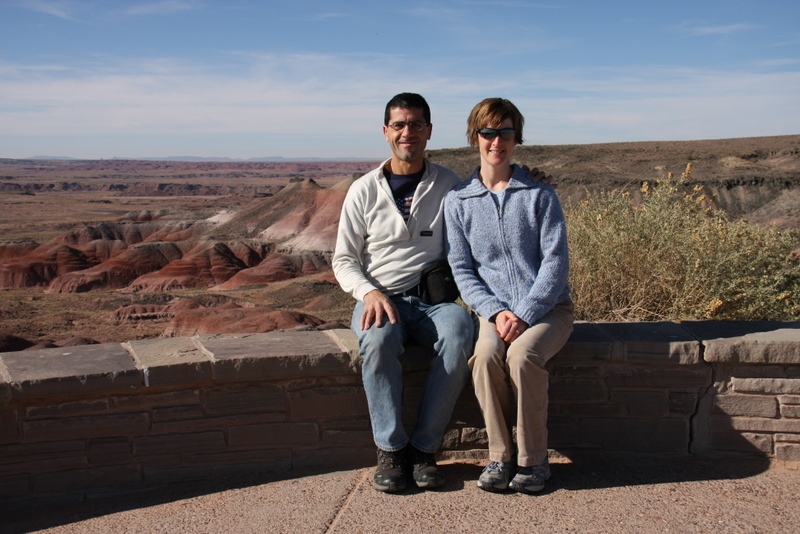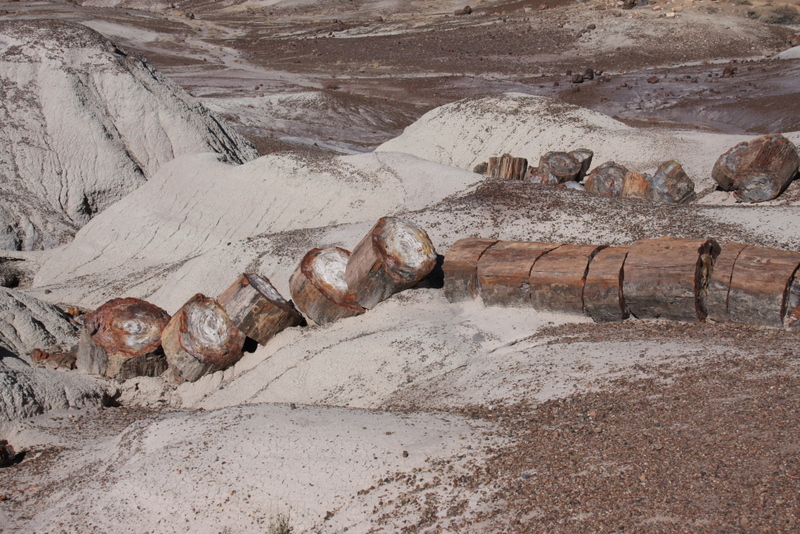 After exiting the scenic drive, we were ready for lunch. If you've read reports of our past trips, then you know that we are pleasure eaters. We love fresh, flavorful, healthy food and we enjoy discovering truly local fare. However, in the Navajo Nation, the foods of choice seem to be Indian tacos and Navajo fry bread. And so, we decided that, on this trip, we would have to put pleasure aside and become survival eaters. Luckily, we happened upon a Subway just down the road. It's not fine cuisine, but you always know exactly what you're getting.
Our next stop was a quick one at the
Hubbell Trading Post
. If you've never been to a trading post, then this might be a compelling attraction, but we didn't spend much time browsing the collection of rugs and rifles.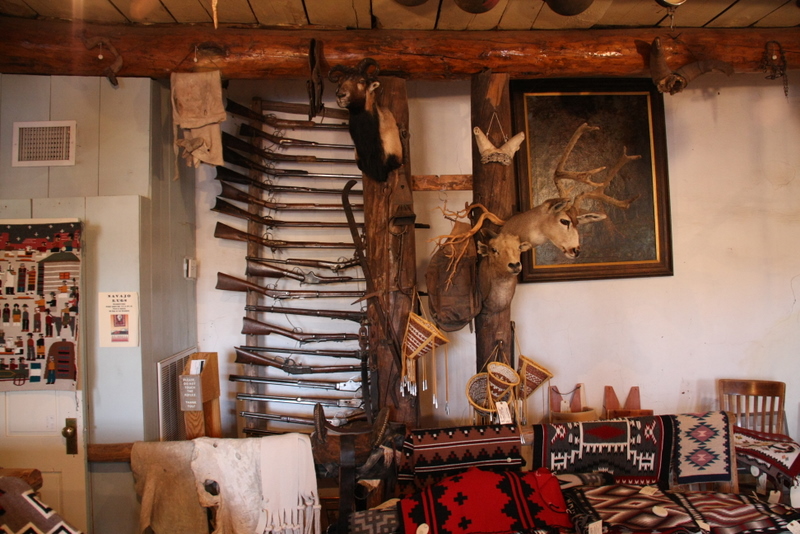 Just before sunset, we reached our final stop of the day, Canyon de Chelly. Thinking it would be a great advantage, I had made reservations at the only lodging inside the park,
Thunderbird Lodge
. As it turns out, there are a few chain hotels right outside the park that I'm confident would have been newer, cleaner and more comfortable than Thunderbird.
After reading some bad reviews of the Thunderbird cafeteria, we decided to head just down the road to the Holiday Inn (where we should have stayed) for a fairly good dinner with fairly bad service. Alcohol is not permitted in the Navajo Nation, but this restaurant did offer several varieties of non-alcoholic beer and wine. We passed. I don't want the calories if I can't have the buzz.
Wednesday, November 25, 2009, 10:06 AM
Posted by Administrator
Determined to stick to my half marathon training plan, I made time for a 10-miler before beginning our adventure. I found that a long workout eases the guilt of spending the rest of the day on your ass. I also learned that a long car ride does nothing to ease the stiffness caused by a 10-miler. Even with compression socks.
We avoided the dreaded I-10, instead opting for the scenic route through Oracle and the dusty little towns north of it. In the spirit of adventure, we stopped in Globe to check out "the world's tallest 3 story building" as touted by our guidebook. While I wouldn't recommend going too far out of your way to visit this landmark, it did show me that there is more to Globe than the gas station I always stop at for a potty break en route to the White Mountains.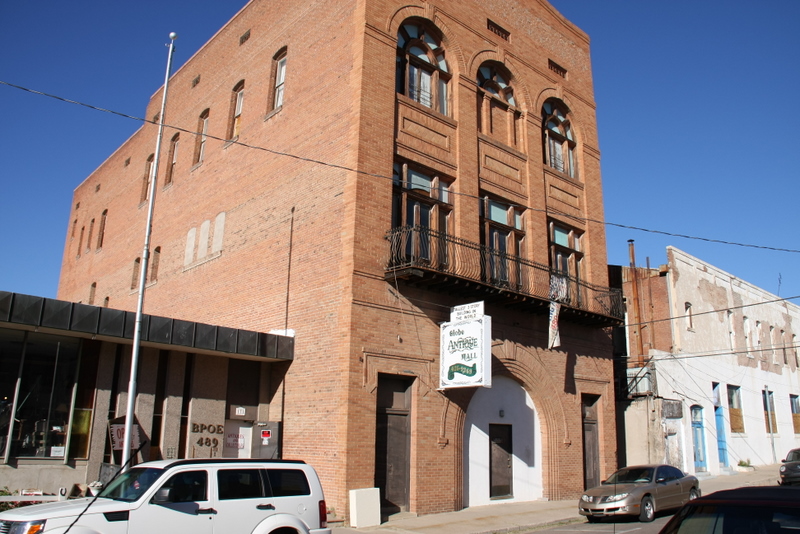 We took a break in Show Low for dinner at Addi J's, a newer restaurant advertised as offering modern, fusion cuisine. We were intrigued by the menu's listing of the Southwestern Lettuce Wraps, but they turned out to be…odd. Good idea. Bad execution. I might just try my own version at home. We should have known better - Show Low is not known to be a foodie town.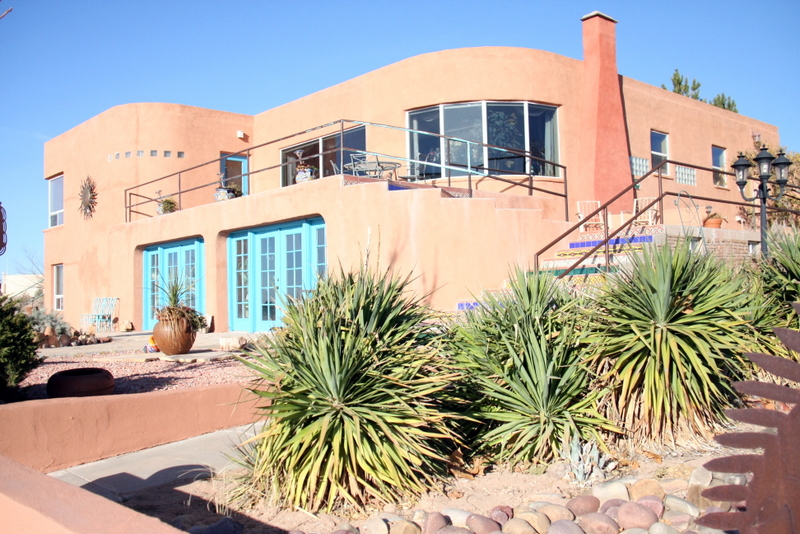 We continued north to the
Heward House at Holbrook B & B
, a beautifully restored and decorated historic home. After getting settled in our Native American-themed room, we sat down, under the watchful eyes of a large collection of kachinas, for drinks and interesting conversation with our extremely friendly and welcoming, if not always politically correct, hosts.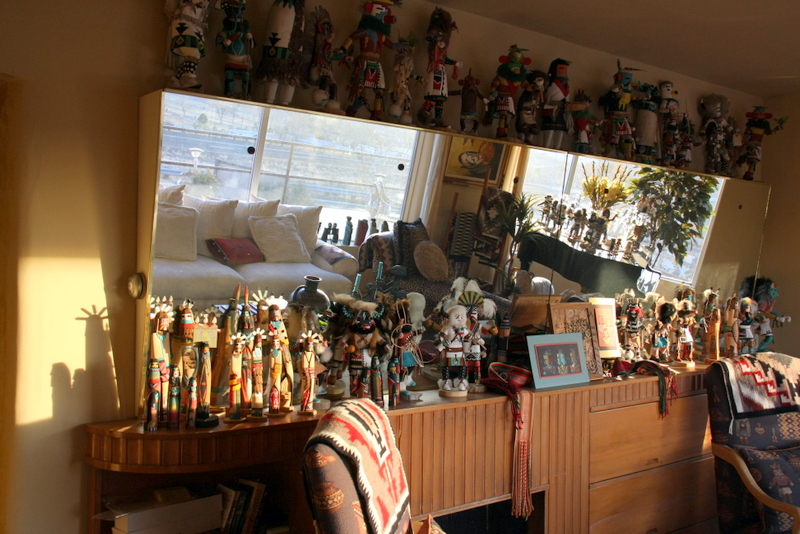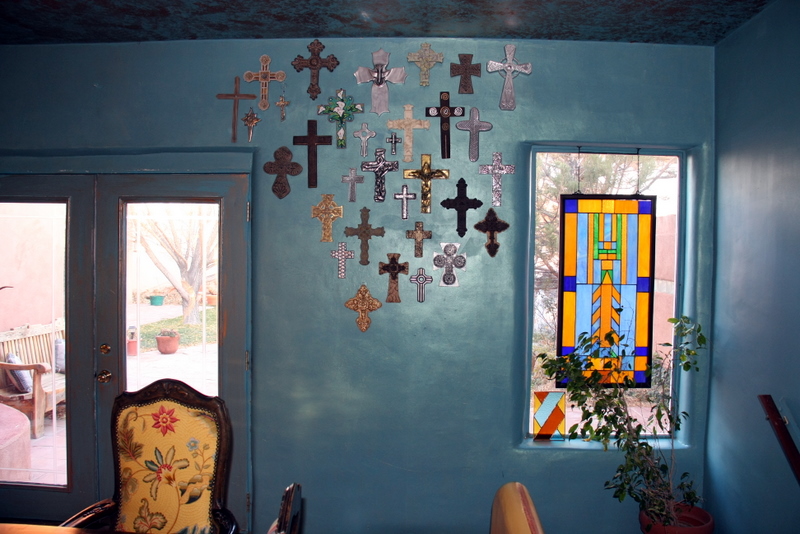 Friday, November 20, 2009, 10:00 PM
Posted by Administrator
Tomorrow morning, Paul and I embark on an 8-day, 900-mile road trip adventure! Having lived in Arizona for more than 10 years, we're overdue for a visit to some of our state's most beautiful areas - Canyon de Chelly, Monument Valley, Antelope Canyon and Lake Powell.
Our final two days, including Thanksgiving, will be spent in Sedona, a town to which we have been many times, but to which it is always a pleasure to return.
We're bringing along a laptop and I hope to post reports and photos as we go. Feel free to check in for updates.
Sunday, November 1, 2009, 09:50 PM
Posted by Administrator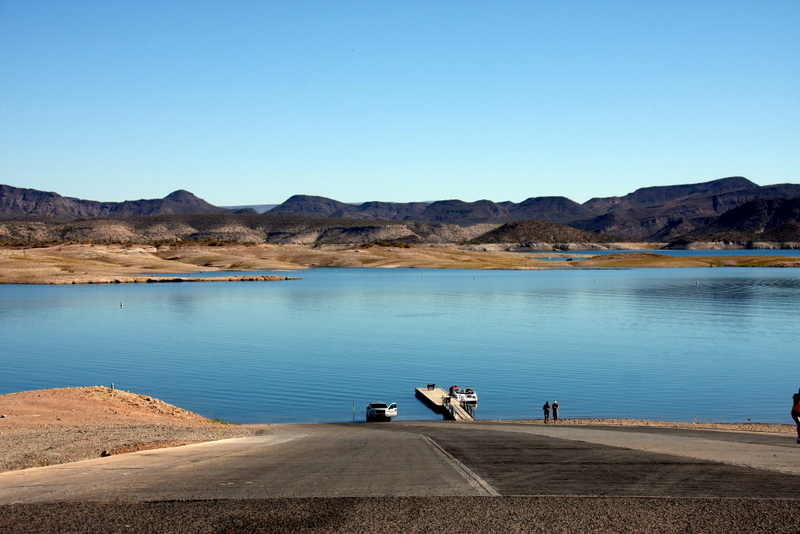 This photo says it all. You know you're in for a tough day when the first major climb of the race comes before T1.
We drove to Carefree yesterday afternoon to pick up our
Amica Sprint Triathlon
race packets and get body-marked. Pre-marking seemed like a fantastic idea until we woke up the next morning with smudged numbers on our bodies and black marks on the hotel sheets. A little bleach will take care of that, right? For the record, the
Homewood Suites North - Happy Valley
was a fantastic place to stay. It was a 30-minute drive to
Lake Pleasant
, the race site, and cost $90 for a great suite with a kitchenette.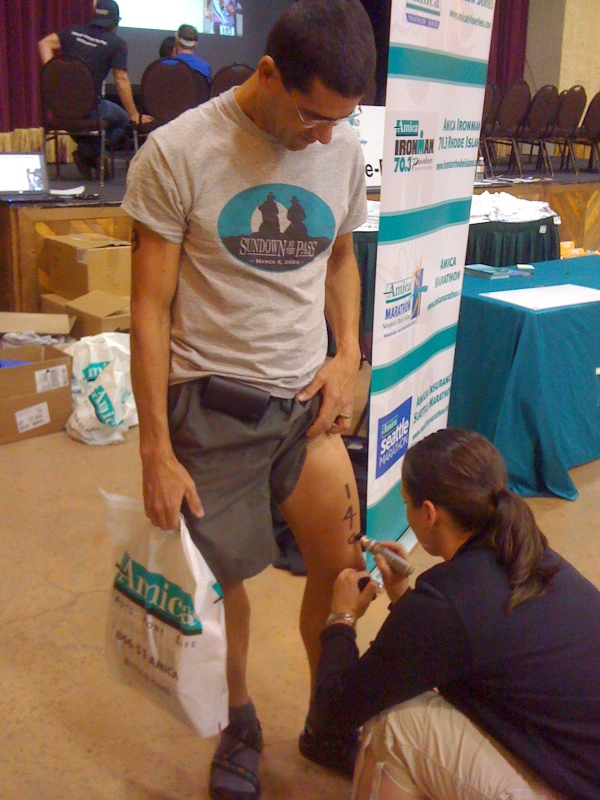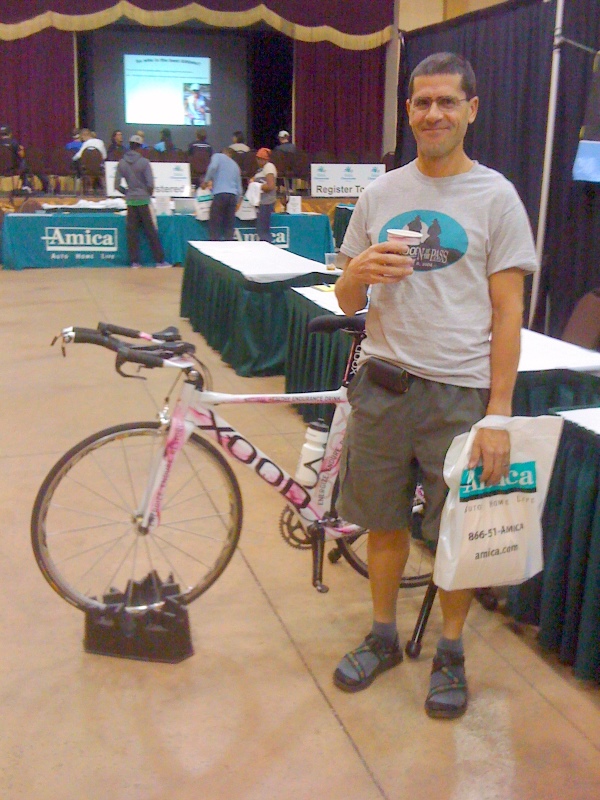 We were up at 5:00 a.m. (thanks to the hotel wake-up call and no thanks to Paul's IPhone that was set to the wrong time zone and "fell back" an hour along with most of the country) and pulled into the race parking lot around 6:45. Note to Amica - more signage would be helpful to the participants and appreciated by the very nice park fee collector who had to give directions to us, as well the long line of bike rack laden cars behind us, after we all took a wrong turn.
In theory, we had plenty of time to set up our transition area before the 7:45 a.m. transition closure. However, the matter of some missing socks left me running back to the car in a mildly panicked state. I then hurriedly slapped on some sunblock and squeezed myself into my wetsuit just before they began threatening time penalties to anyone still loitering in transition. On the bright side, I found fellow Tri Girls Mae Lee and Kandy racked nearby.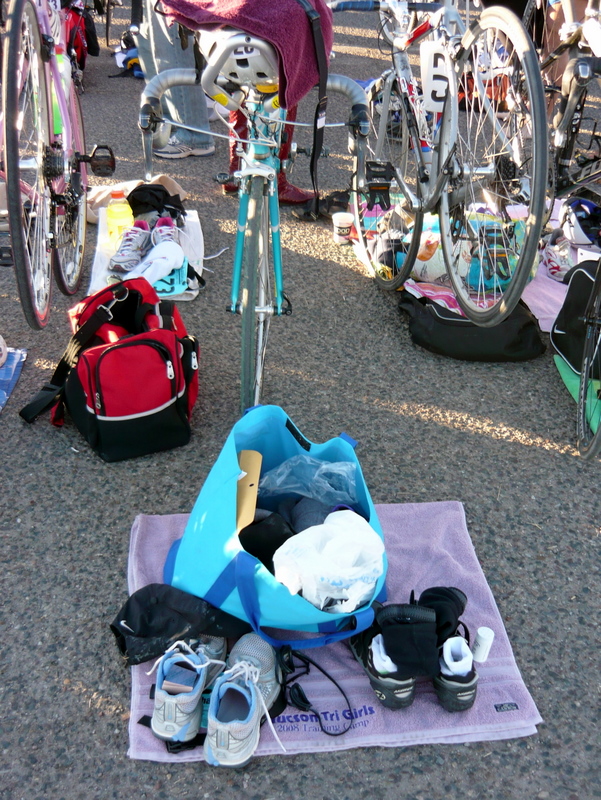 Rumor has it that the water was 68 degrees, a little warmer than had been anticipated. It felt just fine with the wetsuit, although putting my face in was a shock. It had been about 18 months since my last wetsuit swim and it took me until the first buoy to really feel comfortable. The suit certainly helps with flotation, but I feel like my arms are working overtime when I wear it.
Kandy and I exited the water together and I was happy for the company for the walk up the insanely steep boat ramp. I also appreciated the surprisingly enthusiastic cheers of some spectators, and then realized that it was a Team in Training support crew reacting to the Team in Training logo on my wetsuit that I bought secondhand. A small part of me felt like an impostor. But a larger part of me appreciated the cheers.
In a word, the bike course was hilly. At 17 miles, it was also longer than your typical sprint bike distance. Using my power meter, I had a number I was shooting for on the uphills and then just hammered as hard as I could on the downs. My chain was acting up and I dropped it once, but the bike was otherwise uneventful. My nutrition went better than usual as, after listening to
Sal Tirrito's
nutrition talk at yesterday's expo, I made a concerted effort to take in a good amount of
XOOD
. In Sal's words, "Recovery starts as soon as your workout starts." Also, I tried Robin's trick of sticking Cliff Shots to my top tube for easy access, allowing me to take in calories without risk of embarrassment or bodily harm. I'm not proficient at riding one-handed while using the other to deal with food packaging.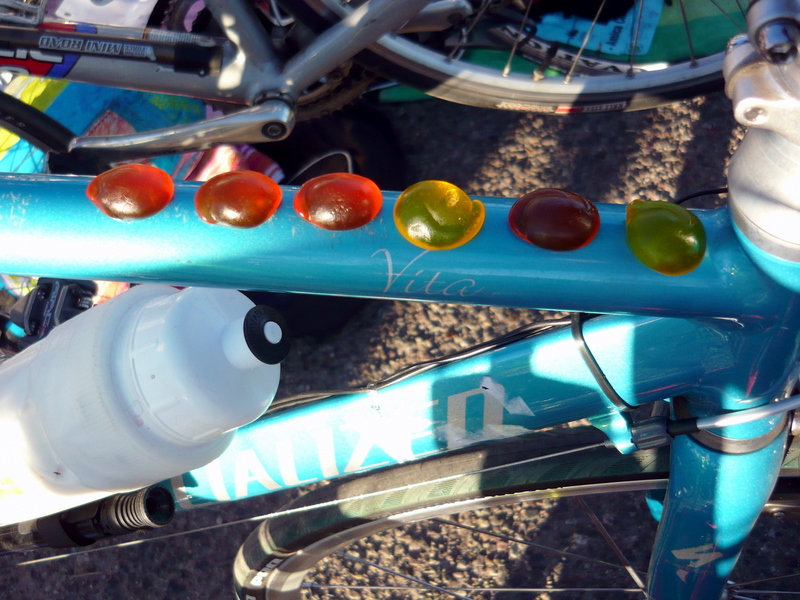 There was an out-and-back portion that we did twice and so I got to see Paul, Kandy and Mae Lee a few times. Paul was clearly
WAY
ahead of me and Mae Lee cruised by me toward the end of the bike, looking fantastic.
After the endless hills, I was thrilled to be off of the bike and on to the run, my strongest of the three disciplines (yet still rather mediocre). However, I quickly realized that the 5K run course was going to be just as challenging as the bike had been. Flat ground was no where in sight. I tried to keep my heartrate in the mid-160's, which meant walking some of the steeper hills. I commiserated with Mae Lee as I caught up to her and, later, appreciated the older man who said, in a very soft, serious voice, "Run hard, young lady."
The road turned to dirt and I knew the turnaround was near. Seeing a short, steep hill in front of me, I assumed the halfway point of the run was at the top. No such luck. Upon cresting the hill, I was incredulous to see the turnaround at the bottom of a steep decline. The run down was great - the coming back up sucked.
I was pleased to pass a number of people on the run and, thanks to my good bike nutrition, I felt good at the finish. However, this honeymoon period passed quickly and was replaced by light-headedness and nausea. Walking briefly, slamming a cup of
XOOD
, and sitting in the shade brought me back to life. My legs were toast, but I was no longer in danger of passing out or vomiting.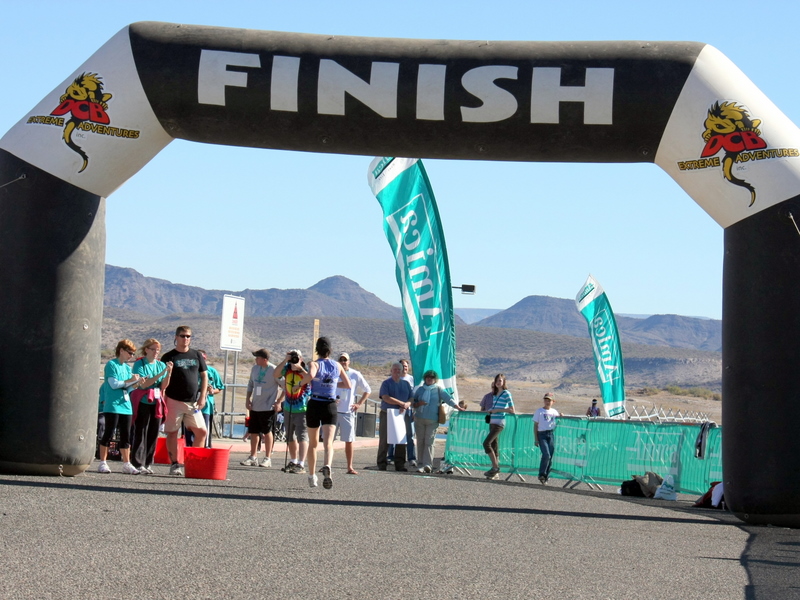 We stayed for the awards as most of the XOOD team members ended up on the podium, including Paul who took 3rd place in his age group. One of the more exciting moments of the day was when I went up to accept an award. Unfortunately, it was not for me, but I was thrilled for Kandy who had taken 3rd in her age group, an honor she, apparently, was not expecting as she was packing up her stuff in transition when it was announced. Congratulations Kandy!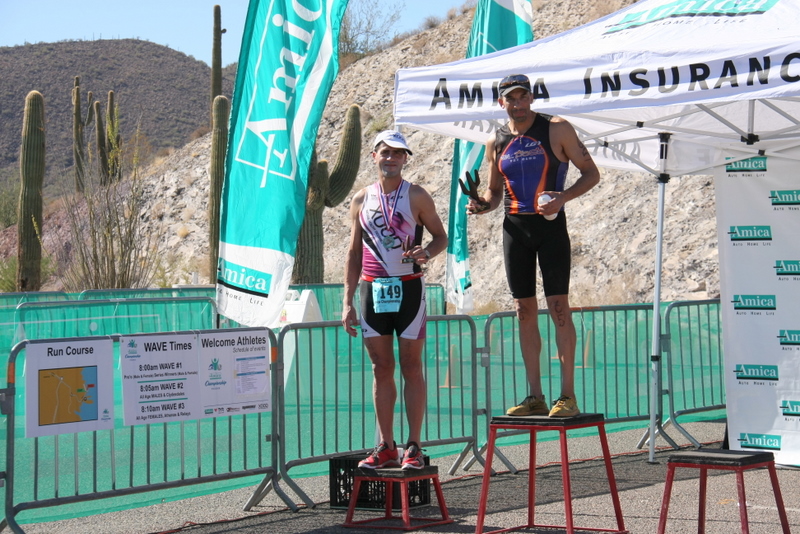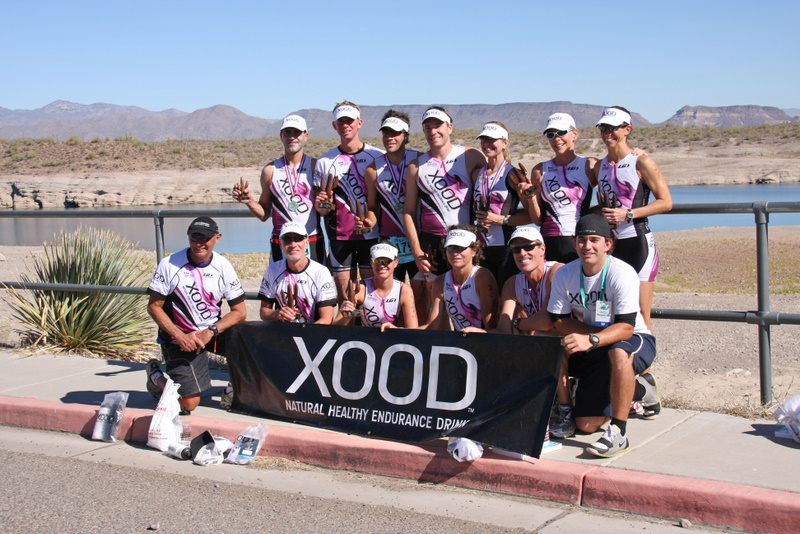 This event was the championship race of a new national series presented by Amica Insurance. Here's what they did well:
- Easy parking
- Friendly and encouraging volunteers
- Clear lake (a nice change from Tempe and Sahuarita)
- Closed course on a well-maintained road
- Fantastic race announcer
- Nice medals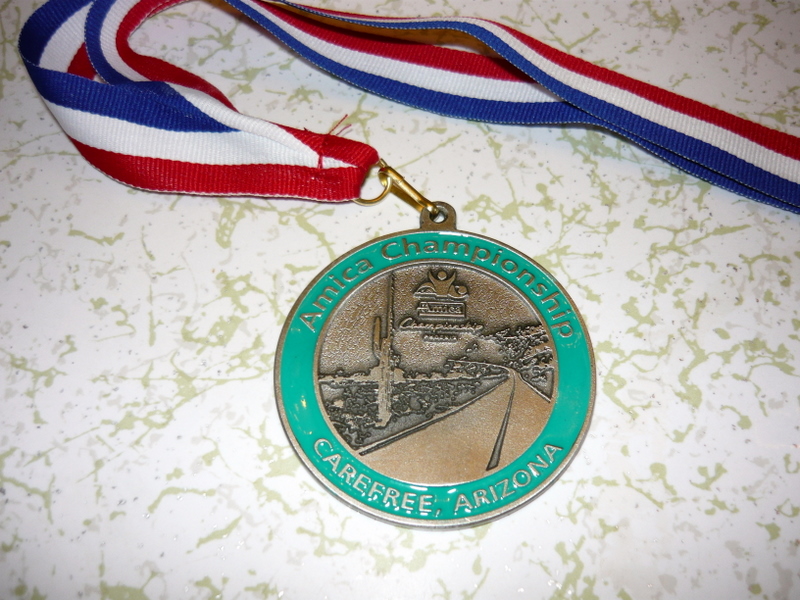 And some areas for improvement:
- Expo was a little sad with only a handful of vendors and was also too far off-the-beaten path. I would have preferred an expo and host hotel in north Phoenix.
- Course is not spectator friendly - your cheering section has to stay near transition.
- Better directions to the race site are needed as Lake Pleasant has multiple points of entry and boat ramps.
- Directional instruction on the course was also lacking in areas. Here I am nearing the finish, confused by the line of cones that appeared with no explanation. Which way do I go?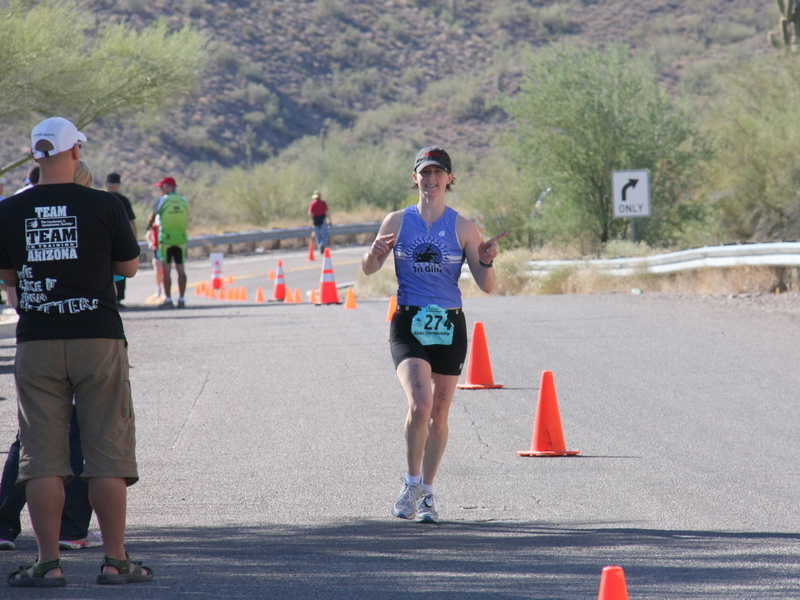 - A better race timing system is needed. Many of the times announced during awards were not quite right. Also, 10 hours after the race has concluded, the results page of the website still says, "Results will be posted immediately following the Championship." Immediately? Amica needs to learn the principal of "under promise, over deliver." (I think I finished around 2:15.)
Though not perfect, a day spent racing is a day well spent. It's been a great tri season for us and we're ready to move on to half marathon training!
<<
<Back
| 13 | 14 | 15 | 16 | 17 | 18 | 19 | 20 | 21 | 22 |
Next>
>>