Friday, November 14, 2008, 07:46 PM
Posted by Administrator
To avoid total post-race devastation after months and months of training, it is recommended to have three race goals in mind. And here are mine:

No Problem Goal - To reach the finish line uninjured.
Barring some unforeseen disaster, I feel very confident that I can achieve this...which is the whole point of this "3 goals" thing. I feel healthy, well-rested and totally prepared for the distance. Not that I have any illusions that it will be easy, but I will get there.

Realistic Goal - 4:59:59
In other words, I want to break 5 hours. I completed my last (and only) marathon in 5:09. This was at the Mayor's Midnight Sun Marathon in Anchorage in 2004. Where will those 9 minutes come from? The flatter course in San Antonio and the stronger runner - me! Reaching this goal means averaging an 11:26 pace.

Pie in the Sky Goal - 4:45
This will be a stretch. I have been basing my
Yasso 800's
on this distance and those workouts felt great. But, maintaining a 10:52 pace over the distance sounds tough. We'll see if the thousands of other runners and the 60 or so bands can pull me through.
If you'd like to follow me and Paul online, then there will (supposedly) be
live athlete tracking on the race's website
. Just in case you need our bib numbers to follow us, I am 18271 and Paul is 2100. The race takes place on Sunday and begins at 7:30am (San Antonio is one hour ahead of Tucson time and one hour behind for friends on the east coast). Please send positive thoughts our way!
Sunday, November 9, 2008, 09:39 PM
Posted by Administrator
Two posts in one day - this is unprecedented! But, as you can see, I'm excited about my new toy.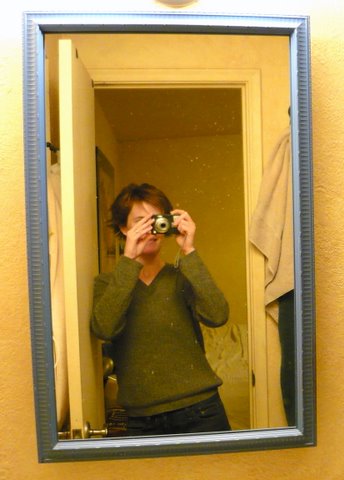 One of Paul's hobbies is photography which means we have a really nice camera that I don't know how to use. It's also a large camera which makes it difficult to bring on runs or bike rides. And Paul probably gets tired of me bugging him to download photos, so that I can post them on my blog. For all of these reasons, we bought a small, simple camera.
I tried it out this morning at The Blessing of the Animals at St. Philip's Church. What a neat event! There were a bunch of dogs, a cat, a horse, a fish in a fishbowl and a little furry creature of some kind in a cage. Here we are with our friend, Dave, who told us about the event and his dog Holly.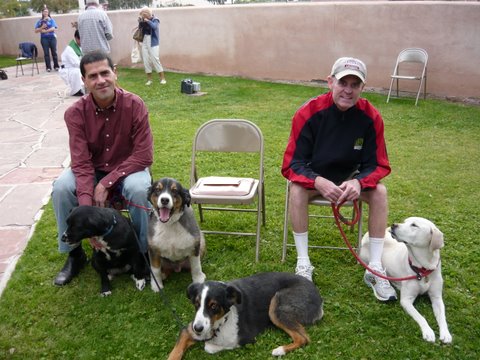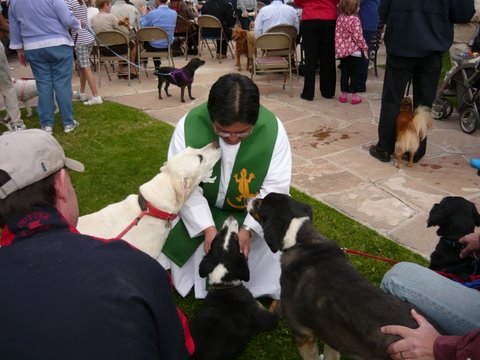 And this one is my favorite!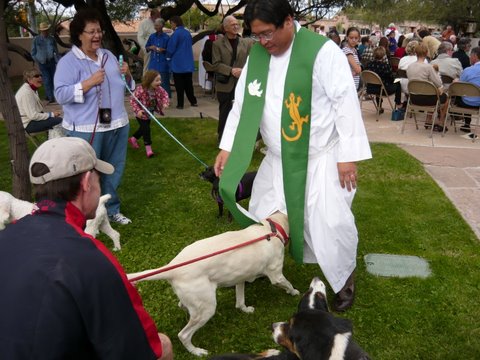 Sunday, November 9, 2008, 03:08 PM
Posted by Administrator
One thing I love about racing is the variety. Next weekend, I'll be in San Antonio running a marathon with 29,999 other people. Yesterday, I was in Sierra Vista for the Inaugural Sierra Vista Charity Biathlon, a 5K run and 14-mile bike race that drew only about 100 people. I enjoy events where you see people racing with the newest gear, the lightest bikes and Ironman apparel head to toe. However, I also enjoy events like yesterday's at which you see lots of first-time racers on ill-fitted mountain bikes wearing loaner helmets provided by the race organizers.
We typically would not drive 90 minutes for a small event like this, but I work for
MDA
, one of the race beneficiaries, and wanted to show my support and appreciation. So, we hit the road at 6:45 a.m. and arrived with just enough time to rack our bikes, hit the bathrooms and say hello to the MDA family that showed up to cheer us on.
At 55 degrees, the weather was perfect for running. The course was out-and-back on a fairly flat road with some gradual elevation changes. After one mile, I was surprised to realize that I was maintaining a 9-minute per mile pace...and actually felt pretty good. When I saw the front runners coming my way as they headed back toward transition, I started counting bodies, so that I could let Paul know where he was in the pack - number 11! I hit the turn around point at 14 minutes and realized this could be a fast 5K for me. That thought kept me motivated to push it on the now slightly uphill trek back to the transition area. With about 3/4 of a mile to go, I again saw the front runners - this time they were headed out onto the bike course. Paul had slipped back to 12th place, but he is strong on the bike and I knew he'd pick at least a few people off...especially the ones on mountain bikes.
Considering my typical 5K time is between 30 and 33 minutes, I was thrilled to enter transition in 28:31. My workouts at the track are paying off! I definitely lost some time in transition by changing shoes. I clocked it at 1:44. Many racers used toe cages or just plain ol' fashioned pedals and they gained some time on me because of it.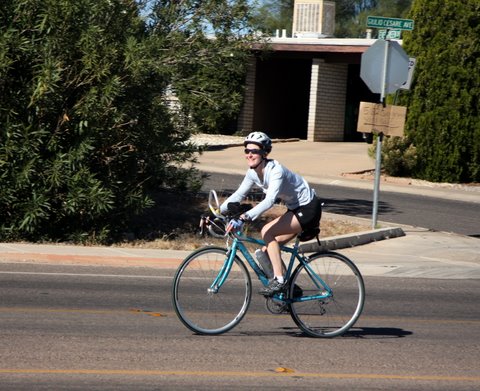 I quickly discovered that it's much easier to bike after running than the other way around, which is the usual order of triathlons. My body was warmed up and I could really push it without worrying about another leg of the race. Unlike my husband, I'm not strong on the bike, but just focused on slowly gaining ground on other racers. I passed a total of nine people, and was passed by only three - not too bad! I don't know if other people keep track like this, but knowing the tally keeps me motivated. I started counting for Paul again when I saw the front runner, but I didn't get very far - he was number TWO! Go Paul!
I was definitely losing steam toward the end, but focused on trying to catch a woman in front of me who looked like she could have been in my age group. I never did catch her, but she definitely kept my heart rate up those last few miles. The finish line was precarious as there was a left turn about 20 feet before it. This is no way to end a bike race - it's a recipe for disaster. People sprint at finish lines, which is why they are typically placed on a straightaway. I slowed to safely make the turn and was pleased to finish in 1:26 and 50th overall.
(Click here for results.)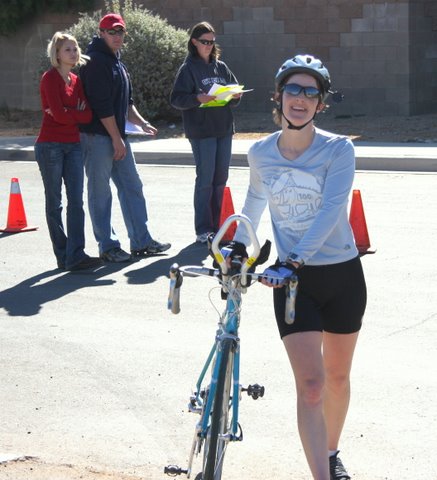 Paul finished second overall - the highest he's ever placed in a race! However, it was a bittersweet victory as the first-place finisher drafted off of Paul and then broke away in a sprint just before the finish line. Drafting is typically illegal at races like this, but there was no mention of it in the pre-race instructions, and so this guy sat on Paul's wheel until the very end. Had it been on a straightaway, Paul feels confident he could have held him off. But he was not prepared to risk life and limb to go screaming around that final corner, and so he let up just before the turn and the other guy squeaked ahead of him. It ate at him all day, but I am so proud of Paul for a kick-ass race and for making the smart decision at the end. A crash could have taken him out of next week's marathon...and scratched up his nice tri bike too.
Sunday, November 2, 2008, 09:22 PM
Posted by Administrator
Last weekend, I did my final long run for the marathon - 21 miles - and then went to a festival and a going away party. I couldn't believe how good I felt and how much energy I had! Sure, I was a little stiff for a few days, but it was nothing like the pain I had anticipated - the kind that turns your walk into a shuffle and forces you to descend stairs backwards.
I had good workouts this week and was feeling optimistic about my final speed workout as I jogged to the track yesterday morning, intending to do nine or ten
Yasso 800's
. During my first 800, it became abundantly clear that I was NOT recovered from the 21-miler. My legs felt dead. I stuck with it for 4 x 800 and then headed back home for a total workout of 6-miles. Not exactly what I had planned...but I'm tapering, right?
This morning, Paul and I headed out on the tandem. Now that it's not insanely hot (the high was only about 90 today), we slept in and headed out with a plan to ride for a few hours and then stop for lunch. Paul has taken the past few days off from exercise and so, feeling rested and strong, he pushed it while I, still having dead legs, enjoyed an easier ride on the back. Ahh...the beauty of a tandem.
We wound up at
Down Home Delights
, a restaurant I've driven and biked past a number of times and have always wondered about. It turned out to be a tiny little restaurant with excellent food. I highly recommend the spinach, strawberry and blue cheese salad!
Next Saturday is a short "
biathlon
" in Sierra Vista. No, we are not cross-country skiing and shooting rifles. Yes, that is typically what happens during a biathlon. No, I don't know why they chose the word. Yes, it makes me a little nervous about how well organized it's going to be. This race will be a 5K run followed by a 12 mile bike, and it benefits the
MDA
, the organization for which I work. Stay tuned for the full report!
Sunday, October 26, 2008, 05:10 PM
Posted by Administrator
Yesterday, I set out at 6:30am and, 4 hours 1 minute and 40 seconds later, I returned home with 21 miles under my belt. Three weeks from today, I will run 26.2 miles at the inaugural
Rock 'n' Roll San Antonio Marathon
.
Every marathoner knows to simulate the race as much as possible during training runs, and so I wore my Camelback with the bladder full of
XOOD
- love the pomegranate flavor - and the pockets stuffed with a flask of espresso-flavored
Hammer Gel
and my cell phone. However, a lack of clean laundry forced me to make some regrettable clothing choices. My comfy green running top and awesome new compression socks were in the dirty pile and so I threw on another favorite running shirt, but one that I had not yet worn with the Camelback. After a few miles, I discovered that it did not come high enough on my neck, leading to some irritation where the Camelback rubbed. And my
Injinji socks
, the ones that are like gloves for your feet and are specifically designed to prevent blisters, actually gave me two blisters. I made a pit stop at home at mile 13 and pulled a pair of socks out of the laundry basket. Yes, they were dirty, but, after 13 miles, so was I.
During the last few miles, my stride became a dead man's shuffle, through which I tried to gain as much forward movement as possible while bending my joints as little as possible. My lower back was tired, my hips and hamstrings hurt, and my feet were killing me. I was thrilled to be close to the end of this run, but a bit unnerved thinking about the added 5.2 miles that would come with the marathon. Despite this, I actually feel pretty ready! I've been dedicated to my training plan, even including speedwork for a change, and I feel confident that I can go the distance and set a PR. Mind you, none of this means that the race will be fast or easy, but that is part of the allure.
Yesterday, I also received my race confirmation card in the mail. The marathon recently sold out, reaching it's capacity of 30,000. I have been placed in starting corral #18, along with 999 others who run a similar pace. Paul, on the other hand is in coral #2. He also completed his final long effort yesterday (23 miles) and is feeling ready to run a 3:10 race.
<<
<Back
| 17 | 18 | 19 | 20 | 21 | 22 | 23 | 24 | 25 | 26 |
Next>
>>