Monday, February 22, 2010, 09:14 PM
Posted by Administrator
We have some exciting news,
So we decided to send a letter.
No, we are NOT pregnant.
You should really know us better.

A move is in our future.
We feel the need to roam.
We're packing up and heading east.
It's time to come back home.

The exact date is not set.
We're taking some time to play.
First we'll tour the west coast,
And hope to be home in May.
This is the poem that was read at my niece Hannah's birthday party to announce my and Paul's upcoming move to Massachusetts.
FAQQ:
WHAT?!? Why?
A:
After 11 years in Tucson, I'm ready to return home and be close to family again. Paul and I have been discussing this possibility for two years. Fortunately, I'm married to a wonderful man who loves his in-laws and cross-country skiing.
Q:
Does this mean that you're going to start a family?
A:
No. Definitely, no. Although Hannah has already requested a bedroom in our new house.
Q:
Where in Mass?
A:
It depends on where Paul is working, but we're shooting for eastern Mass.
Q:
Do you have jobs?
A:
I moved from Massachusetts to Tucson without a job and it somehow all worked out. Why be different for the return trip? We've decided to take advantage of our dual unemployment and take a month-long road trip up the west coast. We leave March 15 to drive all the way up the coast to Vancouver and will return a slightly inland route. (No, we're not bringing the dogs along.)
Q:
Are you going to be able to survive the cold?
A:
I think I can, I think I can, I think I can...
Saturday, February 20, 2010, 09:33 PM
Posted by Administrator
With rain predicted for the afternoon and just two days left on our annual state park pass, I headed to Catalina State Park to squeeze in a trail run. I took the Nature Loop Trail and then hopped onto the Sutherland Trail for a scenic 6-mile route with a number of water crossings.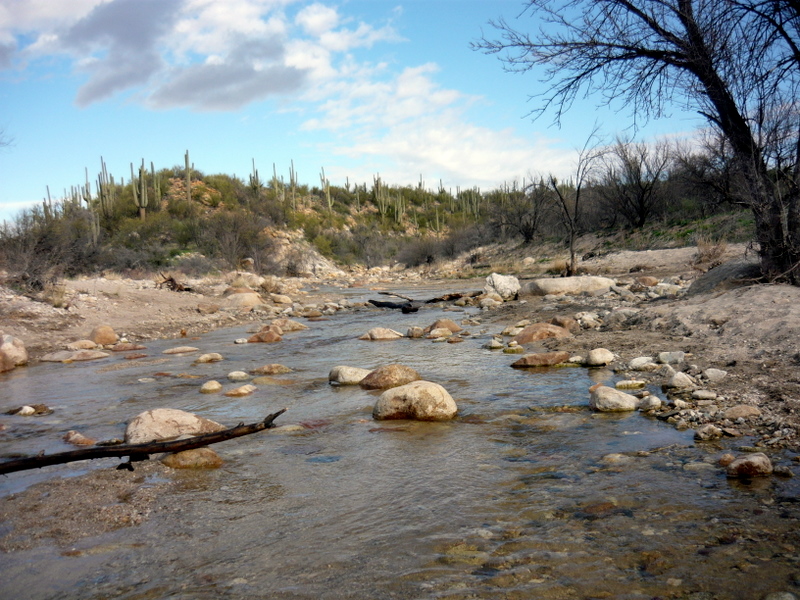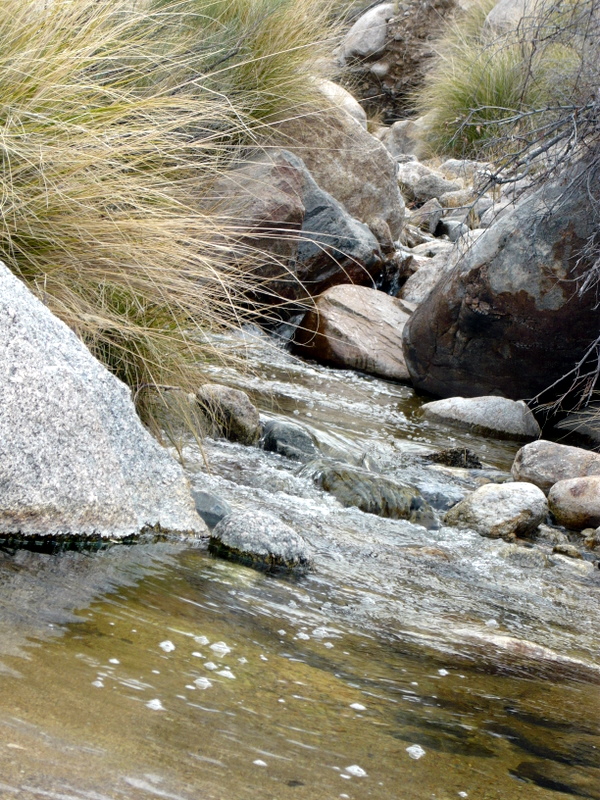 I stopped to snap a few photos, but didn't linger too long as the southern skies were ominous.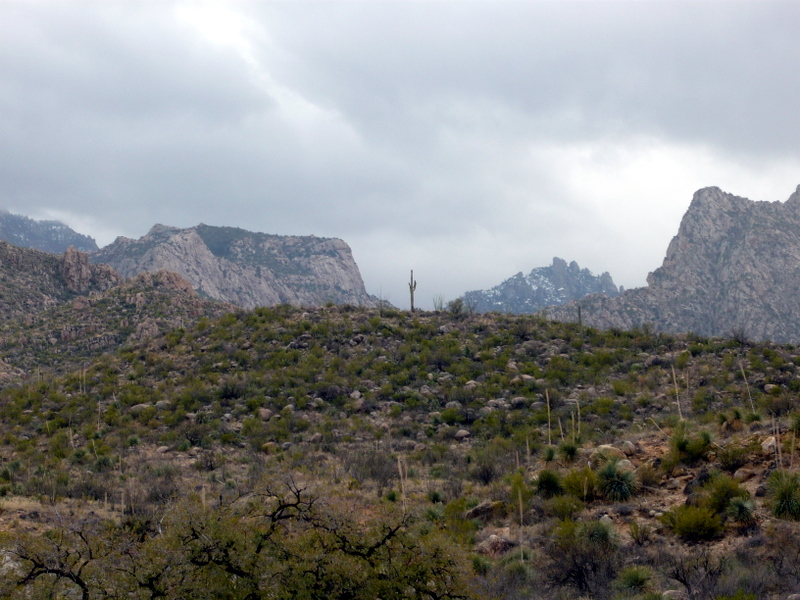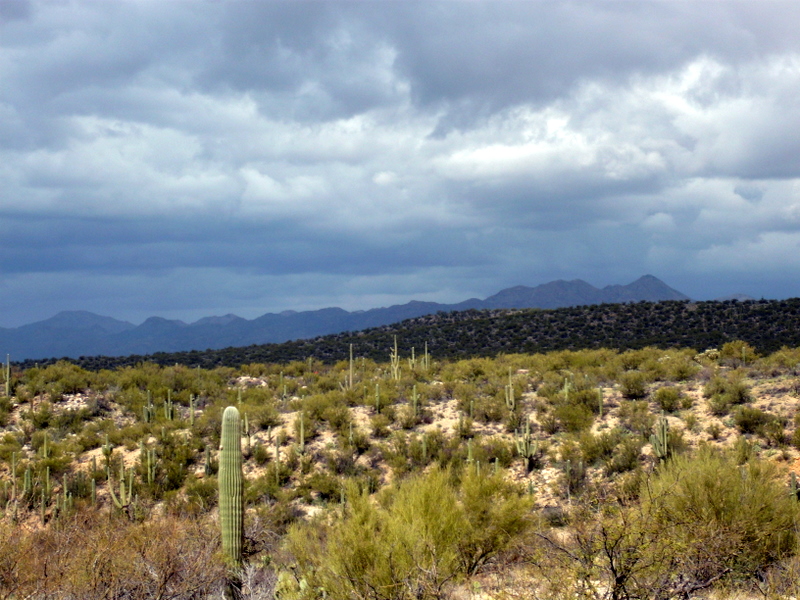 As a result of the recent rains, the grass was green and the very beginnings of wildflowers were blooming.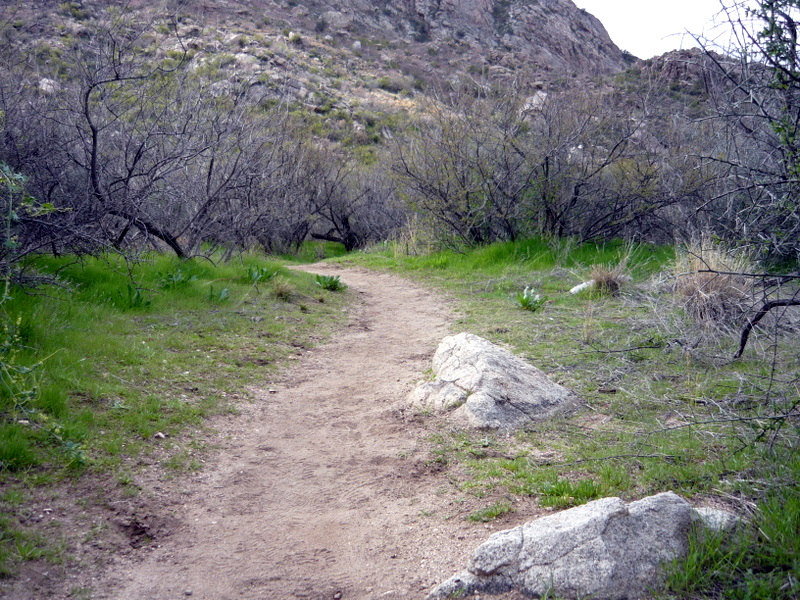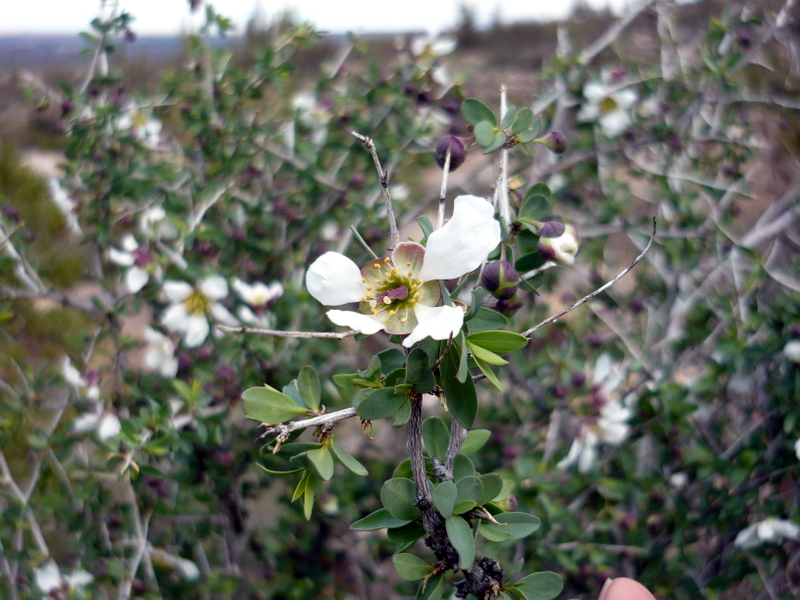 Back at the trailhead, the Arizona State Park Volunteers had set up a wildlife display with some pretty cool desert critters.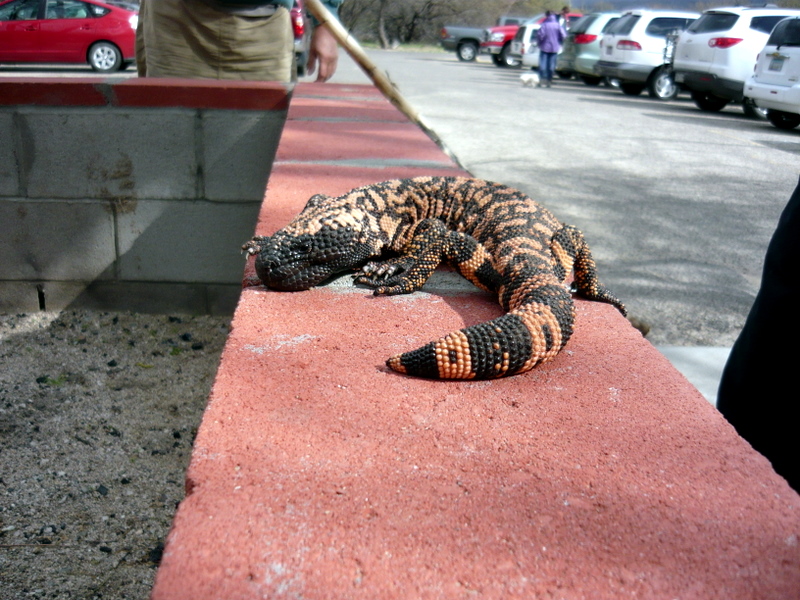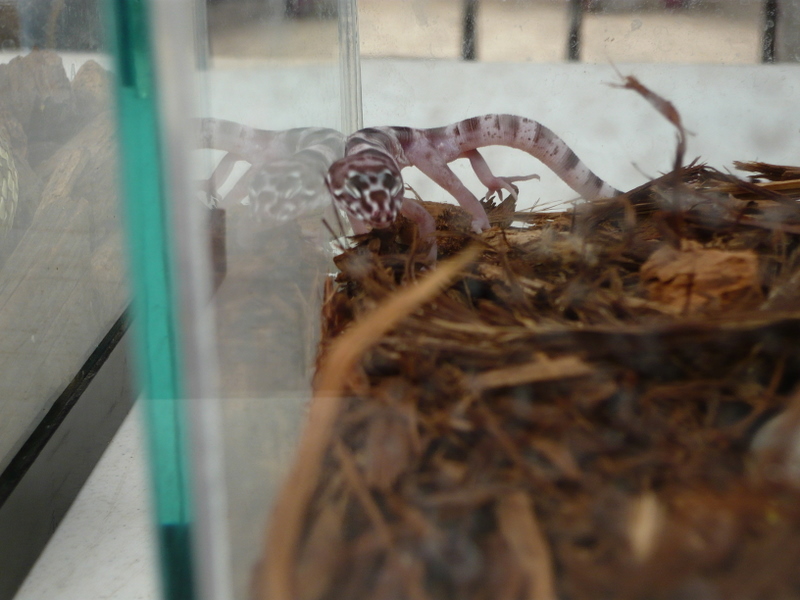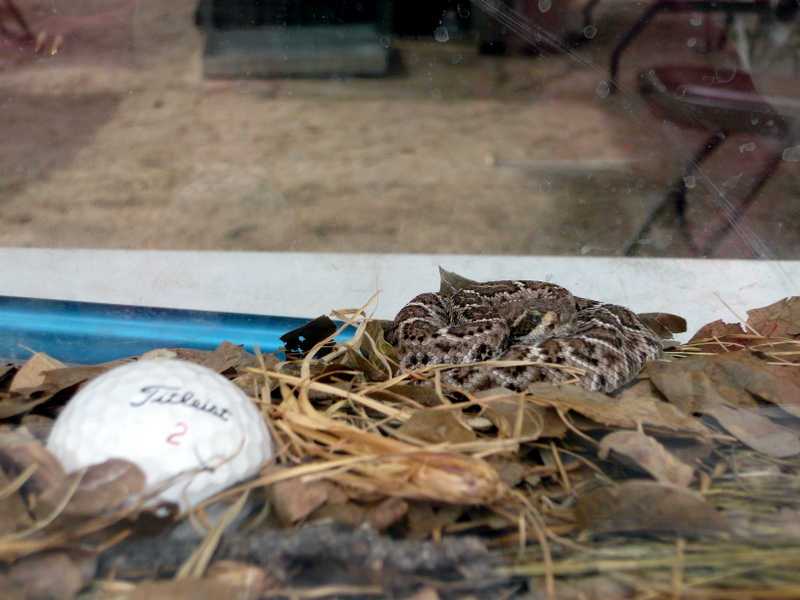 Sunday, February 14, 2010, 09:47 PM
Posted by Administrator
You may wonder, "How do ultras differ from large road marathons?" Here is your answer, in pictures: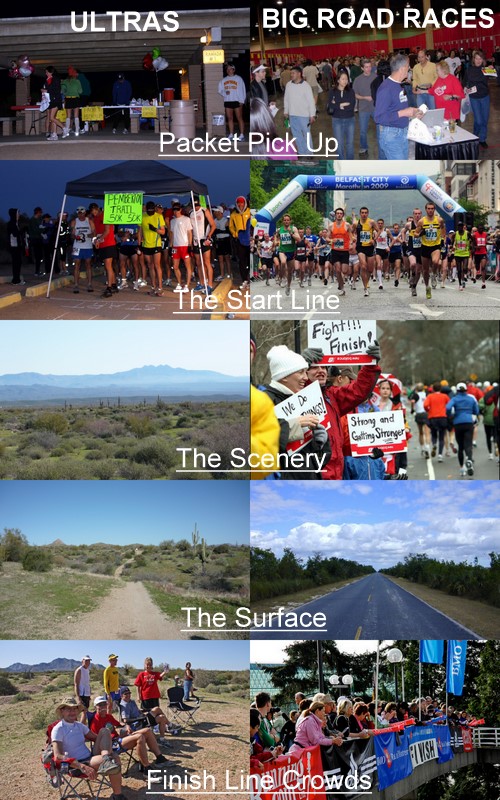 Last year, I became an ultramarathoner at the
Pemberton 50K
, and so it holds a special place in my heart. This year, my mileage wasn't nearly where it needed to be, but, after realizing how many of our trail running friends were planning on racing, Paul and I decided to enter as a relay team. With a half marathon two weeks prior, the relay leg of 15.5 miles fit perfectly into my schedule.
We headed up to Fountain Hills after work on Friday and I had an extraordinarily restful night of sleep at the Holiday Inn before waking at 4:30am to get some food in our stomachs before making our way to McDowell Mountain Park for the 7:00am start. Although I was planning to run my longest distance in a whole year, knowing that I was running half as far as most of the runners left me with calm nerves and a lighthearted attitude. Goal races are great, but sometimes it's nice to race just for fun.
We arrived in plenty of time to pick up our packets, wish good luck to our friends and be humbled by the race chatter in the bathroom line. I met a woman who would run the full 50K and then follow it up with the Lost Dutchman Marathon the next morning. That, is hard core.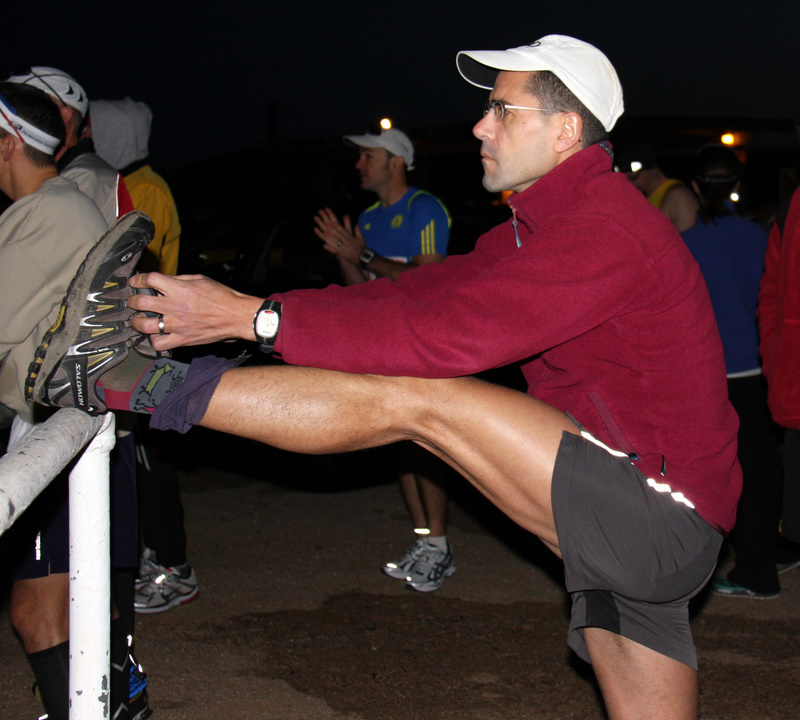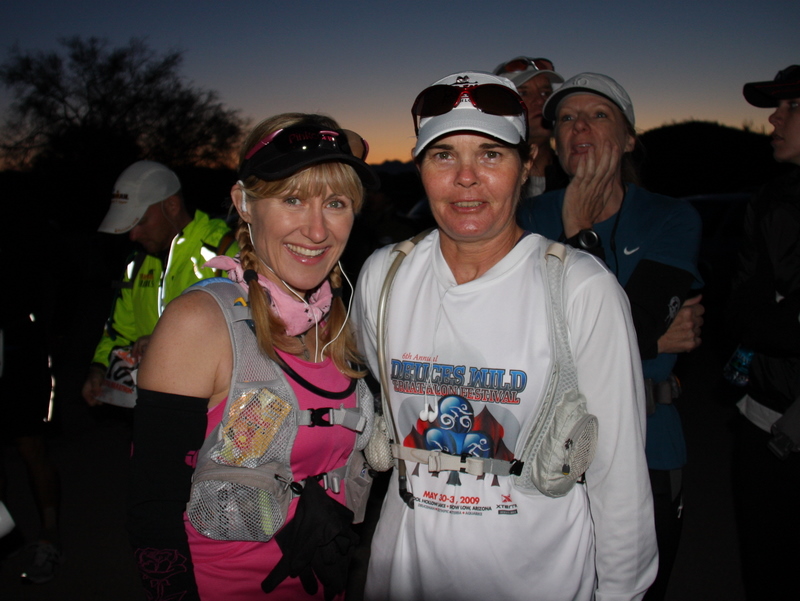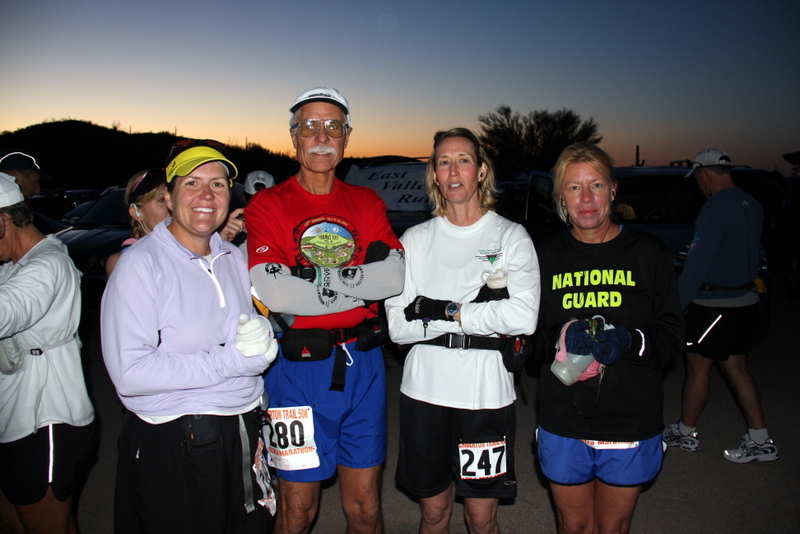 I cheered on Paul and friends as they began the race and then headed back into town with Denise and Dori to search for Chris's sunglasses in his truck. Then, in the hotel room. Then in the truck again, where they were eventually found under the seat. It was a great way to kill some time as, when we we got back to the park, it was time to strip off my layers, slap on some sunscreen and fill my hydration pack with pomegranate
XOOD
. And wait.
Paul had given me a 20-minute window and I found it difficult to stand around in the cold squinting at the trail for glimpses of approaching runners while being ready to run at any moment. I even had one false start where I threw off my jacket and ran to the starting line only to find that the runner was not Paul. Is it bad that I mistook some random guy for my husband?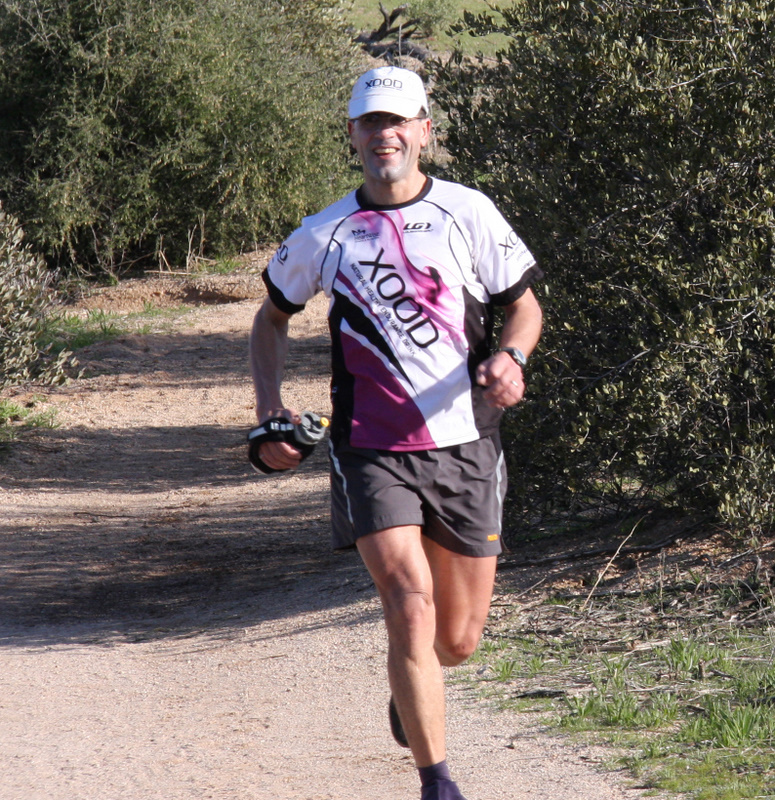 Paul arrived toward the end of his time window, having had trouble with one of his glute muscles. I was happy to finally be running and it was 6 minutes before I realized that I had neglected to start my GPS. With no mile markers and only two aid stations over 15.5 miles, this meant not having a great idea of how I was doing for much of the race. I contemplated starting my GPS late, but, instead, decided to embrace the "running for the fun of it" attitude and go old-school with just my stopwatch.
Last year, I averaged 3:17 per loop. Since I wouldn't need to save anything for a second lap this time, I was hoping to finish around 3 hours. With this in mind, I planned to reach the first aid station in 1 hour. I was a little disappointed to arrive in 1:05, but reminded myself that the first 5 miles was a gradual climb. I passed on the food, thanked the volunteers, ate some of my gel and kept on truckin'.
As I had started in the midst of Paul's equals, I had no steady company - just runners passing me by. But, everyone had an encouraging word as they went. I actually felt a little guilty knowing that most of them were on their second lap while I was starting fresh.
The course tops out around mile 7 or 8 and then offers some fantastic downhill running. It's gradual enough to give you some speed, but not so steep that it beats up your quads. It had been hard to find my rhythm on the first half as, on the uphill sections. I slowed and, occasionally, walked. But, now, I was cruising and loving it. And, really, how can you not enjoy a race with 360 degrees views like this?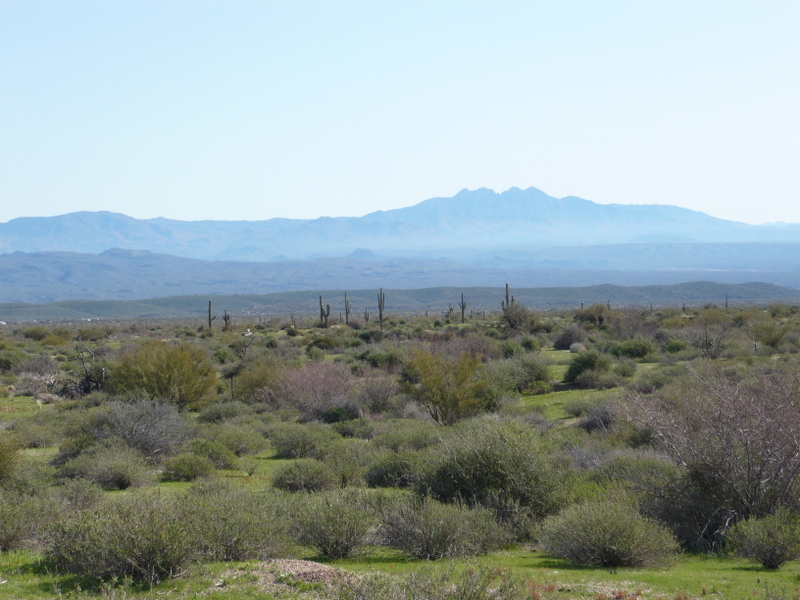 Just before the second aid station, I got passed by Renee who, though on her second lap, was looking fresh and was excited about beating her goal time. It was uplifting to see a familiar face out there and, even more so, when I reached the next aid station and found that this 1/3 of the race had taken me just 1 hour. Maybe I could break that 3-hour mark...
This 3-hour goal motivated me to push it for the final miles, although now I regretted not having that GPS to tell me exactly how far I had left to go. I got a surge of energy when, thinking I had about 4 miles left, I came across a trail sign indicating that it was only 3 miles. Woo hoo!
Unfortunately, it was around this time that my IT band started acting up. My holiday running hiatus had done wonders for these grouchy muscles fibers, but, having worked them hard since the New Year, they were tight again, resulting in pain on the outside of my left knee. Knowing that continuing to run would not cause permanent injury, and that walking would only prolong the pain, I just kept running and pushed as hard as I could...although this was probably only about a 10-minute mile.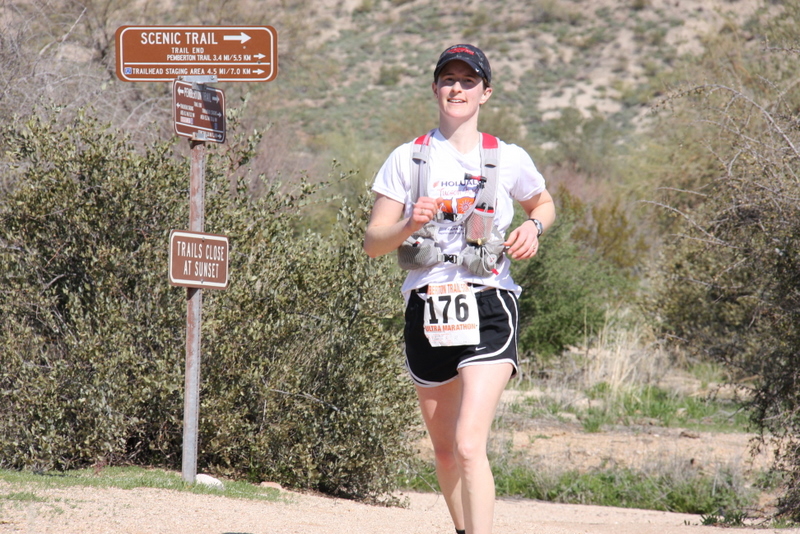 Paul walked out a ways to support me and then I got a boost from the Tucson cheering section just before the finish. It felt good to stop running, but I had enjoyed much of my run and was pleased with my time. While official results have not been posted, my watch showed 2:57:51. With Paul's time, we finished around 5:10.
After catching my breath, I headed right to the food. While I didn't get photos, this is where ultras really outshine their road counterparts. Unlike the standard banana and bagel combo at most road races, Pemberton offered croissant sandwiches, chili, chips, cookies, chocolate and, my favorite, popsicles.
Along with some food, I took 2 Aleve that Renee was kind enough to share with me. My only complaint was that there was no water - just HEED and soda. And it was mostly diet, caffeine-free soda. Seriously? We're burning thousands of calories out there! This is one of those times when sugar and calories are a good thing.
We hung out for another few hours to cheer on the rest of the Tucson contingent, including fellow Tri Girl Shari who, despite an injury, gutted it out to become an ultramarathoner.
All-in-all, it was another great day on the Pemberton trail. This is a fantastic race that I highly recommend!
Sunday, February 7, 2010, 10:05 PM
Posted by Administrator
Most weekends involve the decision of which day to bike and which day to run. This weekend, we choose poorly.
On a gorgeous Saturday, while most Tucson athletes were enjoying the desert's sunny skies and 70 degree afternoon temperatures, we opted for an early morning indoor spin workout. And on a cold and wet Sunday morning, perfect for an indoor spin, we had planned for a trail run. Although some braved the muddy trails, rain and (rumor has it) hail, we turned off the alarm and slept in. I did, however, make it up with an afternoon 6-mile run along the majestic Rillito River. Okay, maybe majestic isn't the word, but there was actual water flowing.
Though I had planned for an 8-miler at a 10:22 pace, my legs quickly let me know that they were still recovering from last week's half marathon and so I settled for 6 miles at an 11-minute pace. If all goes well, I'll be fully recovered just in time to do some more damage at the Pemberton 50K next Saturday. While my mileage is definitely not up to ultra marathon standards, I should be able to put in a good effort for half the distance as part of a relay team with Paul.
The remainder of the weekend, I flexed my domestic muscles with lots of cooking and cleaning. I whipped up all manner of staples to tide us over for the week: chicken, chicken stock, black beans, split peas, garbanzo beans, sun-dried tomato & basil hummus, and almond butter. I was rather impressed with myself at one point to have three large pots going all at once!
Paul occupied himself with our upcoming bathroom remodel. We've hired someone to do the work, but Paul visited various big box stores to purchase the tile and such. See below for the "before" pictures. With any luck, we'll have the "after" photos within two weeks.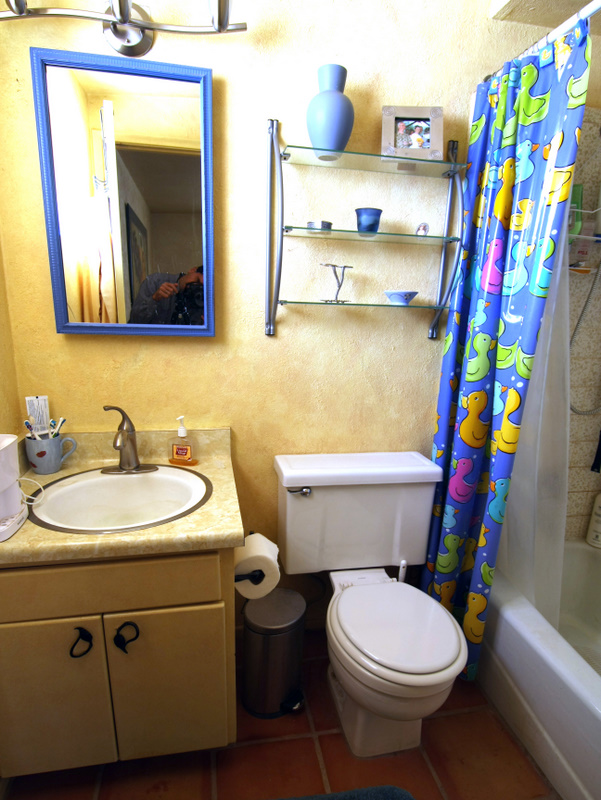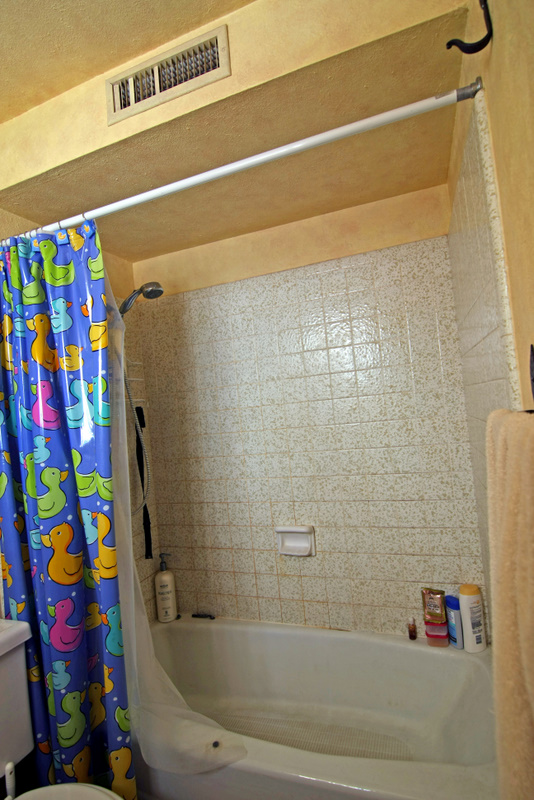 Sunday, January 31, 2010, 09:06 AM
Posted by Administrator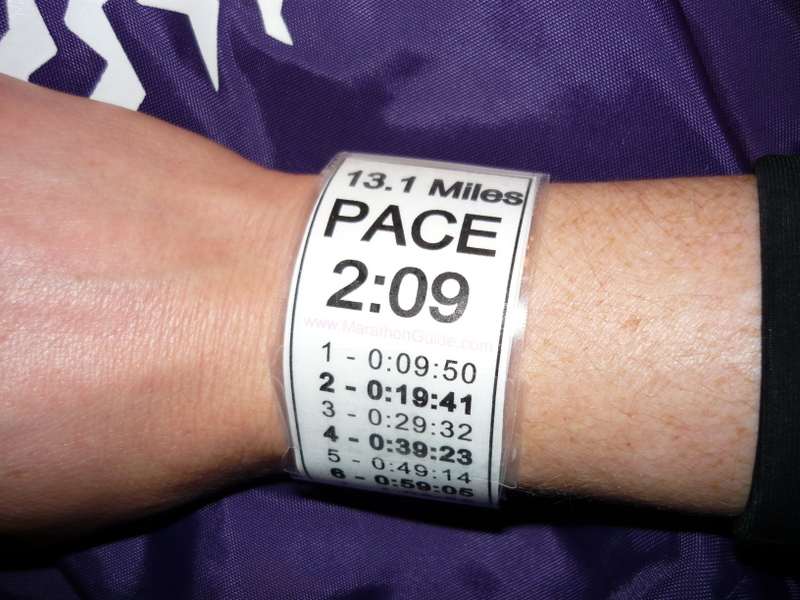 Yesterday was full of ups and downs.
UP
I awoke at 4:30 a.m. after an amazingly restful night's sleep. No pre-race jitters. No tossing and turning. No anticipating the alarm every 5 minutes. It was remarkable.
DOWN
I dozed off on the car ride to Queen Creek and awakened to the horrible realization that Paul had zoned out to his book-on-tape and missed our turn. By 14 miles.
After months of training, might I actually not make it to the starting line? I felt sick.
UP
Luckily, we had planned to be at the race site one hour early and so, despite the 30-mile detour, we still made it to
Schnepf Farms
with 30 minutes to spare before the starting gun.
It actually worked out beautifully. We parked the car, picked up our packets, visited the porta-potties, went back to the car to shed clothes, and found a spot at the starting line just as the announcer said, "We have one minute until the race begins." I could have done without the heart-stopping drama of the detour, but I had no time to be nervous and no time to get chilled standing around in mid-40 degree weather.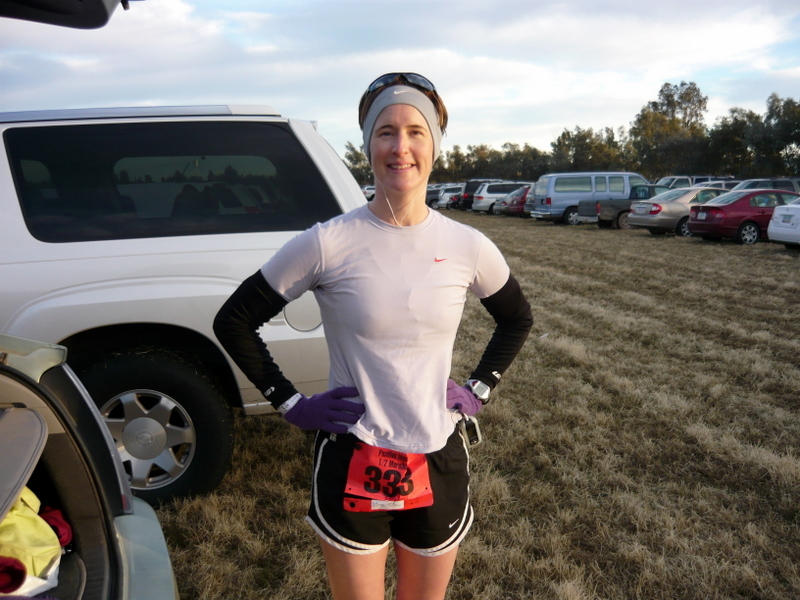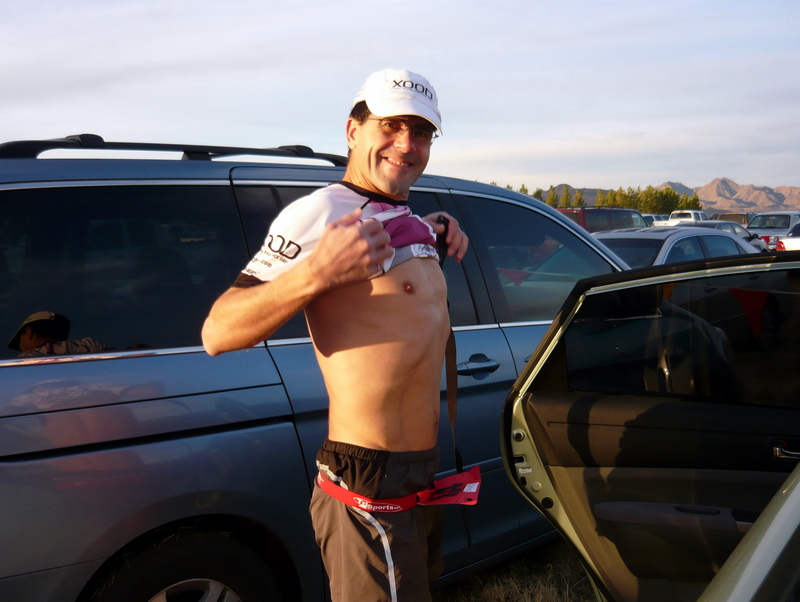 (Paul putting on his heart rate monitor chest strap.)
DOWN
While picking up our packets, we were informed that they were out of safety pins for bib numbers and zip ties for timing chips. This was not a concern for us as we have race number belts and we just tied the chips into our shoelaces. However, it did not inspire confidence in race management.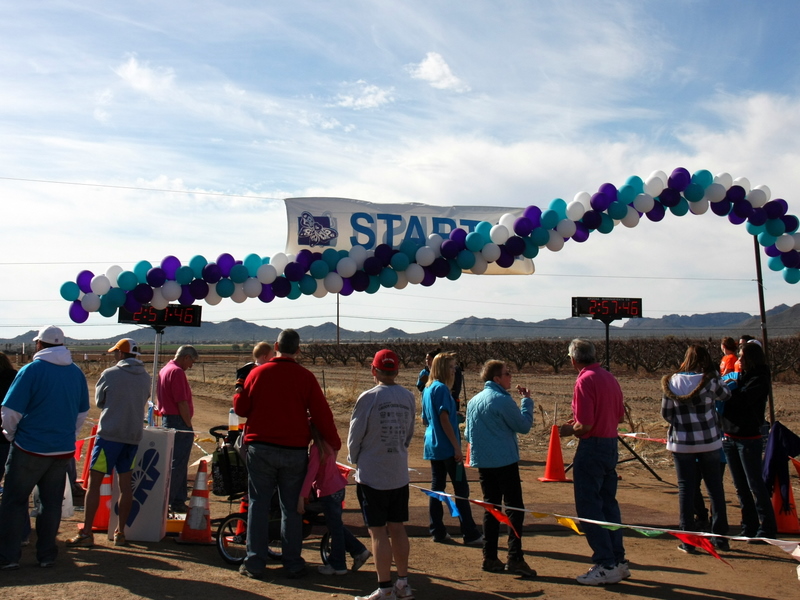 UP
The course is on dirt roads around a farm and is fairly flat with no hills to speak of, but a few areas of very slight incline or decline. It also had a good number of turns and I love turns in a race! It makes me feel like I'm getting somewhere. Best of all? No cars. It was quiet and peaceful.
I had a great first 5 miles. My splits were 9:34; 9:34, 9:47; 9:32 and 9:45. I was feeling great about my goal of breaking my half marathon record of 2:10:02, set 10 years ago in my very first race of this distance.
DOWN
While the course is peaceful and easy on the joints, I wouldn't call it scenic. The cotton fields were all empty and it was very...brown.
Also, shortly after a turnaround point, I glanced at my watch and realized that I had missed the 6-mile marker. No worries, I'll get a split at mile 7. Except that mile 7 came very quickly and a punch of a button gave me a 2-mile split of 14:54.
Now, running two 7:30 miles is not within my wildest dreams, much less the realm of possibility, which meant that the course was short. A short half marathon may sound like a gift, but having trained diligently for a PR attempt, an inaccurate course meant no chance for "officially" reaching my goal.
I had an unhappy mile or so and then considered the possibility that the overall course distance
could
be accurate and that there were just some misplaced mile markers. So, I kept pushing.
DOWN - AGAIN
My plan was to stay on pace the first 10 miles and then, if I had energy to burn, push it for the last three. However, when I actually reached mile 10, this plan seemed absurd.
Already having slowed my pace slightly, the course now directed us into a major headwind. There were a few turns that offered a brief respite from the blowing, but the majority of the final 5K was against the wind.
In addition, my legs hurt, my stride was getting increasingly shorter and my upper arms were fatigued. I was quickly approaching the dead man's shuffle. I was giving it all I had and yet my mile splits for miles 11 and 12, along with the split for the final 1.1 miles were 11:26, 11:22 and 12:31.
(This photo made me laugh - my outfit makes me look like I belong in an 80's era workout video. Please note that the "headband" and "sweat bands" are actually ear warmers and arm warmers that I had pushed up and down respectively as the temperature rose.)
UP
About 1/4 mile from the finish, Paul was there to cheer me on, take photos and remind me to pump my arms. Honestly, I had been hoping that he'd run back on the course, so that I could make him run in front of me to block the wind, but he was a welcome sight none-the-less. I was thrilled to cross the finish line in 2:08:21 - not because of any finish line euphoria, rather because it meant the torture was over.
DOWN
Conversations with Paul and some other runners quickly confirmed my suspicion that the course was short by about 1/2 mile. Had the course been accurate, I would not have made my goal of running under 2:10...
UP
...but it still would have been the fastest half mary I've done in years!
I hobbled to the car for warm clothes and my brand new recovery socks and then headed back for the festivities. London's Run puts on a fantastic family festival with 10K and 2-mile events, vendor booths, cancer awareness exhibits and all kinds of activities for kids.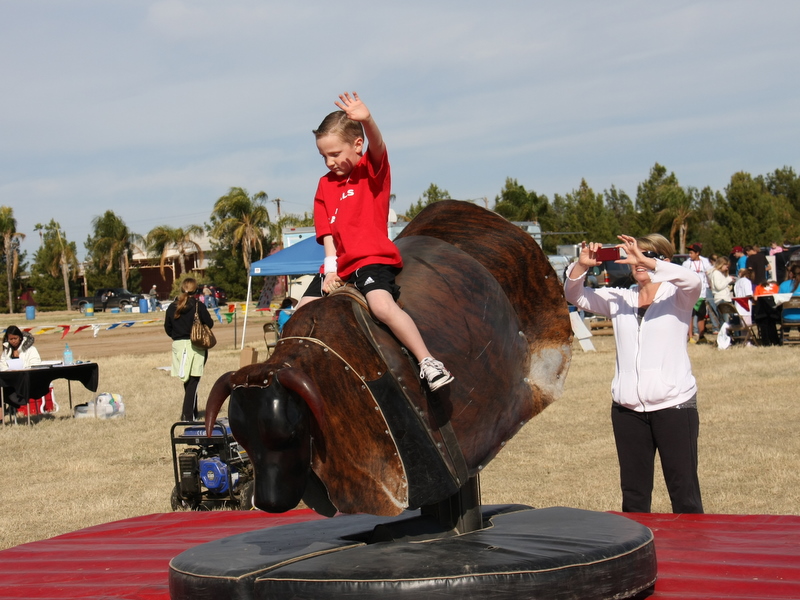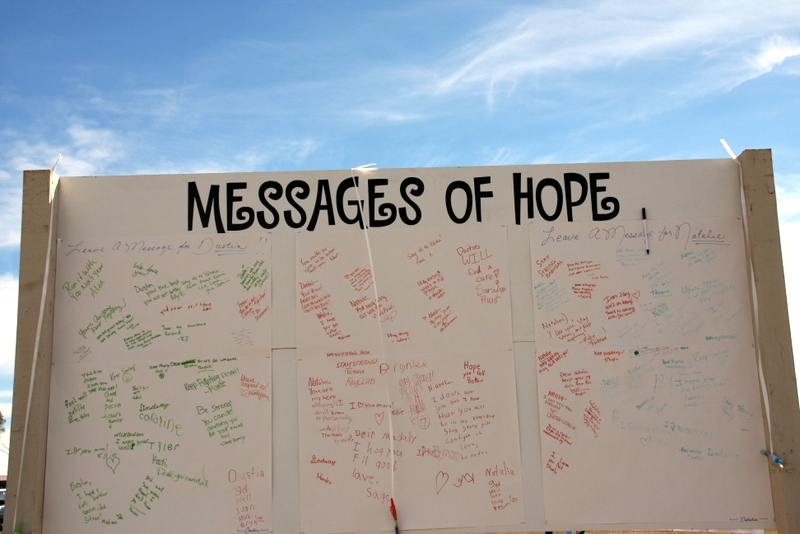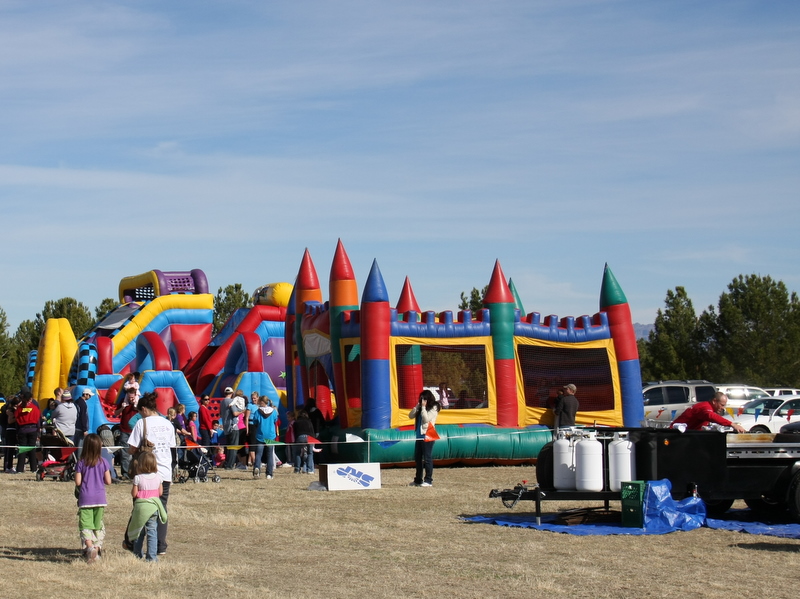 Paul was partial to police helicopter, while my favorite part was the Phoenix Herpetological Society RV where I petted an alligator and an enormous python. And Paul did his good deed for the day by joining me as a member of the Bone Marrow Registry.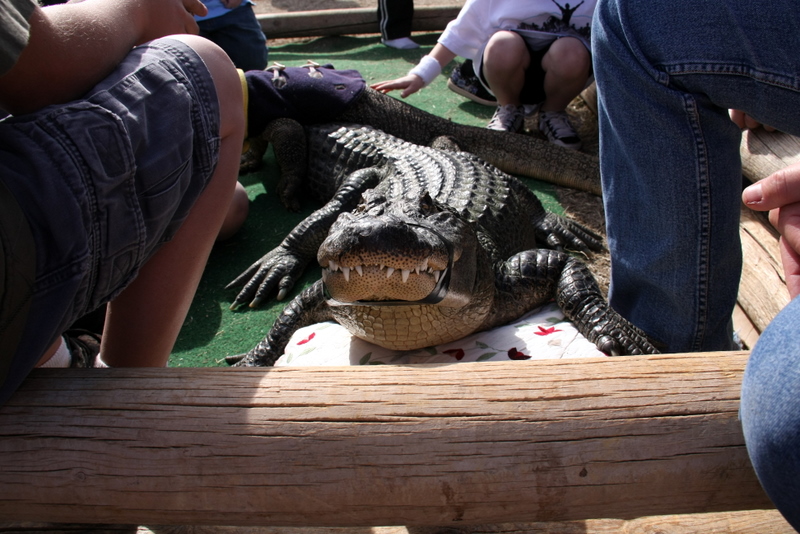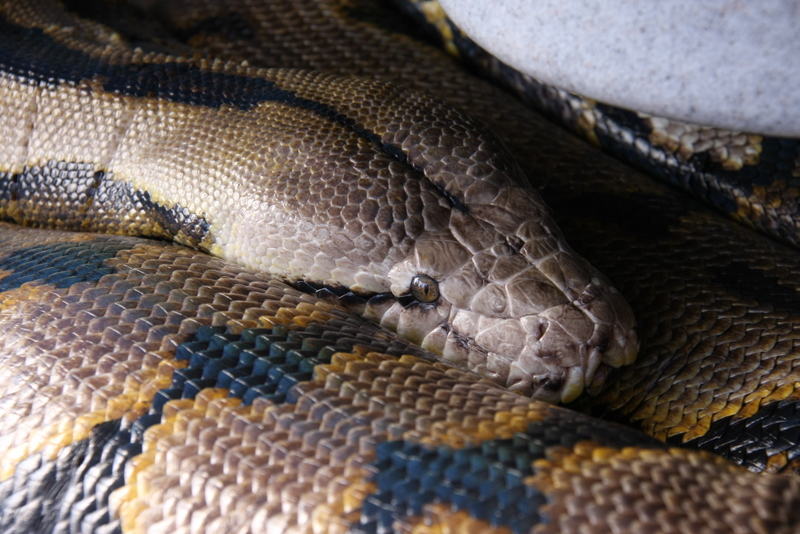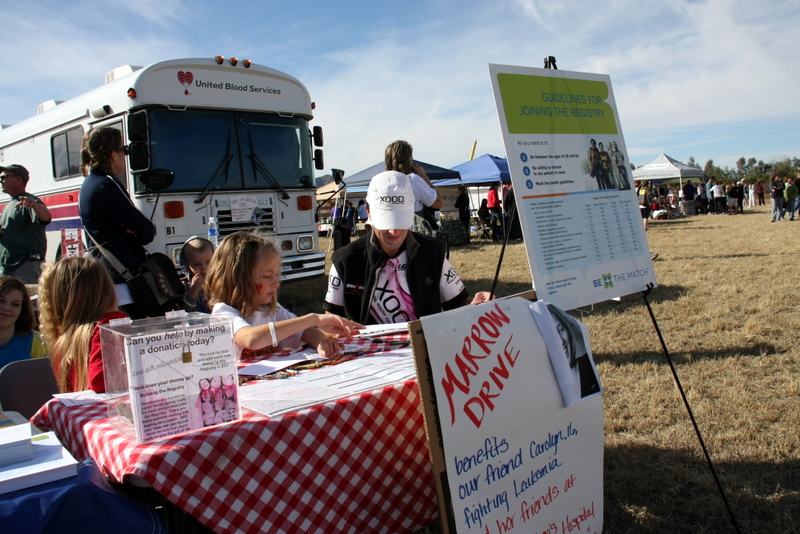 DOWN
Despite chip timing, the awards took forever. So long, in fact, that they did not even have a ceremony. Every so often, they would announce that they had determined the top three finishers for particular age groups and you could go to the awards booth to see if you were one of them. If so, they'd hand you a medal. Not exactly climactic for the winners.
UP
We peeked in the timing tent and saw that Paul was written down for #2 in his age group. Woo hoo Paul!
DOWN
But these results hadn't been given to the awards tent yet. They only had results up to age 45. Sounds like age discrimination to me. That or they just had no idea what they were doing.
Finally, at 11:45, we decided to skip the award and hit the road. It was now almost 4 hours after the race started and more than 2 hours after Paul had finished. We were cold, hungry and cranky. It was a disappointing end to this roller coaster of a day.
DOWN AGAIN
My stomach had been mildly upset after the race and became more so when we started driving. Taking slow, deep breathes with the window down for a cool breeze, I went so far as to warn Paul that I might be asking him to pull over so I could throw up. I was miserable.
UP
Food helped! We called in an order to the
Picazzo's
in Casa Grande and, after some salad and "veggie lasagna" pizza, I was a new woman.
SUMMARY
Although the race director has acknowledged the course and award mishaps on the website, I'm still left with the sense that this is a family festival and cancer fundraising event that happens to include some races. And this is not necessarily a bad thing. I highly recommend this race to anyone with kids.
However, if you've trained hard to set a PR, and are looking for an accurately marked course at a professionally organized race, then this probably is not your best option.
<<
<Back
| 9 | 10 | 11 | 12 | 13 | 14 | 15 | 16 | 17 | 18 |
Next>
>>