Sunday, January 31, 2010, 09:06 AM
Posted by Administrator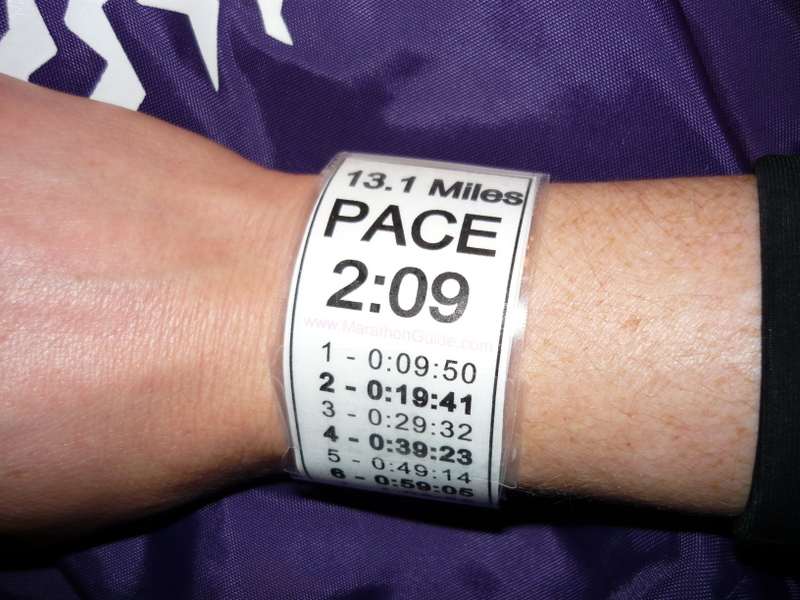 Yesterday was full of ups and downs.
UP
I awoke at 4:30 a.m. after an amazingly restful night's sleep. No pre-race jitters. No tossing and turning. No anticipating the alarm every 5 minutes. It was remarkable.
DOWN
I dozed off on the car ride to Queen Creek and awakened to the horrible realization that Paul had zoned out to his book-on-tape and missed our turn. By 14 miles.
After months of training, might I actually not make it to the starting line? I felt sick.
UP
Luckily, we had planned to be at the race site one hour early and so, despite the 30-mile detour, we still made it to
Schnepf Farms
with 30 minutes to spare before the starting gun.
It actually worked out beautifully. We parked the car, picked up our packets, visited the porta-potties, went back to the car to shed clothes, and found a spot at the starting line just as the announcer said, "We have one minute until the race begins." I could have done without the heart-stopping drama of the detour, but I had no time to be nervous and no time to get chilled standing around in mid-40 degree weather.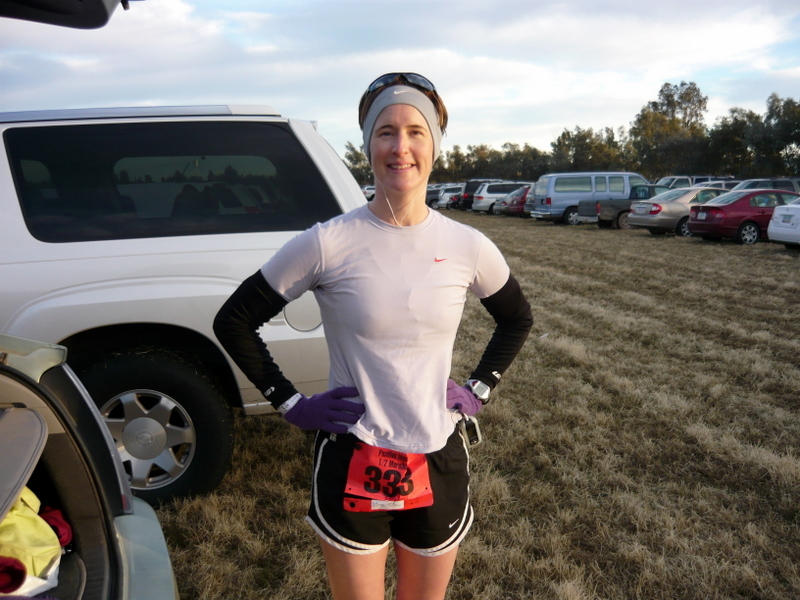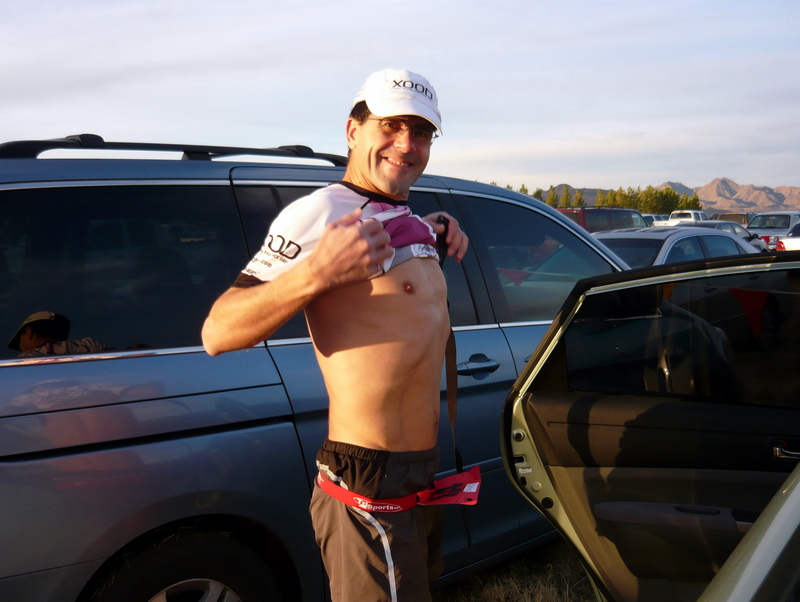 (Paul putting on his heart rate monitor chest strap.)
DOWN
While picking up our packets, we were informed that they were out of safety pins for bib numbers and zip ties for timing chips. This was not a concern for us as we have race number belts and we just tied the chips into our shoelaces. However, it did not inspire confidence in race management.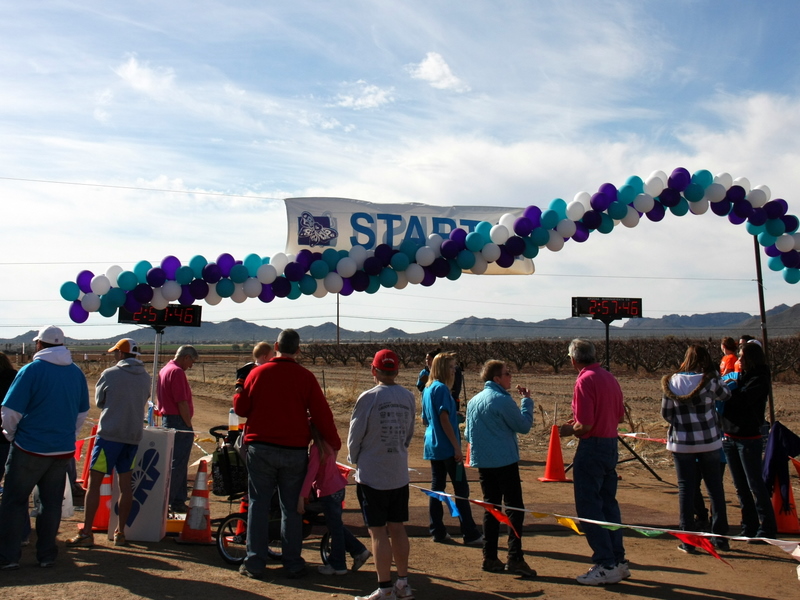 UP
The course is on dirt roads around a farm and is fairly flat with no hills to speak of, but a few areas of very slight incline or decline. It also had a good number of turns and I love turns in a race! It makes me feel like I'm getting somewhere. Best of all? No cars. It was quiet and peaceful.
I had a great first 5 miles. My splits were 9:34; 9:34, 9:47; 9:32 and 9:45. I was feeling great about my goal of breaking my half marathon record of 2:10:02, set 10 years ago in my very first race of this distance.
DOWN
While the course is peaceful and easy on the joints, I wouldn't call it scenic. The cotton fields were all empty and it was very...brown.
Also, shortly after a turnaround point, I glanced at my watch and realized that I had missed the 6-mile marker. No worries, I'll get a split at mile 7. Except that mile 7 came very quickly and a punch of a button gave me a 2-mile split of 14:54.
Now, running two 7:30 miles is not within my wildest dreams, much less the realm of possibility, which meant that the course was short. A short half marathon may sound like a gift, but having trained diligently for a PR attempt, an inaccurate course meant no chance for "officially" reaching my goal.
I had an unhappy mile or so and then considered the possibility that the overall course distance
could
be accurate and that there were just some misplaced mile markers. So, I kept pushing.
DOWN - AGAIN
My plan was to stay on pace the first 10 miles and then, if I had energy to burn, push it for the last three. However, when I actually reached mile 10, this plan seemed absurd.
Already having slowed my pace slightly, the course now directed us into a major headwind. There were a few turns that offered a brief respite from the blowing, but the majority of the final 5K was against the wind.
In addition, my legs hurt, my stride was getting increasingly shorter and my upper arms were fatigued. I was quickly approaching the dead man's shuffle. I was giving it all I had and yet my mile splits for miles 11 and 12, along with the split for the final 1.1 miles were 11:26, 11:22 and 12:31.
(This photo made me laugh - my outfit makes me look like I belong in an 80's era workout video. Please note that the "headband" and "sweat bands" are actually ear warmers and arm warmers that I had pushed up and down respectively as the temperature rose.)
UP
About 1/4 mile from the finish, Paul was there to cheer me on, take photos and remind me to pump my arms. Honestly, I had been hoping that he'd run back on the course, so that I could make him run in front of me to block the wind, but he was a welcome sight none-the-less. I was thrilled to cross the finish line in 2:08:21 - not because of any finish line euphoria, rather because it meant the torture was over.
DOWN
Conversations with Paul and some other runners quickly confirmed my suspicion that the course was short by about 1/2 mile. Had the course been accurate, I would not have made my goal of running under 2:10...
UP
...but it still would have been the fastest half mary I've done in years!
I hobbled to the car for warm clothes and my brand new recovery socks and then headed back for the festivities. London's Run puts on a fantastic family festival with 10K and 2-mile events, vendor booths, cancer awareness exhibits and all kinds of activities for kids.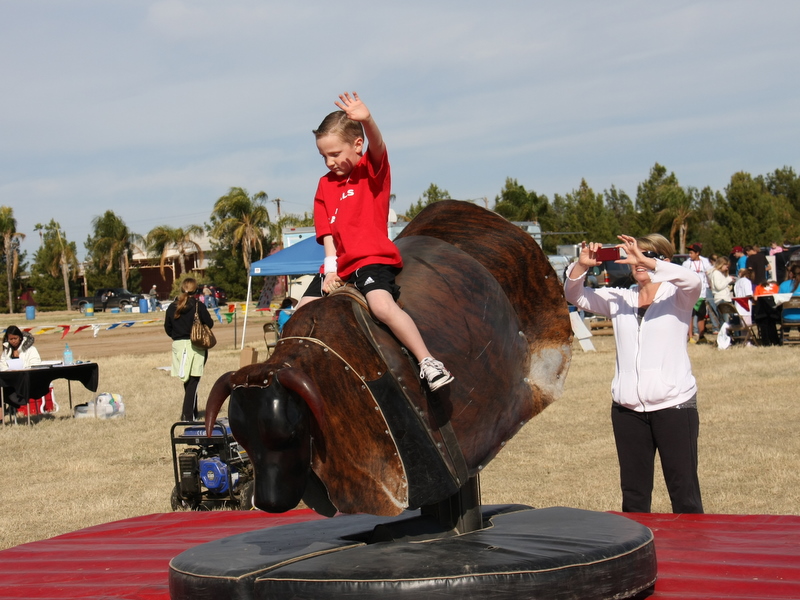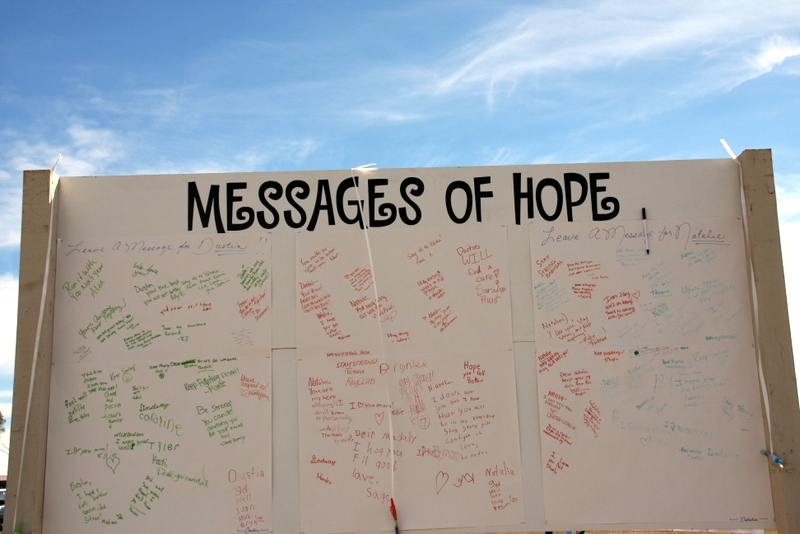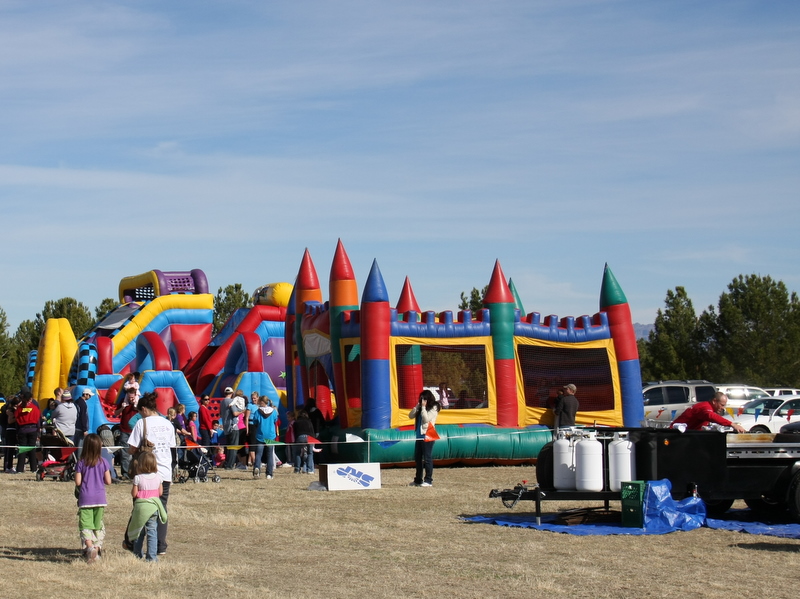 Paul was partial to police helicopter, while my favorite part was the Phoenix Herpetological Society RV where I petted an alligator and an enormous python. And Paul did his good deed for the day by joining me as a member of the Bone Marrow Registry.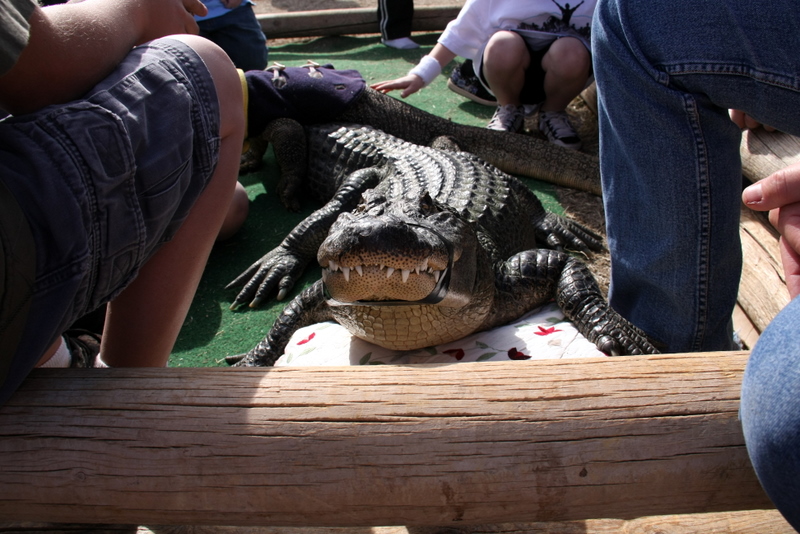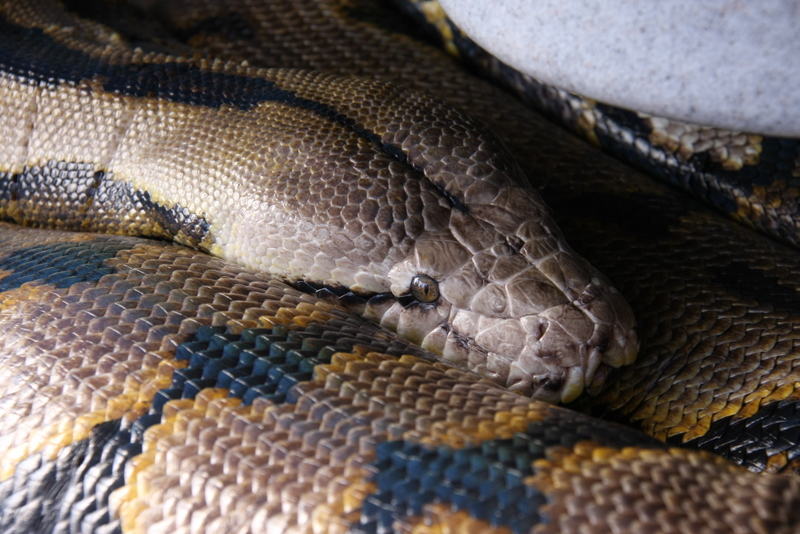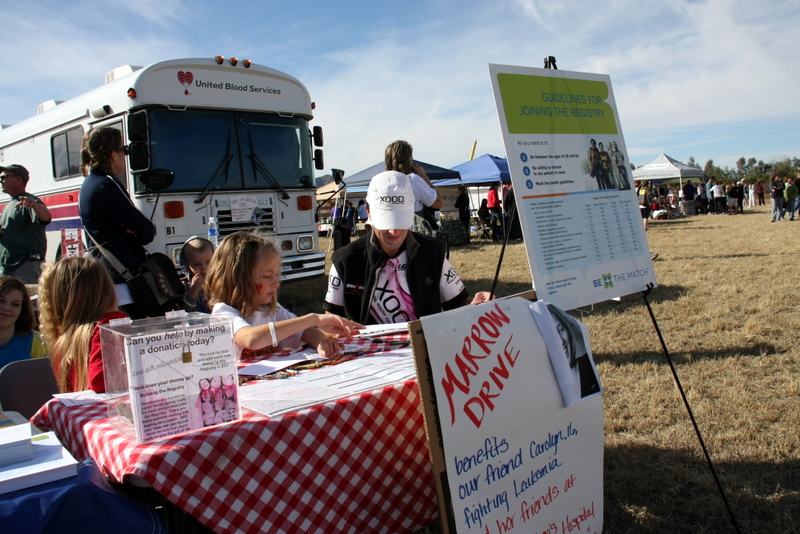 DOWN
Despite chip timing, the awards took forever. So long, in fact, that they did not even have a ceremony. Every so often, they would announce that they had determined the top three finishers for particular age groups and you could go to the awards booth to see if you were one of them. If so, they'd hand you a medal. Not exactly climactic for the winners.
UP
We peeked in the timing tent and saw that Paul was written down for #2 in his age group. Woo hoo Paul!
DOWN
But these results hadn't been given to the awards tent yet. They only had results up to age 45. Sounds like age discrimination to me. That or they just had no idea what they were doing.
Finally, at 11:45, we decided to skip the award and hit the road. It was now almost 4 hours after the race started and more than 2 hours after Paul had finished. We were cold, hungry and cranky. It was a disappointing end to this roller coaster of a day.
DOWN AGAIN
My stomach had been mildly upset after the race and became more so when we started driving. Taking slow, deep breathes with the window down for a cool breeze, I went so far as to warn Paul that I might be asking him to pull over so I could throw up. I was miserable.
UP
Food helped! We called in an order to the
Picazzo's
in Casa Grande and, after some salad and "veggie lasagna" pizza, I was a new woman.
SUMMARY
Although the race director has acknowledged the course and award mishaps on the website, I'm still left with the sense that this is a family festival and cancer fundraising event that happens to include some races. And this is not necessarily a bad thing. I highly recommend this race to anyone with kids.
However, if you've trained hard to set a PR, and are looking for an accurately marked course at a professionally organized race, then this probably is not your best option.
<<
<Back
| 10 | 11 | 12 | 13 | 14 | 15 | 16 | 17 | 18 | 19 |
Next>
>>