Sunday, January 4, 2009, 10:09 AM
Posted by Administrator
The first few days of our holiday vacation are always hectic. My parents host Christmas Eve dinner which means a whirlwind of cooking followed by a whirlwind of present-opening, with lots of eating thrown in the middle.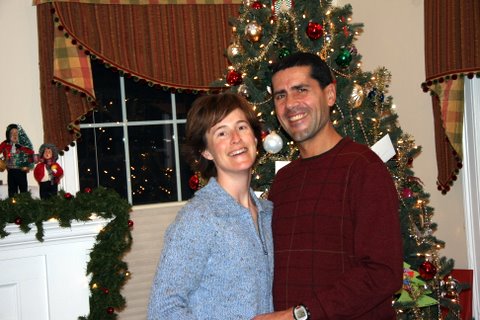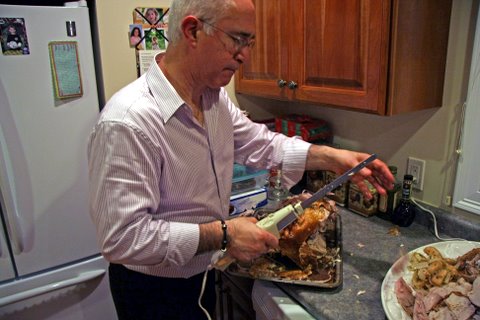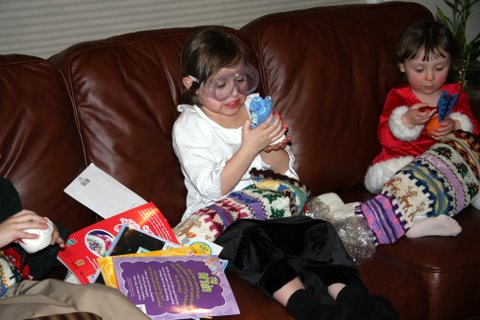 My sister's family also overnighted at my parents' house, which meant that we got to be part of the excitement of Santa. Putting out the cookies...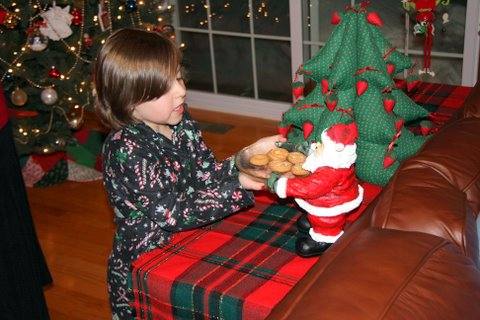 ...being awakened at 6:30 a.m. with shouts of "He came! He came!"
...and more present opening!
On Christmas morning, Paul and I were able to squeeze in some time on the treadmill before squeezing into the backseat of my dad's car, with Hannah in her booster seat between us - not so comfy. After a brief visit with Grandma at the nursing home, we headed to Aunt Cathy's house to see more family, open more presents, eat more food and play the annual Pictionary game. Becky and I went down in flames for the second year in a row. Next year, we'll be making a comeback!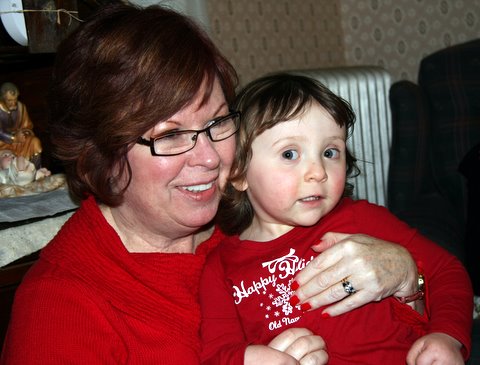 In the late afternoon, we were off to Cambridge for a visit with my mom's side of the family, including my 95-year old Nana, who still has a great sense of humor.
The day after Christmas brought more driving, but also the opportunity to see more family and friends. After a quick visit to Sears, where we somehow fit 17 people in a tiny room for a family portrait, Paul and I drove to Worcester for the annual MHC get-together.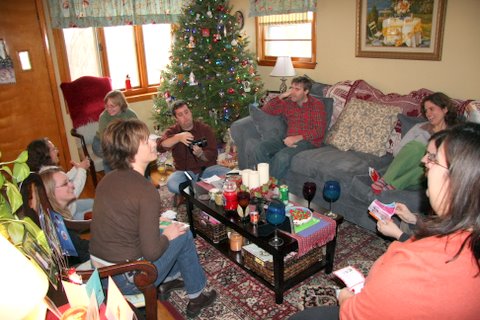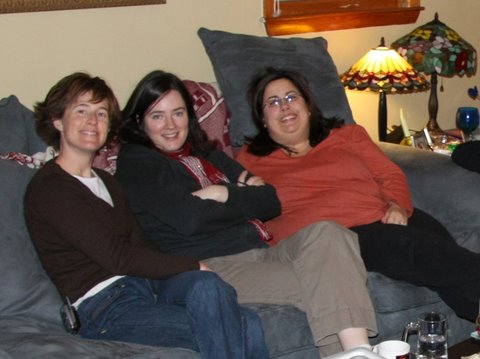 Then, we climbed back into the car one more time for the three-hour drive that would take us to the relaxing part of our vacation - my parents' ski house in North Conway, New Hampshire. To be continued...
Saturday, December 27, 2008, 07:48 PM
Posted by Administrator
To ease the stress of our holiday travel day, Paul and I decided to spend Monday night at a Phoenix aiport hotel. And since we'd be in Phoenix, why not drive just a little farther to McDowell Mountain Park and run the 15.5-mile Pemberton Trail? We'll be running two loops of this course for the Pemberton 50K in February, and so this training run would give me a good idea of what to expect.
We arrived at the trailhead in the early afternoon and, at the last minute, I grabbed my ear warmers and gloves from my suitcase. I hadn't anticipated needing them until we got to New England and it was nice running weather at 55 degrees, but I had a feeling it would cool over the next few hours.
After just 20 minutes on the trail, big, fat raindrops began to fall. We discussed the options for a few minutes and decided to continue on. We could always turn back, right? A light rain came and went, but I was really enjoying the trail. It's quite flat (for a trail, that is) and we had it all to ourselves, except for a small group of mountain bikers. The course is mostly gentle rolling hills with gorgeous 360 degree views.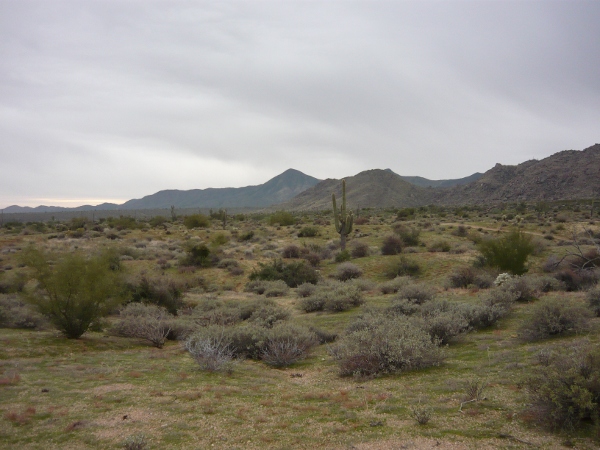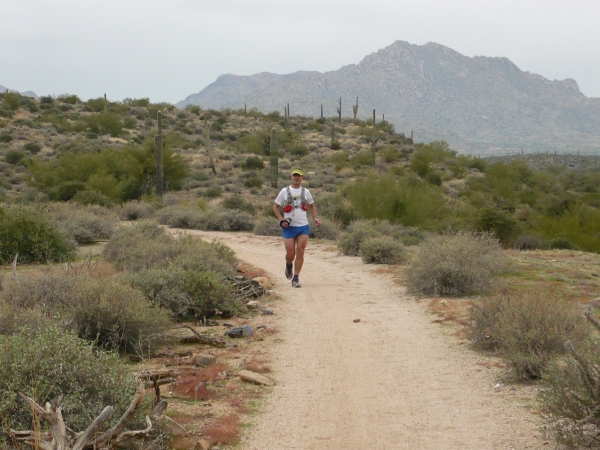 About halfway around the loop, the rain really started to come down steadily. No sense turning back now! I was very happy that I had grabbed my earwarmers and gloves. It doesn't seem like much, but they make a big difference in keeping me comfortable.
As I approached 10 miles, my legs began to fatigue. For longer distances, such as this, I am accusmtomed to taking walk breaks. I had planned to walk the uphills and run the downs and flats...but the uphills were so gentle that I ended up running a lot of them, which meant that I walked very little.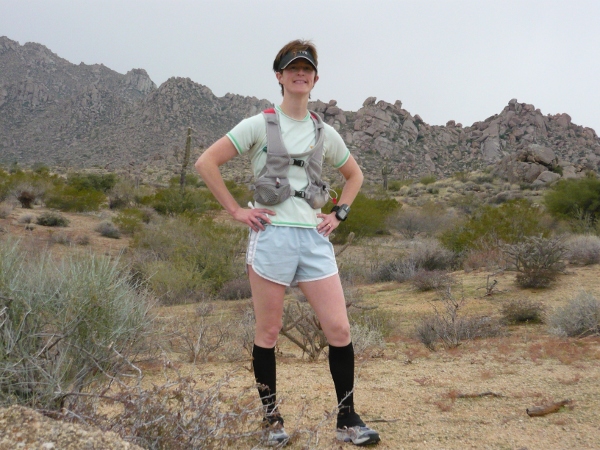 The last few miles were tough. The cold and rain had turned all exposed skin a nice bright red color, and my legs were toast. I was very happy that we were only running one loop today. And I definitely need to start cutting out walk breaks on my training runs.
Cold, exhausted and hungry, Paul and I drove straight to
Picazzo's
for the world's best gluten-free pizza (and their salads are pretty fantastic too), before checking in at the Holiday Inn. Although we were tired, it felt good to know we had worked hard since we'd be spending much of the next day sitting on our tushes at the airport and on a plane.
Next up, the holiday vacation report. Happy holidays!
Saturday, December 20, 2008, 10:42 PM
Posted by Administrator
Paul and I had been planning to bike with his regular group at 7:30 this morning, but a combination of a late night and temperatures in the 30's convinced us to stay under the covers. We went to a holiday party Friday evening and managed to get to bed by 10:00pm, only to be awakened a few hours later by a barrage of barking. Paul got up to investigate and I went from half asleep to wide awake when he hollered, "We have a new dog!" I ran into the kitchen to see a large yellow lab bounding around with our three dogs. Apparently, he had been hanging around in the front yard and, when Paul opened the door, he came right in!
I placed a late-night call to the number on his tag which turned out to belong to the neighbors from a few houses down...who had been sound asleep with no idea that he had escaped. Paul and I had a great time watching our kids play with their new friend, who is appropriately named Rogue, until the owner, wearing pajamas and carrying a flashlight, knocked on our door. It took a little while to get back into a deep sleep after all of the excitement, but it was worth it. What a fun night!
I should have gotten a photo of the escape artist, but here are our little ones, freshly groomed for the dog-sitter who will watch them when we fly to New England in a few days.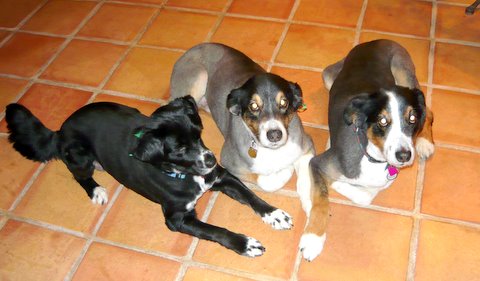 Back to this morning... With warmer weather forecasted for Sunday, we decided to hit the track for a speed workout and save the bike ride for tomorrow. I had not done any speedwork since a few weeks prior to the marathon and so I eased back in with just five Yasso 800's and a total of 6.5 miles. It felt good - challenging toward the end, but within reason.
Tomorrow, after the temperature climbs above 50 degrees, we'll have our final tandem ride of 2008!
Monday, December 15, 2008, 09:31 PM
Posted by Administrator
Last Friday included two work-related holiday parties, the first of which featured a lunch of pasta and chocolate cake. That much carbs and sugar in one sitting is a rarity for me. The second event, later that evening and of which I was in charge, involved 200 people, Santa and presents. That, I learned, is a recipe for chaos.
In the late afternoon, I kicked it into event-planner mode for the evening festivities. It was not until I was leaving the party at 9:00 p.m. that I realized that not one bit of food or liquid had passed my lips for several hours. I was mildly dehydrated and rather hungry...which led to a 9:30 p.m. dinner and an 11:00 p.m. bedtime. Did I mention I'm usually under the covers by 9:00 p.m.? By morning, I felt all out of whack and was wishing I had a reset button, so that my body could start fresh.
Deciding that my reset button would be a long trail run, Paul and I headed to
Sabino Canyon
to run the 17-mile
Bear Canyon Loop
. My body felt sluggish, but I knew this was just what it needed to clear out all of that sugar and get me back on track. I was also excited to finally run this trail after hearing about it for years. It is standard fare for our trail running group, but I've never felt up to the distance before.
Despite the "out of whack" feeling, it didn't take long to get into a groove and begin enjoying the gorgeous canyon. It was a beautiful day and we passed lots of hikers spending time at Seven Falls. (Look closely for all of the people - they're small!)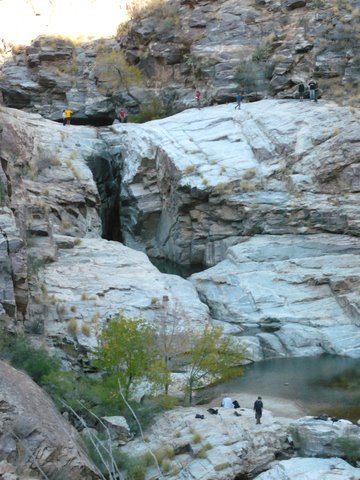 My spirits did wane on the switchbacks to the peak. My legs were starting to tire from all of the climbing and I was frustrated that I couldn't run on the flat portions of trail because it was so overgrown. Tall blades of grass brushed against my thighs and, occasionally, my chin. But, my spirits picked right back up as soon as we started the descent. I was thrilled when we reached familiar territory - Sabino Basin - where we stopped for a photo.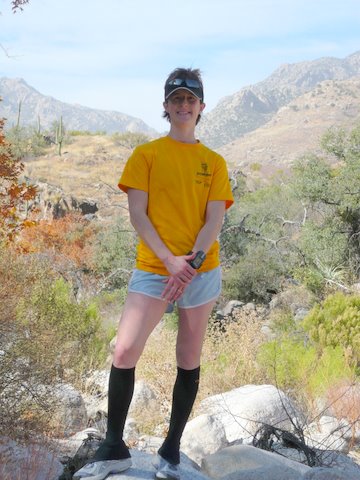 When we got to the road, Paul took off ahead and I enjoyed a solo run down. About one mile from the parking lot, he came trotting back toward me, making sure to stay on my right side to hide the blood soaking through the right sleeve of his shirt. However, the blood on his hand gave him away. He did just fine on the rocky, overgrown trail only to trip and fall on perfectly flat asphalt. He assures me that he rolled well and popped right back up again. I'm sure it was quite graceful.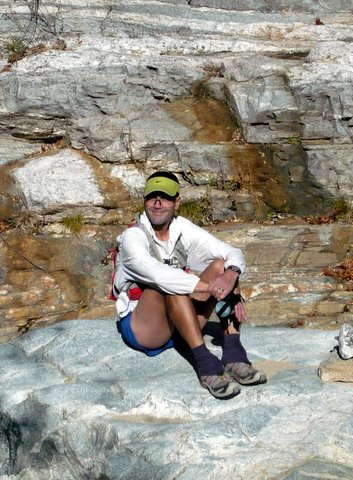 I felt great at the end! Tired, yes...but also recharged. And Paul was pleased to see that I had managed to consume about 600 calories on the 5-hour run - 50 ounces of XOOD drink and 3.5 ounces of gel. I'm working on getting used to running with a slightly full feeling in my stomach. It's not easy.
I'm looking more and more forward to
Pemberton
. I have no illusions of burning up the course, but do feel that it will be a much more enjoyable experience than my recent, rather painful marathon.
Sunday, December 7, 2008, 09:40 PM
Posted by Administrator
Friday - The Gym
I hit
LA Fitness
in the morning for a great full-body workout. In the future, there will be increased strength, better running and a more toned body. In the meantime, there will be sore muscles. It's a good sore. A healthy sore. But, still...sore. Later in the day, and especially the next day, my quads, hamstrings and glutes protested with every single step.
Saturday - The Bike
A number of Paul's co-workers get together for a regular Saturday morning ride. When Paul joins them solo, he's near the front of the pack, leading the way up the hills. When we go together on our tandem, we work like hell to hang on to the back of the pack. I'm not very strong on the bike, but, luckily, Paul enjoys my company enough to pull my butt up the hills and make up for my weak (and sore) legs.
And so we bundled up (it was 45 degrees) and pedaled to our usual Starbucks meeting spot. There was a good turnout with about 15 bikes, including three tandems. We rode a total of 42 miles, heading up to Saddlebrook via Lago del Oro and doing the very hilly Ocotillo Loop before coasting back to town for coffee (or, in my case, steamed milk, mmm...) and conversation.
The rest of the day was jam-packed with a visit to my hospice patient, volunteering at the Tucson Marathon expo and Paul's work holiday party. Phew!
Sunday - The Run
After loving our trail run last weekend, I had suggested doing the
Bear Canyon Loop
, a 17-ish mile run in Sabino Canyon that I have never done. However, after yesterday's ride and a very late evening, I scaled back my plans and we opted for a 10-mile loop from our house. I noticed right away that my quads felt much better, but that the cycling had made my shins pretty sore (I had been pushing pretty hard, so as not to embarrass my captain - a.k.a. Paul). It was slow-going, but everything loosened up after a while.
Paul suggested doing some hill repeats to aid in my preparation for
Pemberton
. Our running loop has an area of short, steep, rolling, dirt hills - and they kicked my butt. They've given me something to work toward and I'll definitely be back to conquer them.
After surviving the hills, Paul took the house keys and ran ahead, so that he could take the dogs out for a little exercise. And, as I turned onto our street, this is what I saw: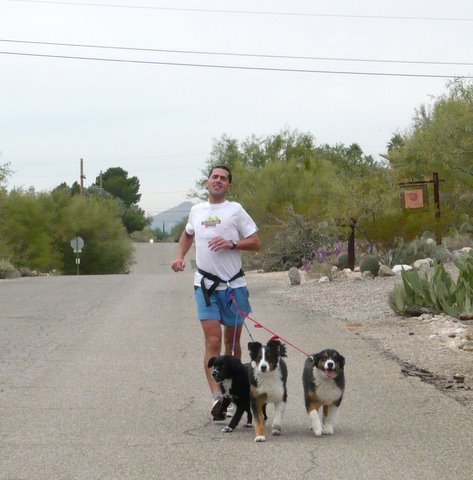 How cute are they?!? And this is what they looked like moments later as they took off ahead of me: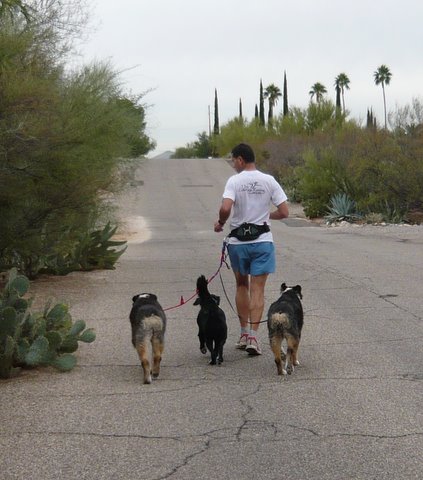 Tomorrow will be a rest day - I think I've earned it.
<<
<Back
| 17 | 18 | 19 | 20 | 21 | 22 | 23 | 24 | 25 | 26 |
Next>
>>