Saturday, April 10, 2010, 12:56 AM
Posted by Administrator
The initial trip planning I had done while in Tucson had only gotten us as far as Yosemite. It was only about a week ago that I sat down at the library in Bend, Oregon to make a plan. It was at this point that I realized Death Valley was right next to Yosemite.
In warmer weather, you can take Highway 120 all the way across Yosemite, which puts you in a great spot to enter Death Valley. However, during snow season, which lasts until early summer in Yosemite, the majority of this highway is closed. We had exited the park via the southern route on Highway 41 and now had to continue driving south to go around the Sierra Nevada mountain range and then north again to enter Death Valley. It was a lot of driving, but well worth it. We both quickly fell in love with Death Valley.
Firstly, it was warm! After a few days in Yosemite, the warm breeze here felt amazing. Secondly, the landscape is otherworldly and beautiful. Thirdly, Death Valley has the mystique of being home to the Badwater Ultramarathon, a 135-mile footrace starting at the lowest point in North America and finishing the top of Mt. Whitney, the highest point in the contiguous United States. This race takes place in July, when temperatures regularly exceed 120 degrees.
We made a pit stop in Stovepipe Wells before a short hike in Mosaic Canyon.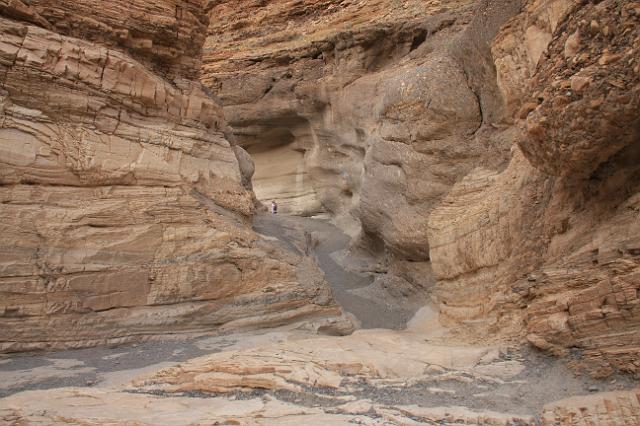 Then, another quick stop at the Mesquite Dunes.
And a short walk at Salt Creek which, amazingly, is home to little pup fish.
We didn't take too much time as it was already early evening and we were worried about finding camping spot. The month of April is the end of Death Valley's peak tourist season. Sure enough, the Furnace Creek Campground was full, but, just past the town, we found plenty of spots at Sunset Campground…which was free!
There is so much to see in Death Valley that you really don't want to spend time at your campsite. This is a good thing as all of the campgrounds are essentially huge gravel parking lots.
Setting up camp was a challenge in the strong winds, but I was so thrilled with the warmth that I didn't care. We didn't even put on the rain fly. We sat in the car to enjoy our dinner – chili, salmon and tortillas again – and then walked down the road to Furnace Creek to check out the town.
<<
<Back
| 4 | 5 | 6 | 7 | 8 | 9 | 10 | 11 | 12 | 13 |
Next>
>>