Sunday, August 23, 2009, 12:33 PM
Posted by Administrator
While driving to Sierra Vista in a rainstorm on Friday evening, Paul asked if I had thought to check the weather for the next day. As a matter of fact, no I had not. I live in Arizona. And it's August. Hence it will be hot.
By the time we got to Chili's for dinner, I conceded that logic had failed me and was wishing I had brought something more substantial to wear. We backed the car up against a bush in an attempt to dissuade thieves from stealing our bikes of off the rack (it worked) and rushed through the rain to meet fellow TTG'er Jackie and hubby Jeff inside for dinner. After filling up on fajitas and tri-talk, we parted ways and Paul and I checked in at the Comfort Inn, chosen solely for its location, just 1/2 mile from the race site.
We were in bed by 9:00 p.m. and I slept great until 3:15 a.m., at which point I dozed intermittently and suffered the usual pre-race nightmares of missing the wake-up alarm...until the actual alarm sounded at 4:30. We each downed a banana while getting ready and then hopped on our bikes for the short ride to
The Cove
, Sierra Vista's recreational pool.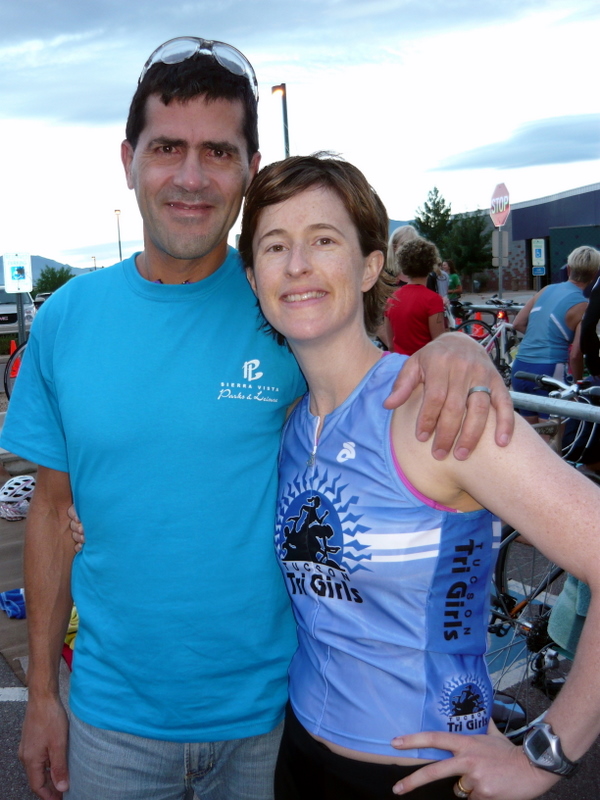 This is a fairly small event - about 100 racers - and the swim was organized in 6 waves of 16 people swimming two to a lane, with the slowest swimmers going first. I was puzzled to find myself assigned to the second wave. I mean, when you put 20 minutes as your estimated swim time, you're accustomed to being solidly in the category of "slowest." However, this was all cleared up when Robin pointed out that the wave 1 swimmers had estimated swim times of 25 - 45 minutes. And so I was in the unusual position of having to hang around and wait to start my race.
While wave 1 was underway, I took note of the abundance of dark clouds and decided to switch out my dark sunglass lenses for the yellow lenses in preparation for my bike leg. I was also getting concerned that I might actually be chilly on the ride. Again...Arizona. August. It had never occurred to me that I might need arm warmers.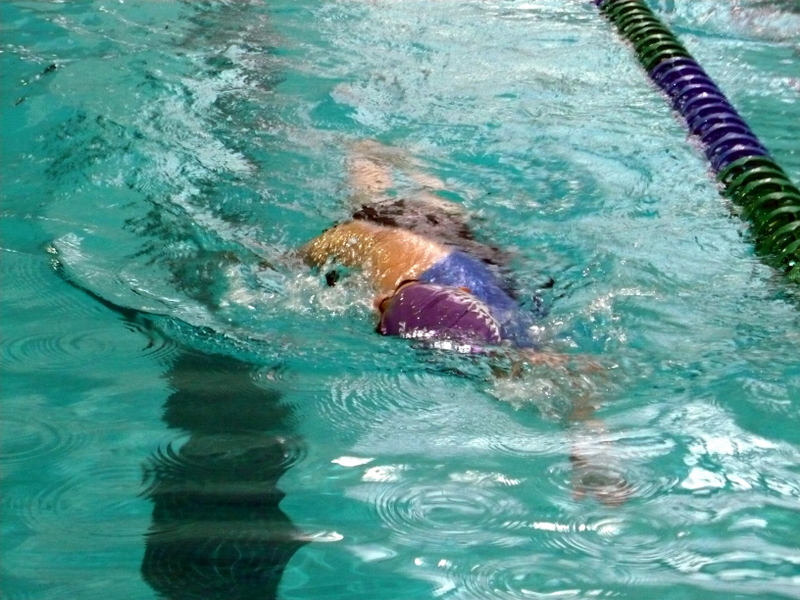 As it turns out, the final wave 1 swimmer hauled herself out of the pool in 31 minutes, and so the wait for my wave was not as long as expected. In addition to the lap pool, The Cove has a beach-style entry pool and so I was able to hop in for a quick warm-up. Then, after a brief hello to my lap counter and my lane-mate, my race had begun.
My lane-mate, a very nice gentleman in his 50's, took off quickly enough that I assumed he had either lied about or grossly miscalculated his estimated time. It wasn't long before I realized that it was more likely a lack of proper pacing...or male bravado. By the 6th lap, I had caught him and, when I exited the pool, he still had a full lap to go. I glanced at my watch and was thrilled to see 18:19. By most standards, this is a slow-ass swim. By
my
standards, this was a PR by 50 seconds, which felt pretty damn good.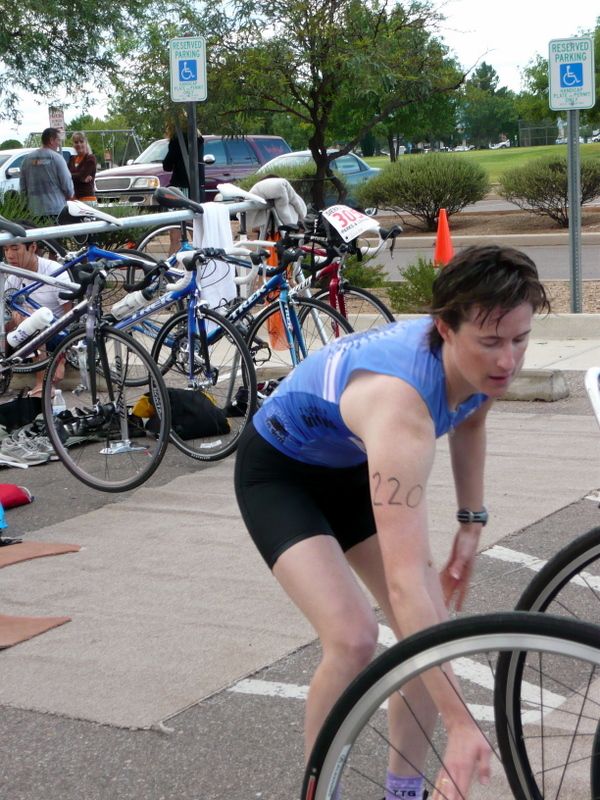 Paul, who had to wait for wave 4, was my personal swim and T1 photographer and cheerleader. He followed me out to transition where I struggled to get a piece of Kinesio Tape on my leg (to help keep IT band issues at bay). This took a few more seconds than I would have liked, but, with my adrenaline pumping and the pressure of knowing that the clock was ticking, my fine motor skills were not at their best. I ended up getting through T1 in 2:25 and then took a guess as to when I could hop on my bike as mount and dismount lines were nowhere to be found.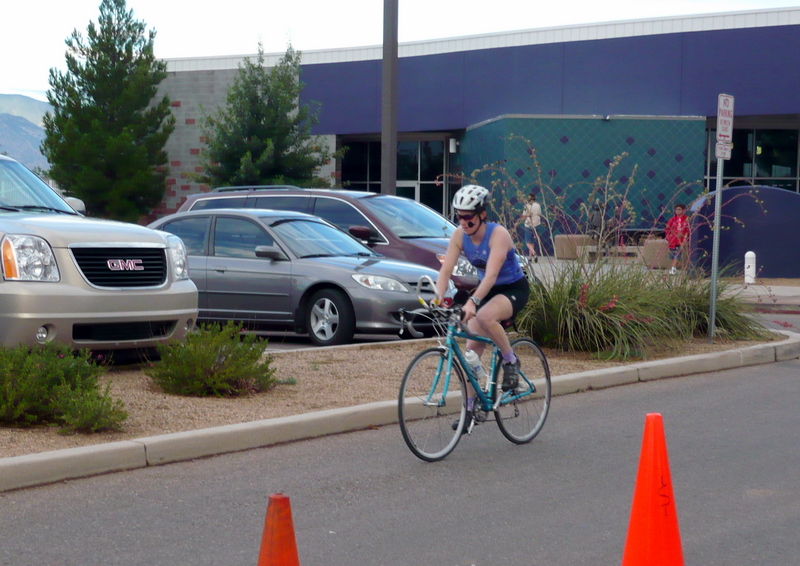 I had heard that the 14-mile bike course was a gradual descent on the way out and and gradual climb on the way back. But it just seemed so flat! I was cruising - feeling great and keeping a high cadence. Now that I was moving, the temperature felt perfect and even the brief sprinkling of rain didn't bother me. However, nearing the turnaround, I checked my computer and saw that my average speed was 19.5, confirming that I had, indeed, been going downhill and that a gradual climb was coming right up.
I definitely slowed on the ride back and then lost a few seconds when I dropped my chain while shifting gears. The chain was slipping and I kept spinning, willing it to catch. When I saw it jump off the chain ring completely, I quickly braked and dismounted, only to find that the chain had, somehow, jumped back on the ring. It was a triathlon miracle!With a grateful nod to the cycling gods, I hopped back on and pedaled like hell. My swim lane-mate was about to overtake me, but I slowly regained my lead.
With one mile to go, I saw Paul just starting his bike leg and gave him a quick holler. And, 50:42 after getting on the saddle, I was back in transition racking my bike. When pulling off my helmet and sunglasses, I noticed blood on my fingers and realized that my mid-week eggplant slicing injury had taken a turn for the worse. On the bright side, the wind on the bike ride had dried the blood on my hands (and brake lever and water bottle) and so it wasn't still flowing. T2 time = 1:17.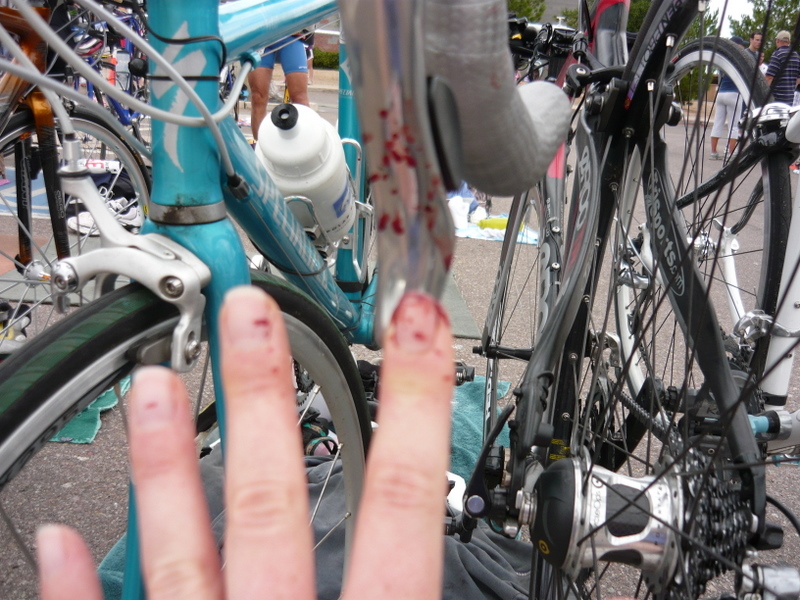 (Please note that this photo was taken after the race. I did not stop to take it while in transition.)
My lane mate buddy had arrived in transition shortly after me and we had some good-natured, self-deprecating chit-chat before he scooted out just ahead of me onto the run course. As I ran after him, I felt an all too familiar heaviness in my legs. I am well aware that brick workouts would go a long way to improve this situation, but this knowledge has not yet motivated me to actually do them during training.
I kept my eyes on Lane Mate's back as I passed a 77-year old competitor who was pushing like a champ. I found out later that, just one month ago, he finished chemotherapy for colon cancer. Now that's inspiration for you.
Despite the tired legs, I felt good. At the Firecracker Tri in July, my heart rate was skyrocketing, probably due to the heat, making it impossible to really push. But the weather today was ideal - cool and overcast - and it made a real difference. I ran the entire 5K without stopping to walk and completed it in 30:13, which is a good 5K time for me. Paul is convinced that when I enter my next stand-alone 5K, I should bike first as it seems to improve my times.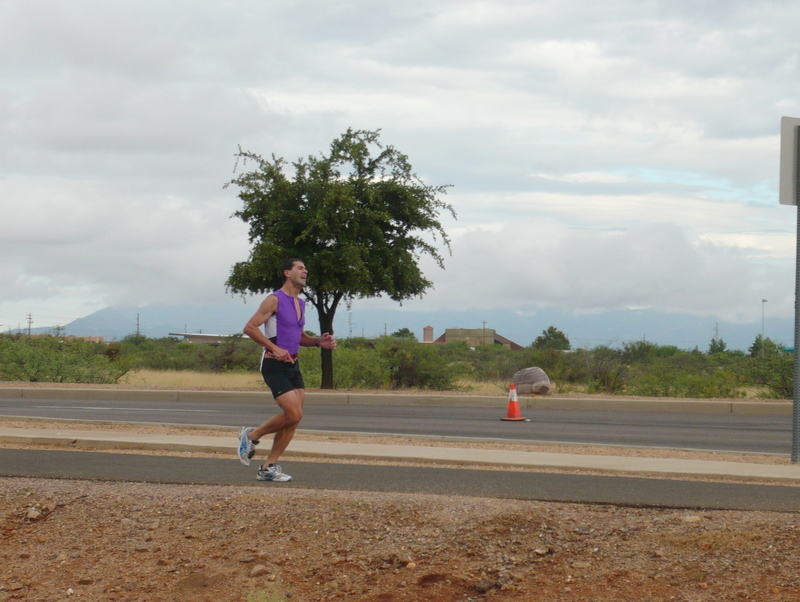 Just before finishing, I got the chance to high-five Paul who was just heading out on the run and was looking strong. I crossed the line in 1:43:03 and then filled up on water and a banana before grabbing my camera to catch photos of the other Tucson finishers, including Jackie and Jeff: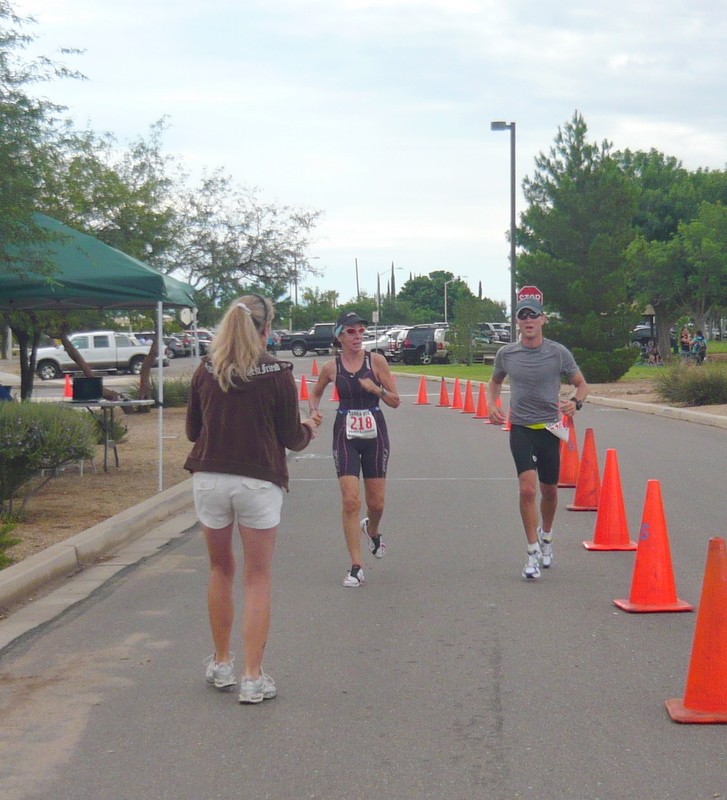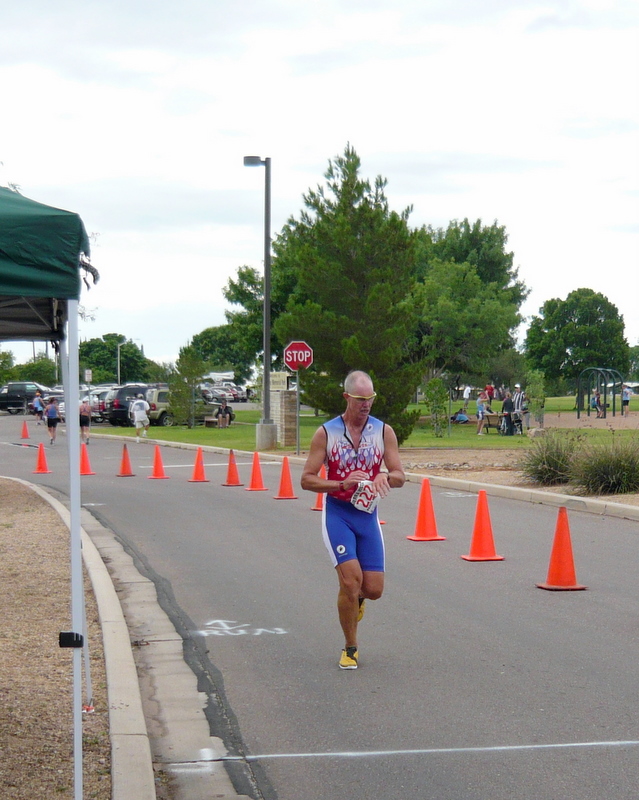 TTG'er Melissa: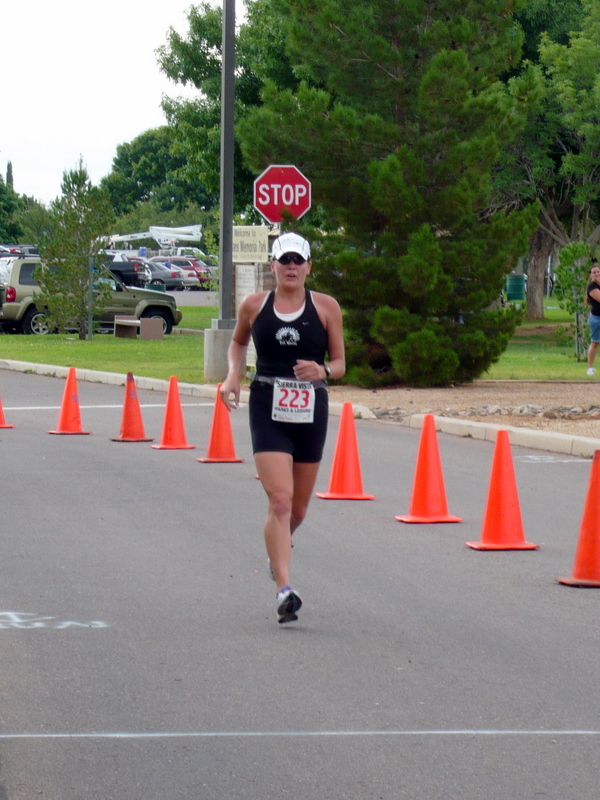 TTG'er and Team XOOD member Robin. There was some drama to Robin's finish as the woman behind her was coming on strong. I yelled at Robin to keep pushing because someone was about to catch her and then I felt horrible as I watched the woman stumble at the corner and go down. She was okay - just a skinned knee and wounded pride.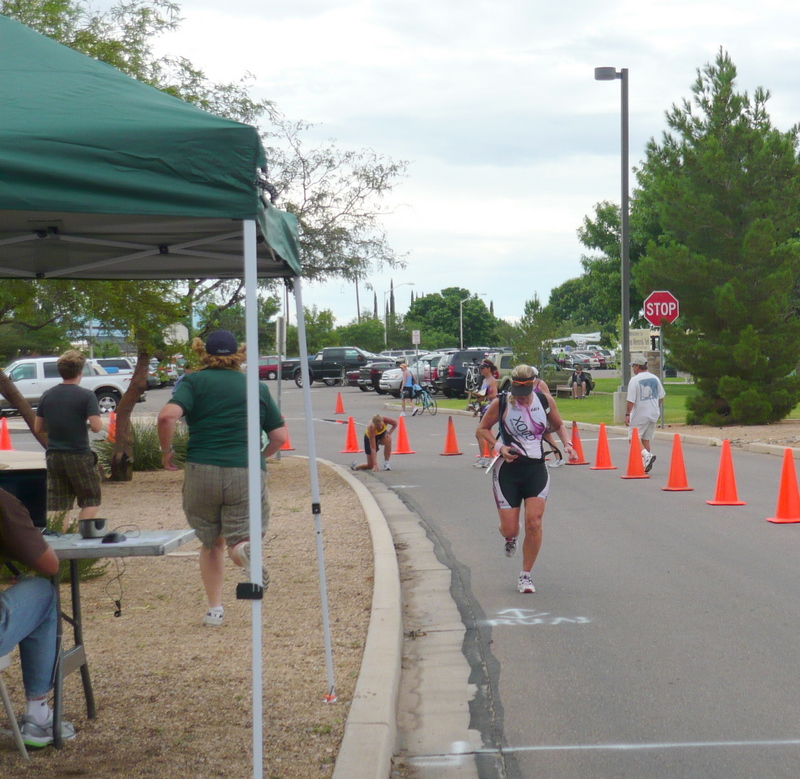 And, of course, Paul. There were a few strong competitors on the course, but he still managed an impressive 5th place overall and 2nd in his age group.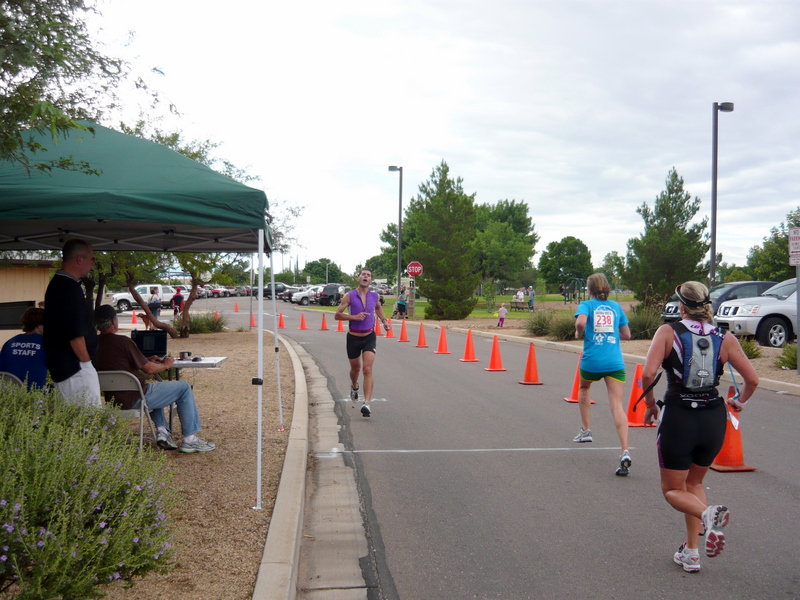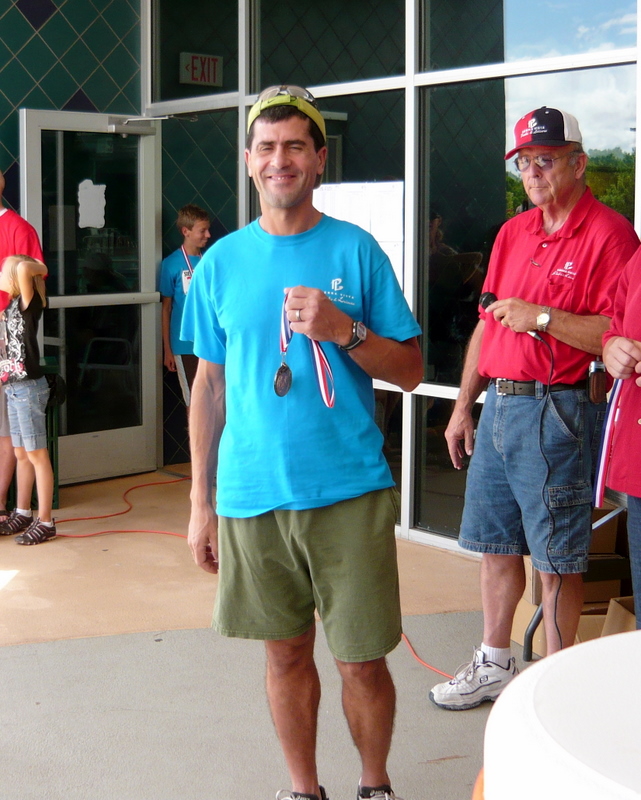 I really appreciated Hummingbird's small-race feel, nice course, abundance of traffic control and the little extras like carpets in transition. However, the race also had its shortcomings.
#1 - This sprint race with less than 100 people took 5 hours from start to finish. I'm sure the limited pool lanes are partly to blame, but there has got to be a better way. Sprint races should be quick - hence the name - and should not take up half the day.
#2 - If you're going to have a 5-hour event, then you need to feed people. Bananas and orange slices just do not cut it. Knowing that Paul placed, we wanted to stay for the award ceremony, but, by the time we got out of there at 11:00 a.m., all I had eaten since waking were 3 bananas. Thanks to all of the potassium, I was in no danger of cramping, but my muscles sure could have used some protein. Some advice for next time? Hit Costco for bagels and big jars of peanut butter. Triathletes don't need a fancy spread, but we do need proper recovery food. By the time the awards rolled around, we were very hungry and a bit grumpy.
#3 - This race offered some sweet hardware. For the relay racers, that is. Each member of the relay team, in a variety of categories, took home a beautiful trophy of a swimmer, biker or runner. They were some of the best awards I have ever some across, and yet they were for the people who completed just 1/3 of the race. The age group winners, who completed all three disciplines, received a run-of-the-mill medal. I think relays are a great way to experience a triathlon, but let's give credit where credit is due, huh?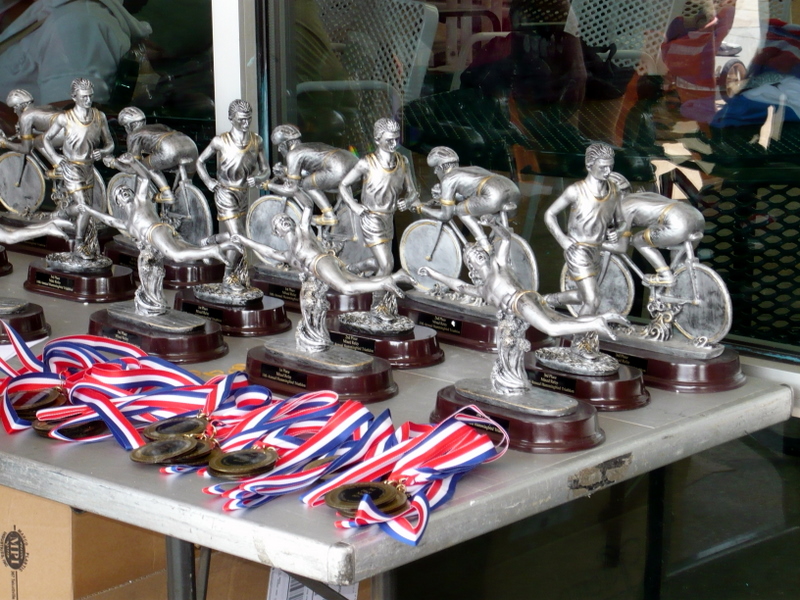 Despite all of this, we enjoyed the race and had a great time hanging out with our little TTG crew.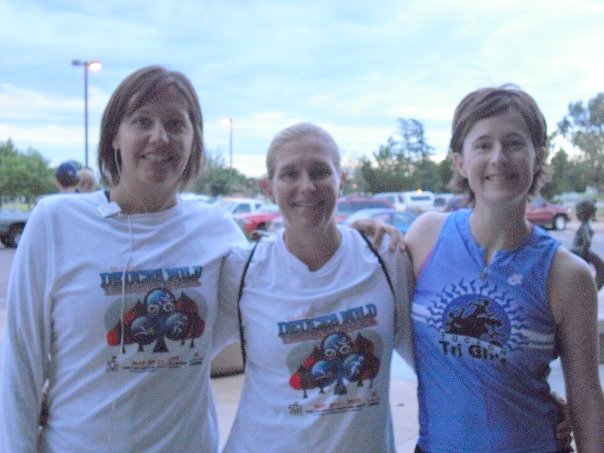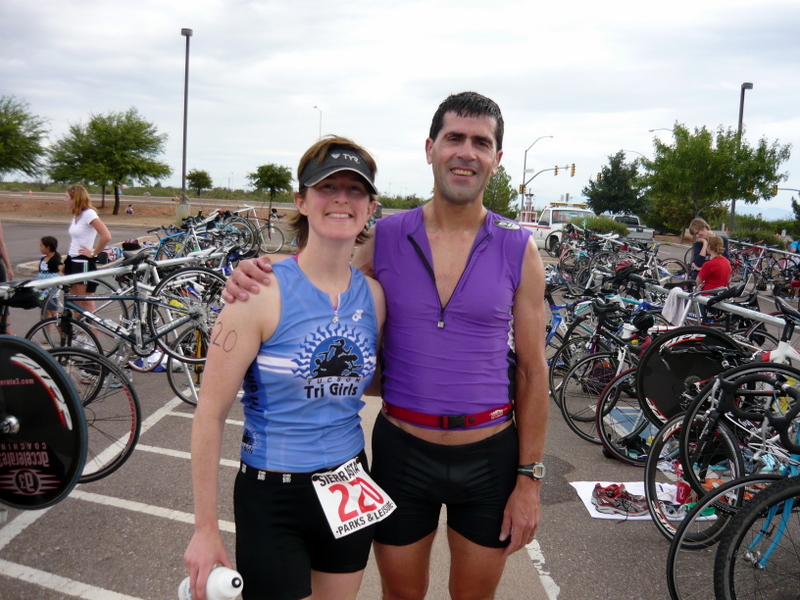 <<
<Back
| 15 | 16 | 17 | 18 | 19 | 20 | 21 | 22 | 23 | 24 |
Next>
>>