Thursday, August 20, 2009, 11:21 PM
Posted by Administrator
LODGING
Located in the Kensington district and owned by the extraordinarily welcoming Deanne, we found the River Wynde to be an exceptional B&B. We spent one night in the main house on the day we flew into Calgary and then returned for our final three nights of the vacation and stayed in the adorable cottage in the backyard.
Deanne has created a warm, welcoming atmosphere that makes you feel like you're staying at a friend's house. She chatted with us over breakfast each morning, allowed us to use her computer and offered to throw our laundry in with hers when she was doing a load. I even heard her offer to loan a pair of bike shorts to another guest...which may be taking the customer service thing a little too far. But, when we left, we truly felt like we had made a friend.
Our only complaint is that there are no private bathrooms. Although robes and slippers were provided, we especially missed this convenience during our nights in the cottage as we sleepily stumbled to the house for midnight potty breaks. But, it was a small price to pay and we would stay there again in a heartbeat.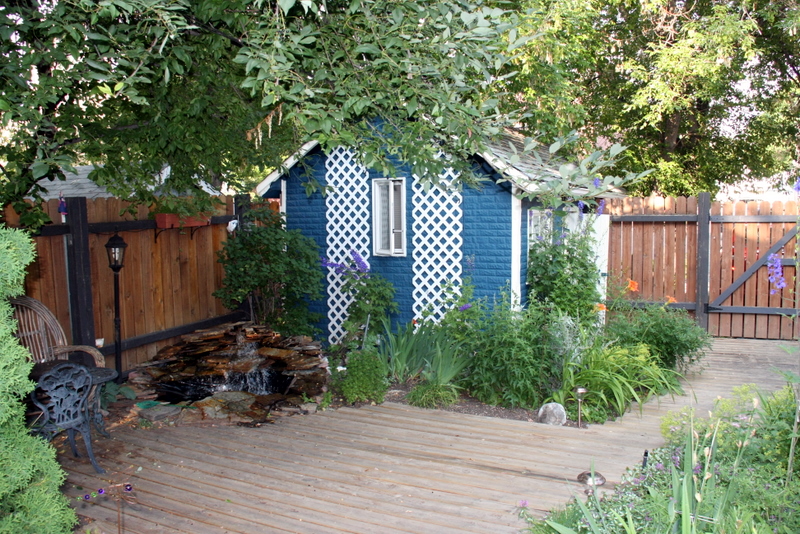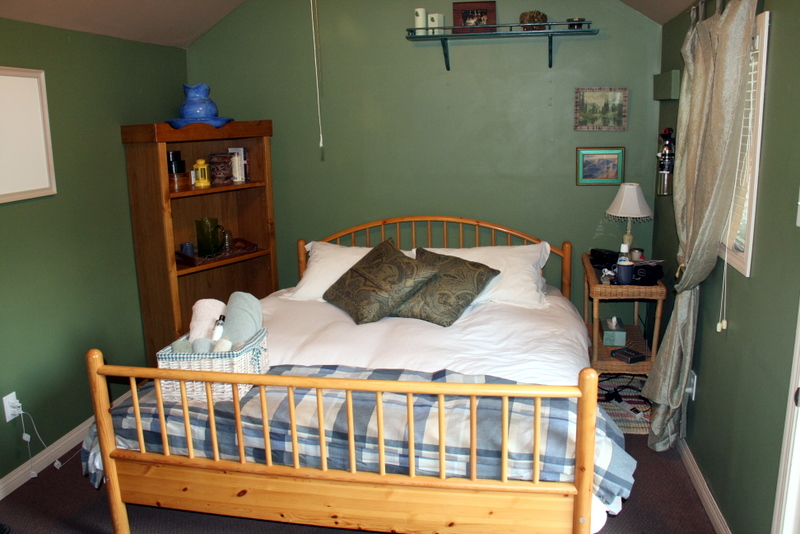 THINGS TO DO IN CALGARYShop at Mountain Equipment Co-op:
This is Canada's version of REI and Paul cannot pass up a visit whenever he's in the country. In fact, it was our very first stop after picking up our rental car.
Knowing we would be doing lots of hiking in Banff and Jasper, we asked for bear spray, expecting a cute, little, finger-sized canister like our pepper spray at home. When the sales guy reached into the locked case and pulled out something that looked a hair spray bottle (but much more dangerous), we said, "Oh no, we want the small bottle." That was the small bottle. Then, Paul had to fill out a form and sign a waiver vowing not to use the spray on humans. It was quite an ordeal.
Head to the Paths:
With 330 miles of recreational paths, Calgary is a dream come true for both athletes and environmentalists. As far as we could tell, these paths were well-used by cyclists, runners and inline skaters, as well as business commuters sporting sneakers with their slacks or skirts.
We spent lots of time on one of these fantastic pathways just a short walk from the River Wynde. We walked, we ran, we biked on a crappy tandem we rented one day, and, on the weekend, we watched the locals floating down the Bow River on rafts. We marveled at all of the outdoor recreational opportunities right in the middle of the city. Sure, Tucson's Rillito River Path is great. But this river actually had water!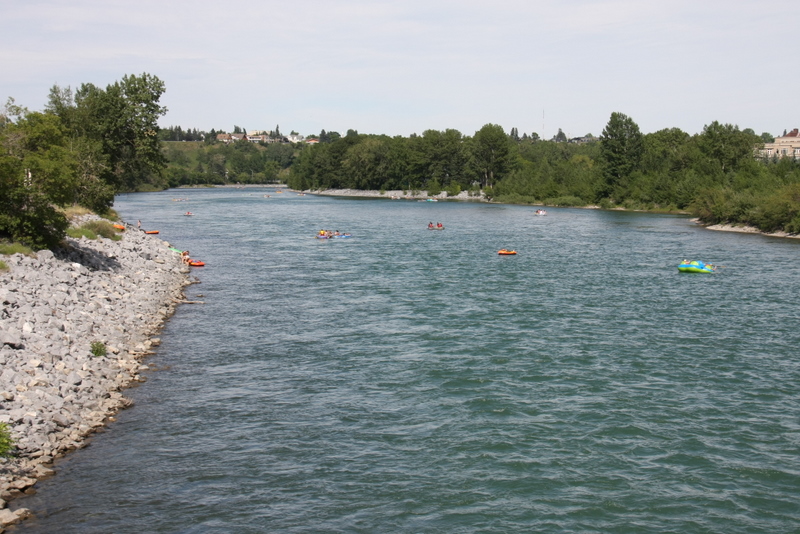 Olympic Park:
Calgary was the proud host of the 1988 Winter Olympics and is now the proud owner of some pretty freakin' cool training centers. On our way to the bike rental at the University of Calgary, we happened upon the Olympic Oval. At times, it is used as a velodrome, but, with another winter games fast approaching, it is currently set up for ice sports.
We thought we would take a quick peek, but ended up spending quite some time when we discovered that Olympic athletes were actually training in there. The large and small ovals were being used by speed skating teams from Korea and Japan. And the non-ice part of the facility was full of athletes doing plyometrics, sprints and drills.
Click here for a short video of luge athletes practicing their starts with wheeled sleds.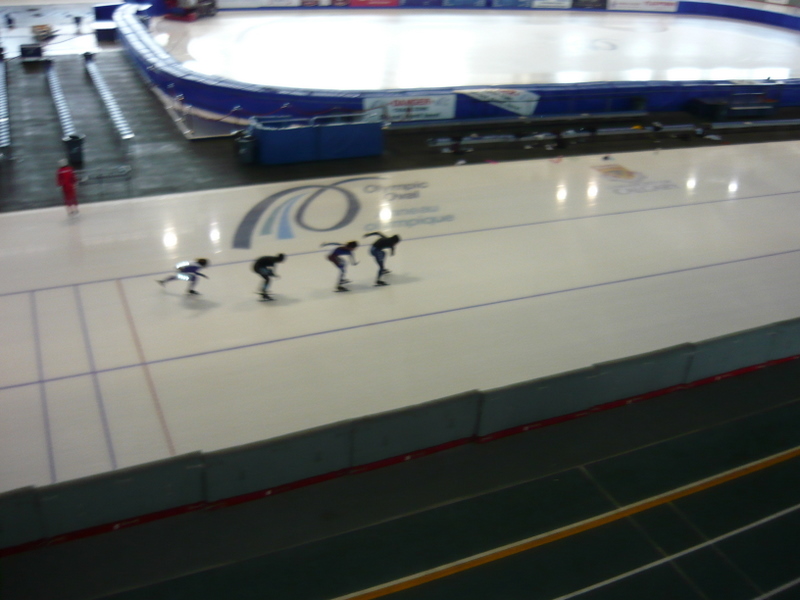 We also drove just outside of the city to Olympic Park. Part training center and part tourist attraction, they have added activities to bring in some summer cash, such as mountain biking, challenge courses and zip lines. There were also several groups of children enjoying summer camp at the park. That has got to be the world's best summer camp!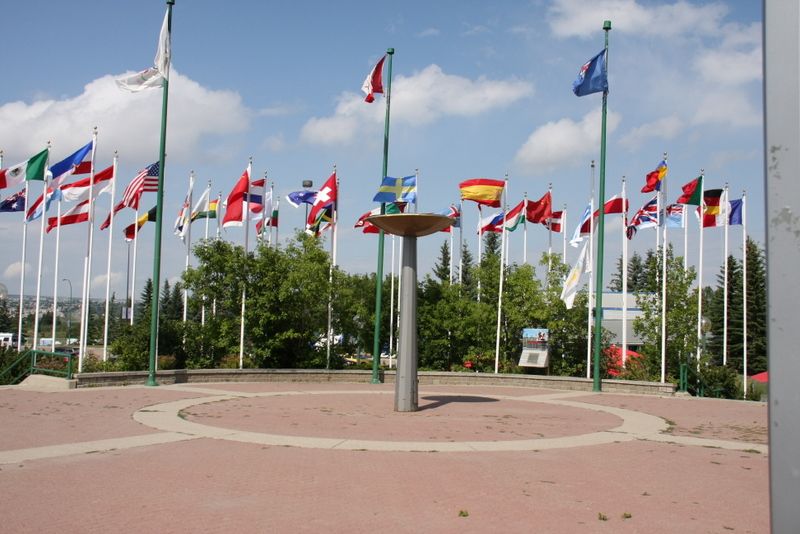 We rode the ski lift and checked out the ski jump towers, some of which had athletes actually practicing jumps. (There was no snow, but the jumps have a surface on which you can ski in any weather.)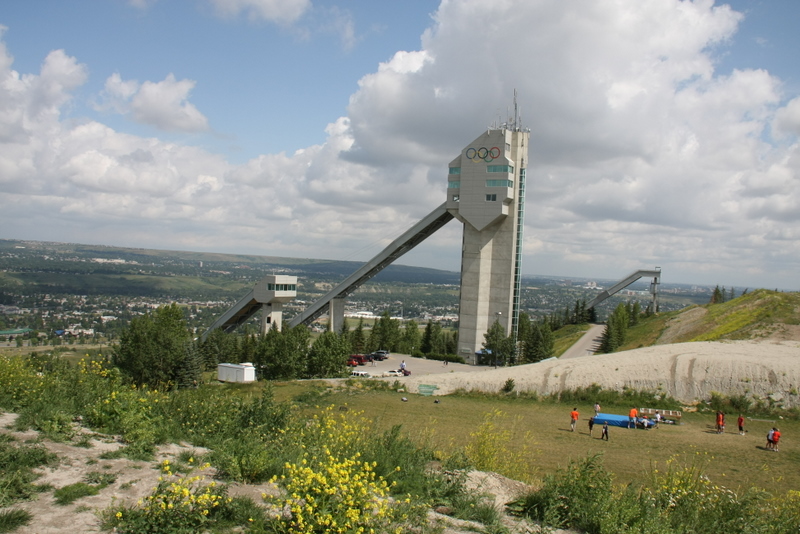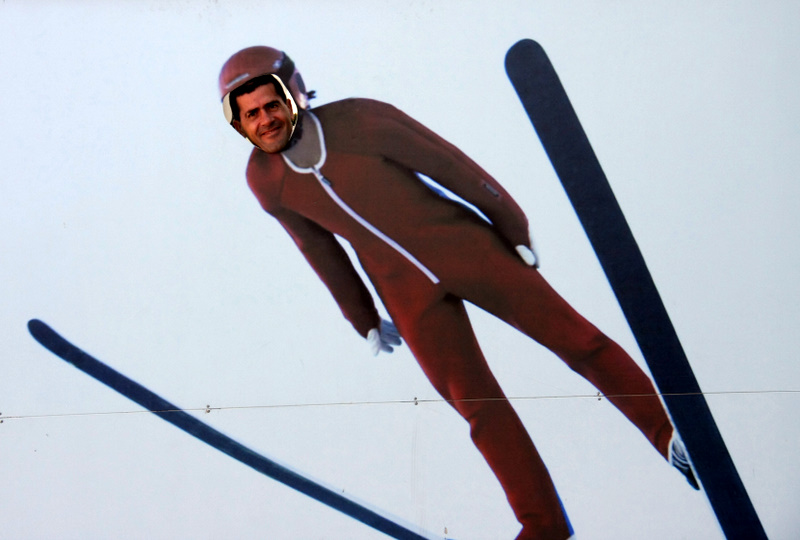 We then walked the length of the luge/bobsled course while discussing whether or not these endeavors should actually qualify as sports. Our verdict - no.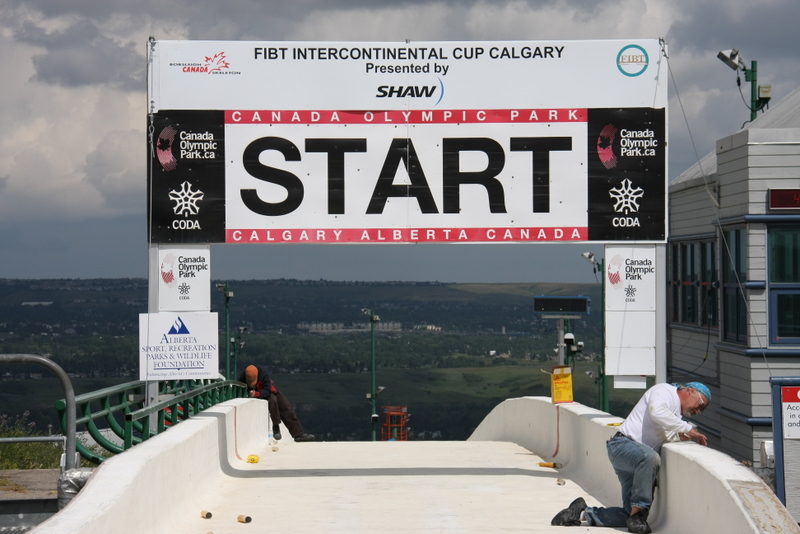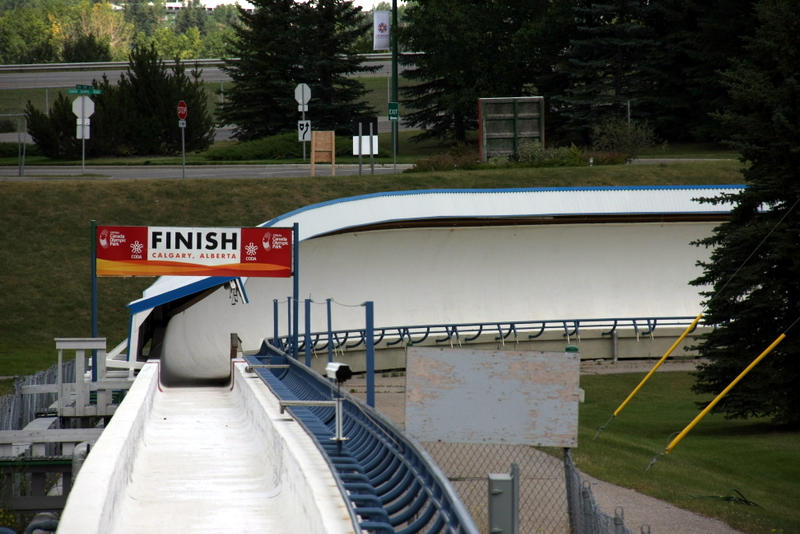 Then we headed to the world's only indoor luge training center with ice. The runs aren't long, but are just long enough to give athletes a chance to practice their starts. After that, you pretty much just hang on, right? There was one athlete warming up, but we didn't hang around to see her practice. We did try out all of the equipment though!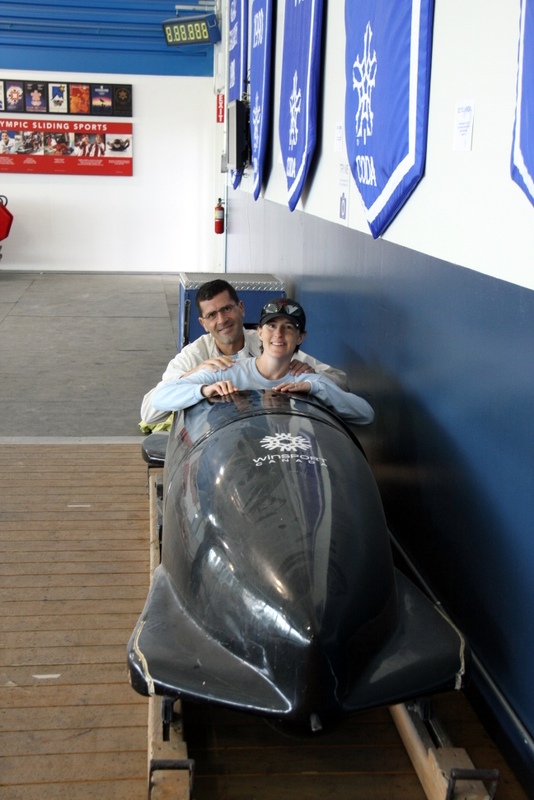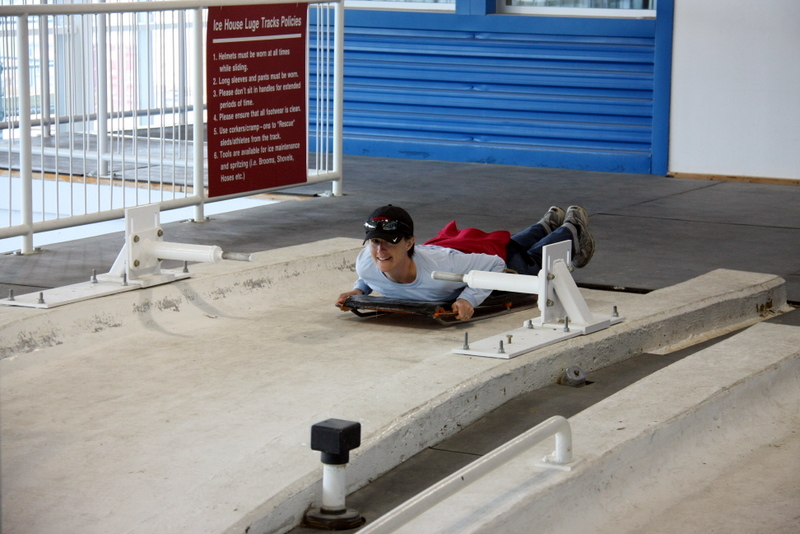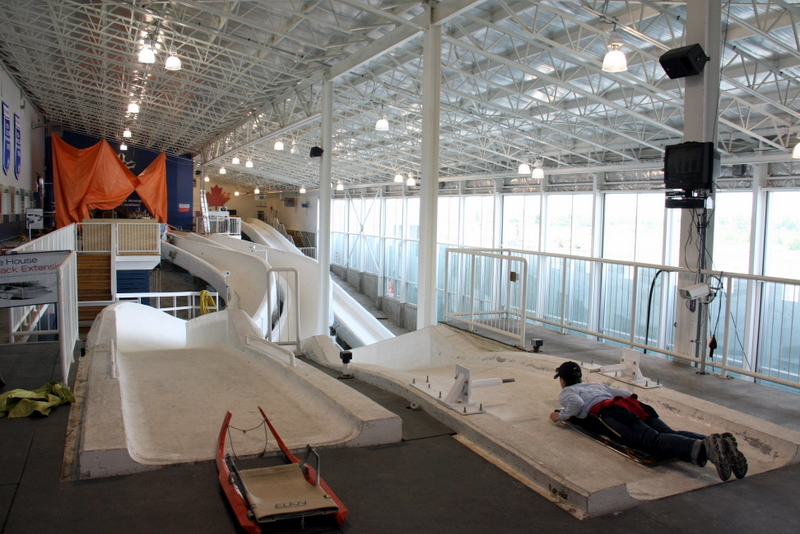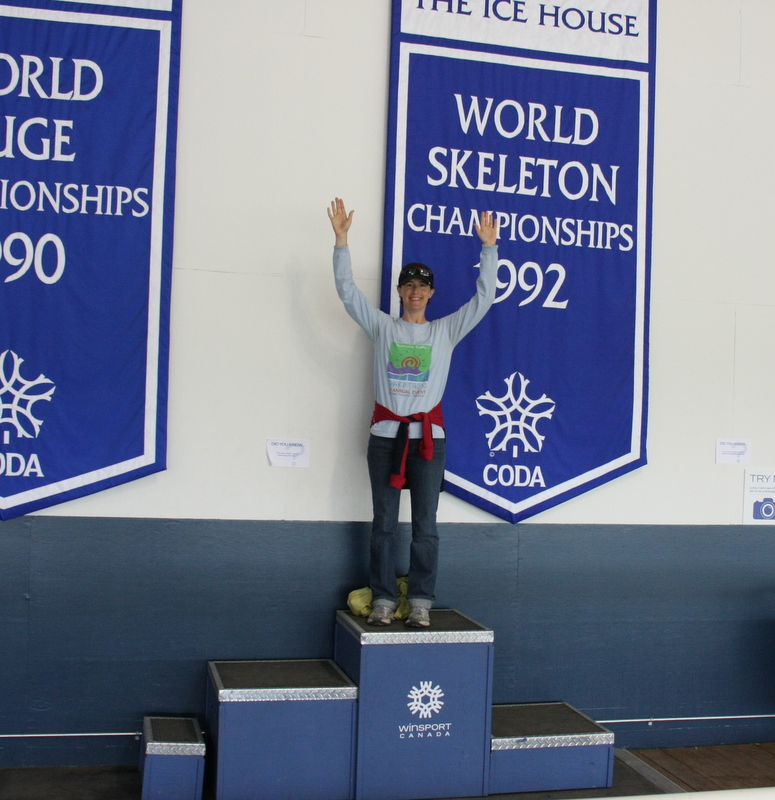 Our last stop was the Olympic Hall of Fame which had lots of fun, interactive exhibits which I'm sure were designed to keep kids occupied, but which we played with anyway. Just for the record, I kicked Paul's ass at the hockey game.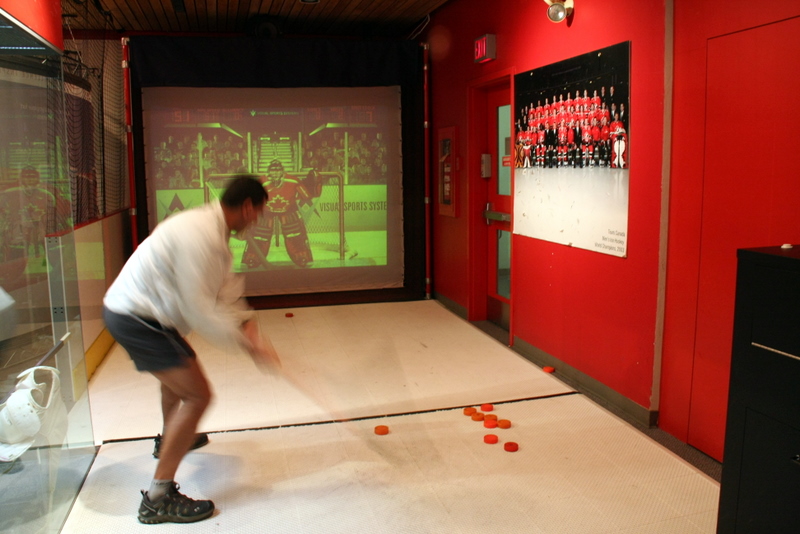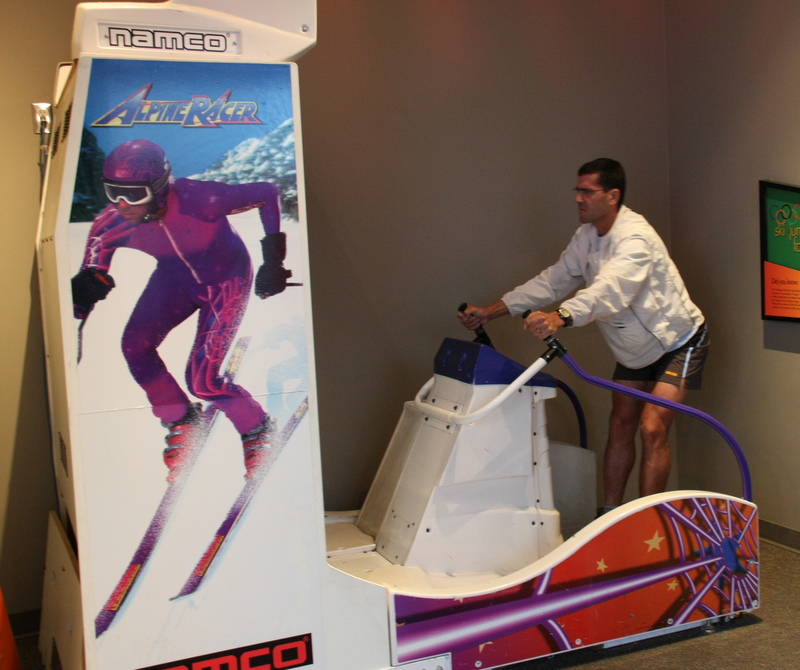 <<
<Back
| 15 | 16 | 17 | 18 | 19 | 20 | 21 | 22 | 23 | 24 |
Next>
>>