Sunday, August 9, 2009, 01:28 PM
Posted by Administrator
On Wednesday, July 22, after three wonderful days spent exploring Jasper, we traveled back down the
Icefields Parkway
. Banff was our final destination, but, on the way, we had reservations at the
Columbia Icefield Centre
for an
Ice Walk
, a 3-hour guided tour on the Athabasca Glacier.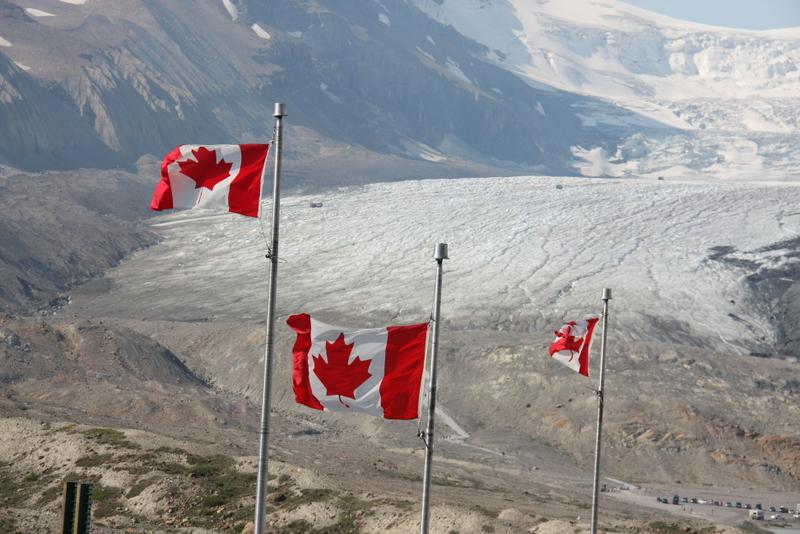 As you might expect, we were first required to sign a waiver acknowledging the inherent danger in walking on a glacier and giving up any right to sue in the event that we fall into a crevasse and die. Then, we were loaned hiking boots, fleece hats and heavy duty gloves. Apparently crampons were only recommended after rainfall, although I gladly would have taken a pair.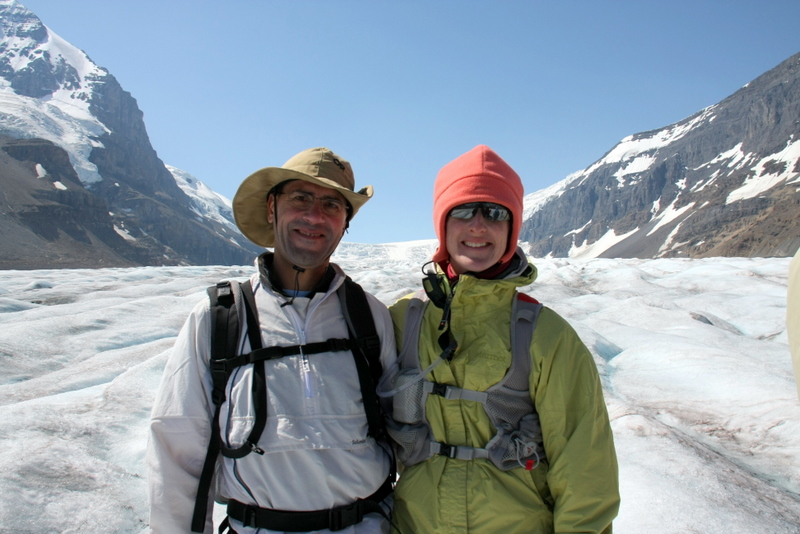 Finally, a group of about 15 of us set off with our Icelandic guide who introduced himself with, "My name is Freon. Yes, I'm a gas." Freon proved to be knowledgeable and entertaining. He also addressed the topic of global warming with a practiced diplomacy that suggested he had come across a non-believer or two in his day.
Having never set foot on a glacier, I was greatly looking forward to this experience. That is, until I was actually on the glacier, at which point I was terrified. The ice was not flat and easy to walk on - it was rippled and uneven with small streams of water running down it and lots of cracks and holes into which you could slip and fall. I was frightened to the core that this excursion might actually lead to my early, tragic and very cold death.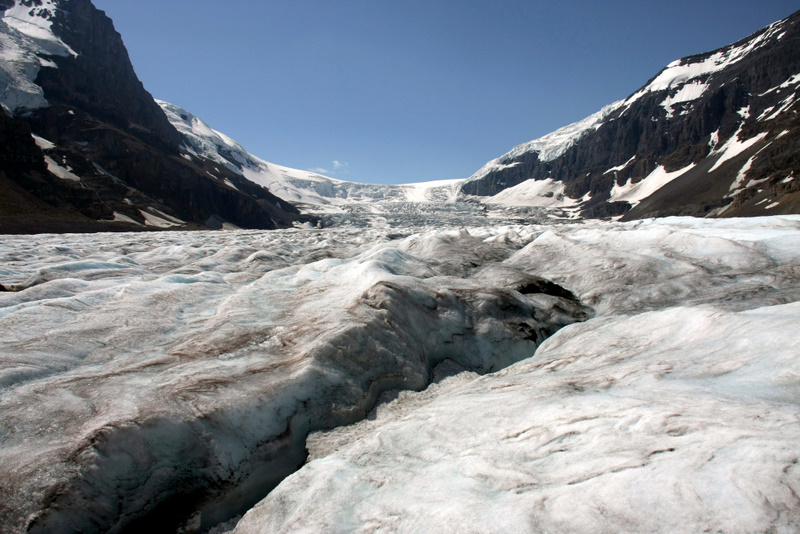 Freon added to my concerns by, over and over, reiterating the inherent dangerousness of our activity, cautioning us to walk exactly where he walked, and reminding us to beware of large holes into which we might fall. At times, I was not just scared, but also pissed off. Pissed off that we had signed up and actually paid money for this terrifying experience; pissed off that there were no restrooms at the meeting point because now I had to pee; and most of all, pissed off that I was the only person in the group who seemed to have any anxiety about sliding around on a gigantic ice cube full of holes. Didn't they know we could die out here?!? I just thanked God that the 5-hour tour had been sold out and counted down the minutes until I would be on solid ground again.
Here is Freon holding my backpack, so that I could look into one of the big, dangerous holes. He was telling me to step closer for a better look. I declined.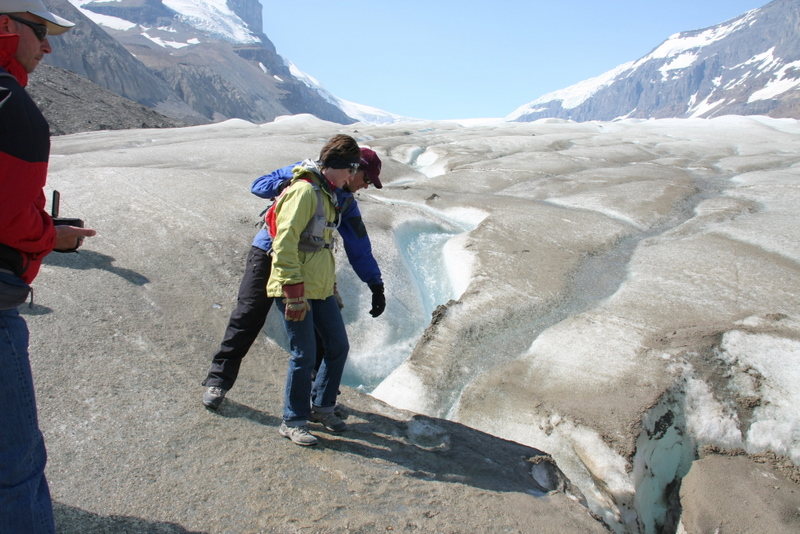 Paul was a saint. Of course, once we were safely off the glacier and in the privacy of the car, he let loose with the teasing, but, while the fear was still very real, he was sweet (and smart) enough to offer nothing but encouragement.
Knowing how much he was enjoying the experience, I tried to play it cool. Apparently, this coolness was only in my head as Paul later told me that I was "freaking out." He let me cling onto him as we made our way up the glacier, stopping occasionally for an interesting lesson from Freon the Gas Man who was always kind enough to wait for us before beginning his spiel since my slow, halting steps caused us to lag significantly behind the group.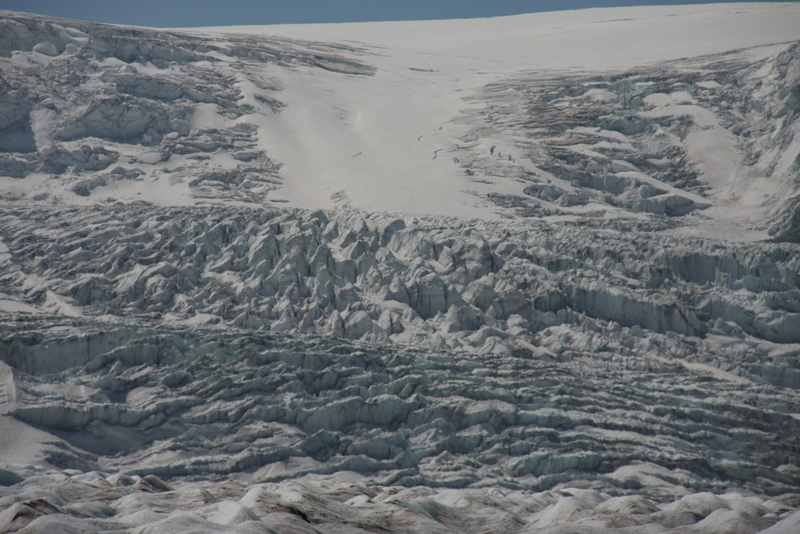 About halfway through the tour, I finally got the hang of walking on ice. Before long, I was keeping up with the group and, though never completely free of fear, I did become confident that I would live to see Banff.
Click here for a brief video Paul took on the glacier.
It gives you an idea of how windy it was out there.
Next stop - Banff!
LODGING
We spent two nights at Casa Banff, a B&B just a short walk from downtown, where I was treated to amazing breakfasts of fresh-from-the-oven baked goods and homemade granola. I say "I" because Paul, expecting just a run-of-the-mill continental breakfast, had not thought to forewarn the host of his gluten allergy. She seemed genuinely disappointed that she had not been able to prepare some gluten-free baked goods for him, but was kind enough to whip up Rice Krispie treats for the second morning and insist that he pack some for later in the day.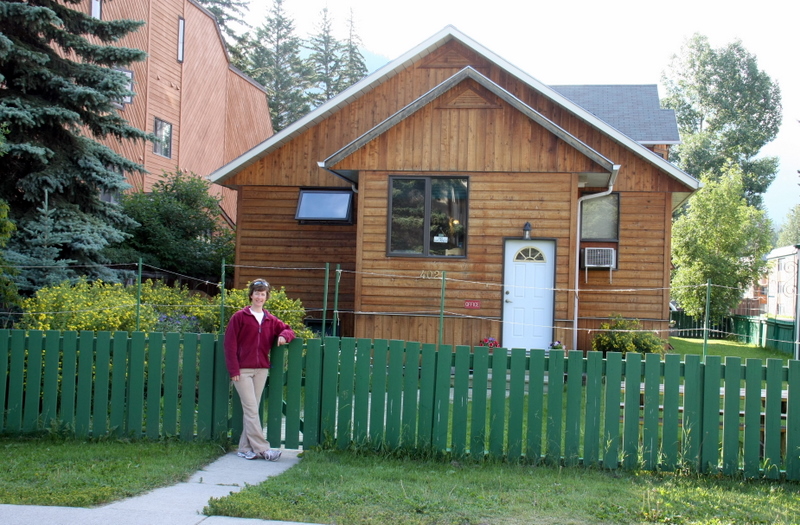 My only complaint with this B&B concerns their "no shoes in the house" policy of which I was firmly reminded when I accidentally broke the rule almost immediately. While I certainly understand the reasoning behind the policy, it made me feel on edge throughout the visit, not wanting to touch anything unnecessarily lest it get dirty. While well-equipped and very clean, it did not have a "make yourself at home" kind of feel.
FOOD
We were 3 for 3 in Banff with fantastic meals at
Nourish
, a tiny vegetarian restaurant tucked away on the second floor of a small mall;
the Balkans
, a Greek restaurant at which we enjoyed everything that passed through our lips; and
Masala Authentic Indian Cuisine
...which is self-explanatory. We highly recommend each of these restaurants if you are fortunate enough to find yourself in Banff someday.
ADVENTURE
I have to start by saying that Jasper was our favorite location of the trip. Most visitors do not venture past the Banff/Lake Louise area and have no idea of the beauty they are missing. However, it is because of their absence (in other words, the smaller crowds and less commercial atmosphere), that Jasper was so much more attractive to us, and so part of me appreciates people's unwillingness to drive the extra 3 hours.
On our one full day in the Banff area, we spent a short while at Moraine Lake which was highly recommended by many as simply spectacular. However, having spent time at Peyto and Bow Lakes earlier in our trip, we found that Moraine Lake, though lovely, paled in comparison.
However, we did have a fantastic day on the
Plain of the Six Glaciers Teahouse Hike
at Lake Louse. I was finally feeling recovered from all of the mountain climbing we did in Jasper and was raring to go.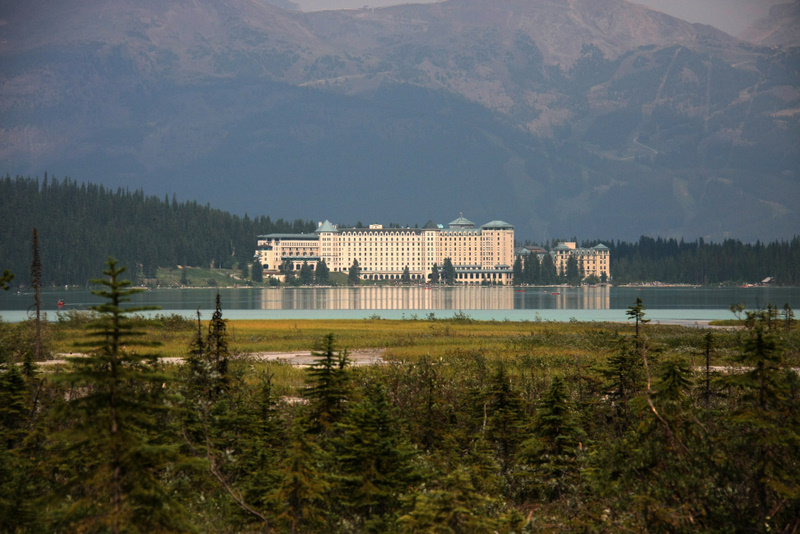 We started the hike at the beautiful Fairmont Chateau Lake Louise Hotel amidst hundreds of other tourists milling around and taking photos. The first 1/2 mile of our trek was on a paved path that took us to the far side of Lake Louise and was packed with people. As we crossed onto dirt and began to climb, the crowd thinned somewhat, but never as much as we had anticipated. It was wonderful to see so many people showing an appreciation for the trails, as well as the endurance for a 9-mile round trip hike. However, the constant company did take away from the quiet and solitude usually offered by trails.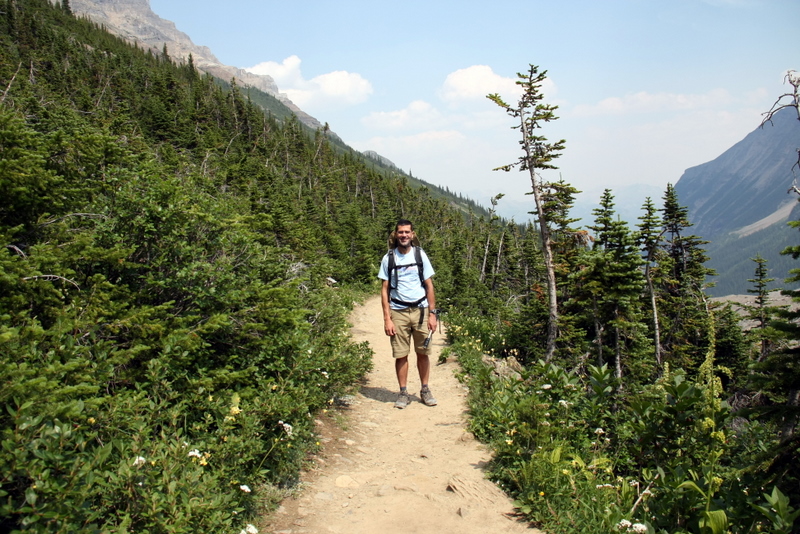 As you may have inferred from the name of the hike, our destination was a teahouse. Yes, an actual teahouse in the middle of mountain trail. They stock up at the beginning of the season with the help of a helicopter and then supplement supplies by having employees pack in items when they hike up each week for their 5-day shift on the mountain.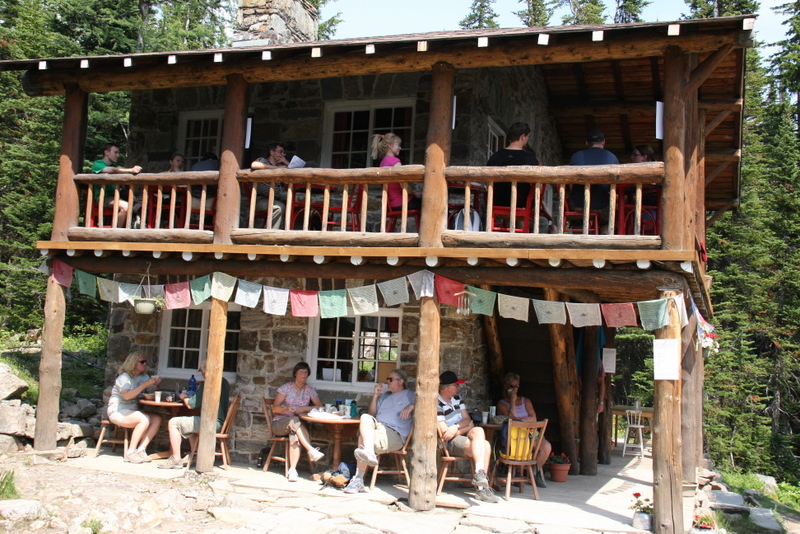 This fully-operational restaurant was quite impressive considering the lack of electricity and reliance on propane stoves. Their menu features soup, sandwiches and pies, but we settled on hummus with tortilla chips and a peach-ade drink which came, understandably, lukewarm and without ice. It was all quite delicious!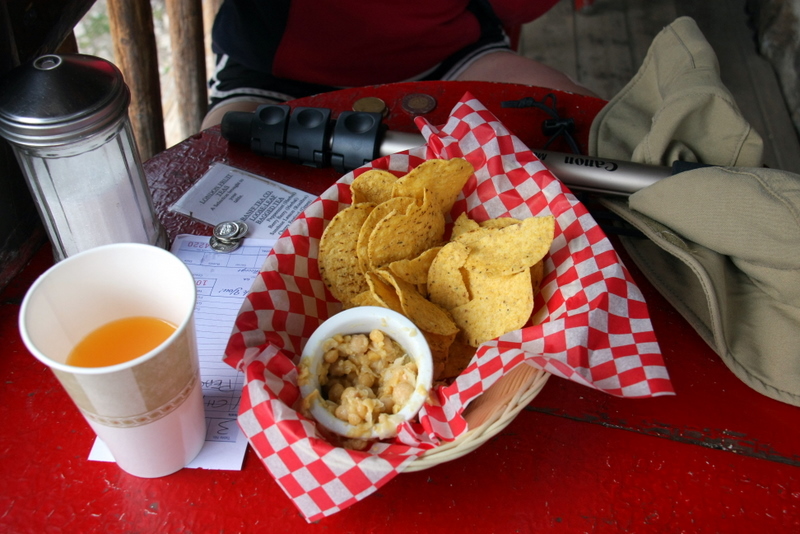 As suggested by our B&B host, we continued past the teahouse about 1 mile until we came to the very end of the trail and a spectacular lookout from which we saw a stone hut perched at the top of a nearby glacier. We later discovered that it was possible to hike to and spend the night at this rustic hut. Paul, of course, thought this was fantastic and wished we had known about it beforehand, so that we could have added it to our itinerary. I, on the other hand, am grateful for our ignorance on the matter. I have no idea how you would get to the hut, but am fairly certain that it would involve walking on a glacier.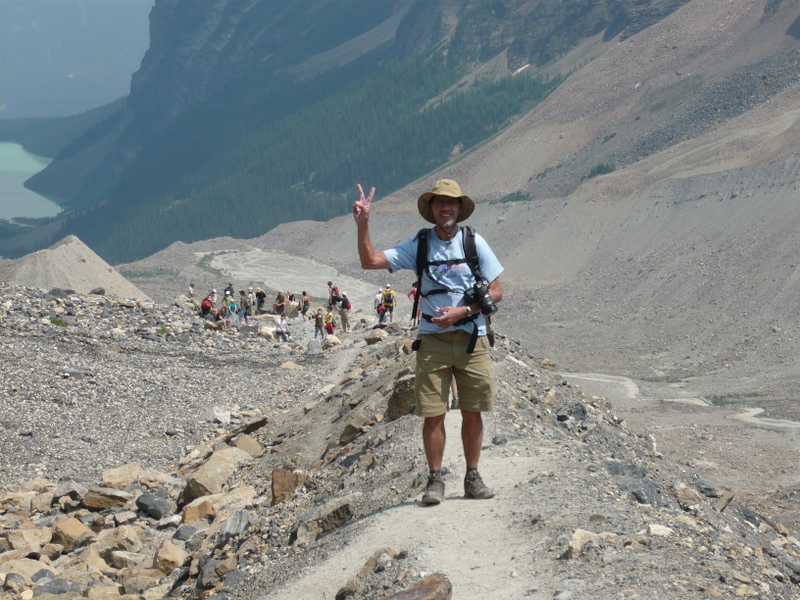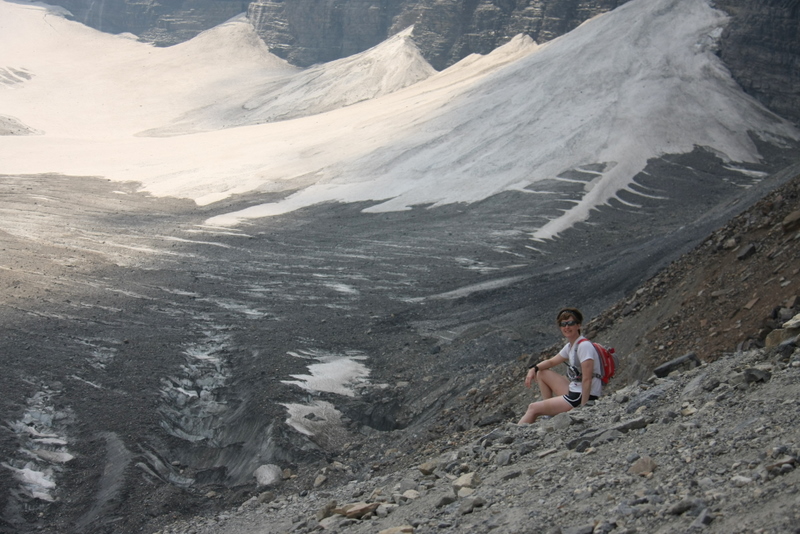 We hiked back down the trail and, as we neared the hotel, I had a moment of panic when I saw a dead body lying half in the bushes and half in the path. Then I noticed that a hat was neatly folded under the head of the body and realized that it was actually an alive, yet sleeping, man. Mind you, there were hundreds of people walking this path - not a great place for a nap.
Check out some photos of wildlife below and stay tuned for the Fernie, BC and wedding report. Also,
click here to see all of Paul's photos from the trip.
ANIMALS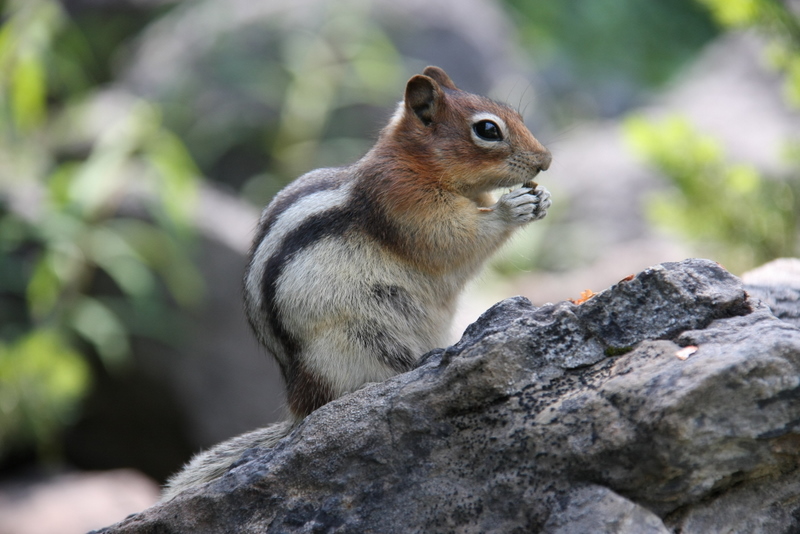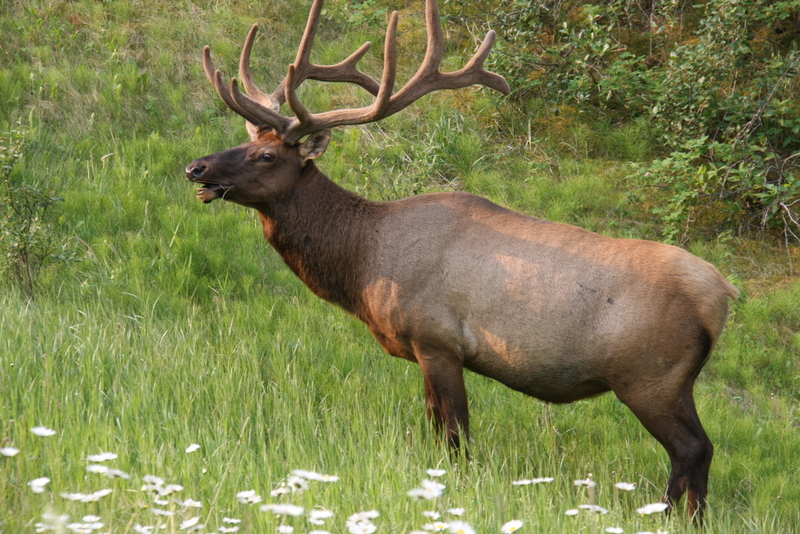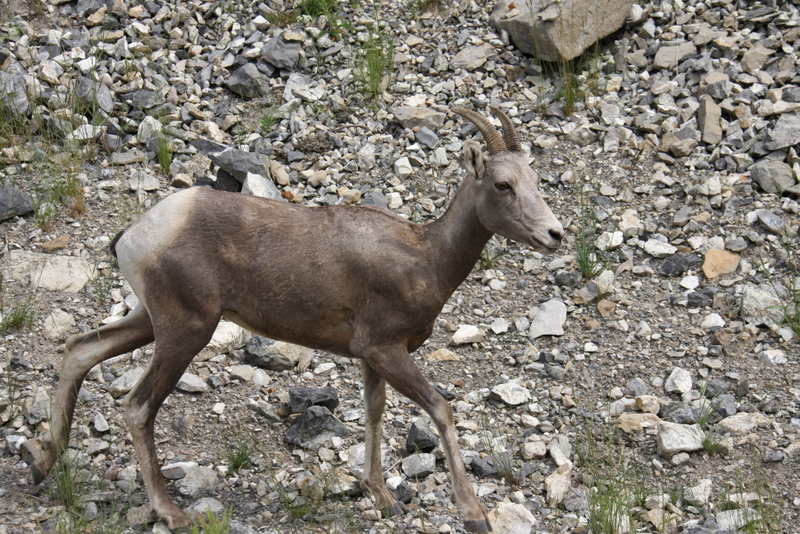 <<
<Back
| 15 | 16 | 17 | 18 | 19 | 20 | 21 | 22 | 23 | 24 |
Next>
>>