Sunday, August 2, 2009, 11:30 PM
Posted by Administrator
When David and Catherine decided to get married in Fernie, British Columbia and to honor us with an invitation to the big day, we decided to go all out and make the trip into an 11-day Canadian Rockies adventure. I'll post more on Banff and Calgary later, but read on for Part I - Jasper.
It all started on Saturday, July 18 when we flew non-stop from Phoenix to Calgary and spent one night in the city before hitting the TransCanada Highway. We made brief stops in Canmore and Banff in search of underwear (can you guess who forgot to pack any? here's a hint - it wasn't me.) and then enjoyed the breathtaking views of the
Icefields Parkway
on our way to Jasper.
Lessons From My First Few Days in Canada
1. The summer days are ridiculously long in this part of the world. It's difficult to sleep when it is light outside and so we were often up until almost midnight (which is way past our bedtime). However, you can really squeeze a lot into the day when sunset is at 10pm.
2. High school math was useful after all. My experience with racing (i.e. 5K, 10K, 50K) made it fairly easy to convert distances in my head, but I had to work a little harder to figure out temperature in centigrade. Also, I was shocked to see that gas was only $1, until Paul reminded me that they use liters, not gallons.

ROADSIDE ATTRACTIONSBow Lake Summit -
Our first taste of the beauty that would overwhelm us throughout the trip.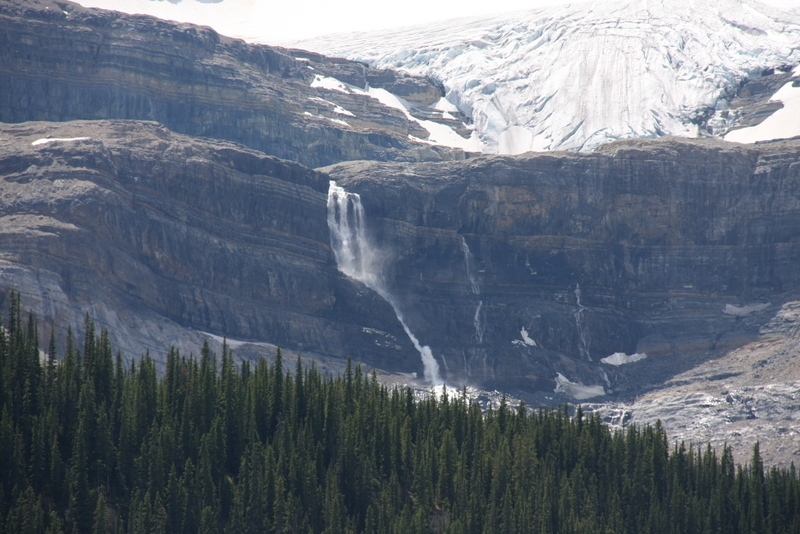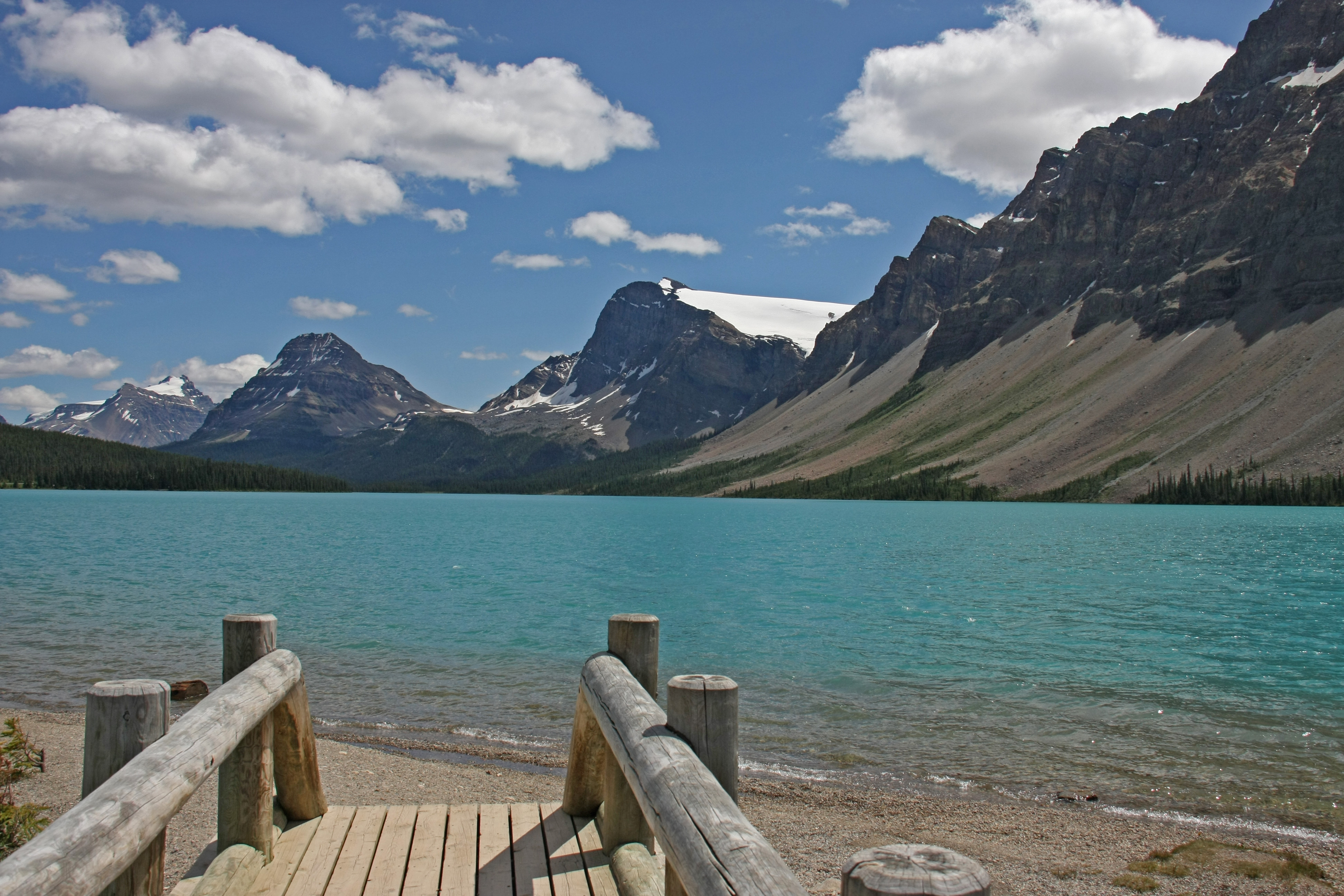 Peyto Lake -
Yes, the lake really is this blue. It's due to the very fine glacial "flour" in the water and it is absolutely spectacular. We parked and took a short hike to an overlook which was conveniently located next to the tour bus parking, which meant sharing this beautiful scenery with throngs of camera-toting tourists.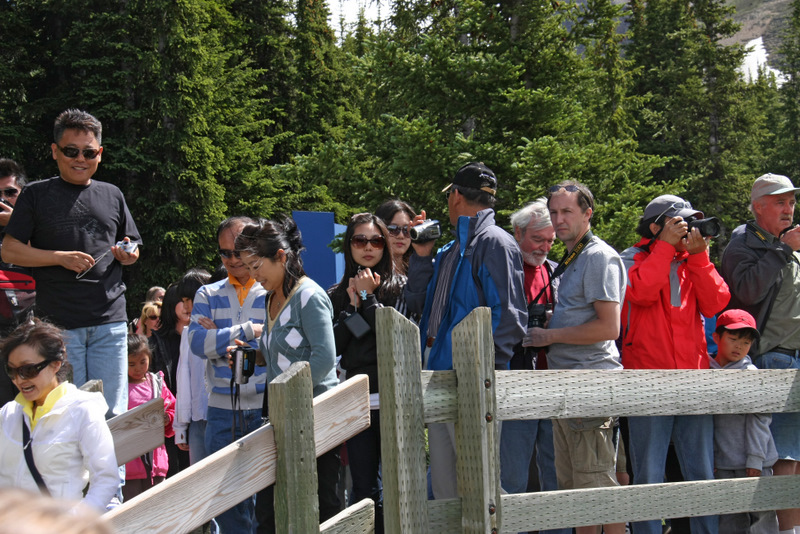 Sunwapta and Athabasca Falls -
Amazing!
Click on this link for a video that Paul took.
(It may take a few minutes to load.)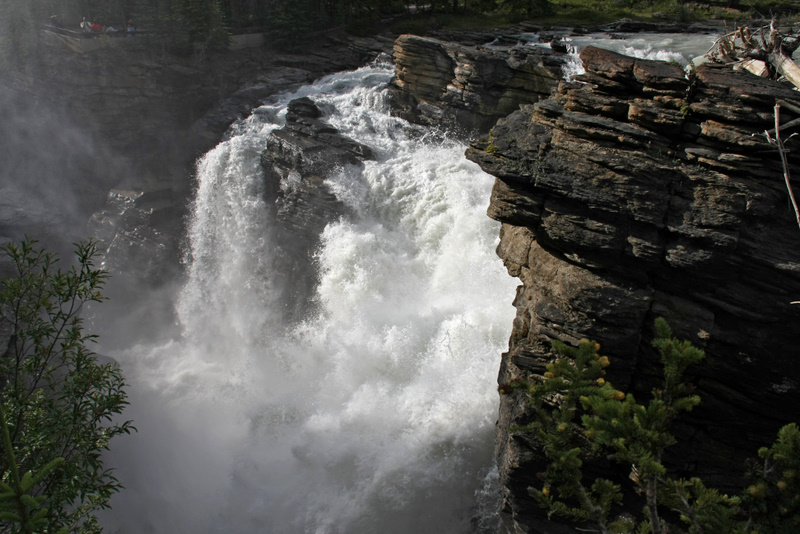 LODGING
Jasper has an impressive system of private home lodging for visitors, which can be more comfortable and often less expensive than a hotel. We had three pleasant and comfortable nights at
A&A Accommodations
and especially appreciated the kitchenette which saved us from eating out every meal. The location allowed us to walk to the downtown area and the separate entrance gave us lots of privacy.
FOOD
Evil Dave's
We stopped here right when we drove into town, hungry and weary from the long day on the road. The drive is only about four hours, but, with all of our sightseeing and photo op stops, it took most of the day. The soup of the day was fantastic, but our main dish was rather over-spiced and resulted in very clear sinuses and lots of sweat. On the plus side, they had a separate gluten-free menu for Paul - always greatly appreciated.
Coco's Cafe
A tiny, but fantastic spot for breakfast or lunch. They keep gluten-free bagels on-hand for their Celiac customers.

La Fiesta
I know, I know. Why would we travel from Tucson to Canada and go to a Mexican restaurant? Because the guy at Coco's recommended it as another Celiac-friendly place. It was fine. Not bad, but not as great as you'd expect for the prices.
THE ADVENTURESJasper Discovery Trail
After two days of travel, we were feeling stiff, lazy and ready for a run. Jasper has a fantastic 5-mile route which circles the town and offers short, rolling hills and quite a bit of trail. For me, it was one of those euphoric, pain-free, full of energy, it's-a-great-day-to-be-alive running experiences. Life is good.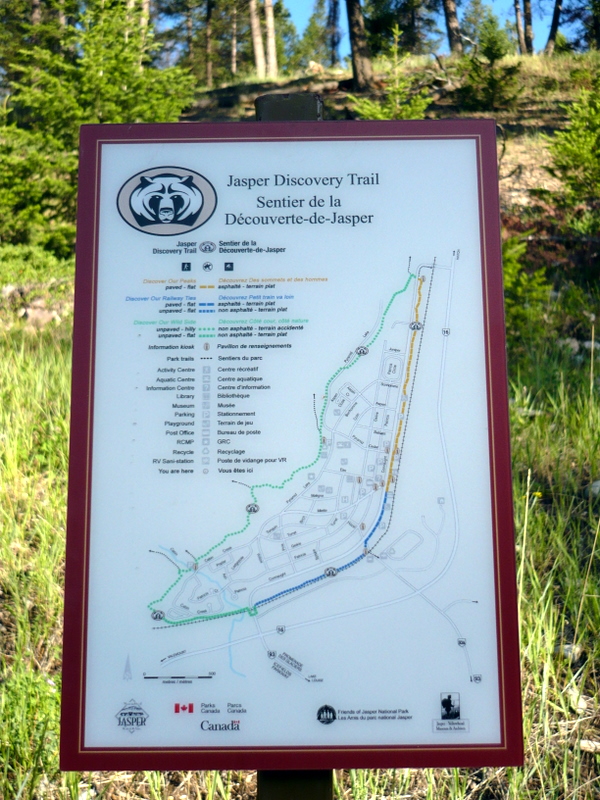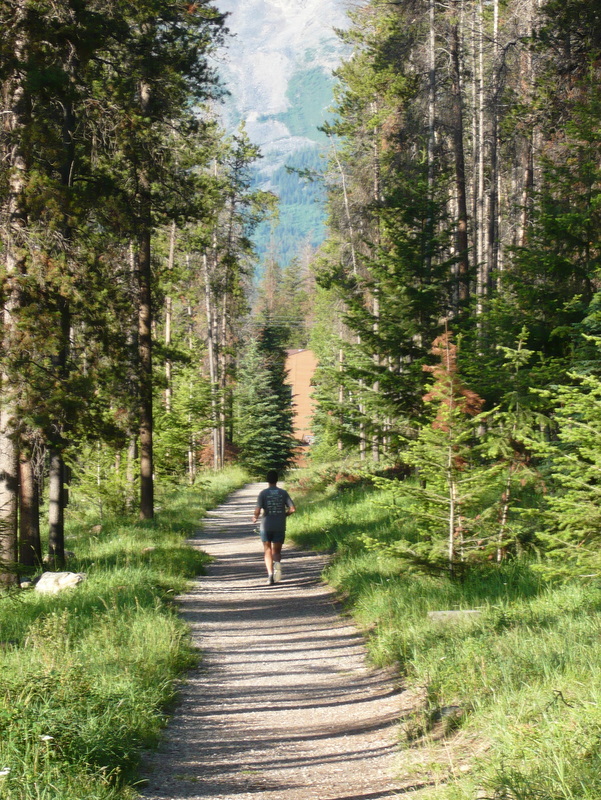 Mt. Edith Cavell
After the run, we spent the remainder of the day conquering Mount Edith Cavell, our most spectacular hike of the trip. We climbed to a point where we looked down on a glacier and waterfall, and then, a few hours later, we were down at the glacial lake with all of this beauty looming over us.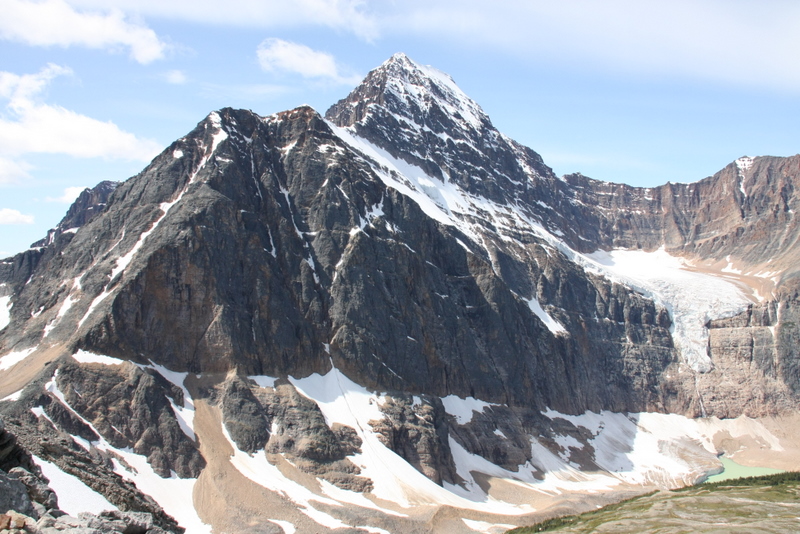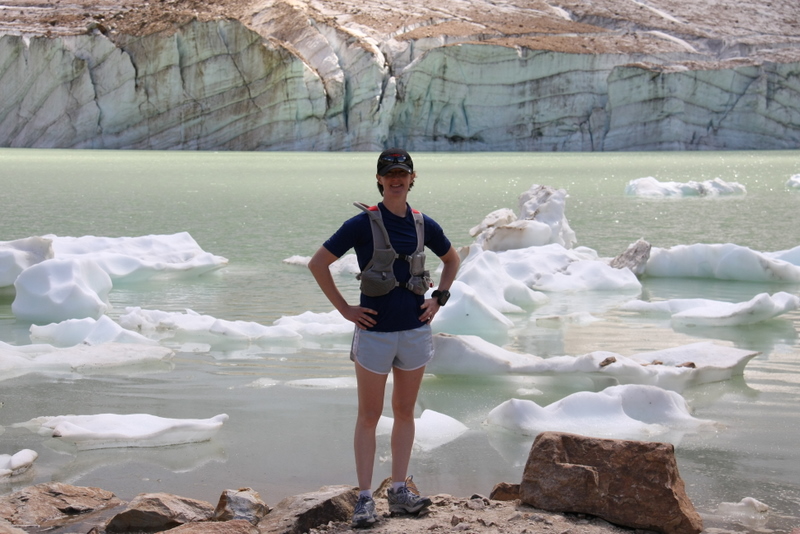 When we arrived at the turnaround point of the hike (according to the map anyway), we were greeted by half a dozen or so furry creatures that I learned were marmots. They were adorable and not the least bit afraid of us hikers. They had obviously met many a human who disregarded all of the "don't feed the wildlife" signs.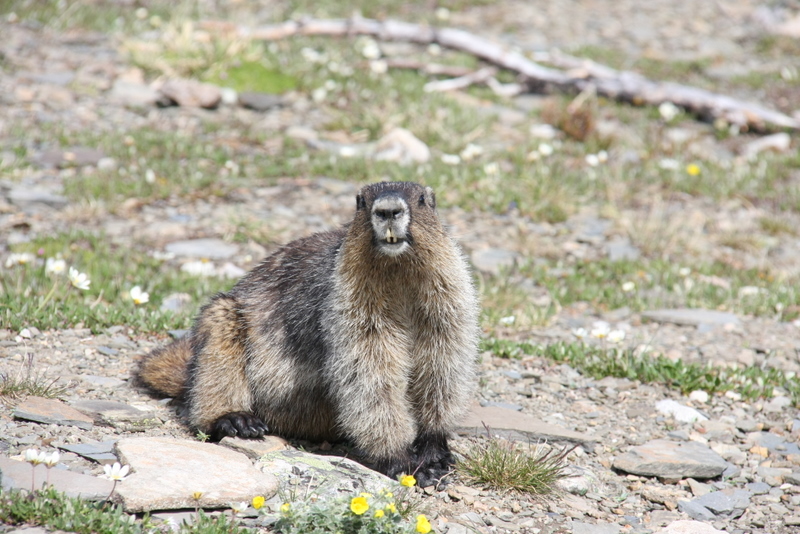 Although this was the official end of the hike (again, according to the map), the trail did continue and a number of people hiked on. Paul, of course, was raring to go. I, on the other hand, was second-guessing our decision to do a morning 5-miler before climbing a mountain. But, I finally caved when someone told us that, just a little farther up, there were two caribou laying in the snow. We decided to split up, with me turning back at the wildlife and Paul hiking ahead and continuing on to the summit.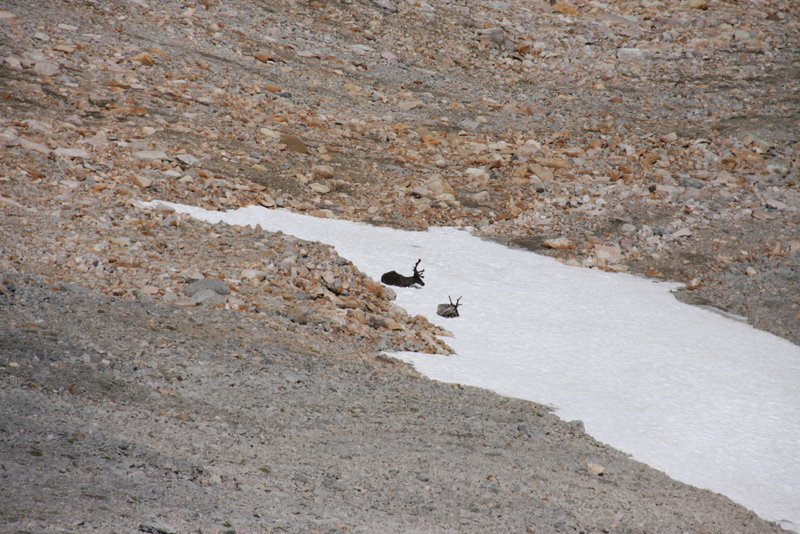 Then I started chatting with a few hikers on their return from the peak who raved about the amazing mountain views at the top, as well as the nine caribou resting on the opposite side of the peak. And the next thing I know, I'm scrambling (on all fours at some points) up a steep pile of scree, hoping to reach the top before Paul started his descent. I'm such a sucker. As luck would have it, Paul had trouble finding the first set of caribou and so wasn't too far ahead.
As promised, the view was magnificent. And it was a fantastic feeling to know that I had made it to a spot to which only a few people venture. However, the best reward was the look of surprise on Paul's face when he saw me approaching the summit.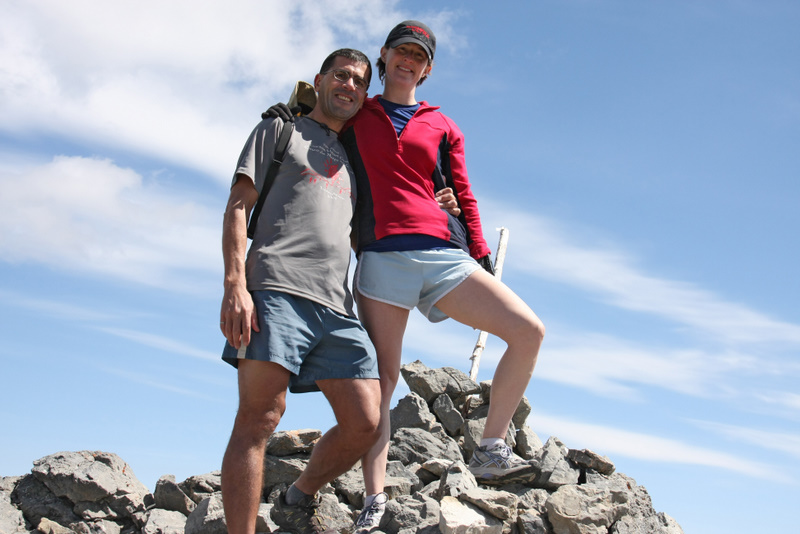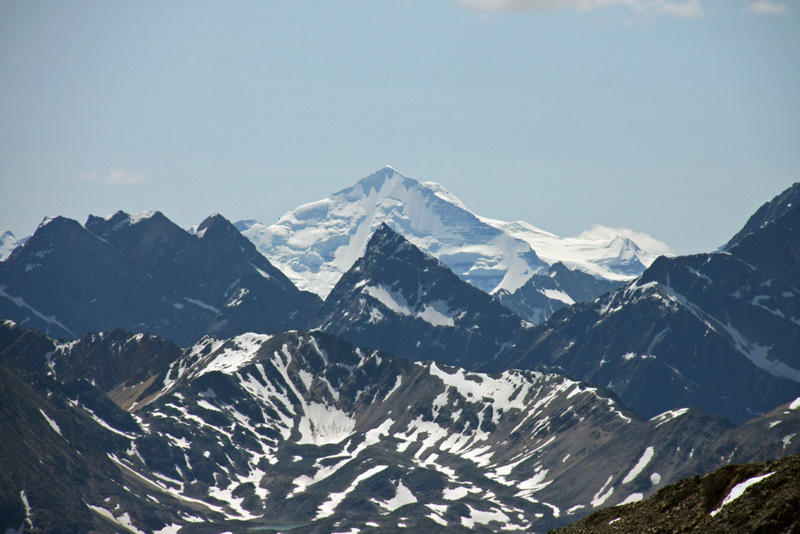 Click on this link for a video that he shot just before he saw me.
(It may take a minute to load.)
While climbing the final, steep incline, I was less concerned about the labor it was taking to get up than I was about how I was going to get back down. One slip would surely send me tumbling, ass over tea kettle, down this gigantic pile of sharp rocks. In the interest of safety and with complete disregard for style, I sat down and used a combination of sliding and crab-walking until we reached more solid ground.
We hiked and jogged our way toward the glacier where we checked out an amazing ice cave (safely from the outside, of course) and then followed the glacial stream back to the trailhead. We stopped along the way to dip our feet in the flowing water and found that the initial shock of the cold quickly gave way to unbearable, stabbing pain. We decided to try to soak our feet for one minute and Paul lasted the longest before the pain became to great - 6 seconds.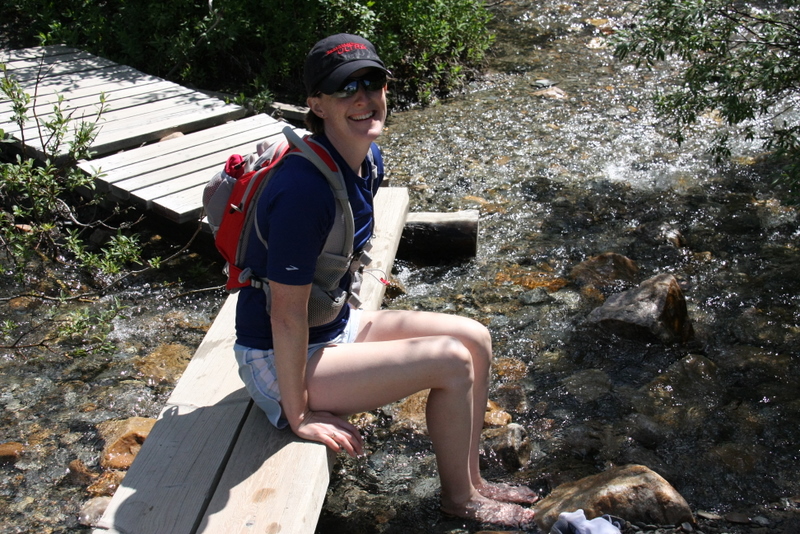 WHISTLER'S MOUNTAIN
The
Jasper Tramway
offers visitors a scenic 10-minute ride to the peak of Whistler Mountain. Whistler's Trail offers a steep 4-mile, mosquito-infested hike to the peak of Whistler Mountain. Keeping in mind that I am married to Paul, how do you think we got to the peak?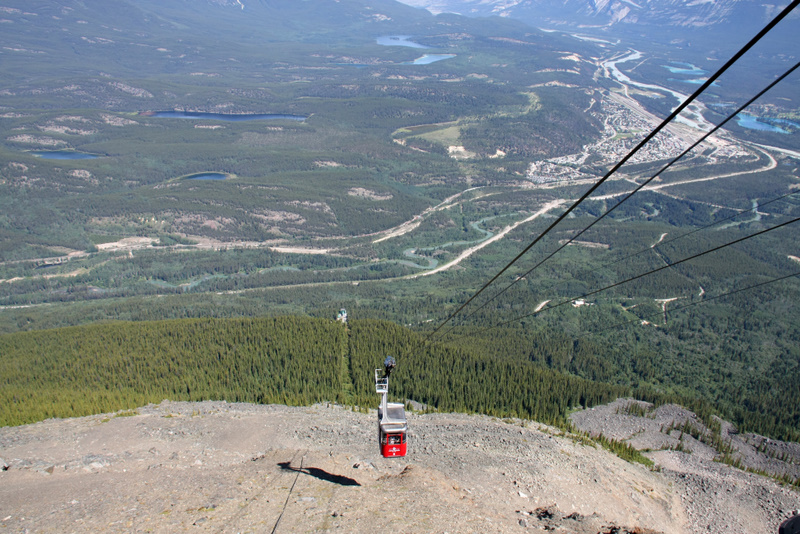 The hike was actually gorgeous - dense forest gave way to scrub and, finally, rock as we ascended about 4,000 feet. My legs were tired from the previous day's 12 miles of running/hiking, but stopping to rest meant risking being carried away by a thirsty swarm of mosquitoes. Paul typically hikes ahead and then comes back every so often to make sure I haven't gotten lost or fallen down (which has been known to happen), but my fear of being eaten by a bear meant that he was not allowed to wander more than 20 feet away from me and so he had to suffer at my slow pace.
We came across just one other soul on this expedition - a trail runner who effortlessly jogged past us jingling his bear bell as he went. Paul, ever the loyal husband, resisted the urge to run along with this kindred spirit and leave my slow ass to the bears. He's a good man.
At some point during the hike, I stopped and told Paul that I needed a pep talk. This is code for, "I'm going to have a complete meltdown at any minute." I was wiped out. My energy was gone and my legs were toast. I was an empty shell of the woman from the previous morning's euphoric run. Recognizing the seriousness of the situation, Paul gave me a hug, told me how much stronger my quads would be as a result of this hike, and made sure to offer praise and encouragement every so often until it appeared the crisis had passed.
My outlook brightened as we got closer to the top of the tram and I realized that I would, in fact, survive. However, it dimmed slightly when I saw all of the well-rested tram-riders happily trekking up a hill and realized that the top of the tram was not the top of the mountain.
I sent Paul ahead, feeling confident that I was safe from bears at this point, and slowly trudged up the path. I was passed by both energetic kids and strolling senior citizens alike, and had to restrain myself from telling every single one of them that my sluggishness was due to the fact that my hike started at the bottom of the mountain, not the top of the tram...and I did 12 miles yesterday, thank you very much.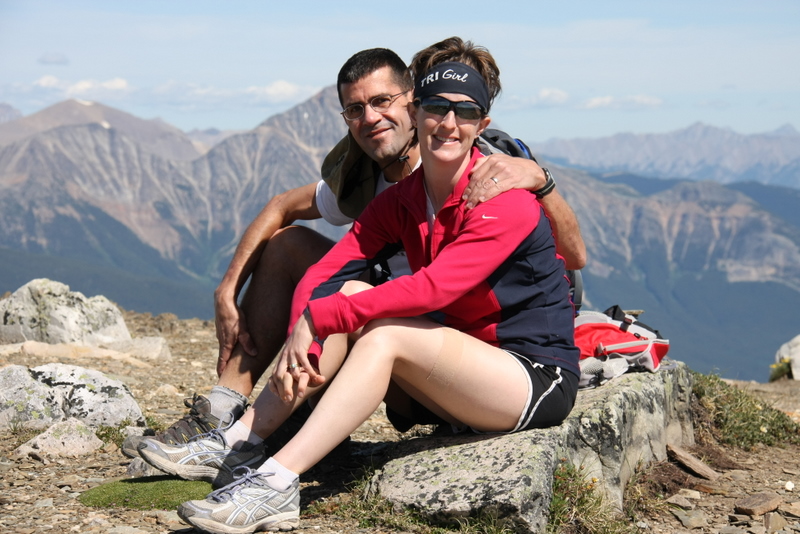 I arrived at a peak and, seeing that I could hike just a bit farther to a slightly higher peak, decided that the view was just fine where I was. I found a nice long rock on which to lie while Paul hiked around and took photos and then we headed to the tram for food (because I was ravenous) and a ride down (because there wasn't a chance in hell that I would be hiking the descent). I was disappointed that we had to pay for a one-way ticket to ride the tram down. After all of the effort it took to hike up, you'd think they could at least offer a free lift down. However, once on the tram, I decided that the cost may be an attempt to deter smelly hikers from squeezing onto the crowded tram with the clean, well-groomed passengers.
MALIGNE CANYON
We drove from the trailhead right to Maligne Canyon. It was a short visit as I'd hoped to sit and look at something spectacular, but found out that I had to hike to look at something spectacular. Without the slightest bit of exaggeration, I felt like I had just run a marathon. I was completely exhausted and, after a short walk along the canyon, informed Paul that we really needed to do something sedentary.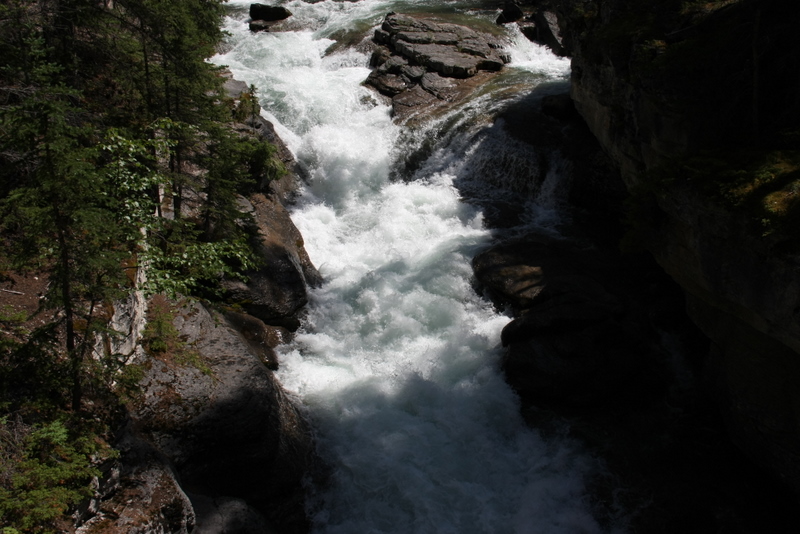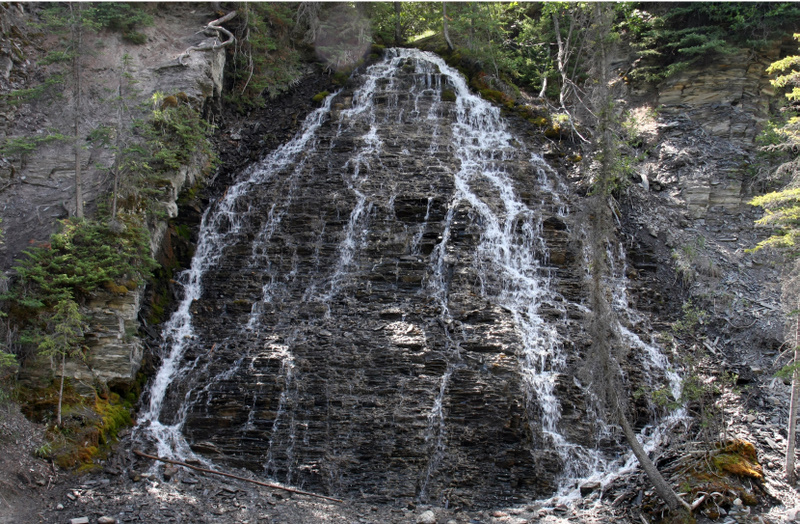 LAKE ANNETTE
We returned "home" for a bite to eat and much needed showers, then packed a picnic of fruit, cheese and chocolate, and headed to a nearby campground beach to sit and read. Sure, it was 7:00pm, but we still had three good hours of daylight to use! The view was stunning and we even came across an elk when we took a short walk.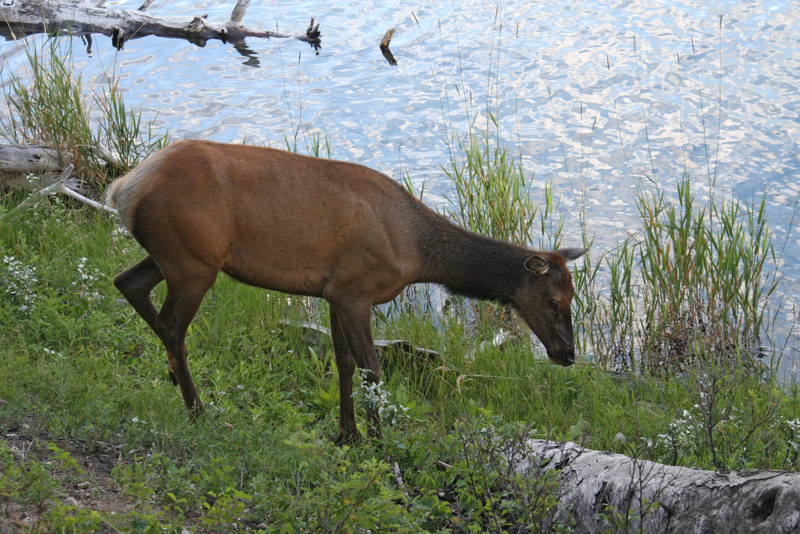 Banff and Calgary Reports to come.
Click here to see all of our vacation photos on Paul's website.
<<
<Back
| 15 | 16 | 17 | 18 | 19 | 20 | 21 | 22 | 23 | 24 |
Next>
>>