Sunday, July 5, 2009, 10:45 PM
Posted by Administrator
There was a lot of smack talk going on at the Vyriotes' house this weekend. Though we have competed in the same race many times, Paul and I have never "raced" each other. (I don't think I need to explain why.) However, the staggered start of the
Firecracker Triathlon
presented an interesting situation that leveled the playing field - I got a 30 minute head start.
Here is the text message conversation that took place just after I discovered our start times:
Me:
You start 30 minutes after me. Think you can catch me?
Paul:
That's just what I needed to kick me in the pants. Let the games begin!!
Me:
Bring it.
Paul had not done a sprint tri in a decade (why do a sprint when you can do an Ironman?), but thought 1:10 was a reasonable goal. My previous time for this event was 1:35:48. These numbers gave me a slight edge, but they gave Paul a whole lot of motivation.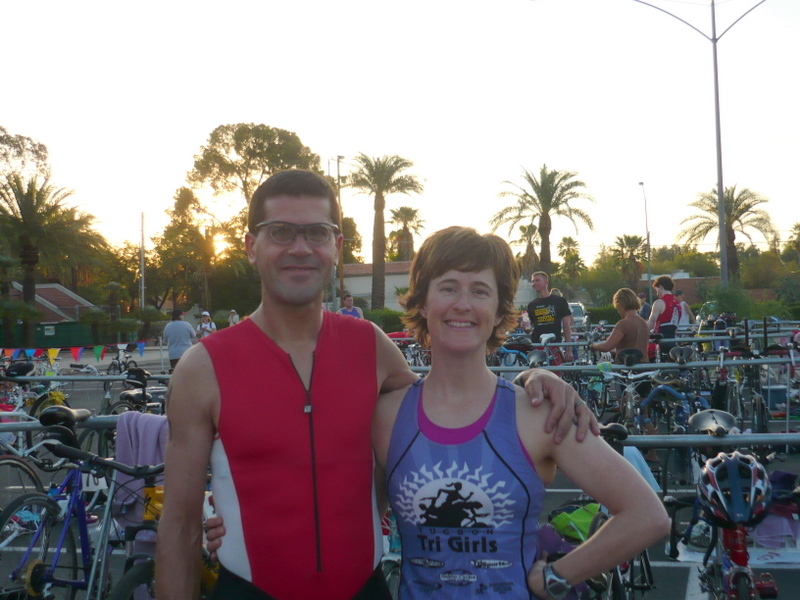 As usual, the Tri Girls were out in full force with high energy and lots of encouragement despite the ungodly hour of waking that morning (3:50 a.m. for us). I headed for the purple balloons to rack my bike with the growing crowd of Tri Girls. While setting up my transition area, Rachel "borrowed" a marker and started her own body marking station at our rack. And Lynelle demonstrated a new method for storing Shot Blocks for easy access on the bike - just lick and stick! (See photo below.) This group of women is nothing if not resourceful.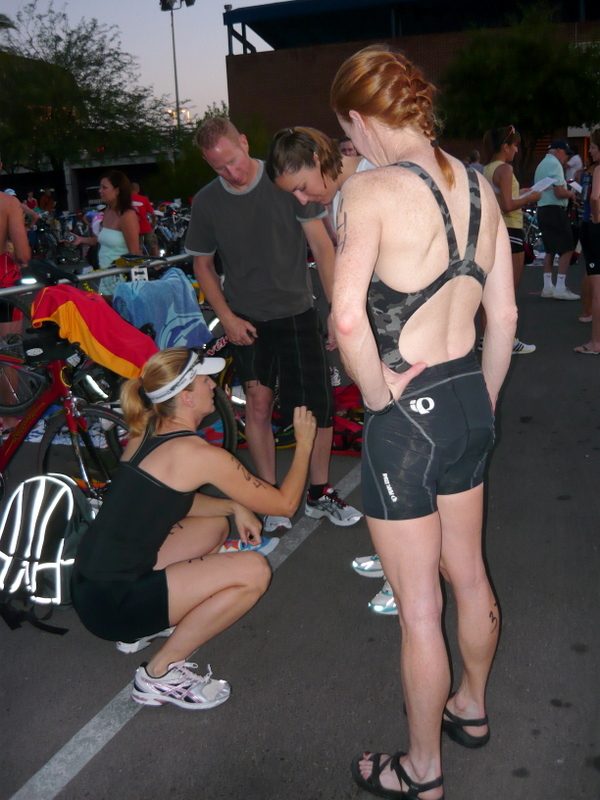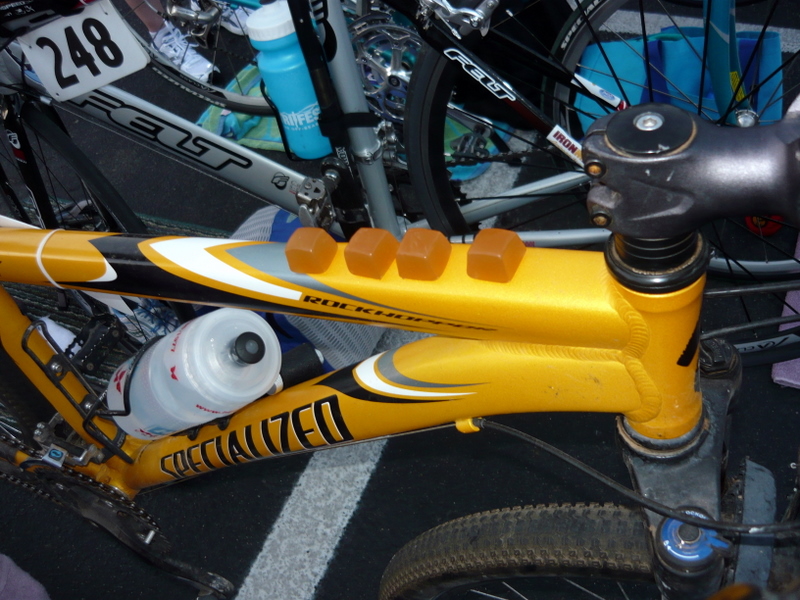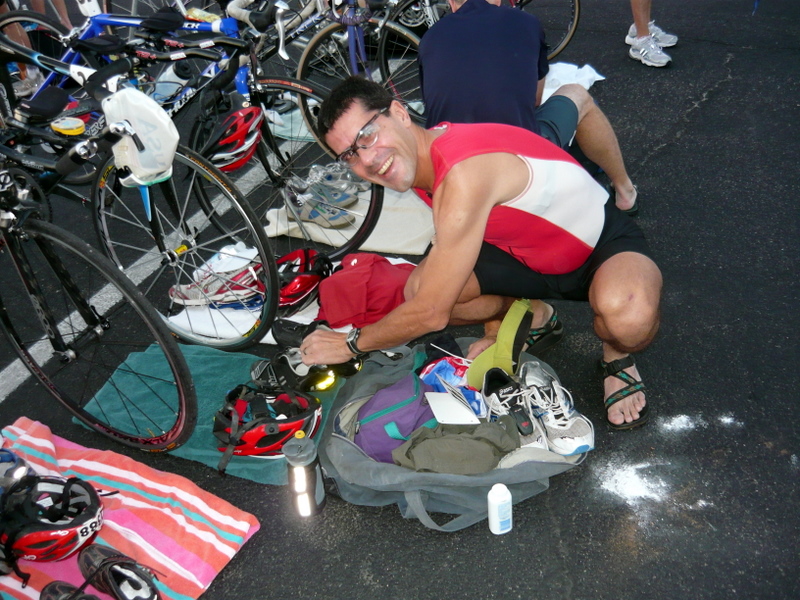 As the 46th starter in the race (slower swimmers go first), I only had to endure about 20 minutes of waiting before starting my swim. I view the early start as the one perk that comes with slow swimming. I took advantage of the new pool (adjacent to the race pool) to do a quick 100 meters to warm up and calm my nerves, and then stood in line with fellow TTG'er Kathy who happened to be #47.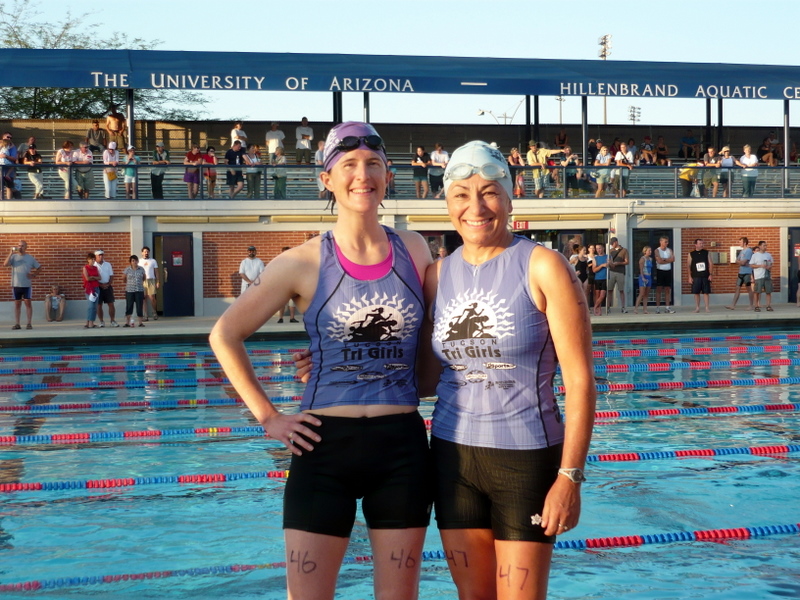 My swim times have remained about the same as when I last did this race in 2007. I was #19 then and so was surprised with my "high" number this time around. But it all became clear as I watched the first swim wave. There were people without goggles and people who swam with their heads entirely out of the water. There were back strokers, side strokers and breast strokers. There were people having conversations while stopped at the wall. There were people clinging to lane lines in the middle of the pool.
As someone whose fear of the swim caused me to delay signing up for a tri for 2 years, I had a lot of respect and admiration for these people who had, seemingly, decided to just go for it. As someone who does this stuff for fun, I had a lot of concern for these people because many of them looked rather unhappy.
With 2 minutes until my start, I got into the water next to Kathy and watched in horror as her goggle strap broke. Being the resourceful Tri Girl that she is, she somehow tied it back on...only to have the other side of the strap break. Nothin' like a minor heart attack 60 seconds before you start a race.
As the seconds ticked by and we got closer and closer to the starting lane, Kathy stayed calm and managed to get the goggles attached to her face just before I took off. Throughout the swim, I would catch glimpses of purple on the other side of a lane line and feel relieved that the goggles held. She handled the whole crisis like a pro!
The first 150 meters went smoothly and then, over the next 200 meters, I was passed by a number of men - some more courteously than others. No sooner had this wave of testosterone subsided when I began catching members of the aforementioned admirable, yet unhappy-looking crowd from the first wave. For the most part, they were very accommodating about letting faster swimmers pass at the turnarounds, although I was somewhat startled at one point to find myself face-to-face with a man wearing gigantic goggles and a snorkel. I'm sure there's an interesting explanation for this rather unusual triathlon gear.
I climbed out of the water in 20:18 which is 30 seconds slower than my previous Firecracker swim. But, this finish is not surprising given the amount of time and effort I have devoted to this discipline. I have been hitting the pool twice a week for about 2 months, but only for 20 to 25 minutes at a time.
I managed to get through transition in 2:22 which I thought was decent until I saw in Elaine's report that she did it 41 seconds faster. There are so many avenues for improvement in triathlon!
The bike was rather uneventful - just kept spinning and tried to avoid the potholes on Euclid. As I rode by the race site to start my third and final lap, I kept an eye out for Paul. I figured that I had probably just missed him as I was seeing racers with numbers in the 140's and 150's and he was #141.
I completed the bike in 43:17 and added another 1:13 in transition. (Elaine got through T2 in 42 seconds. She's the master!) The bike and transition times are lumped together in the official results and, in this block of time, I was 15 seconds slower than in the 2007 race. Yes, this is a trend.
It felt great to stretch my legs and I booked it out of transition with lots of cheers from the Tri Girls, followed by a near collision with an elderly spectator who unknowingly walked into the run out chute. Within 30 seconds, my heart rate skyrocketed and I had to reel in my enthusiasm and my pace. I wanted to push and, though tired, my legs were willing, but my heart rate held me back throughout the run.
About 3/4 of a mile into the 5K, I glanced across the UA Mall and saw Paul just starting out on the run. Holy shit - how could he be off the bike already?!? Though I had really expected to cross the finish line before him, I was prepared for the possibility that he might catch me...just not so soon! But I was thrilled that he was obviously having a great race and so I called out to him, knowing that he would push to catch me. And he did - just before the 2-mile marker. He slowed a bit as he reached me, but I told him to keep going and I continued on my slow slog of a run. After finishing, Paul had plenty of time to grab my camera out of the transition area to document my finish.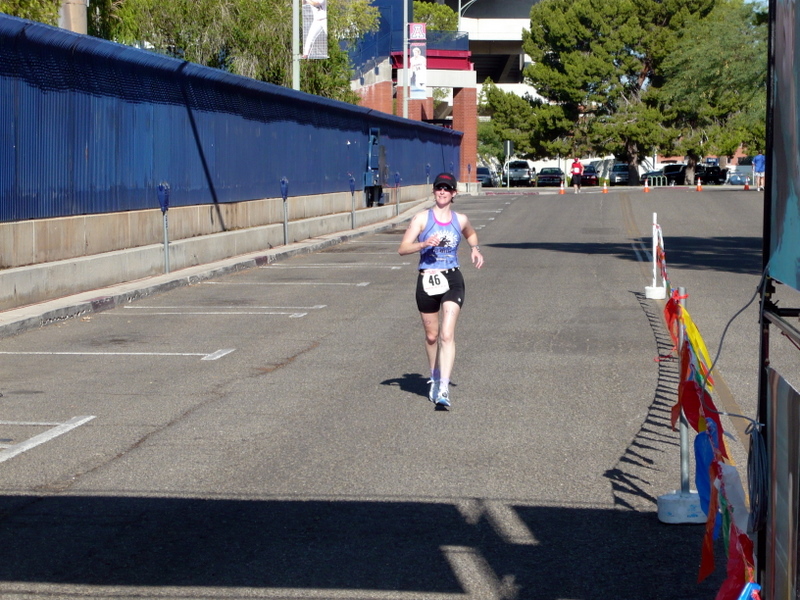 The run was hard. Hot and hard. I finished it in 31:09 which is not out of the ordinary for a 5K for me, but is almost 2 full minutes slower than my 2007 run. My overall time was 1:38:08 which placed me 85th out of 139 women. Not great...but that's okay. I had a fantastic workout, did something healthy with my day and had a blast with the Tri Girls. It's hard to be upset with all of that!
Paul and I took advantage of the free massages and then lounged in the shade with the Tri Girls while awaiting the results. We typically leave early, but stayed in the hopes that Paul, having finished in 1:04:11, might place in his age group.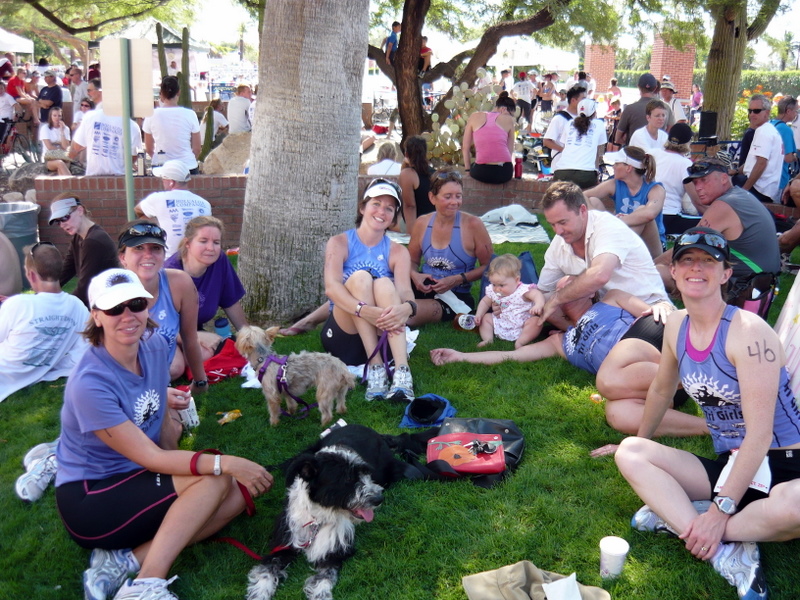 When the results were finally posted, Paul joined the crush of anxious racers searching for their names and he emerged from the crowd looking astounded. Not only had he taken 2nd place in his age group, but he had placed 9th overall (out of 300) and had the fastest bike time of the day (26:19), which was just 36 seconds off of the bike course record set by pro triathlete Chris Leito in 2007. Wow!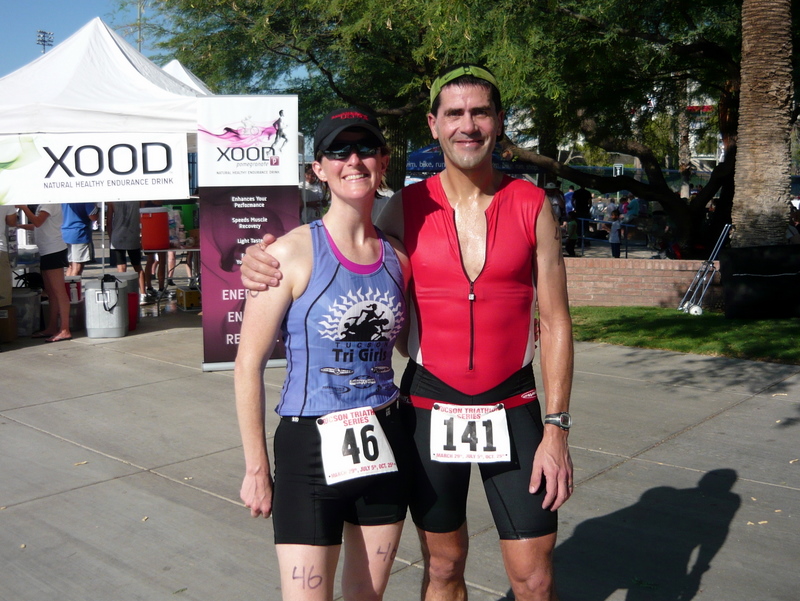 While Paul has done a lot of biking and running in the past two years, this was his first triathlon since being hit by a car in June of 2007 while on a training ride for Ironman Coeur d'Alene. That year, he showed up to the Firecracker Tri (as my personal cheerleader and photographer) with one arm in a cast and the other in a sling. This year, he made an amazing comeback.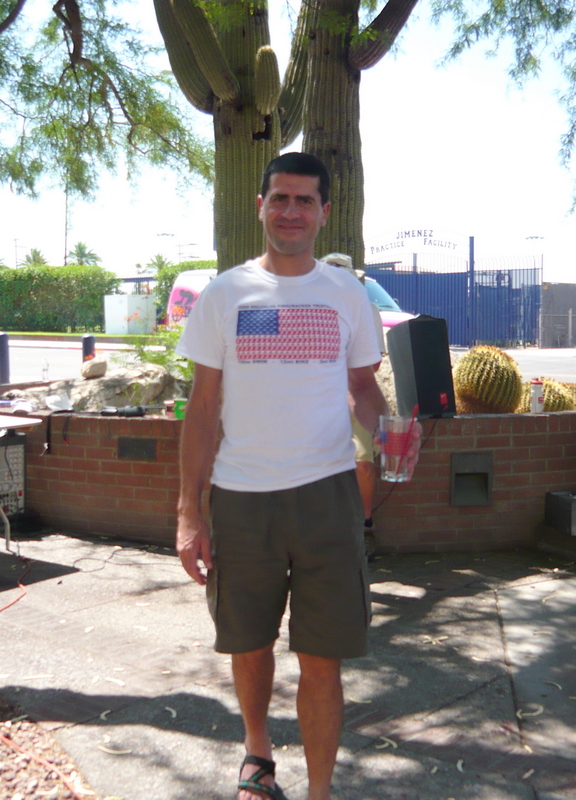 <<
<Back
| 16 | 17 | 18 | 19 | 20 | 21 | 22 | 23 | 24 | 25 |
Next>
>>