Sunday, April 19, 2009, 08:39 PM
Posted by Administrator
Paul and I often lament the fact that Tucson lacks a downtown. Sure, there is that area referred to as "downtown," complete with city hall and a few tall buildings, but it does not offer much to entice Tucsonans to venture down there on a weekend afternoon. And so no one was more surprised than we to find ourselves in downtown Tucson twice this week, with plans to go a third time tomorrow. Maybe there is something to this
Rio Nuevo
thing...
It all started on Thursday evening with the opening night of
Cinema la Placita
, a series of (usually) classic movies shown outdoors at La Placita Village. In the spirit of Bike to Work Week, the 2009 series kicked off with
Veer
, an enlightening documentary about Portland's cycling scene, which includes a crazy activity called "zoo bombing," involving adults riding kid-sized bikes down steep hills at insane speeds.
I encourage all you Tucsonans to head downtown and check out Cinema la Placita this season. They provide popcorn, chairs, the flick and a unique setting in which to watch it. You bring the family, a few bucks for a donation and, if you'd like, a picnic dinner. It's a fun and inexpensive way to spend a Thursday evening.
Unfortunately, Saturday was primarily a working day for me. I manned the beer garden at the MDA Harley Ride, selling drink tickets and trying not to appear too horrified by the sad spectacle of the bikini contest.
But, Sunday brought us downtown again for the inaugural
Urban Assault Ride
. A team bike ride scavenger hunt with checkpoints and obstacles - what could be more fun? Paul, however, did not share my enthusiasm for a cycling event that might involve Big Wheels, Bike Jousting and Inflatable Slides, and so there was no Team Vyriotes at this event.
I suggested that we bike downtown today just to check it out and, upon arriving, immediately regretted not twisting Paul's arm a little harder to enter as a team. We chatted with some friends and took in the spectacle of 300 participants talking strategy with their teammates while waiting for the starting gun. Pictured below is Tri Girl (and sometimes pirate), Elaine, with hubby, Zac.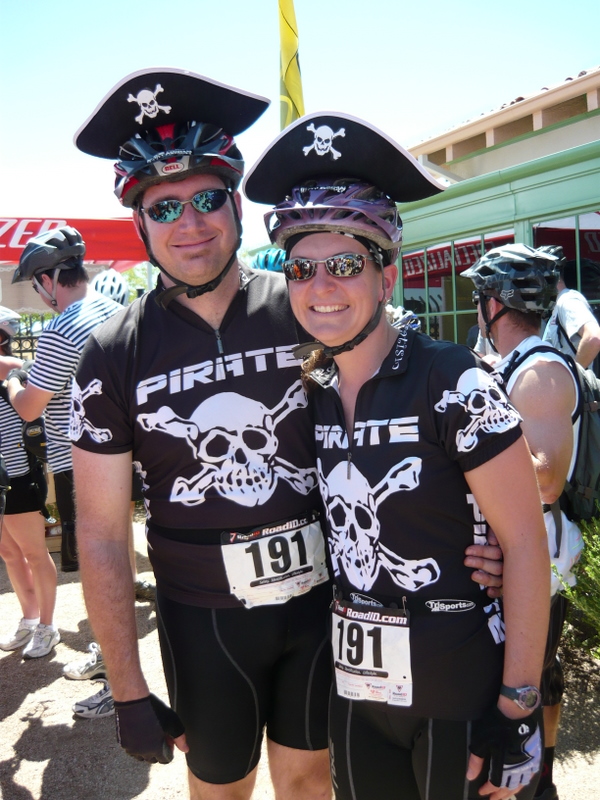 The photo does not do justice to the hilarious stampede of helmet-wearing, costume-clad cyclists running for their bikes. While many duos sported matching outfits, some went above-and-beyond with wigs, capes, argyle socks and more.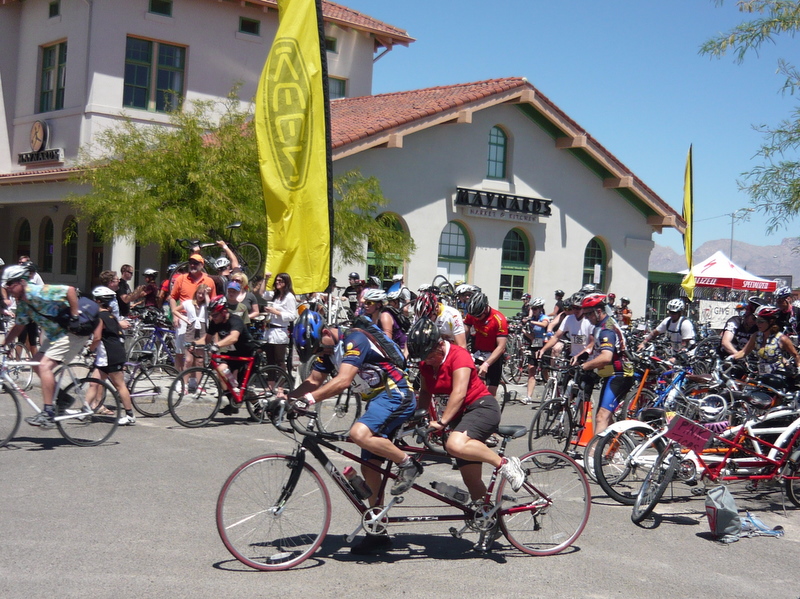 One of my favorites was the Pink Taco team.
After the start, we grabbed a late breakfast at the Cup Cafe and then meandered home, hitting a few of the checkpoints along the way to watch people ride while balancing water on their heads, do a beer bottle ring toss and participate in a 3-legged race involving Frisbees and tennis balls. Next year, we're in!
Lo and behold, yet another sports-related event will be held downtown tomorrow evening. In an effort to support the revitalization of downtown, the
Southern Arizona Roadrunners
are holding social runs every Monday evening at Maynard's. Rumor has it that last week's event, the inaugural run, brought out 200 people. In an effort to be the change we wish to see in the world, Paul and I plan to rush home from work, throw on our running gear and join the crowd.
<<
<Back
| 17 | 18 | 19 | 20 | 21 | 22 | 23 | 24 | 25 | 26 |
Next>
>>