Sunday, April 12, 2009, 10:51 PM
Posted by Administrator
When Denise arrived at my house at 6:00am to carpool to the
Catalina State Park Race
, the skies were overcast and the temperature was a raw 50 degrees. The race did not begin until 7:30, but, being averse to the cold and having seen the rainy forecast, our top priority was securing a parking spot at the race site, thereby guaranteeing shelter from the elements, as well as a place to store dry clothing for after the race. As it turns out, we would have been safe to sleep for another 30 minutes or so, but we had plenty of time to chat in the warm car while watching unhappy-looking people emerge from the race shuttle buses and stand around in the cold.
I briefly ventured out into the drizzle to listen to the blame-game among running buddies ("I can't believe you made me do this") while awaiting my turn for the porta-potty. I also caught up with some fellow Tri Girls, some (Shari, Jess and Jennifer) who had braved the damp cold that morning, not to race themselves, but just to cheer the rest of us on. Thanks ladies!
Racers had the option of running the course one time for the 5.5-mile event or twice (minus the first 1/4-mile) for the 10.75-mile event. As I have been struggling with my IT band, I opted for the short course and, come race day, was pleased with this decision. Who knew when the skies were going to open up and let 'er loose? I did not want to be in the middle of a wash when it happened.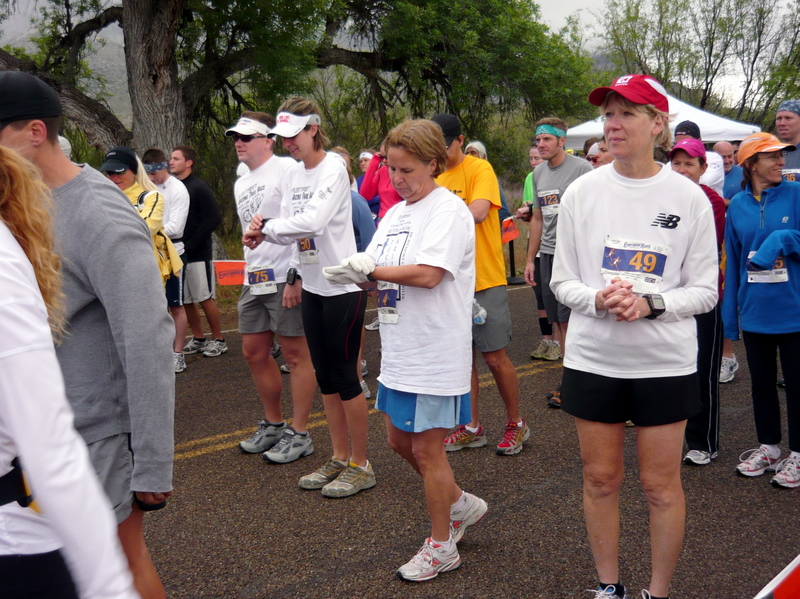 But, thankfully, the rain stopped and, while the 10.75-mile runners were getting started, I reluctantly stripped off some layers and did a light jog to wake up my muscles. Then, I wove my way through the starting crowd to find a spot in the middle where I ran into a bunch of old friends from Better Then Ever.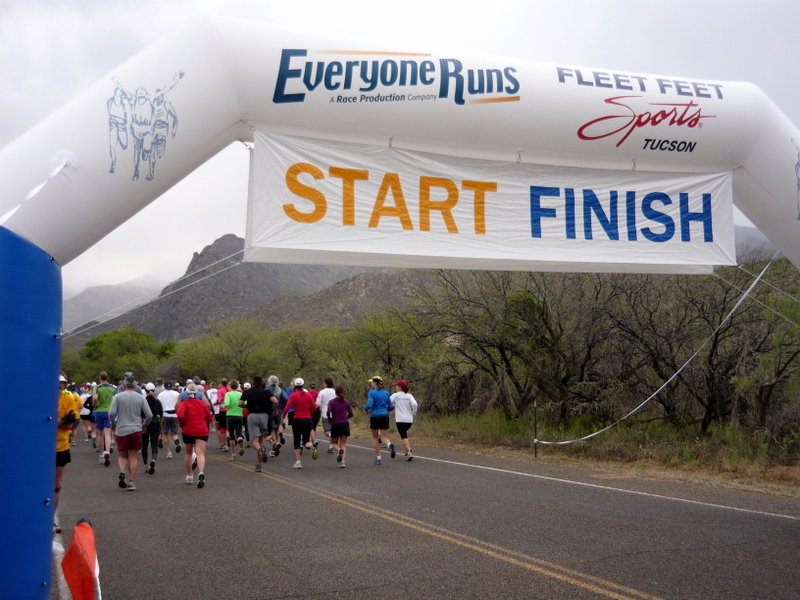 When the gun sounded, we had 1/4-mile of road to jockey for position before the course entered a narrow trail. This is an IPod-legal race and, while I often listen to music on training runs, it's just not appropriate in this environment. All races involve lots of passing, yet much of this trail was just wide enough for two people abreast. Some IPod-wearers jogged obliviously along, smack in the middle of the trail, completely unaware of the traffic jam behind them, forcing people to run through the shiggy to get around them. Let's practice common sense and common courtesy folks, huh? If you feel the need to completely zone out to your tunes while running, then stick to the treadmill - a crowded race course is not the place for you.
This course is unusual with two different loops and two different out-and-backs (double that for the 10.75-mile folks and you could get a little dizzy), but it's really the only way to have a race at Catalina without some serious elevation gain. Personally, I don't mind all of the back and forth, as I got to cheer for friends multiple times during the race. As far as trail runs go, this one is fairly flat, with a few steep, (but short) ups and downs. Paul and I run here frequently and so I'm familiar with the terrain and knew exactly what to expect. This knowledge did not make the final 1.5 miles on the sandy bridle trail any easier, although the silver lining of the rain was that it did pack down the sand slightly.
Last year, I completed this race in 1:04:29 and placed 178th out of 305 runners. This year, I was astounded to shave off almost six minutes with a time of 58:52. I finished in 159th place out of 325 runners, which means I just barely squeaked into the top half of finishers, which, sadly, is exciting for me.
So where did those 6 minutes come from? Partly, I credit the training I have done for my recent endurance races, as well as my hilly, quad-building bike rides. But, I also credit a new-found tolerance for discomfort. In the past, I would often run 99% of the race at a comfortable pace and then, when the finish was in sight, kick it into high gear for a final sprint across the line. But, at this race, when it was time for high gear, I found I was completely out of gas. My legs were spent. I may not have looked very good crossing the line, but I felt great knowing that I had pushed the whole way and had truly left it all out on the course.
After chowing down on eggs, tortillas and smoothies, Denise and I spent some more quality time in the car while waiting for the award ceremony. When they announced that it would begin in a few minutes, we ventured out and chatted with friends until we finally got too cold and left. I'm not sure if the ceremony ever actually happened - apparently there were some issues with the timing, which may have had something to do with participants in the longer race opting to do the shorter race instead.
Overall, it was a well-run event with a festive atmosphere. They even had a raffle whereby one lucky participant won a limo ride to and from the race. On a cold, rainy day, that was a stellar prize! On the downside, albeit in a effort to provide exceptional service, they ordered "womens fit" t-shirts for the female runners. However, these t-shirts were apparently made for a breed of women lacking breasts. While I normally order a small or x-small, I ended up with a medium, for which I am still too busty. And I'm not too busty for anything.
After arriving home and warming my chilled bones in the hot tub, Paul and I hit the gym for a full-body strength workout. In hindsight, this was overly-ambitious considering our plans for a 65-mile Easter bike ride the next morning.
We survived the ride, a reverse version of the Tour of the Tucson Mountains course, although it was not my most enjoyable day on the bike. My quads burned the entire time and I definitely lost steam toward the end. On the bright side, I'm perfecting the art of taking pictures while moving at full-speed.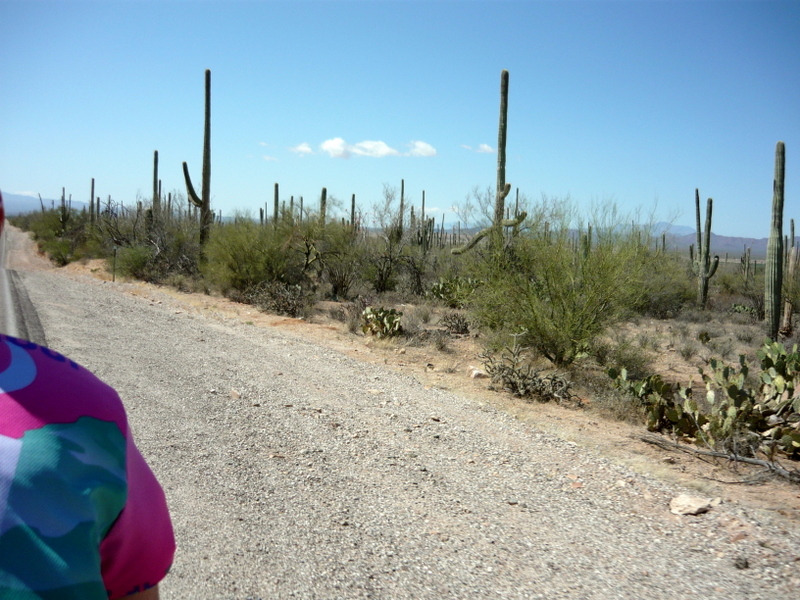 About 7 miles from home, I got a boost when we stopped at
Govinda's
to refuel at their vegetarian Easter brunch buffet. If you've never been, you've got to check it out - unless you can't imagine a meal without meat, in which case you'd be sorely disappointed.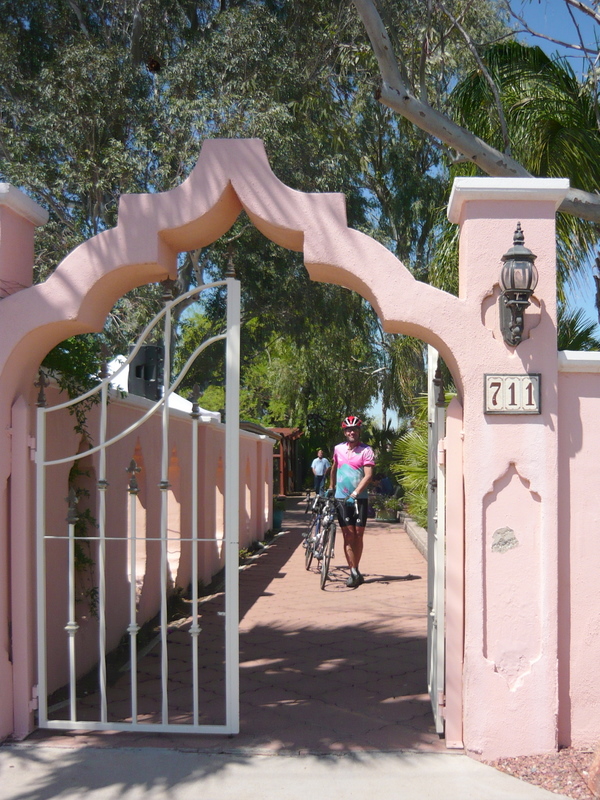 Now, I am exhausted and I think I have earned a rest day for tomorrow.
<<
<Back
| 17 | 18 | 19 | 20 | 21 | 22 | 23 | 24 | 25 | 26 |
Next>
>>