Sunday, April 5, 2009, 10:39 PM
Posted by Administrator
Flashback - It's February 25, 2009. We've just arrived at the Tucson Airport where I find out that Paul is taking me to San Francisco for my Mystery Weekend. I'm thrilled! Then, I'm concerned. Will Paul be disappointed that his Mystery Weekend destination is sleepy Apache Junction, Arizona?
I had been leaving him clues all week and then, as we started the drive on Friday morning, I gave him the answers, one-by-one.
Clue #1 - Are you excited yet? Only 144 more hours. Be sure to pack the camera. There will be beautiful wildflowers.
Answer #1 - ...at the
Boyce Thompson Arboretum
.
Clue #2 - This weekend, we'll be living on the edge…
Answer #2 - ...of the
Superstition Mountains
.
Clue #3 - A week from today, we might be, "Sittin' on the front porch swingin' with Blanche."
Answer #3 - ...at the Meanwhile Back at the Ranch B & B.
Finally, I handed Paul our race confirmations for the
El Tour de Phoenix
bicycle race on Saturday. While I had done my best to preserve the mystery, this race was definitely on Paul's list of Mystery Weekend possibilities. Normally, he would be completely unaware of the race date and distance, but, a few weeks ago (and much to my dismay), some riding buddies invited him to ride in it with them. I played it off as best I could, but now Paul knew that his Mystery Weekend involved bicycling about 70 miles on the same date as El Tour de Phoenix. A rather large coincidence? A clever red herring from Joyce? Nope, that was in fact the mystery. Thanks a lot riding buddies.
Boyce Thompson Arboretum
While I'd consider it a bit too far of a drive from Tucson to be a destination in and of itself, if you happen to find yourself in the area, this desert arboretum is a pleasant way to spend a few hours. After a picnic lunch and a stroll through the flora, the workweek worries began to fade. Yup, the vacation had begun.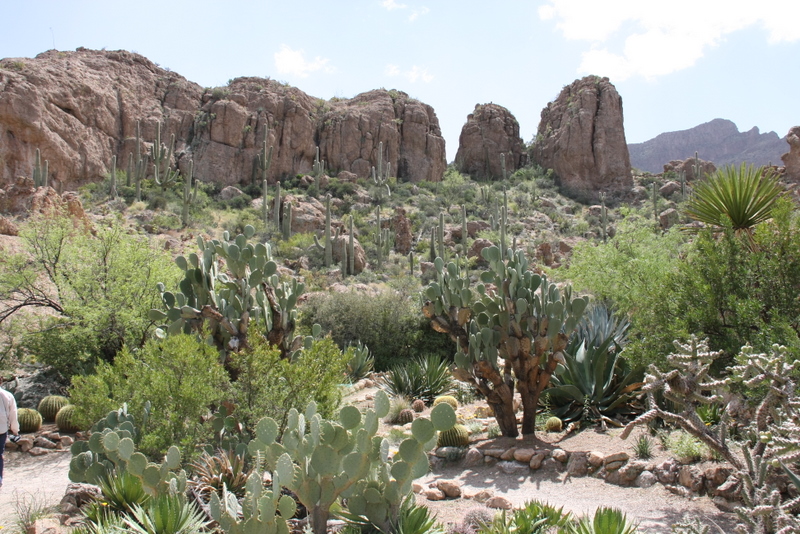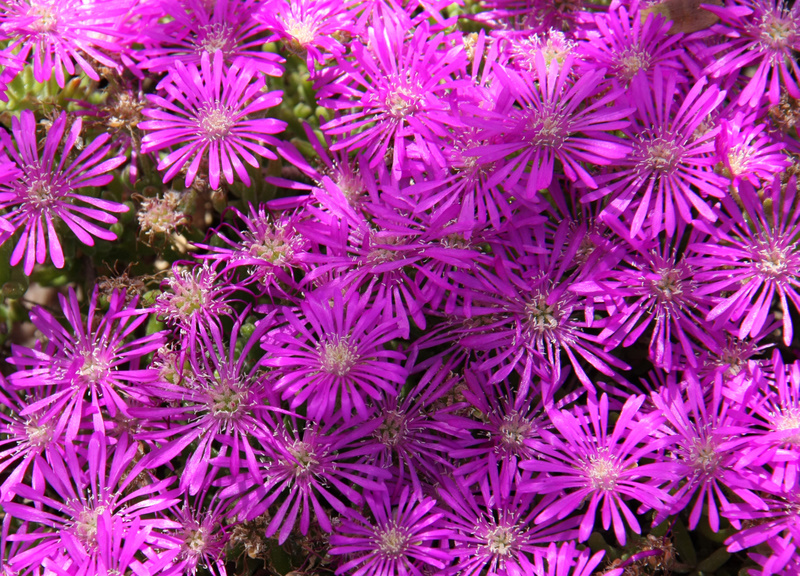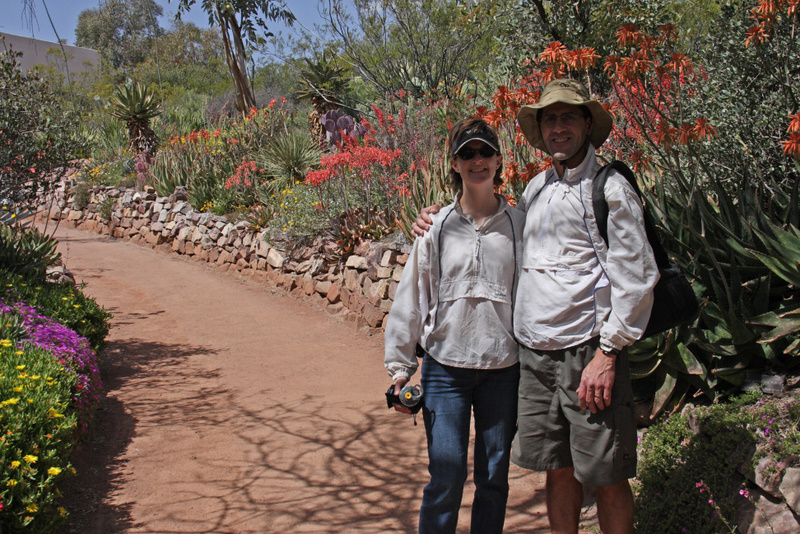 Race Expo
From the arboretum, we drove to Mesa to pick up our timing chips and numbers and to browse the vendor booths. This stop was much quicker than anticipated as there were hardly any booths to browse. I know, I know...smaller race, smaller expo, smaller hoopla. You can't have it all.
Meanwhile Back at the Ranch
For the life of me, I could not find lodging in Mesa that was unique or special in any way, and so I broadened my search and found this gem in nearby Apache Junction. It was a bit of a risk being 10 miles from the race site. Would I regret this later? Would it be a hassle driving back and forth? But, the photo below, emailed by the owner, sealed the deal.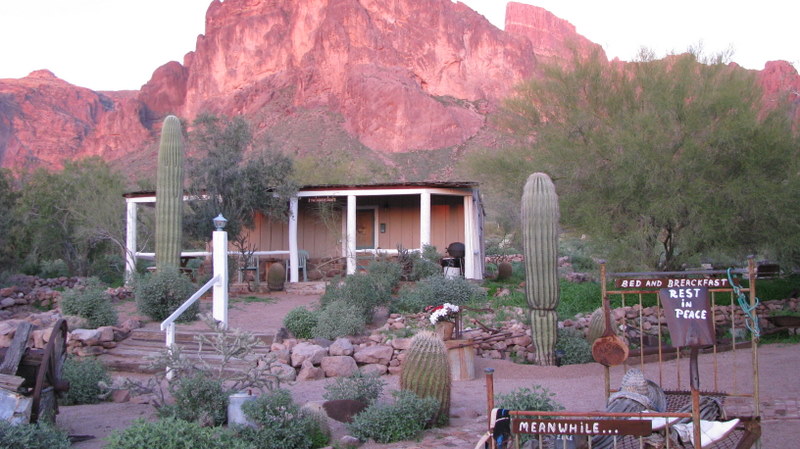 And we were not disappointed. Meanwhile Back at the Ranch is six acres of heaven tucked away in the sprawling metropolis of Greater Phoenix. Literally at the foot of the Superstition Mountains, we stayed in the Pioneer Cabin, a cozy studio which was the original "Feed Barn" when the ranch was built in the 1950's. Joy, the owner for 39 years, was just as sweet, welcoming and hospitable as you'd want a B & B owner to be.
We spent much of Friday afternoon relaxing on the back porch. Paul took pictures of the birds while hoping for a bobcat to wander by. I read the latest Runner's World while pausing occasionally to take in the gorgeous mountain views.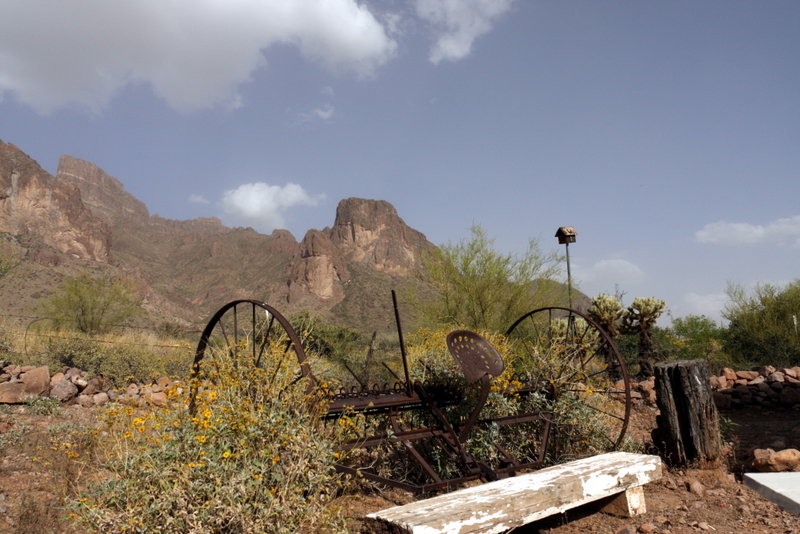 All of that relaxing made us hungry, and so I whipped up some fajitas in the kitchen, which was well-stocked with what I'm pretty sure were the original kitchenwares and appliances from the 1950's.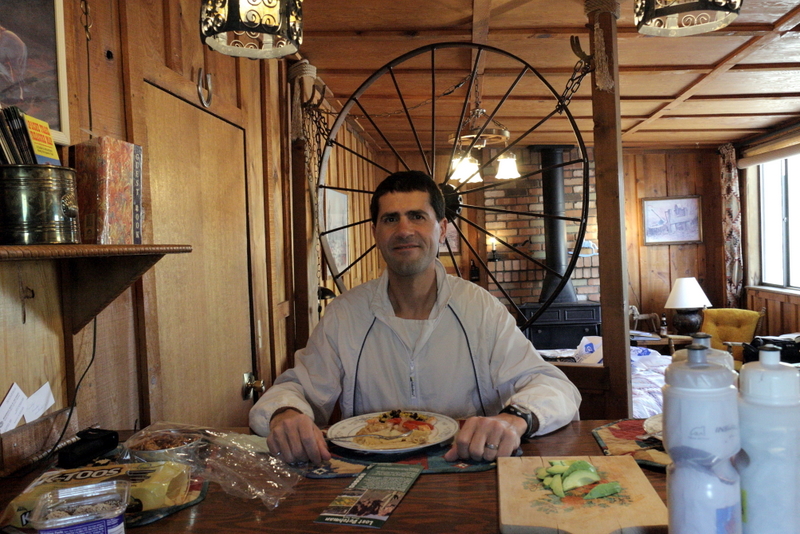 Then, with full tummies and relaxed minds, we were in bed at 8:00 pm. With a 6:30am start time, we set two alarms for 4:00am and, despite the early hour, felt refreshed and ready to go when they sounded.
El Tour de Phoenix
Last fall when El Tour de Tucson took over the streets, Paul and I discussed how it could be a lot of fun to do it on our tandem. However, we're both turned off by the sheer volume of riders. 8,000 bikes are a lot, especially when you consider how many of them are being pedaled by weekend warriors who have no idea what they're doing. With only 1,000 riders, I thought El Tour de Phoenix would be a safer, less-stressful way to get a taste of these events. Though I've done a few triathlons and lots of riding, this was, in fact, my very first bike race.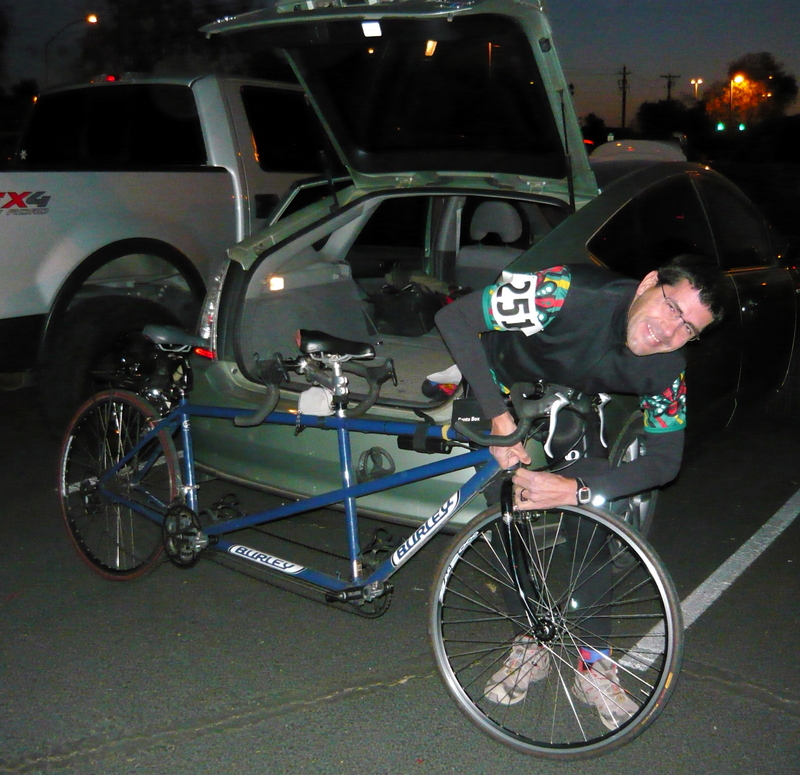 We arrived at the race site at 5:30am and, by the time we had put the bike together (and by "we" I mean Paul), hit the porta-potties and found a spot in the line-up, there were only 10 minutes left to stand around in the cold - perfect timing.
With the general excitement of cycling in a crowd that large, the first five miles flew by. Early on, we witnessed a few near misses, as well as the aftermath of one crash. In the spirit of self-preservation, we were avoiding riding in a pack. And so it was quite a surprise when I glanced in my rear view mirror and saw a seemingly endless paceline of bicycles emanating from our back wheel. Unknowingly, we were pulling a pack, and a rather large one at that. They stuck with us for a few more miles and then, around mile 10, the paceline broke apart and lots of people sped ahead. We did recognize a few of our former wheelsuckers as we gradually caught them over the course of the race.
Though not wanting to stop, after about an hour of riding, there were some necessities to attend to - using the bathroom, stripping off some clothing and applying sunblock. When we got back on the road, about seven minutes later, the pack had thinned considerably and we had lots of catching up to do. Although the first part of the race is on city streets and fairly flat, I could not believe that we were keeping an average pace of 20 mph - definitely faster than our usual riding speed. In all the excitement, I was really pushing it and was wondering if I'd pay for it later.
The first hill came as we entered Fountain Hills. However, I realized that our San Fran bike ride from hell had forever changed my perspective on hills. This...was nothing. We flew down the other side and turned onto the scenic Beeline Highway. Around this time, I realized that we had hit the halfway point of the race in 1:59:40. Hmmm...could we break four hours? Then, we made our second, and last, stop of the race at an aid station to use the porta-potty, refill our bottles and scarf down some bananas being handed out by adorable volunteer kids.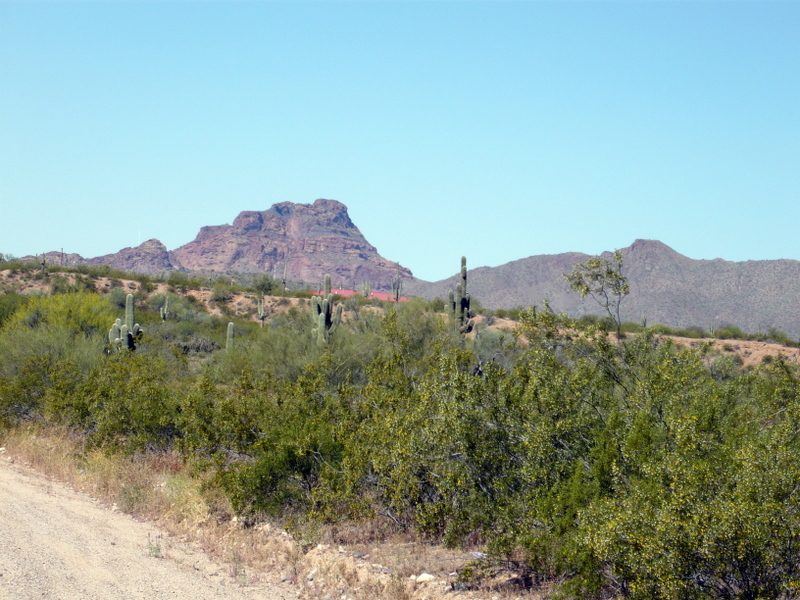 As we continued up the highway, we realized that 4 hours was not going to happen. On this course, the first half is also the fast half. Now we were facing a gradual climb and there was no a chance of maintaining that 20 mph pace. We turned onto the Bush Highway and enjoyed the rolling hills and stunning views of the mountains and lake (yes, a lake in Arizona - Saguaro Lake). On both highways, a full traffic lane was coned off for the riders, which was much appreciated, especially considering the number of large vehicles with boats in tow.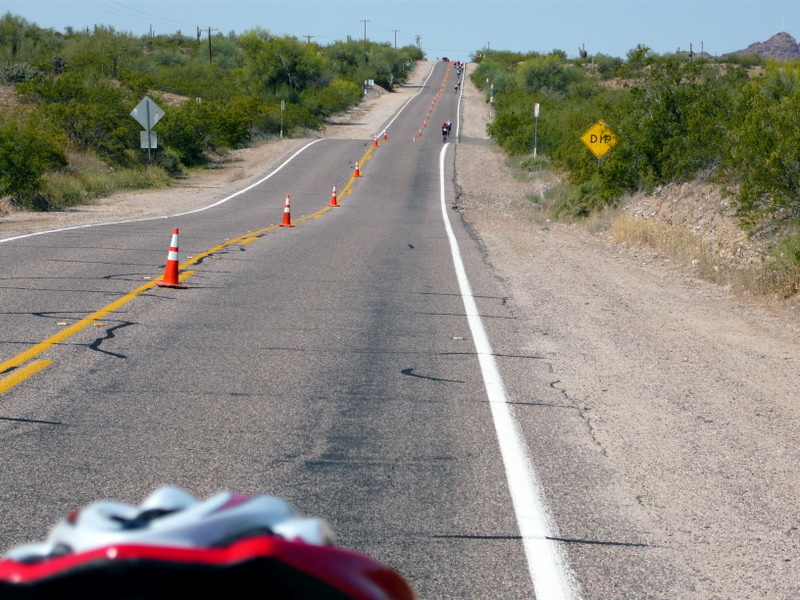 Around mile 50, my lower back started to ache, but, otherwise, I felt surprisingly good. And then we hit the only part of the course that made me a little cranky - Usery Pass, our final hill and a seemingly never ending one at that. To add to the challenge, at the bottom of the pass, our course merged with that of the 25-mile race participants. Don't get me wrong, I absolutely love seeing all of the kids and newbie cyclists out there giving it their all. The problem lies in the fact that we were passing lots of them and they were weaving all over the road, not yet having learned cycling etiquette. After a few close calls and numerous false peaks, we finally crested the pass. And this is where the race really got fun.
We only had about 10 miles to the finish and it was almost all downhill. I'm not a very competitive person...but I
loved
hauling ass down that hill and flying by whole packs of surprised riders. Only one guy tried to come with us and he managed to hang on for a few miles before we dropped him. This is a perfect example of why I love riding a tandem. In addition to spending quality time with my wonderful husband, I get the thrill of competing at a higher level than I ever could on my own. Paul is a strong rider and, on the tandem, I get to experience his strength and speed firsthand. I love it!
The course did flatten out for the last few miles, but we kept pushing, not being sure exactly how far we were from the finish line. Understandably, the map they had given us was not to scale. And, understandably, our bike computer could be a mile or so off over a course that long. Not so understandably, depending on what you were looking at (race ads, course map, race medal), the course was either 72 or 74 miles. Two miles may not seem like much of a difference, but when you're at the end of a race and are not sure whether you have 1 mile or 3 miles left to go, it's annoying. (For the record, our bike computer read 70.20 miles at the finish. I have no idea how long the course actually was.)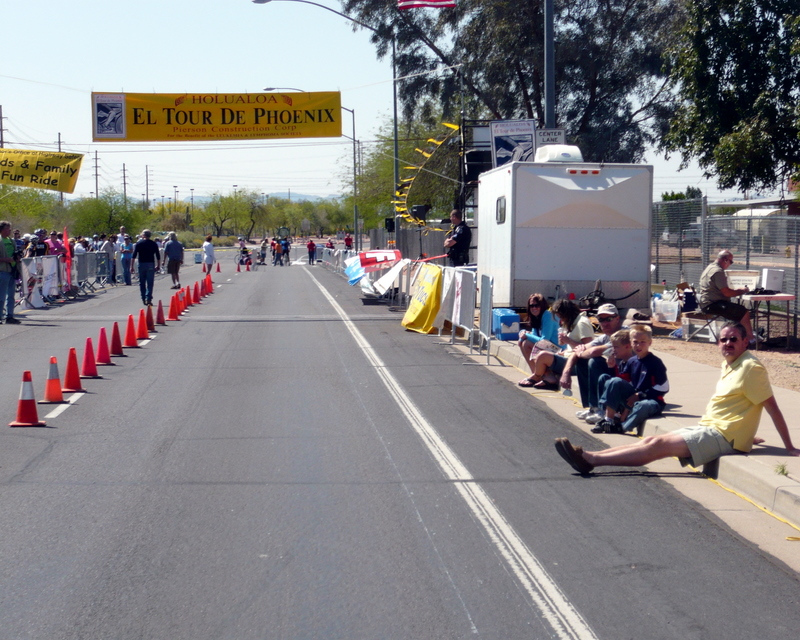 We crossed the line in 4:17:22, good for 15th out of 21 tandem teams and 668th and 669th overall out of 959 riders. These results are pretty typical for me, but not so for my tandem captain. Luckily, Paul is willing to accept a mediocre race time in exchange for the pleasure of my company.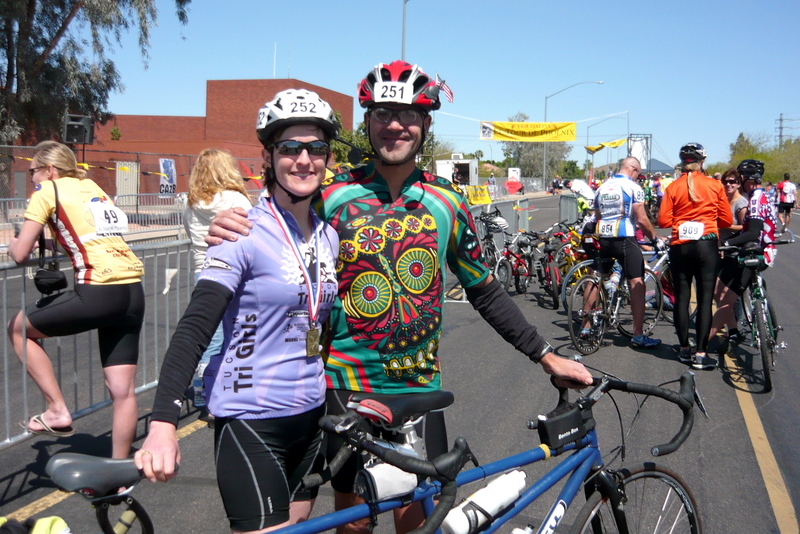 We hung around just long enough to take in some calories and do a little stretching before leaving in search of real food. Racing is a very social experience for us and we typically allow lots of time for post-race catching up with friends. But, the downside of out-of-town racing is that you don't see many familiar faces or familiar purple race jerseys.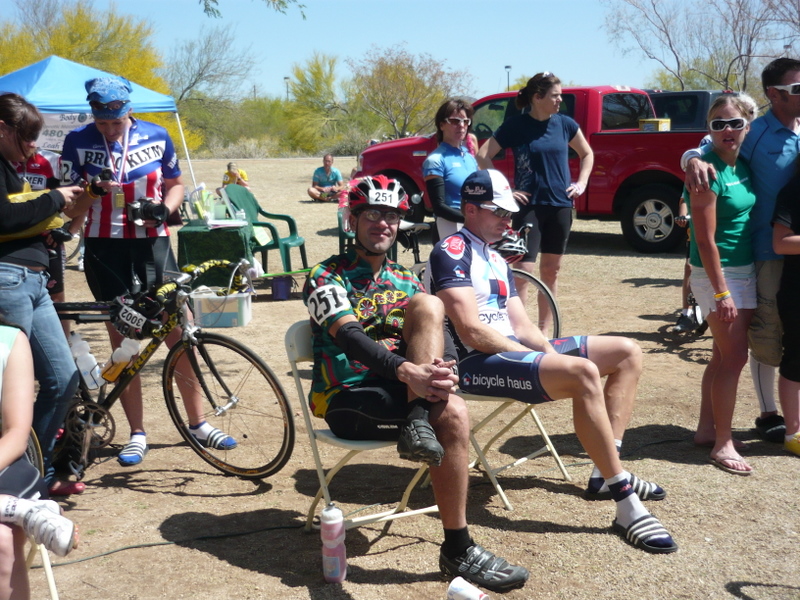 Post Race
We had planned to eat out that evening, but being so enamored with our little ranch and so unmoved by the restaurant choices in the area, we decided to eat in. A quick stop at Safeway and we had a caprese salad and all the fixin's for homemade oven baked turkey sandwiches. And so it was another quiet, relaxing evening back at the ranch.
We woke this morning to what seemed like gale force winds and I was immediately grateful for the excellent weather we had for the race. Although we had planned for a trail run, we bundled up and settled for a hike instead. With the wind making so much noise, we, unknowingly, got fairly close to a herd of about 20 deer before they detected our presence and started bounding away. What an amazing sight!
Upon arriving back at the cabin, we found a lovely breakfast basket waiting for us - a nice touch. After enjoying our morning feast and packing up the car, Joy gave us a tour of the main house and asked to take our photo which she promised to email. We could not be happier with our stay at Meanwhile Back at the Ranch and highly recommend it to anyone who finds themselves in that neck of the woods.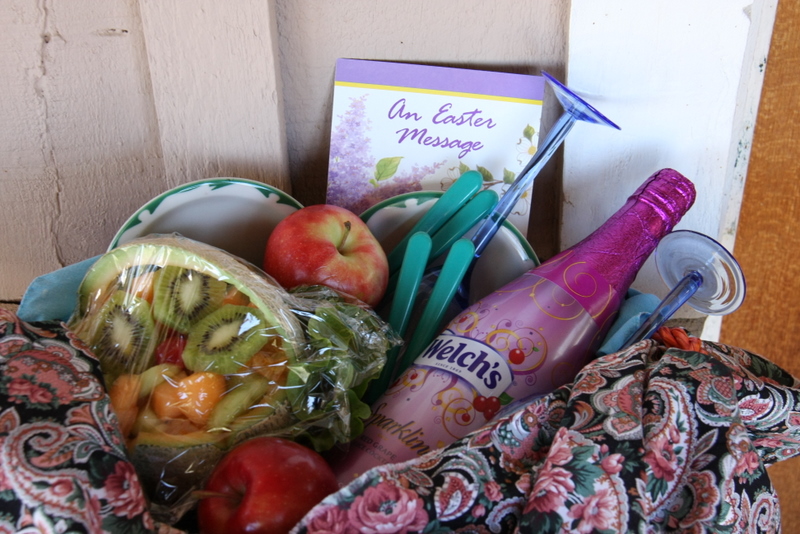 What's Next?
The bike race taught me that I've been slacking on our training rides. Not purposefully - I thought I was pacing myself. But now I know that I can really push it for a few hours...and Paul knows it too. Somehow, I don't think he's going to let me forget it.
With no long distance races in the near future, I plan to focus on strengthening my legs which will help both my running and cycling. It was difficult to do much lower body weight training when preparing for my marathon and ultra, because I always wanted fresh legs for my weekly long run. I'm looking forward to this change in focus and whatever adventure comes next!
<<
<Back
| 17 | 18 | 19 | 20 | 21 | 22 | 23 | 24 | 25 | 26 |
Next>
>>