Sunday, March 15, 2009, 07:18 PM
Posted by Administrator
Have you ever wondered what kind of view the tandem stoker has? Here you go - I took this as we were riding: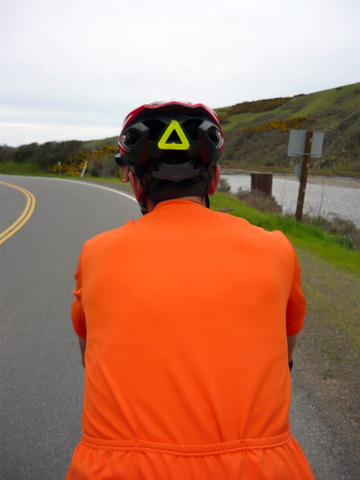 On Saturday morning, I got my sore, chafed bottom on the saddle by 8:00 a.m. and we were on our way back to San Francisco. I felt mentally refreshed after a solid night of sleep, but my physical state was another matter entirely. My quads were still quivering from those hills.
Our plan was to backtrack on the previous day's route until Olema and then, instead of heading inland which was the way we had come, continue down the Pacific Coast Highway. As beautiful as Friday's ride had been, I love variety and was excited for "the unknown." Had I known that "the unknown" involved relentless hills of insane grades on a winding road with a sheer cliff a mere few feet away, I might not have been so eager for the new scenery.
From Bodega Bay, we pedaled straight through to Point Reyes where we stopped at the
Station House Cafe
for a yummy (and large) lunch. We had learned our lesson yesterday and were stocking up on calories every chance we got. For Paul, the highlight of Point Reyes was seeing this Tesla. I had no idea what a Tesla was, but, apparently, it's a rather expensive and exclusive electric car.
We decided to be a little smarter about tackling the hills today with a plan of just going ahead and walking the really steep ones instead of waiting until exhaustion had set in. You may wonder, "What is really steep?" We defined that as the hills which we could climb faster by walking, rather than riding. However, now that it was the weekend, there were more people on the road to notice us. During one of our first walk breaks of the day, a police officer pulled up beside us and, over his loudspeaker, asked if we were okay. We wondered if he was responding to a call from someone who was concerned about a roadside, bicycle-involved domestic dispute.
We took a break at Stinson Beach to enjoy the ocean view - a rarity for us desert dwellers - and then continued on for a few hellish hours of hill riding...and walking. Was the scenery beautiful? Gorgeous. Did I care? After a certain point, not much. Paul had shown me an elevation profile of our route and I realized that we were now on the section with tall, sharp spikes - kind of like a gigantic "M" towering above the rest of the profile.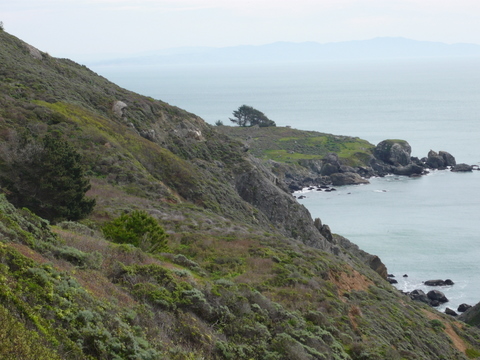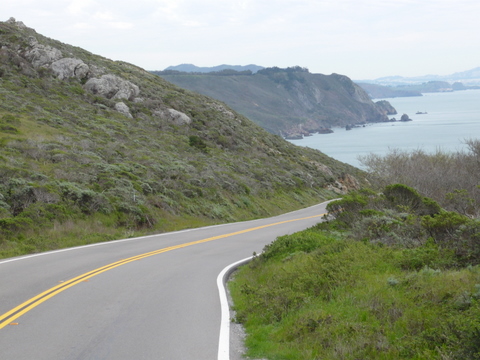 During a "walk break," I came upon a car pulled over to the side of the road. I was about to casually stroll on by when a concerned woman jumped out, ready to provide aid or a lift. The offer of a ride off of the mountain was tempting, but I couldn't leave Paul with a stoker-less tandem...which looks like this: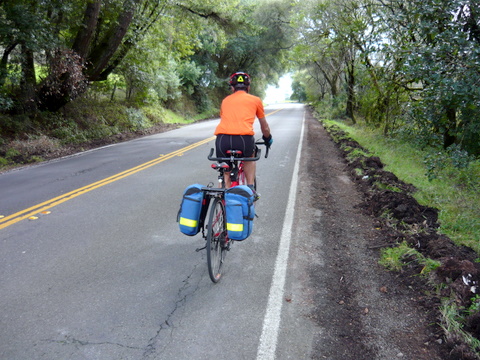 Eventually, we reached the top and my spirits soared as we flew down the other side. Then, devastation set in when I saw we had another climb ahead of us. Yes, I should have been ready for this as, after all, an "M" does have two peaks, but, apparently, I was in denial. I was crushed to realize that we still had a lot of slow, hard climbing left to do.
This was the point when I became very quiet. This was also the point when Paul started apologizing. When planning the trip, he had looked at the overall elevation gain and felt that it would be very do-able for us. He now realized that he should have looked at the grade of the hills, which turned out to be 10 - 15% in areas. Good Samaritans continued to stop and check on us and, while it was comforting to realize that there are good, caring strangers out there, it also made me feel that much more defeated.
Alas, we eventually reached the summit of the final hill and rode, white-knuckled, down the steep, winding descent. In hindsight, we should have taken a moment to don another layer of clothing. We were warm and sweaty after the 7 mph uphill slog, and were like Popsicles after the 30 - 40 mph descent. At the bottom, we pulled into a convenience store tired, cold and hungry. But, amazingly, just minutes later, I was a new woman, ready to get back on the bike and finish the ride. You wouldn't believe what a banana, a Coke and a jacket can do!
We made our way back to the Golden Gate Bridge where, over and over, Paul called out "on your left" as we made our way through the throngs of slow-moving sightseers. We came upon a large group of Asian tourists and, assuming they did not speak English, Paul hollered the universal "BEEP BEEP." It got their attention and we soon had the whole group laughing, waving and calling "BEEP BEEP" back to us. Quite a sight!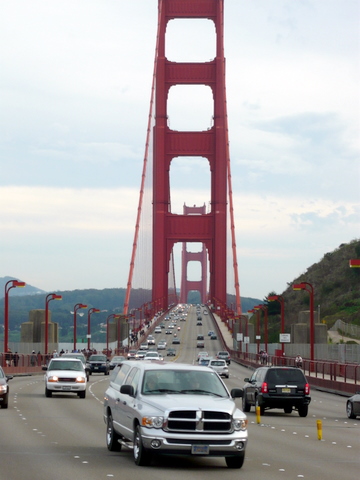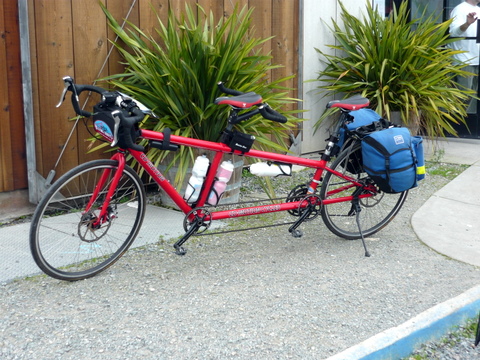 At 5:00 p.m., we pulled into Blazing Saddles and gladly handed over our ride before walking down to Fisherman's Wharf for some fresh shrimp and clams. Like the previous day, I was totally spent from the full day of riding, but felt fantastic about the accomplishment.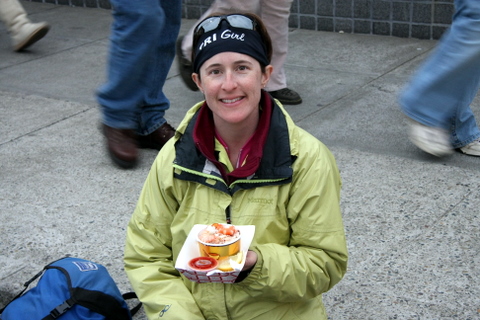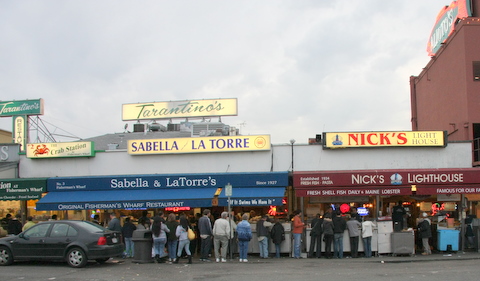 We caught a taxi back to the Red Vic where we were handed the key to the Flower Child Room which, we were happy to see, was much cheerier than the drab Redwood Forest Room in which we had previously stayed.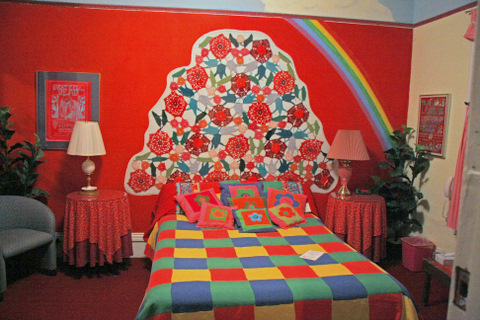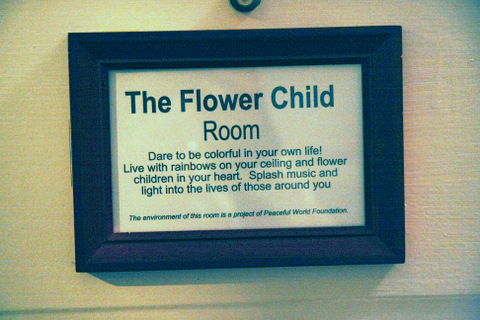 Sunday, our final day in San Francisco, brought a steady rain and so, over breakfast at the
Squat and Gobble
, we planned a day of indoor activities.
First, we walked to Golden Gate Park and visited the
Conservatory of Flowers
where I was fascinated by the carnivorous pitcher plants. I assumed they were designed to catch water, but the pitchers actually catch insects and, in some cases, small animals!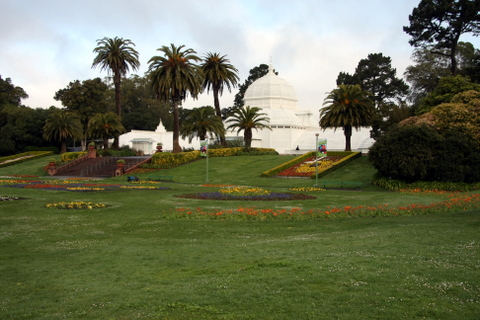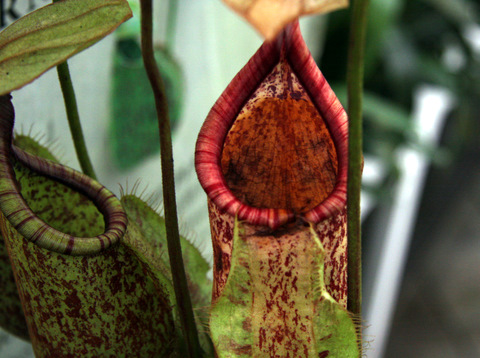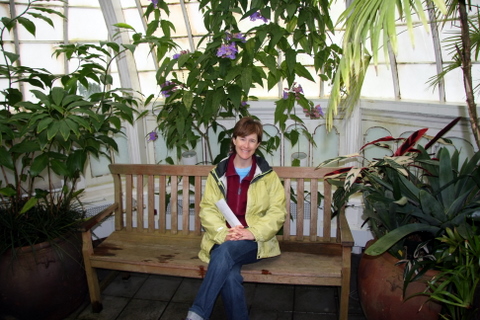 Next, we checked out San Francisco's newest museum, the
California Academy of Sciences
. Not having children, it didn't occur to us that parents consider a museum the perfect place to take their kids on a rainy day. It was absolutely packed! I got crawled over and walked on by lots of little people, but did manage to claim a spot (briefly) at the hands-on tidal pool exhibit. We also got tickets for the 3D showing of
Bugs!
which was pretty cool, although I feared the not-so-Disney-like ending might traumatize some kids.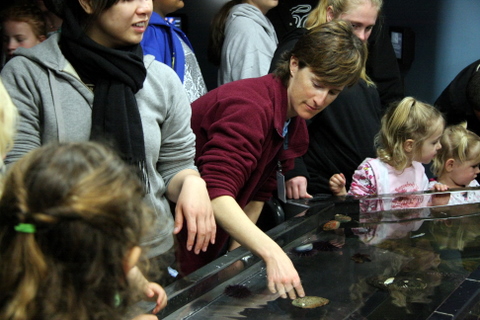 At this point, our time had run out and we caught a taxi to the airport for a 6pm flight. Paul said that he felt like he owed me another surprise weekend after what I had been through on the bike. This was, after all, my Christmas present. But hey, I survived and didn't even shed any tears (which I can't say for our honeymoon bike trip)! I have a great story to tell and found a whole new level of strength and endurance within myself. And while you could say that the route he planned was overly ambitious, Paul was my rock the whole way - always upbeat and encouraging; never complaining when he was pulling more than his fair share of the load...which was most of the time. I have no regrets and look forward to our next great adventure together.
<<
<Back
| 17 | 18 | 19 | 20 | 21 | 22 | 23 | 24 | 25 | 26 |
Next>
>>