Sunday, January 18, 2009, 11:18 PM
Posted by Administrator
With the
Pemberton 50K
fast approaching, I was due for a long run. I wanted a 20-miler on a course comparable to the Pemberton Trail - dirt and relatively flat - but that combination is difficult to find as most dirt trails lead up a mountain. Paul got creative and drove us up to Willow Springs Road in Oracle. It's a road as opposed to a trail...but it is dirt.
We parked just off of Oracle Road and set off into a raging headwind. We quickly discovered that the road was mostly rolling hills and more difficult than Pemberton, but still good for training. We had gorgeous 360 degree views at all times, although our enjoyment of the desert beauty was interrupted more than we would have liked by the traffic. It was not a busy road, by any means, but there were quite a few trucks hauling mountain bikes, dirt bikes and ATV's. Most were courteous and would slow and return my wave as they passed. But a few came screeching around corners like Bo Duke, kicking up dust in our faces and squealing "yeehaw!". Okay, the last part may have been a figment of my imagination, but it would have been fitting.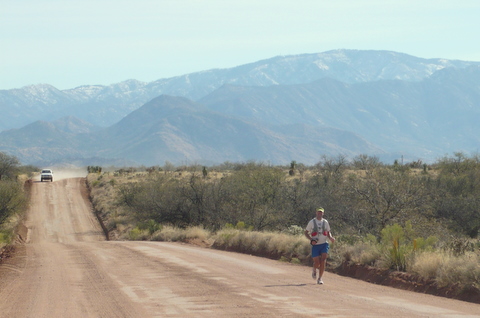 Toward the end of the out-and-back run, I was pretty tired and sore - much more so than I would have liked considering 20 miles is only 2/3 of the race distance. On the plus side, I'm doing much better with my nutrition. Over four hours, I took in about 56 ounces of fluid and 3 ounces of gel.
I have time for one more long effort before the race and, in addition, I'll be working on strengthening my core and hamstrings. These areas definitely hold me back when I begin to fatigue. With a little more power and stability, I'll be able to hang in there in the final miles...I hope.
At Paul's suggestion, I suffered through a 15-minute ice bath when I got home. Getting in is absolute torture and, in my experience, impossible to do without some verbalization of the pain, be it four-letter words or unintelligible shrieks. It's not pretty. And no, I will not be posting photos. After a few minutes, all submerged body parts go numb and it's really not so bad.
I finished up the day with a baking experiment - truffles! I made pistachio, almond and orange zest. They are not perfectly round like the ones you buy in the store - that will take practice - but they're delicious!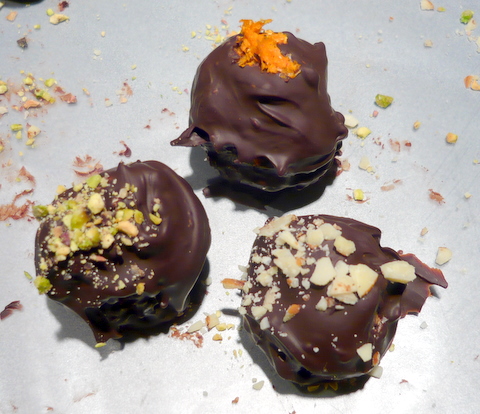 <<
<Back
| 17 | 18 | 19 | 20 | 21 | 22 | 23 | 24 | 25 | 26 |
Next>
>>