Saturday, November 29, 2008, 06:46 PM
Posted by Administrator
I realized this morning that I had not been on the trails since our
Charleau Gap run
on October 4. And, once I got out there, I realized how much I had missed it. Trails beat the road any day. It's a good thing I feel that way, as I'll be hitting them more often to prepare for the
Pemberton 50K
.
We are fortunate to have
Catalina State Park
just a short drive away, and we chose a 10-mile loop - Bridle Trail to 50 Year Trail to Sutherland. The course was slightly longer for Paul as he would run up ahead and then run back to me every so often. This system works well for both of us - he gets a nice long run and I have someone to scout for mountain lions.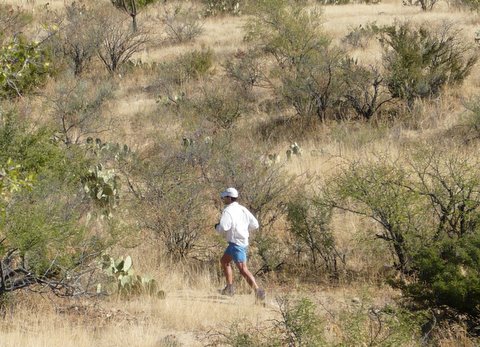 My two goals for this run were to ease myself back into trail running and to work on my nutrition. Overall, I felt great. My legs were a little tired from strength training and the Thanksgiving Day Race (I tweaked my left quad jumping over the final water pit), but I was able to run more of it than I had expected and, when I was not able to run, I power hiked. My ankles were getting tired toward the end, and so I think it was the perfect distance.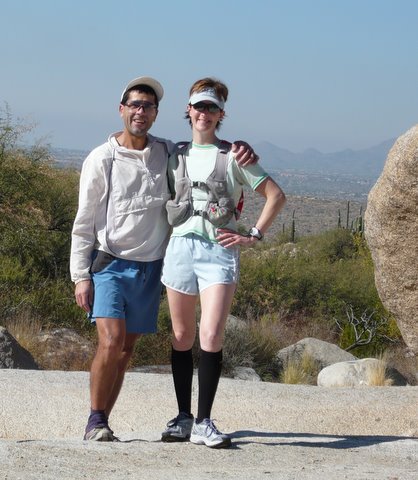 On the nutrition side of things, I had a goal of taking in 200 calories per hour and I filled my Camelback with 45 ounces of fluid mixed with about 400 calories of
XOOD
. I also stuck a packet of gel (120 calories) in a pocket. I kept an eye on my watch and, every five minutes, took a long sip of XOOD. About 1.5 hours hours into the run, I took half of the gel. This was all sitting very nicely in my stomach until the last few miles when the course turned into mostly runnable downhill. I picked up speed and I started to get that full tummy feeling. I think this was the problem in the marathon - my nutrition worked great in training, but did not work so well when I picked up the pace at the actual event.
When we got back to the car, I pulled the bladder out of my Camelback and was amazed to see about 24 ounces of fluid still left. There's no way I could have taken all of that in...without it coming back up at some point. Paul pointed out that I don't sweat much and so it might be easier to fuel myself with gel, which is much less volume for the same amount of calories. And so, next weekend, I will be experimenting with gels!
We really could not have asked for a more perfect run. We had the trails almost to ourselves until the final 1.5 miles; the weather was just right - 60 degrees and sunny skies; and the mountains were simply gorgeous. I stopped every once in a while just to take a look around and smile at the beauty. It was one of those runs that makes you happy to be alive, healthy and a runner.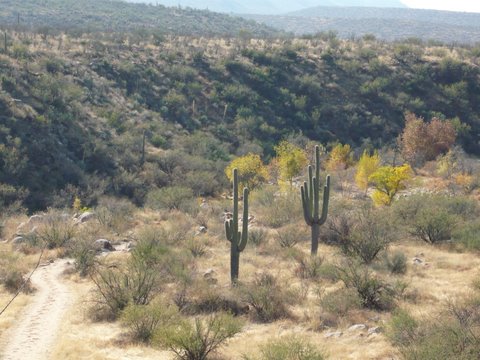 <<
<Back
| 17 | 18 | 19 | 20 | 21 | 22 | 23 | 24 | 25 | 26 |
Next>
>>