Wednesday, September 17, 2008, 10:24 PM
Posted by Administrator
Not only did I run 17 miles on Saturday, but it actually felt pretty good! Of course, this is relative to my last three long runs which have been miserable. Why the difference? Who the heck knows, but some contributing factors were probably a new pair of shoes and cooler temperatures. It turns out that the weather is beautiful at 4:30am! I don't typically drag myself our of bed this early for training runs, but the
Tucson Tri Girls
Triathlon Camp was scheduled from 9am to 5pm and I wanted to enjoy that event without my long run looming over me. So, I sucked it up, woke to my 4:00am alarm and headed out the door with my headlamp and my trusty running companions - Rex, Mielo and Molly. Paul? He was saving himself for a time trial on Sunday and so I had five miles under my belt before he crawled out from underneath the covers.
When it became light enough to ditch the headlamp, I swung by the house and traded it in for my MP3 player. The dogs had had enough and so I hit the road again, solo this time, with 12 miles to go. I usually run with a hand-held water bottle, but opted for my Camelback this time and enjoyed having my hands free.
Throughout the run I was just amazed at how good I felt! Around mile 12, I started to get aches in my hamstrings, calves and feet, but that is all manageable. I called Paul with one-half mile to go (convenient pockets are another benefit of the Camelback) and asked him to start an ice bath for me. I was a little stiff and achy for the rest of the day, but nothing like I had expected. I'm feeling much better about the
marathon in November
!
Sunday was another early morning (although not quite 4am), as we drove to Picacho Peak for Paul's second
time trial bike race
. We are both new to these types of races (Paul as a competitor and I as a spectator) and we're both still learning. Thanks to knowledge gained at the first race, Paul showed up to this one with a new tri bike and aero helmet; and I arrived with a folding chair, cooler and reading material. Of course, I had to lug everything a mile to watch Paul start and finish - these races are not very spectator-friendly.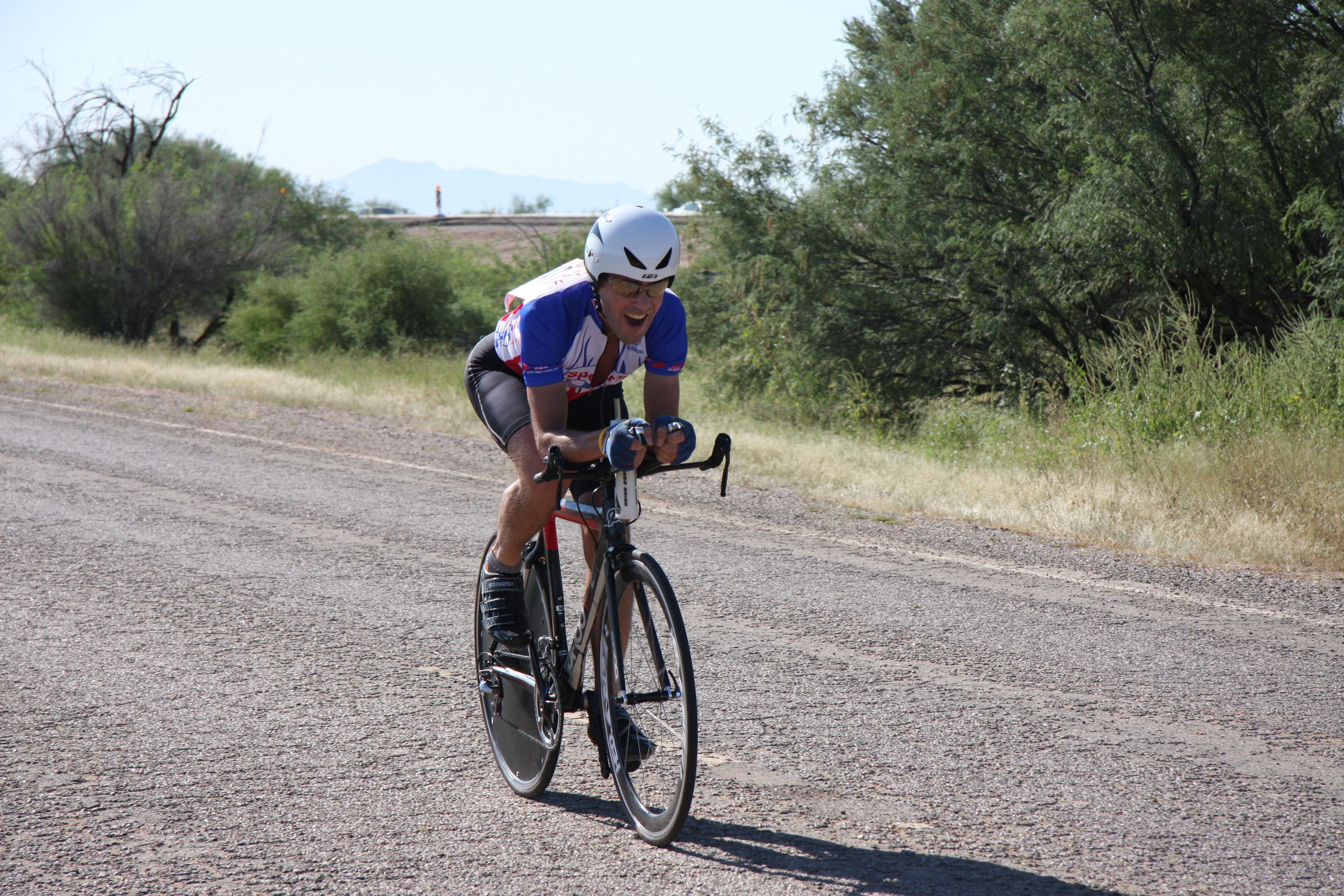 Paul did great, although he has spent a lot of time since the race thinking of things he can tweak to buy him the 3 minutes that separated him and first place in his category. He knows it's time for him to start focusing on marathon training...but he's itching to squeeze in another time trial to redeem himself!
<<
<Back
| 17 | 18 | 19 | 20 | 21 | 22 | 23 | 24 | 25 | 26 |
Next>
>>