Sunday, September 7, 2008, 08:09 PM
Posted by Administrator
Thanks to a recent
newspaper article
, I discovered Howard's Orchard, a small farm in the town of Catalina. Yesterday, Paul and I strapped on a pannier and rode our tandem there to check it out. The owner is a really sweet man who instructed us to "treat it like home" as he gave us some plastic bags to fill with apples. Rumor has it they have amazing peaches, but we were a little late in the season for those. And, at other times of the year, they also have blackberries, pecans, tomatoes and cucumbers. We'll definitely be back - it made a great pit stop during our ride!

For any locals who want to visit, take Oracle north to the town of Catalina. Go past Golder Ranch Road and take your next right onto Hawser. When the road ends, turn left on Columbus. Turn left onto Pinal Street, which is a dirt and gravel road. The farm is just about one-quarter mile on your right - look for the signs.
We rounded out the weekend with the first run of the Tucson Trail Runners' annual series -
Mount Wrightson
- although neither of us fully participated. Paul wanted more time on his new tri bike to prepare for his
time trial
next weekend, and so he rode from our house to the trailhead - a distance of about 60 miles, with the last 10 miles being up a gigantic hill.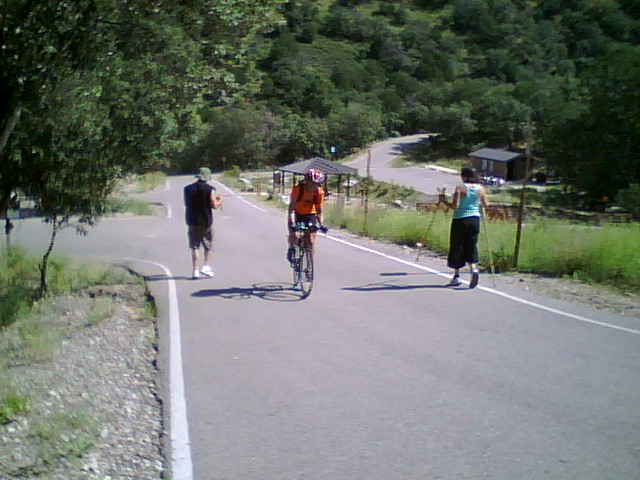 While the rest of the group ran to the top of Mount Wrightson, I opted to go only to Josephine Saddle and then take the longer, more gradual Super Trail back down. This amounted to only 6.2 miles, but it's been a long time since I've run trails or hills and so I wanted to ease myself back into it. Also, while the view from the peak is spectacular, I just do not enjoy the hike from the saddle to the top. It is steep, rocky and, for me, extremely slow-going. I've done it twice and have no desire to do it again...although I hear I missed some spectacular wildflowers.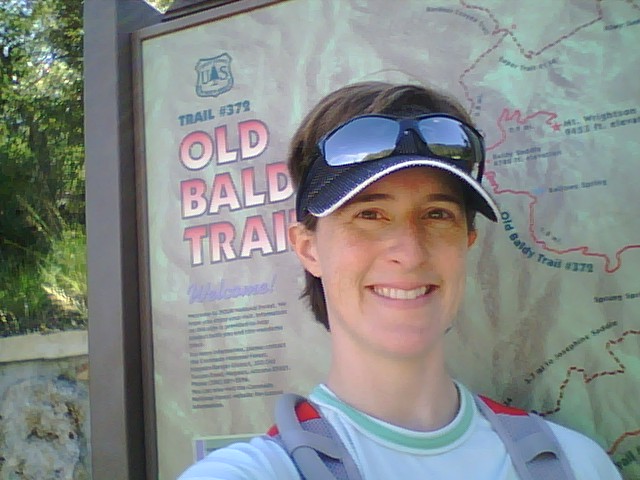 I finished my run in just under two hours and then found a shady spot in which to sit and read while I waited for Paul to climb the gigantic hill to meet me. Just after he arrived, the other runners began to emerge from the trail and so we hung around for a while to catch up with friends. For me, this is one of the best parts of running - the socializing! It was great to see
Renee
, who came out for her first TTR run and I'm sure we'll be seeing her at others!
On the way home, we decided to make a detour and stop at
Eclectic Pizza
for lunch. It's on the opposite side of town from us, but we recently discovered that they serve gluten-free pizza and Paul was anxious to give it a try. We ordered a Greek salad that was absolutely delicious, as well as two pizzas (to ensure leftovers) and a gluten-free beer. Paul was in heaven. However, the pizza was a mixed bag. The toppings were extremely fresh and the sauce was probably the best I've ever had. However, the crust was
clearly
a gluten-free crust...which is not a good thing. It just didn't compare to the crust we get at
Picazzo's
. They make it on site (although, unfortunately, none of those sites are in Tucson) and you really can't tell the difference between it and "normal" pizza. If only we could combine Picazzo's crust with Eclectic's toppings...
<<
<Back
| 17 | 18 | 19 | 20 | 21 | 22 | 23 | 24 | 25 | 26 |
Next>
>>