Saturday, August 16, 2008, 05:15 PM
Posted by Administrator
Last weekend, we packed the Prius full of gear and dogs, and escaped the desert heat with a long weekend of camping in the White Mountains. We chose
Fool Hollow Lake
in Show Low as we have visited the campground for the
Deuces Wild Triathlon
and Paul knew he could take the dogs swimming - something the dogs like and Paul absolutely loves. Swimming alone is a bit of a chore, but swimming with the dogs is pure fun for Paul! We arrived mid-afternoon on Friday and were pleasantly surprised to find a small, but beautiful spot overlooking the lake.
After setting up camp, we headed down to the boat ramp as Paul couldn't wait to get in the water with the kids. With cloudy skies and temperatures in the 70's, it wasn't nearly warm enough for me to join them, but, as you can see, a good time was had by all.
We had a delicious dinner of salmon, veggies and corn on the cob - all cooked over the fire. I was looking forward to relaxing by a roaring campfire for the evening, but a thunder and lightening storm started shortly after dinner and, as we do not have a canopy, all five of us headed into the tent. It took us quite a while to calm Molly, who is terrified of storms and was shaking uncontrollably.
With nothing else to do, we climbed into our sleeping bags around 8:00 p.m., but the dogs were so restless that I was up half of the night. The low point was when Mielo vomited. Yes, in the tent. I pushed him toward the door, but could not move fast enough to unzip it in time. I was rather grouchy the next morning.
My mood improved with a great trail run Saturday morning. For much of it, we followed a flower-filled path surrounding the lake. I got in about 7 miles and the kids enjoyed multiple dips in the lake to cool off.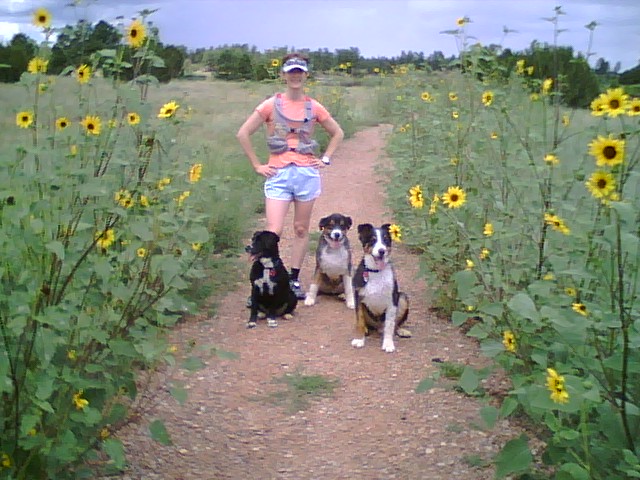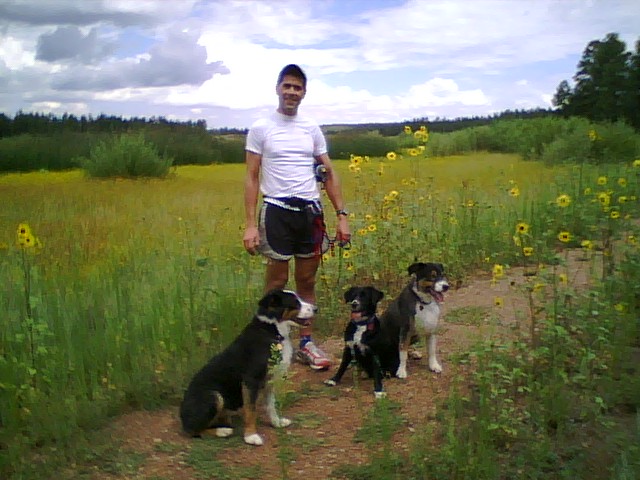 We regretted the last plunge when it started raining just as we returned to the campsite. With no place else to go, two sweaty people and 3 wet dogs piled into the tent. Note to self - invest in a canopy before the next camping trip.
Luckily the rain was short-lived and we were able to air out the tent while we showered (okay, so we weren't exactly roughing it). That afternoon, it was wonderful to have absolutely nothing to do! We read...we sat and looked at the lake...we chatted with the little girls from a few campsites over who had fallen in love with the kids and visited a few times. Heaven...
Our peace and quiet was interrupted when an enormous SUV pulled into the site next door and a cranky woman complained (rather loudly) to her husband that, if they stayed at that site, "We'll be next to dogs!" It was clear by her tone that she was not a dog-lover. Unfortunately, available campsites were sparse at that point and so they decided to stay. At that point, FIVE children came piling out of the truck. And she was worried about being next to dogs?!? The kids ended up being pretty good, although the woman's sour mood never improved.
Although it was overcast for the remainder of the day, the rain missed us and I was able to have my relaxing evening by the fire. Having adjusted to the camping experience, the kids were much calmer and we all had a great night of sleep. The next morning, Paul took the kids on short run while I broke down camp, and we hit the road for Tucson in the mid-morning.
We have only been camping two other times in the five years we've been together, and this trip convinced us that we really need to camp more often. It's so relaxing! And there are lots of great places just a short drive from home that would work for quick overnights. First, we just need to buy a canopy.
<<
<Back
| 17 | 18 | 19 | 20 | 21 | 22 | 23 | 24 | 25 | 26 |
Next>
>>